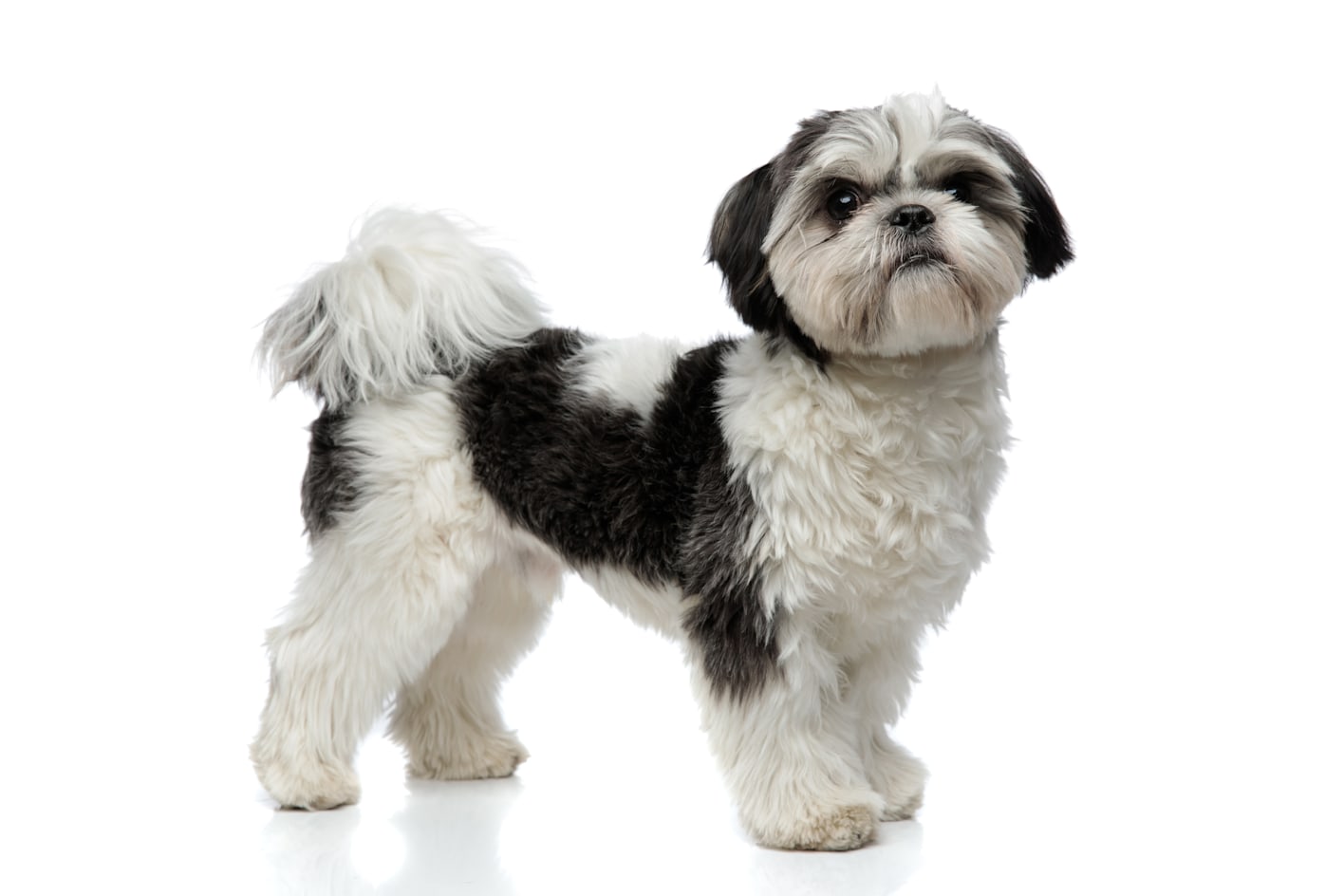 The best dog food for
Shih-Tzu
Shih Tzus are often cute, furry bundles of joy. Because of their small size and long hair, these tiny pups have some specific dietary needs. Some of the best dog food for Shih Tzus is small breed dry food, though they can also benefit from wet food in their diet. Because of their size, Shih Tzus may be prone to a rapid drop in blood sugar if they aren't fed often enough—especially when they're a puppy. You'll want to stay on top of making sure they have enough nutritious meals every day.
Read on to learn more about how much to feed your beloved Shih Tzu, what ingredients to look for and what foods pet parents love for small breeds like Shih Tzus. It is always recommended to consult your veterinarian for any questions about the best nutrition for your pup.
Food for Shih Tzu puppies
Some of the best food for Shih Tzu puppies gives them a great start for a nutritionally balanced life. Many of these foods support immune health, contain vitamins that support skin health and hair growth, provide protein for lean muscle development and cater to the unique brachycephalic shape of your Shih Tzu's snout. These features are often present in recommended dog food for adult Shih Tzus and can help minimize health issues your dog may experience throughout their life.
Take a look at some of our Shih Tzu puppy food recommendations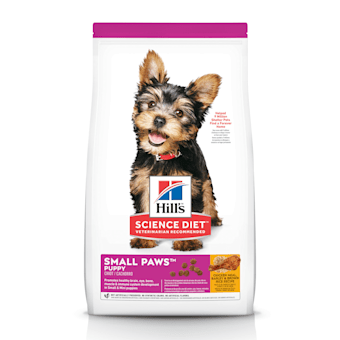 Hill's Science Diet Small Paws Chicken Meal, Barley and Brown Rice Recipe Dry Puppy Food
Shih Tzu puppies may benefit from this recipe tailor-made for small puppy breeds. The top ingredients include chicken, whole grain wheat, chicken fat and whole-grain corn. The kibble is small to allow for easier consumption, and the formula has fish oil to promote brain and eye development. The recipe also has a lot of protein to encourage your young pup's muscle development and an antioxidant blend for immune support. This Shih Tzu diet for puppies has the nutrition they need to help them develop into hardy and robust adults.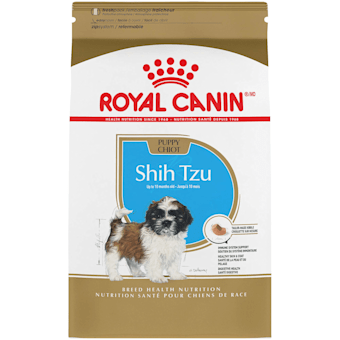 Royal Canin Breed Health Nutrition Shih-Tzu Puppy Dry Dog Food
This Royal Canin dry food is formulated specifically for purebred Shih-Tzu puppies from 8 to 15 weeks old. The kibble's shape is designed for a Shih-Tzu's muzzle and contains antioxidants and vitamin E to help support a developing immune system. This good food for Shih-Tzu pups also includes highly digestible proteins that can be easy on your puppy's sensitive stomach, while glucosamine and chondroitin support bone and joint health.
Grain-free Shih Tzu food
Some Shih Tzus are prone to food sensitivities that can cause adverse reactions to certain ingredients, including grains, in even some of the best dog foods for Shih Tzus. This breed is also susceptible to several health conditions that stem from excess weight—which the high carbohydrates in grains can contribute to.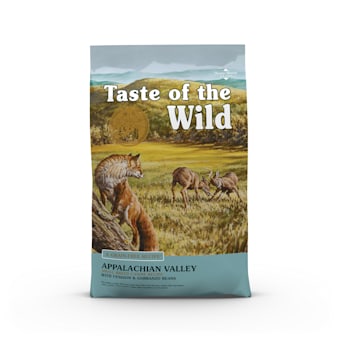 Taste of the Wild Appalachian Valley Small Breed Grain-Free Roasted Venison Dry Dog Food
This family-owned company has created a Shih Tzu dog food with small kibble for small breed dogs. Real meat is always the first ingredient, and it has 32% protein content to help mimic the diet your pet's ancestors would have enjoyed in the wild. Its top ingredients include venison, lamb meal, garbanzo beans, peas and ocean fish meal. The vitamins and minerals present are designed to help with skin & coat care. You'll also find probiotics in the ingredients, which are beneficial for digestion. While many of this dry food's nutritional benefits come from protein, it's also supplemented with plenty of wholesome nutrients to promote overall health & wellness. If protein is important to you as a pet parent, this can be a great option for your Shih Tzu food list.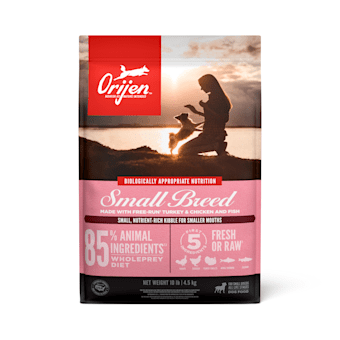 ORIJEN Small Breed Grain-Free High Protein Fresh and Raw Animal Ingredients Dry Dog Food
Made just for small dogs, this protein-rich dry food helps your Shih Tzu maintain their energy levels and ideal weight. The recipe includes quality, whole prey fish and poultry, lutein-enriched eggs, nutritious liver, giblets and legumes. In fact, 85% of this recommended dog food for Shih Tzu breeds consists of fresh or raw poultry and fish. The vitamins and minerals included round out an impressive list of ingredients. This kibble's design is also geared towards dogs with smaller, brachycephalic mouths.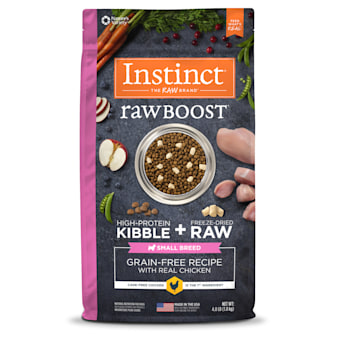 Instinct Raw Boost Small Breed Grain-Free Recipe with Real Chicken Dry Dog Food with Freeze-Dried Raw Pieces
If grain-free kibble is your preference, check out this recipe with freeze-dried raw ingredients. Cage-free chicken that's been freeze-dried to preserve nutrients is the top ingredient, followed by chickpeas, turkey, herring, coconut oil and pumpkin seeds. You'll also find other protein-rich ingredients, plus lots of calcium for strong bones and teeth. The Shih Tzu diet dry food is made without grain, corn, potato, wheat, soy, byproduct meal or artificial preservatives to ensure your pup only receives the nutrition they need to stay active.
Protein-packed food for Shih Tzus
A Shih Tzu diet full of high-quality proteins can make a big impact on your pup's overall nutrition—and many dogs can't resist the meaty taste. The protein in these recommended dog foods for Shih Tzus can help your pet develop lean muscle, and the essential amino acids help support skin & coat health.
Here are our protien-packed food recommendations for Shih-Tzus.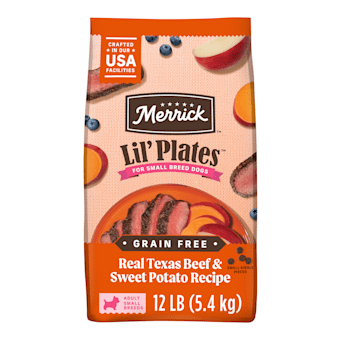 Merrick Lil' Plates Grain-Free Texas Real Beef + Sweet Potato Recipe Small Breed Dry Dog Food
This grain-free recipe is made specifically for small breed senior dogs. The primary ingredients are deboned chicken and chicken meal, followed by beef, lamb, salmon, sweet potatoes and peas—which means it might become your Shih Tzu's favorite food. The formula helps older Shih Tzus maintain muscle tissue and support hip and joint health as they age. A good balance of proteins and fats can help give your older dog energy and support an optimal weight so they remain active. The food also has probiotics and prebiotic fiber that can make digestion easier.
Breed health food for Shih Tzus
Some of the best food for Shih Tzu dogs is formulated specifically for them and small breed canines. These foods contain proteins to help them maintain lean muscle, vitamins and nutrients to help support skin health and provide a glossy coat and limited amounts of sodium and fat for heart health. Many Shih Tzu diet dry foods are also designed to be easier for your dog's shorter snout to eat so they can clean their bowl.
Here are our breed health food recommendations for Shih-Tzus.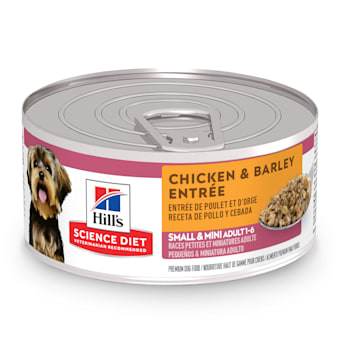 Hill's Science Diet Adult Small Paws Chicken and Barley Entree Canned Dog Food
Hill's Science Diet canned food is high in protein, making it one of the best dog foods for Shih Tzus and other small breed dogs. It helps your pet build and maintain lean muscle, and it's also fairly easy to digest. You can use this wet food as its own meal or to top dry food so kibble is more appealing to a picky eater. The recipe features many natural ingredients like chicken, pork liver, whole grain corn and cracked pearled barley, and the moist texture can be a great option for your pup in hot weather.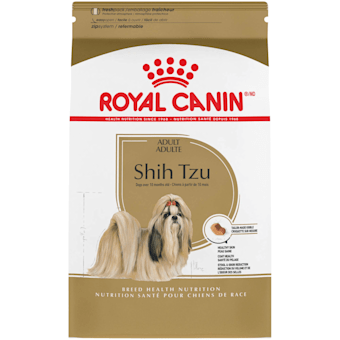 Royal Canin Breed Health Nutrition Shih Tzu Adult Dry Dog Food
Purebred Shih Tzus at least 10 months old can be good candidates for this Royal Canin dry food. This kibble is shaped to accommodate short-snouted dogs—even those with an underbite—and it's packed with EPA, DHA and vitamin A. Your dog will also benefit from the included fatty acids and biotin. It contains the same scientifically formulated nutrition as the Royal Canin Breed Health Nutrition Shih Tzu Loaf in Sauce and can make a great continuation when your dog graduates from Royal Canin puppy dry food.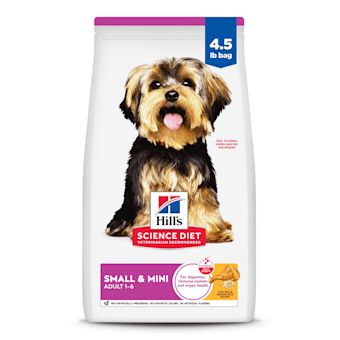 Hill's Science Diet Adult Small Paws Chicken Meal and Rice Recipe Dry Dog Food
Adult Shih Tzus can easily digest this dry food fortified with omega-6 fatty acids and vitamin E to support a lustrous coat. The formula is high in protein to support and maintain great muscle tone and has an antioxidant blend that benefits the immune system in small dogs. Like many good dog foods for Shih Tzu breeds, this dry food is formulated to be easier to eat and digest than food for large breed canines. Hill's makes their food in the USA.
FAQ about Shih-Tzu food
What is the best dog food for Shih Tzu dogs? Shih Tzus are small dogs with small stomachs, but they often burn calories fast. A high-protein Shih Tzu dry food can help keep your dog satiated throughout the day. The best food for Shih Tzu dogs often includes ingredients like beef, lamb, chicken and pork liver to help build lean muscle and support your pet's optimal weight.
Shih Tzus can also benefit from omega-3 and -6 fatty acids. These ingredients help their hair stay strong and silky, as well as supporting skin health. Shih Tzu wet food is a good source of moisture, but even dry food may have ample fatty acids for your dog's diet.
You can feed your small dog some people food, but not everything in the cabinet is appropriate. Food to avoid sharing with your Shih Tzu includes dairy products and anything high in salt or fat, which are hard on your small dog's digestive system.
Typically, wet and dry food both have benefits, and consulting your veterinarian can help you decide which recommended dog food for Shih Tzus is appropriate for your dog. However, it's worth noting that this breed is notorious for having dental issues, and a dry Shih Tzu dog food can help scrape plaque and tartar off of your pup's teeth and gums, which can be a great help to their regular dental hygiene routine.
Shih Tzu stomachs can sometimes be delicate and finicky. In addition to staying away from standard items that are toxic to pets—like chocolate, garlic, avocados and grapes—there are ingredients you might want to avoid in some Shih Tzu food. Wheat, soy and corn can be fine for many Shih Tzus, but some dogs are sensitive to these ingredients. It's recommended to introduce these foods in small amounts and monitor any adverse reactions. However, all-meat diets often don't provide balanced nutrition, so avoiding these ingredients altogether may not be the best option for your pup.
// Forces popover to close when the user clicks anywhere on the page $(function(){ // fnGetNearestLocations(storeId, expirationMin, isHTML5Geolocation, isGoogleGeoAPI, HTML5GeoTimeout, XHRTimeout, isDebuggingEnabled) petcoNearestLocations.fnGetNearestLocations('10151','10080','true','true','10000','5000','https://www.googleapis.com/geolocation/v1/geolocate?key=','AIzaSyB1POydsXY7SJBDX-zowEC0y340ZJK6uig','false'); });