Petco Kids

Pets in the Classroom
Hear what the kids are saying

Petco makes it easy to get a pet in your classroom!
Classroom pets are wonderful resources for teachers to make learning fun in all subjects! Petco and the Pet Care Trust have teamed up to create the Pets in the Classroom program, which supplies products and funding for classroom critters at low cost to schools, with no out of pocket supply cost.
If you're a teacher, funding & supplies are available.
Apply for a Grant Today
Here's what the teachers have to say:
Thank you for this amazing opportunity to bring frogs into my classroom! I bought 3 fire bellied toads and all their "equipment" with the grant money. The students are very excited about the new addition... and feeding them live crickets!
- Ms. Clark, Bolivia Elementry School
Beginning second quarter, I will be allowing the students to take the guinea pigs home for the week. This will be a family project... thank you so much.
- Ms. Garlie, Kalaheo Elementry School
Learn more about having a pet in your classroom
---
Pets at Home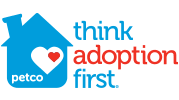 Petco has teamed up with adoption agencies, rescue groups and humane societies across the country to create thousands of adoption opportunities. If you are considering a new pet, we urge you to Think Adoption First.
Learn More

Considering adding a pet to your family?
We've got the scoop on how to be a responsible pet parent to any type of animal, from dogs to reptiles to small animals. Visit our New Pet Center to search for adoptable pets in your area and read articles on a variety of topics ranging from potty training to habitat set up.
Visit New Pet Center

Coloring Sheets
Have some fun with a pack of 6 free coloring sheets!
Download Sheets
---
---

Learn about the animals that we carry in our stores.
Pets in the Classroom Program - Classroom Pets for Pre-K through 8th Grade Classes
Get some educational pets in the classroom at your school! Classroom pets are incredible resources for both students and teachers. They can make engaging with any subject more fun than ever. The Pets in the Classroom program, brought to you by Petco and the Pet Care Trust, helps classrooms get everything they need to take care of a pet at little cost to the school and without any out of pocket expenses. Read More
Read the Children section of our Privacy Policy here.