Grooming is more than skin-deep—
it's essential care for a healthy life.
Visiting a Petco Grooming Salon for regular baths, nail trims and haircuts is crucial to your pet's overall health and well-being.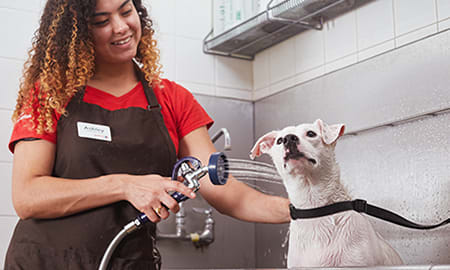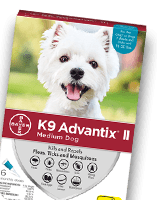 You Buy and
We'll Apply!
Purchase a K9 Advantix II or Advantage II topical and visit our salon for a FREE application!
Do not use K9 Advantix II on cats.
Earn a 8th Free Groom
when you download the app
and join the Spa Club today!
Available on iOS and Android.
*See site for full details.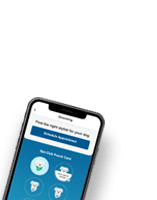 Does your dog need to be groomed?
Look for these signs that your pet is due for a visit to the salon.
Tear stains

This under-eye discoloration can provide a home to skin-irritating bacteria or yeast.

Long nails

Untrimmed nails can reduce the paw's ability to grip, and put pressure on the foot and leg.

Matted fur

Tangles and mats can cause extreme discomfort and pain, as well as cause skin infections and sometimes prevent proper temperature regulation.

Full anal glands

Full anal glands are uncomfortable and may cause an abscess, which could require surgery.
Your pet's grooming journey*
*We're with your pet every step of the way.
Check-In

Your service starts with our 7-point Pet Care Check**, a quick screening where we make sure nothing looks or feels abnormal.

Initial brush & clip

Each dog's service is personalized to their needs, which may include a thorough brushout or initial shave for dogs with thick coats.

Bath

Scrub-a-dub! We gently massage shampoo into your dog's coat to remove dirt, oil and debris, leaving them silky-smooth and squeaky-clean.

Dry

Drying dogs isn't one-size-fits-all. We use a variety of methods from air- and towel-drying to non-heated hand-held dryers to ensure dogs' safety and comfort.

Full Haircut

Here's where the real transformation happens. Our stylists work their magic to create cuts that meet breed standards or your personal style preference—100% satisfaction guaranteed!
*The above outlines the experience of a dog getting a full-service bath and haircut. Their grooming journey will vary based on your dog's breed, size and length of fur. Some dogs will be placed in a kennel with water during their grooming journey. Ask our groomers about options that don't require as much kennel time.
**The 7-point Pet Care Check is not a substitute for regular examinations and care from a licensed veterinarian. If we find any concerns, we will refer you to your veterinarian.
Our stylists are groomed for success
Petco-certified stylists love what they do and are dedicated to the safety and comfort of your pet.
Training includes breed-standard cuts, different skin & coat types, behavior training and salon safety
Stylists complete a 6-month training course and apprenticeship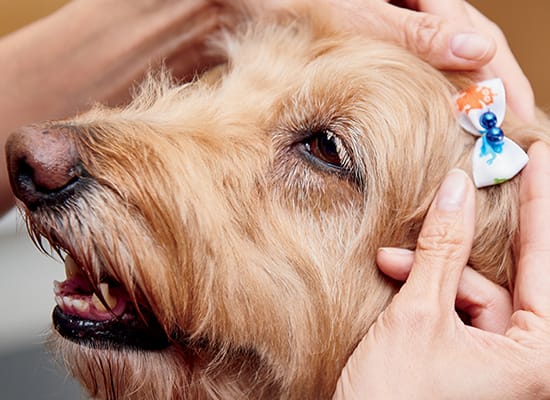 Benefits of
grooming with us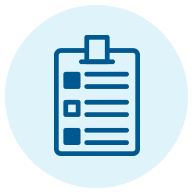 Personalized cuts
Book and manage appointments on the Petco app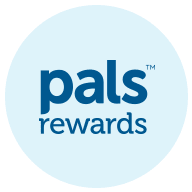 Earn Pals Rewards –
plus earn rewards with Petco Spa Club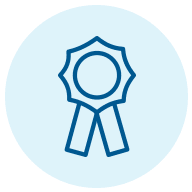 Certified dog groomers
Frequently asked questions