Best Litter for Cats & Kittens *
As a kitty parent, you know that cat grooming and bathing habits are particular, including their bathroom usage. You also know that finding the best cat litter matters—for cleanup, for odor control and for your peace of mind. There are lots of kitty litters out there, but you don't need to spend hours reading reviews. Check out our list of top-selling cat litter to find one your pet may love.
What to look for in the best cat litter
The best litter for your household depends on several factors. Here are the major differences between the best cat litters.
Material
Clay is the classic, but today the best cat litter comes in many materials. Wood and corn are natural options that offer similar properties to clay and are often biodegradable. Crystals are typically a silica gel that have superior odor-control and can make cleanup easier.
Clumping ability
Most litters have clumping properties, including clay, crystal, corn and wood, but some may clump better than others. Good cat litter doesn't clump too much or too little. It should pack tightly and be easy to scoop without crumbling or sticking to the bottom of the box.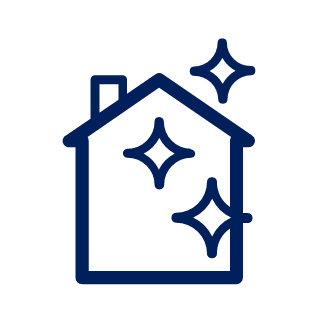 Odor control
Fighting odor is one battle cat parents know all too well. As urine breaks down it releases ammonia, which is what causes that litter box smell. The best litter doesn't have to be fragranced, although it can be. The most important thing is that it absorbs the moisture and locks in the smell.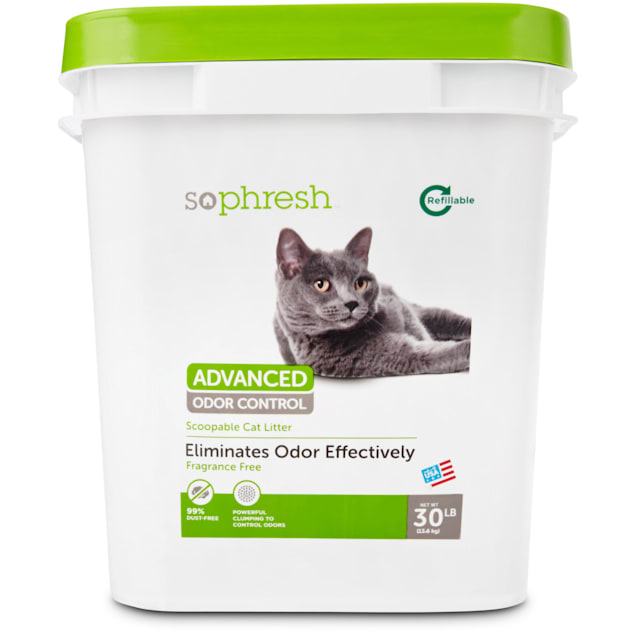 Best Overall Cat Litter
So Phresh Advanced Odor Control Scoopable Fragrance Free Cat Litter
This economical yet extra-absorbent option from So Phresh gets high marks for clumping tightly and controlling odor with regular changes. It's fragrance-free and easy to scoop, and pet parents also love the refillable container, which makes it even more budget friendly.
16 or 30 lbs
Material: Clay
Scented: No
Clumping: Yes
Single cat

"I've been using this litter for at least six months ... It does a great job as advertised. The option of bringing empty containers to the store for refill is such a great benefit since it brings down the cost." – Cindy Denise
Pros
Budget-friendly price
Refillable container
Raw recipes are freeze-dried for better digestion and nutrient absorption
Fragrance-free
Easy to scoop
Cons
May not be ideal for multi-cat households
Reviewers say it may be dusty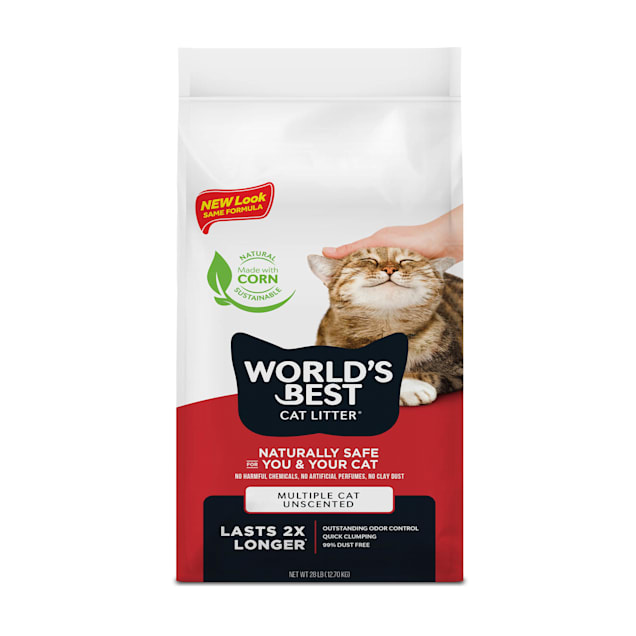 Best Cat Litter for Odor
World's Best Original Series Unscented Multi Corn Cat Litter
They don't call it "World's Best" for nothing: This is the top-rated cat litter on our list for many reasons. Reviewers say it clumps well, making it easy to scoop, and is low dust, so kitties don't track it all over the house. It's also made from natural plant materials with no chemicals or artificial perfumes.
8, 14, 15 or 28 lbs.
Material: Corn
Scented: No
Clumping: Yes
Multi-cat

"Best cat litter ever! ... It really cuts down on the odors, my cats love it, and it is far easier to scoop clean than any other litter that I have purchased." – Reindeere
Pros
Fragrance-free
Flushable, natural ingredients
Quick clumping and easy to scoop
Money back guarantee
Cons
More expensive than other kitty litter options on our list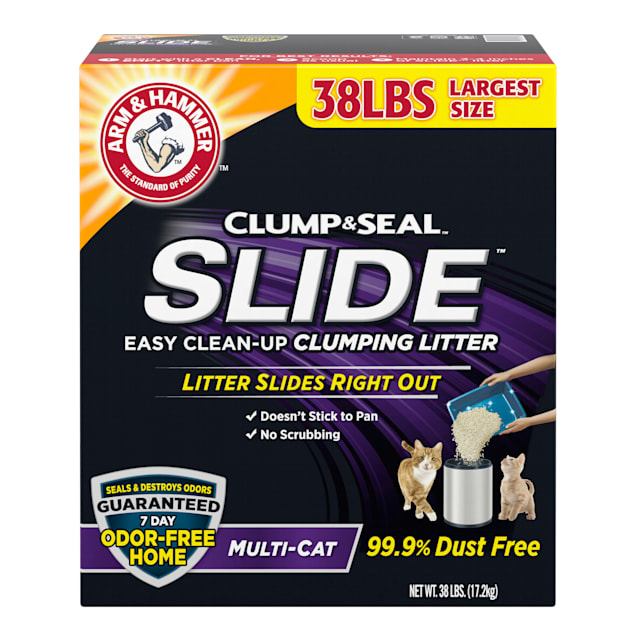 Best Clumping Cat Litter
Arm & Hammer Clump & Seal Slide Multi-Cat Clumping Litter
No one enjoys cleaning the litter box—and this is the best cat litter to help make that task easier. With Clump & Seal technology that tightly clumps and seals in odors for up to seven days, plus a formula that slides right out of the litter box, cleanup can be a breeze.
14, 19, 28 or 38 lbs
Material: Clay
Scented: No
Clumping: Yes
Multi-cat

"This is the only cat litter I use for my two kitties. It clumps together well and fights the not so nice odor that comes along with a litter box. It's also reasonably priced!" – sophy_lexi
Pros
Clumps tightly
Easy to clean
Low-dust
Strong enough for multiple cats
Cons
Some reviewers say it tracks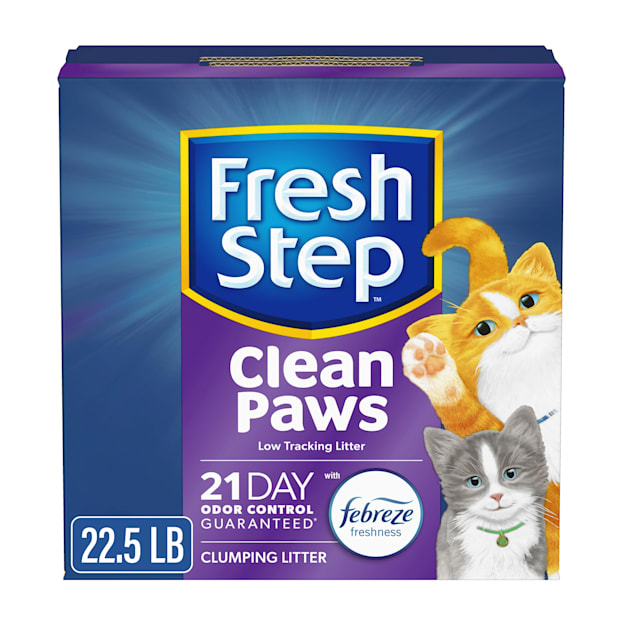 Best Cat Litter for Multiple Cats
Fresh Step Clean Paws Multi-Cat Scented Clumping Cat Litter
Multi-cat litter doesn't have to mean multiplied smells or scooping sessions. This well-known brand is one of the top-rated cat litters on our list, thanks to its odor-stopping formula of Febreze, activated charcoal and Ammonia Blocking and ClumpLock Technology. Plus, larger particles help minimize tracking.
22.5 lbs
Material: Clay
Scented: Yes
Clumping: Yes
Multi-cat

"I have tried lots of brands, but this is the best for multiple cats. Smells great, controls odor, no dust and majority of litter stays in the box." – Lynne13
Pros
Brudget-friendly price
Low-dust and low-tracking
Clumps tightly
Ten-day odor control guarantee
Cons
Some reviewers say it can be hard to scoop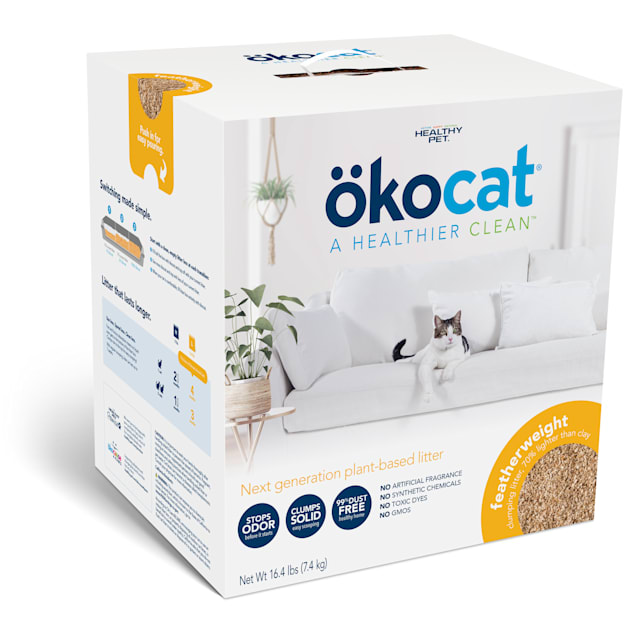 Best Unscented Cat Litter
Okocat Unscented Featherweight Clumping Wood Cat Litter
Wood fiber can be a good cat litter alternative to clay, with a fresh natural scent and lightweight texture. Its absorption and clumping abilities are just as powerful as clay, yet it's also biodegradable and flushable. Pet parents agree: This is one of the safest cat litters for your pet and the environment.
11 or 16.4 lbs
Material: Wood
Scented: No
Clumping: Yes
Single cat

"This is fantastic litter. Hold the clumps well, doesn't stick to the litter box, doesn't create a huge cloud of dust, and once sifted just smells like wood shavings." – TankerMunk
Pros
Fragrance-free
Low-dust and low-tracking
Biodegradable and flushable
Sustainably sourced
Cons
Some reviewers say it does not control odor well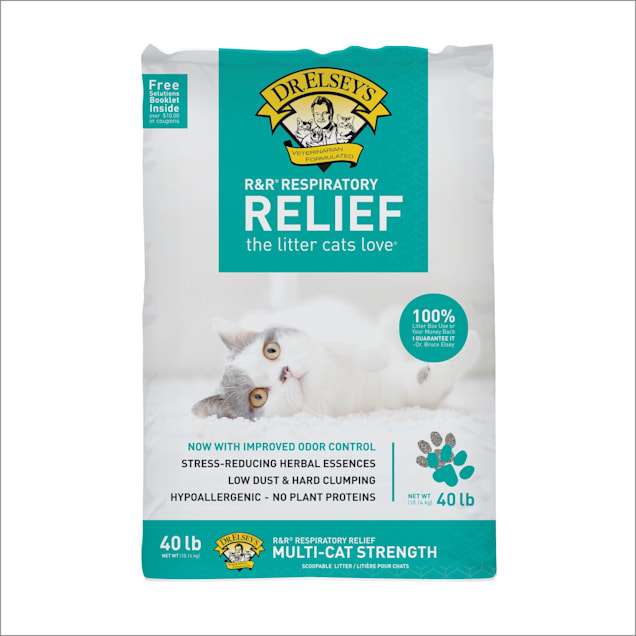 Best Dust-Free Cat Litter
Dr. Elsey's Respiratory Relief Clumping Clay Cat Litter
If you're looking for the healthiest cat litters, check out this low-dust, fragrance- and deodorant-free formula. Reviewers say it's helped their kitties with allergies, asthma and more. Plus, it contains natural essences to help reduce stress and entice your kitty to use the box.
20 or 40 lbs
Material: Clay
Scented: No
Clumping: Yes
Multi-cat
Pros
Low-dust and low-tracking
Long-lasting
Good odor control
Litter box use guarantee
Cons
Some reviewers say it doesn't clump very well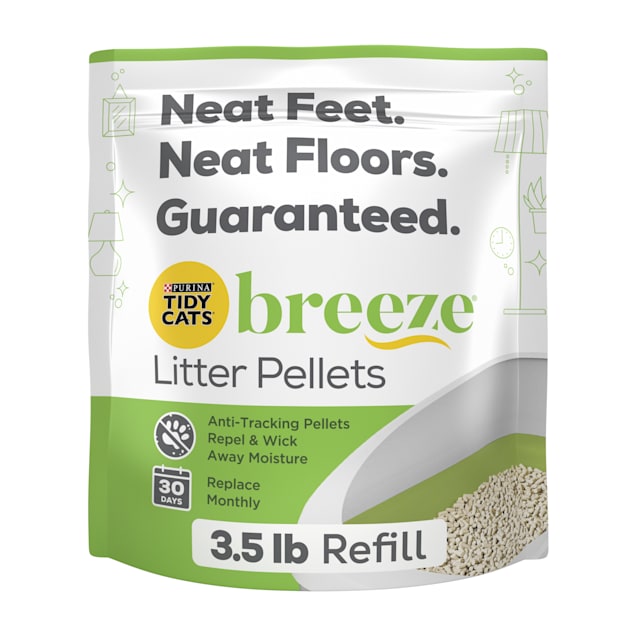 Best Non-Tracking Cat Litter
Purina Tidy Cats Breeze Refill Litter Pellets for Cats
These easy-to-use refills are designed for use with the Breeze system, one of the best litter systems out there, but the pellets can also be used independently. Whatever you choose, this mess-minimizing formula helps take the work out of litter maintenance while keeping your home smelling fresh and your kitty's feet neat.
6 pack of 3.5 lbs, 4 pack of 7 lbs, or single pack of each
Material: Natural minerals
Scented: No
Clumping: No
Multicat

"Super easy to clean, there is very little odor ... Before this, I had clumping litter everywhere! My cat tracked it into bed. There is no dust at all. It's the best ever!" – Jack_the_Brat
Pros
Low-dust and low-tracking
Long-lasting
Good odor control
Risk-free guarantee
Cons
More expensive than other kitty litter options on our list
Does not clump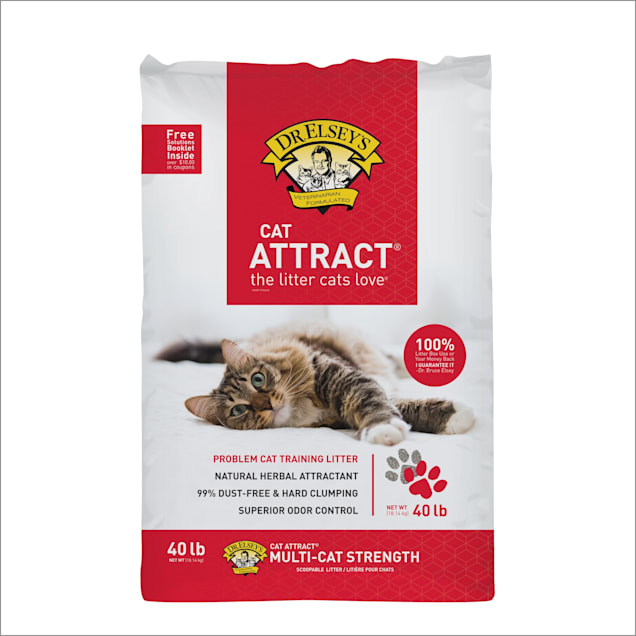 Best Cat Litter for Kittens
Dr. Elsey's Cat Attract Clumping Clay Cat Litter
Litter-training a kitten doesn't have to be a hassle, especially when you use this top-rated cat litter. The herbal attractant and pleasing texture are ideal for training kittens as well as older cats who don't like to go where they should. Litter box use varies by cat, but you can give yourself the upper hand with this litter.
20 or 40 lbs
Material: Clay
Scented: Yes
Clumping: Yes
Multi-cat

"We just got a kitten, and he would not use the pine litter I had available … The kitten started sniffing this box as soon as I put it on the floor. He used the litter box within 30 minutes. It definitely works."– Tracyjane26
Pros
Enticing herbal scent
Hard-clumping formula
Low-dust and low-tracking
Free solutions booklet
Cons
May not work for all cats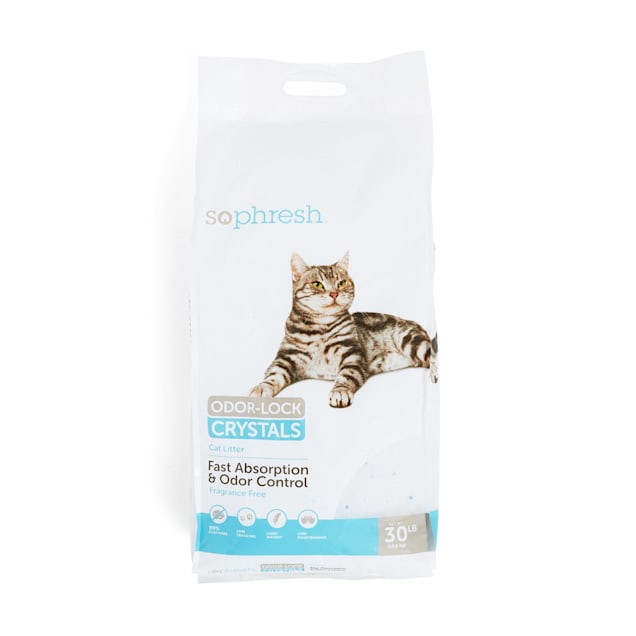 Best Crystal Cat Litter
So Phresh Odor-Lock Crystal Cat Litter
If you're looking for the best cat litter that is long-lasting and easy to clean, consider crystals. This lightweight cat litter can provide odor control for up to a month, neutralizing ammonia and knocking out moisture. The refillable container helps minimize your costs, too.
15 or 30 lbs
Material: Crystal
Scented: No
Clumping: Yes
Multi-cat

"I buy this for my two cats, they are worth it. I love this kind of litter. It's amazing with no smell." – Anonymous owner
Pros
Good odor control
Long-lasting
Lightweight
Refillable container
Cons
Crystal kitty litter tends to be more expensive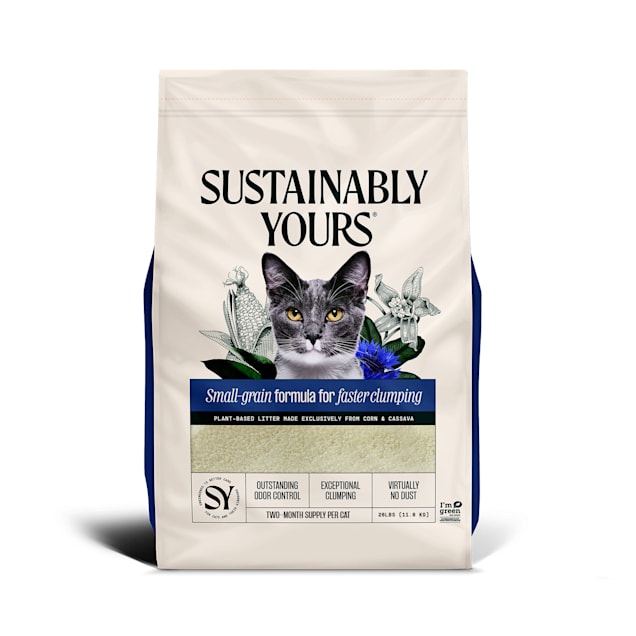 Best Natural Cat Litter
Sustainably Yours Multi-Cat Plus from Corn & Cassava Natural Litter
Pet parents in search of the healthiest cat litter often turn to natural options like this one from Sustainably Yours. It's made of cassava and corn from renewable and sustainable sources, yet it absorbs, clumps and controls odor just as well as clay and other materials. It's even flushable, compostable and biodegradable.
13 or 26 lbs
Material: Cassava and corn
Scented: No
Clumping: Yes
Multi-cat

"This stuff is the Cat's Meow. No perfumes, chemicals, or dust. My cats love it, I love it, and we're not sneezing anymore … And the icing on the cake, it's sustainable." – athenaos
Pros
Chemical- and fragrance-free
Clumps tightly
Biodegradable and flushable
Sustainably sourced
Cons
Some reviewers would like better odor control
Ultimately, the best cat litter comes down you and your kittys' personal preferences. Whether you're concerned about cat health and wellness or want to keep your floors looking tidy, you're sure to find an option you'll love on this list of top-sellers.
*Based on petco.com sales data.
Find the right food
Get a personalized recommendation for your dog with our Right Food Finder.
We're here to help
Beyond food, our stores offer health & wellness products and services to help make sure your cat has everything they need to thrive.
Store Partners
Get personalized recommendations based on your pet's needs.
Vet Services
Get the care your pet needs to feel their best at every stage of life.
Pet Pharmacy
Save big on heartworm preventives, pain relievers, Rx flea & tick control and more.
Frequently Asked Questions
Nobody likes messy paws or floors! Low-tracking litter is made from materials, like paper, that don't cling to cats' feet. Many pet parents like these formulas because they help prevent litter from being spread outside of the box. Keep in mind, however, that low-tracking litters don't clump.
Different litters work better for different cats and households. While many cats will use any litter, others are extremely choosy. Some cats prefer softer materials, some like clumping formulas, and some won't tolerate added scents. If you switch litters and your cat begins having issues, that's a good sign that the new litter is a poor fit.
You'll also want to consider your own preferences. Clumping litters are easier to clean, multi-cat formulas offer better odor control, low-tracking materials help reduce mess, and flushable options can be more convenient.
Declawing cats can cause lifelong sensitivity and pain, and it is not recommended. If your cat is already declawed, however, choose a soft litter that is gentle on their paws. Litters made from natural materials–like paper, wood, wheat and grass–tend to be the best for declawed cats.
Litter manufacturers use a variety of methods to help control litter box odors—from adding scents to using odor-absorbing materials. Multi-cat litters are particularly effective and specially formulated to handle heavy use. The best choice depends on your individual cat and your preferences. To help keep litter as fresh as possible, scoop the box daily and change the litter weekly.
The ideal litter for your cat (and you) depends on a number of factors. For the best match, choose a litter that addressed the needs of your cat and your home. Whether you're looking for an eco-friendly litter, a powerful multi-cat formula or a low-tracking option, you can find highly rated cat litter on petco.com and in our stores.
*Based on petco.com customer reviews.
// Forces popover to close when the user clicks anywhere on the page $(function(){ // fnGetNearestLocations(storeId, expirationMin, isHTML5Geolocation, isGoogleGeoAPI, HTML5GeoTimeout, XHRTimeout, isDebuggingEnabled) petcoNearestLocations.fnGetNearestLocations('10151','10080','true','true','10000','5000','https://www.googleapis.com/geolocation/v1/geolocate?key=','AIzaSyB1POydsXY7SJBDX-zowEC0y340ZJK6uig','false'); });