Contrary to popular belief, routine vet exams aren't just "nice to haves." These visits can help your dog live a longer, healthier and happier life by giving you the tools to catch health problems early.
"Regular vet exams are essential to giving your pet the best care. Even if your dog is healthy and well, routine exams allow for early detection and intervention. Your vet will track your dog's development and will be able to answer any questions about their overall health," Dr. Whitney Miller, DVM, MBA, DACVPM, Petco Chief Veterinarian.
What is your veterinarian looking for during a routine exam?
Depending on the age and overall condition of your dog, your vet might recommend annual or biannual routine exams. And unless you have a specific concern – Rex is scratching too much, Fido is hungrier than usual – the vet will start a check at the nose and end at the tail.
In some clinics, a nurse will check your pup's temperature before the exam. Next, a stethoscope is used to carefully listen to the rhythm and synchronicity of the heart to check for any murmurs.
Next, the head-to-tail exam starts. The vet will check your dog's nose, eyes and ears for any abnormalities, discharge, smells and growths. Your vet can even pick up on signs of problems such as a head tilt, which most of us wouldn't assume was a health issue at all.
Dental disease affects approximately 80 percent of dogs. An oral exam is essential to check the condition of the gums, breath and the teeth, especially because the health of the mouth can tell you a lot about the overall health of the animal.
The two main things to look for here are areas of hair thinning or loss of hair (alopecia) and external parasites (fleas, ticks, or mites).
When checking the skin, your vet will also look for anything that doesn't look or feel right. Growths can be something as simple as benign fatty masses called lipomas, or they can indicate the presence of cancer.
Your vet will apply a small amount of pressure and feel different sections of the abdomen. This process will help your vet identify any abnormalities or abdominal pain your pet may be experiencing.
While this may feel like a lot of information, knowing what is included in a standard "head-to-tail" exam is important for pet parents. As pet parents, this is our opportunity to prioritize routine exams and to ensure our dogs' whole health is being cared for and evaluated during these visits.
What additional screenings might be done when my pet is in for their routine vet exams?
Outside of the "head-to-tail" approach, there's no standard routine testing that applies to all dogs. Vets generally require an annual heartworm test to refill heartworm prevention prescriptions. Depending on the age and health of your dog, or if blood work has not been run recently, your dog may need basic blood work. This will help your vet establish a healthy baseline to compare future blood work against as well as provide insight to any underlying health concerns if present. Depending on what your vet finds during their exam or review of blood work, additional tests may be recommended to identify or rule out health concerns. Routine complete blood count (CBC) will check a wide range of health concerns such as anemia, infection and cancer.
Given their increased health vulnerability, both puppies and senior dogs will need to receive not only different care, but also above and beyond care from your vet.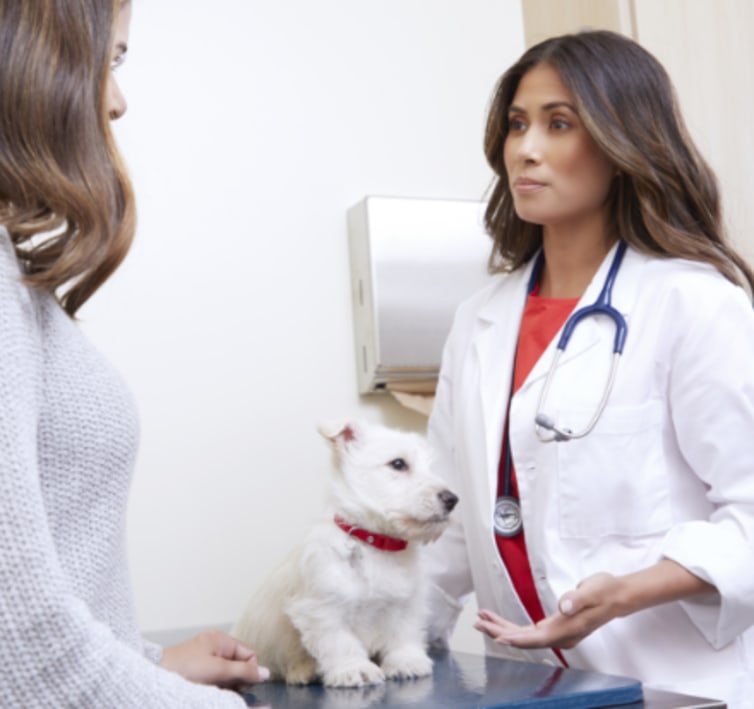 Puppy vaccinations
For the first four months of their lives, puppies need a lot more visits than healthy adult dogs who simply need a wellness exam and annual vaccination/boosters. Puppies will have a series of "puppy" vaccines and deworming. Having several veterinary visits within a short period of time provides you with a great opportunity to ask your vet for guidance on when to spay/neuter, nutrition and starting an internal/external parasite preventative. This will give your pup a well-balanced, healthy start in life.
Senior dog screenings
Dogs are considered seniors at different ages. A large breed will enter his golden years as early as five years of age, while small dogs are not considered seniors until they're seven years old.
Because senior dogs are more prone to certain conditions, your vet might recommend additional tests for early identification of disease or to rule out health concerns, as well as more frequent routine exams (two to three times per year). For example, an aging pet may show signs of arthritis such as difficulty getting into the car or jumping onto the couch. In this case, your vet may recommend X-rays to better assess the severity of the degenerative joints disease and then prescribe the proper protocol to help with the joint health.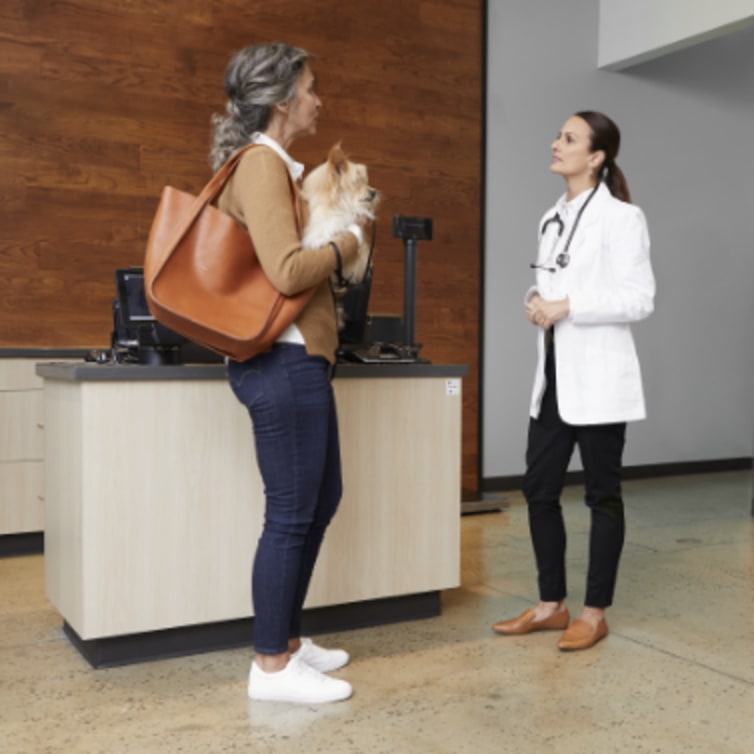 What else can you discuss during a routine exam?
During the exam, your vet will also spend some time assessing your dog's musculature, body score (weight), joint conformation and even their gait. And because overweight pets are at risk for high blood pressure, diabetes, arthritis and low exercise tolerance, vets will often ask about what food you are feeding, how much and how often.
Even if your dog isn't due for a vaccine at the time of the exam, this could be a good time to discuss vaccination history.
Making regular exams a routine
For most dogs, bi-annual wellness examinations are the norm, but what happens when your dog needs more regular visits? Costs can add up quickly, especially if you include things like regular baths and haircuts. Then again, skipping routine care can end up costing you a lot more in the long run.
An easy way to integrate routine exams into a pet's health and wellness journey is to look into plans such as Petco's Vital Care. For a small monthly fee, these plans offer a number of benefits (such as baths, haircuts and vet exams), including up to two routine exams per year at the vet of your choice or unlimited exams at Petco hospitals.
"Vital Care offers grooming services and vet exams, helping make routine care affordable. With Vital Care, your dog gets the care they need from our knowledgeable Petco associates," Dr. Whitney Miller, DVM, MBA, DACVPM, Petco Chief Veterinarian.