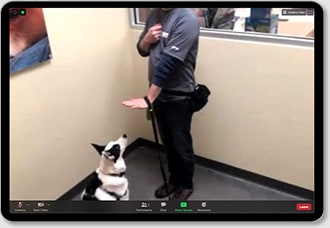 Sit, stay home and train

Led by Petco certified dog trainers, our online classes suit a variety of needs and experience levels.

Training from the comfort of home

Safely access dog training classes via Zoom from any location that has Internet access.

Build better bonds

Strengthen your relationship with your dog while bonding with other pet parents.
Find the best classes for you and your dog

Select your preferred class, day and time

Join your class via a Zoom link sent to your email What is positive reinforcement?
A rewards-based approach to teaching pet parents how dogs think, learn and communicate. We focus on rewarding the behaviors we like to encourage appropriate dog behavior in the real world.
Positive reinforcement training is proven effective and builds a strong bond between pet parents and their dogs.
What to bring to class
6-foot nylon or leather leash
Training treats and treat pouch
Long-lasting chew or stuffed KONG
5-by-5 space to train your dog