Best* Cat Brushes
Whether it's to maintain their coat or cut down on shedding, most cats need a good brushing at least once a week. Here are some tips on how to find the best cat brush for the job.
What to look for in cat brushes
The best solution for keeping your feline's coat smooth and mat-free really depends on your cat's hair. Here's what to look for in some of the best tools for different types of fur.
Designed for Hair Length
The best short-haired cat brush should have short bristles that are soft or fine to avoid scratching your cat. A soft cat slicker brush is ideal—they have fine, thin bristles that can get down to the skin to help release the dirt and dander. Long-haired cats require daily brushings, and you'll want to start with a brush that's specially designed to help you get through both their topcoat and undercoat with minimal effort.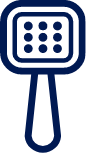 Deshedding Tools
Having a quality cat deshedding brush is a must-have when it comes to cat hair removal and shed control. A deshedding tool helps you get through accumulated hair and loosen dander. Using a deshedding tool on both long-hair and short-haired felines makes for a cleaner home and less use of a lint-roller. Some common deshedding tools are slicker brushes, brushes with built-in blades to remove extra undercoat and deshedding rakes or combs.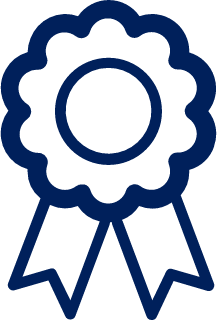 Quality and Value
Look for a high-quality cat brush with multiple functionalities that is available at a price you feel comfortable paying.
Pet Parent Faves
Help make grooming your cat as easy and hassle-free as possible with the right tools. Here are Petco's pet parent customer's most frequently purchased cat brushes.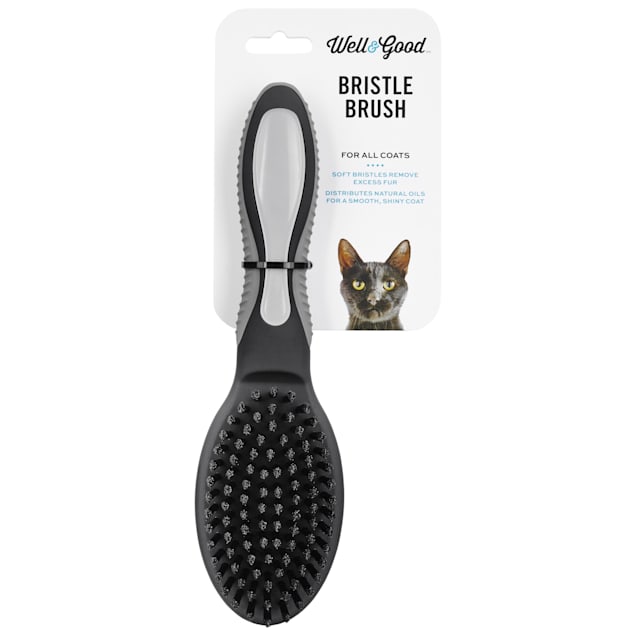 Best Overall:
Well & Good
Black Bristle Cat Brush
This one is our ultimate best-seller, and for good reason—its bristles are soft enough for use on short-haired cats but also long enough to get deep down if you have a long-haired feline. It's also great for multiple cats with different coats. This cat hairbrush is a great tool for getting rid of excess fur, dirt and dander and distributing oils.
Features:
Brush is 8-inches long and 2-inches wide
Ideal for all cat coats
Soft bristles
Promotes oil distribution
Sleek black and gray design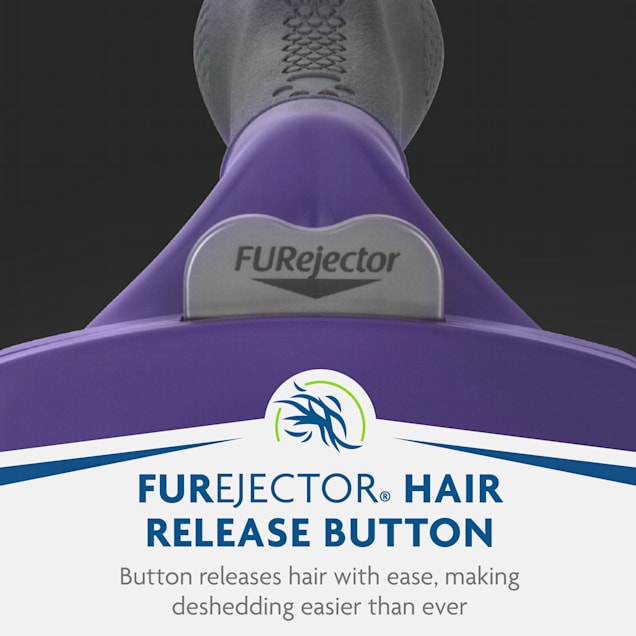 Best for Shedding/DeShedding:
FURminator
Long Hair deShedding Tool for Large Cats
When used as directed, the FURminator makes getting rid of your cat's undercoat quick and easy. It has a stainless-steel blade that bypasses the topcoat and gets down to the undercoat. This cat shedding brush has a curved edge to conform with your pet's body, and a comfortable, ergonomic grip. It also has a skin guard to help protect your pet, and a FURjector button for easy cleaning.
Features:
Standard size
To be used on large, long-haired cats that weigh more than 10 lbs.
Designed for comfort for both you and your pet
Soft grip for easy use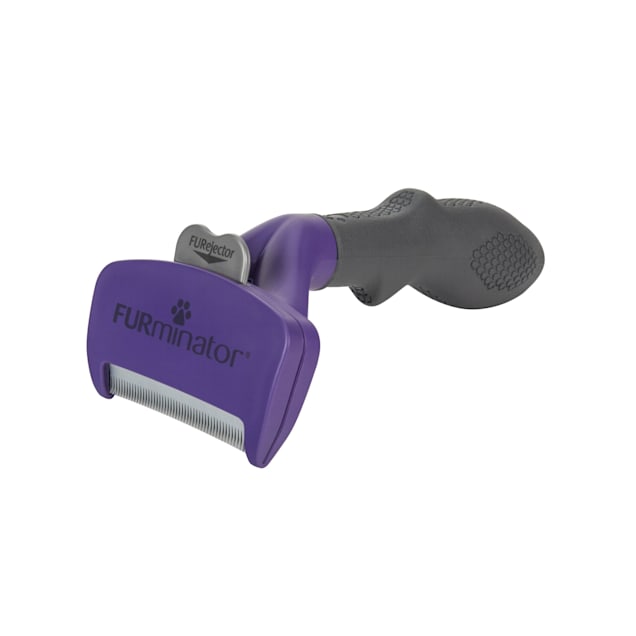 Best For Short Hair:
FURminator
Short Hair deShedding Tool for Large Cats
Don't think FURminator forgot about our short-haired kitties. Even though short-haired cats tend to shed less than their long-haired counterparts, they still need to get rid of that undercoat. This cat deshedding brush makes it easy.
Features:
Standard size
To be used on large, short-haired cats that weigh more than 10 lbs.
Designed for ease of use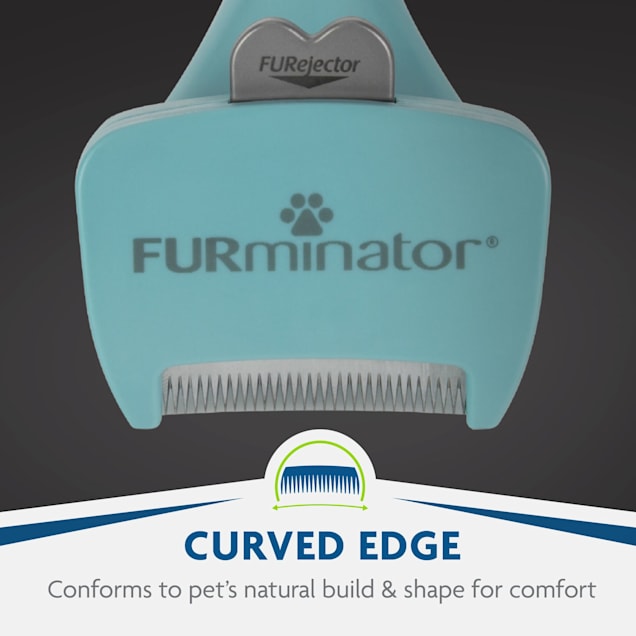 Best for Long-Hair:
FURminator
Long Hair deShedding Tool for Small Cats
Our itty-bitty kitties can surely shed a lot of hair. This version of the FURminator is more compact for easier use on petite felines. The smaller design allows for more angles, so you can remove as much undercoat as possible.
Features:
Comes in Small, Medium and Large
Hassle-free design makes it easy to put on
Side straps are adjustable for just the right fit
Red and black colors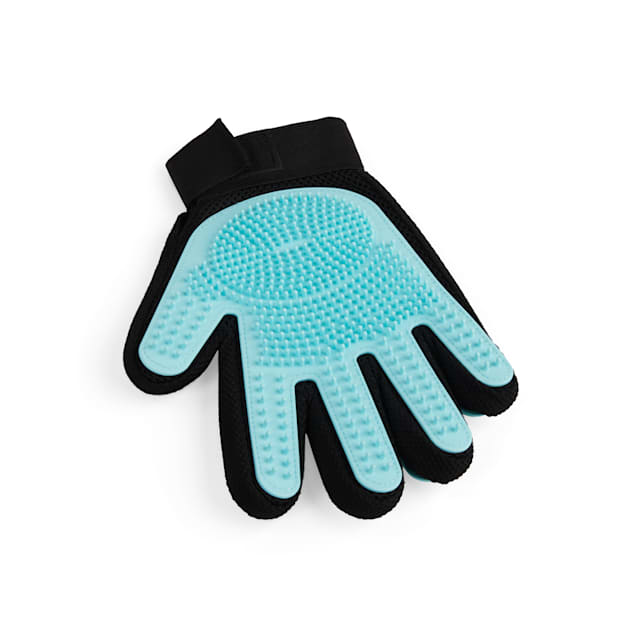 Best Glove Style:
Well & Good
Grooming Glove for Cats
If your feline hates being groomed, this may be the perfect solution. This glove comes equipped with silicone bristles—just slip it on and pet your cat. They'll enjoy the extra snuggles, and you'll help to reduce the hairballs sticking to your sofa. The Well & Good Grooming Glove can be used on either hand and wet or dry—this is a great tool during bath time. It helps remove dirt and creates lather.
Features:
The glove is 9.45-inches in length and 6.9-inches in width
Soft, silicone bristles for gentle grooming
Fast drying
Easy-to-clean
Found exclusively at Petco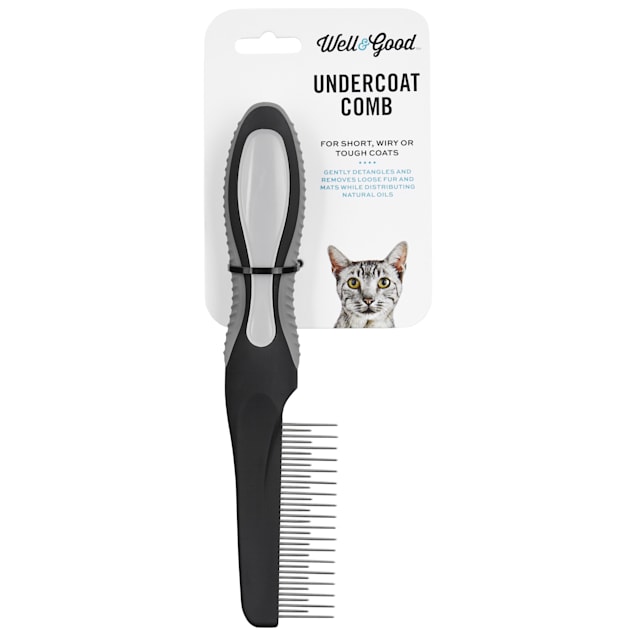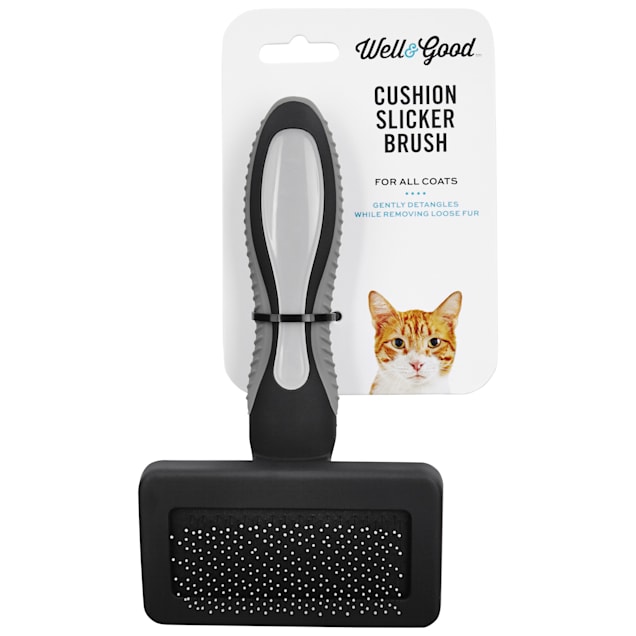 Best Slicker Brush:
Well & Good
Black Cushion Slicker Cat Brush
Well & Good makes its fourth debut on our list with a sleek slicker brush designed for all sizes and coats. It helps gently remove dander and loose fur, while distributing oils and giving your cat's coat a smooth, thicker appearance. Slickers are a favorite among pet parents, and this Well & Good slicker is no exception.
Features:
This brush is 7-inches in length and 3.5-inches in width
For all coats
Stimulates skin
Great for sensitive coats
We're here to help
Beyond cat brushes, our stores offer health & wellness products and services to help make sure your cat has everything they need to thrive.
Store Partners
Get personalized recommendations based on your pet's needs.
Find a Store
Vet Services
Get the care your pet needs to feel their best at every stage of life.
Find a Vet
Pharmacy
Save big on heartworm preventives, pain relievers, Rx flea & tick control and more.
Shop Pharmacy
FAQs About Cat Brushes
When it comes to determining the best cat brush, it's important to factor in the condition of your cat's coat. If they have sensitive skin that gets easily inflamed, you'll want to avoid abrasive bristles and go with a silicone or soft-bristled brush. If your cat's hair is long and thick, using a pin brush may work best to get down to the dander and undercoat. Dual-headed brushes with pins on one side and soft bristles on the other may be a great option when it comes to long-haired cat brushes, especially if you have more than one cat.
It's important to pay attention to your pet's comfort level while grooming—if they appear distressed or their skin shows signs of irritation, discontinue use immediately. Visit any of our neighborhood Petco Pet Care Centers for all of your pet solutions, including a variety of cat grooming and bathing supplies. You can also visit the Pet Resource Center for some great tips on How to Groom Your Cat, as well as a handy New Cat Owner Guide so you'll be fully prepared to help your cat thrive.
Yes. Like our best overall brush listed above, bristle brushes are usually gentle enough for short-haired cats and can help smooth fur and distribute oils. Bristle brushes are an essential part of cat grooming, but you may also want to add a good deshedding tool or undercoat comb to your routine.
It is highly recommended. Brushing your cat regularly will help reduce shedding and the amount of hair your cat consumes, which means fewer unpleasant furballs. Getting rid of all the excess dander and dead hair is also important for your cat's coat wellness, and brushing distributes important oils your cat's fur needs.
Cats usually either love it or hate it. Use of the proper tools and encouragement with treats and praise can go a long way. With a little patience and time, grooming your cat can become a great bonding opportunity and a great way to earn your cat's trust. Consistency is the key.
*Based on petco.com sales data.