Resource Center Menu
How to Navigate the Park with Your Dog

For many dogs, one of their favorite adventures is a trip to the park. Whether it is a peaceful stroll alongside the water or an off-leash playdate at a dog park, visiting the park with your dog allows them to get some exercise, sniff new smells and explore the vast world outside their front door.
Spending time in the great outdoors can also benefit your dog's overall health and wellness. Physically, getting in some extra steps can help improve their fitness level and may even reduce their risk of obesity. Socially, spending time outside of the home and interacting with the world can help your dog build more confidence and strengthen their bond with you. Mentally, a park day can stimulate your pup with new sights and smells and may help reduce unwanted behaviors at home.
It is important to be prepared before you and your pooch head to the park. By taking a few steps ahead of time, your dog will be more likely to have the best and safest time possible.
Table of Contents
How to prepare for a trip to the park
Before packing up and heading out for the day, start by confirming that the park is dog-friendly. In some cases, your dog might be allowed in certain areas of the park and on specific trails. Be sure to do your research and pay attention to any posted signs.
Next, use our handy checklist to ensure you've brought everything you need.
1. Pack the essentials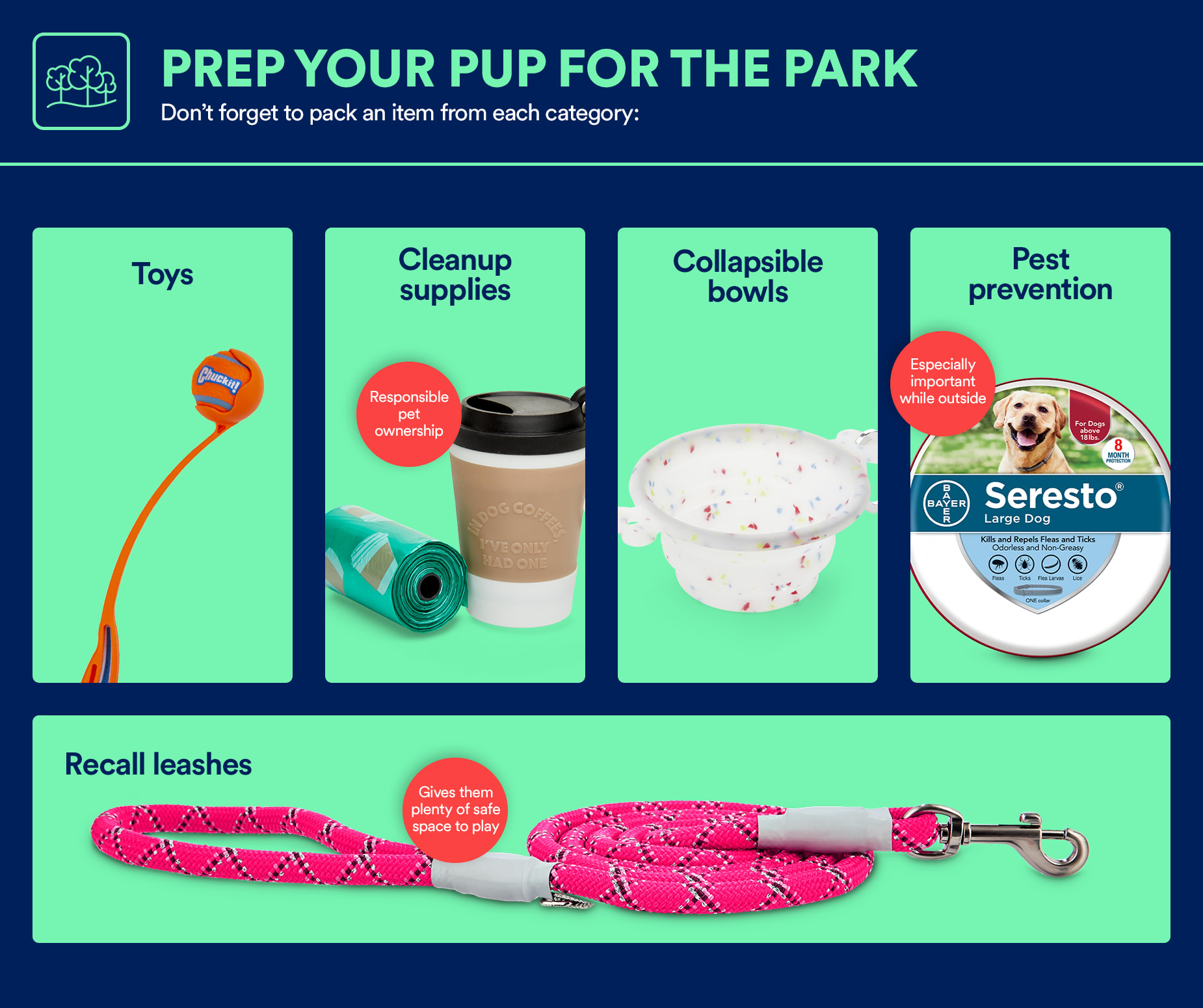 Toys: Bring along your pup's favorite toys, such as a ball to chase or a bone to chew on while you watch the ducks swim.
Cleanup supplies: Don't forget to bring a roll of poop bags and clean up after your dog during your park visit.
Collapsible bowls: Having a water bowl and even a bowl for a quick snack can help ensure that your dog stays hydrated and fueled for any adventure.
Treats: Use treats to reward your dog for displaying proper leash etiquette or give them a mini-training session with all of the distractions a park setting affords.
Pest prevention: Make sure you have your dog on all proper pest prevention, including heartworm, flea and tick prevention.
Vaccinations: It is critical to your dog's health that they are up to date on all vaccinations as they may interact with other dogs or be exposed to bacteria or viruses in the environment.
Well-fitting collar and ID tag: Always make sure your pet is wearing a well-fitted collar with ID tag to help ensure a reunification if your dog becomes lost. Microchipping in addition to an ID is preferable in case your dog accidentally slips their collar.
Recall leashes: Give your dog plenty of room to safely practice recalls with a recall leash.
2. Find the right dog park
Not all dog parks are created equally. Before bringing their dogs, pet parents should visit their local park without them to learn what to expect.
Although many dog parks are dog-friendly and allow dogs to run freely, there are differences in how they are structured. Some have fencing, while others do not. Some dog parks separate dogs based on size, and others allow dogs of all sizes to play together. Some dog parks have grass, and others have wood chips, dirt or gravel as a base.
When choosing a dog park, make sure to pick one where you and your dog feel comfortable and safe. Look for a dog park that has complete and maintained fencing, play areas for different sizes of dogs, lots of space for your dog to take breaks away from the other dogs, along with a stated outline of guidelines. Before entering a dog park with your dog make sure that the area is secure and that dogs won't be able to escape. Observe the park for any potential hazards, such as discarded trash or park equipment that has deteriorated. The entry should have a smaller, separate area where you can safely remove your dog's leash and where dogs can initially meet on their own side of the fence.
3. Pay attention to your pooch's health
One of the best ways to keep your park day safe is to always pay careful attention to your dog.
Since dogs can't talk, observing your pup's behavior in a variety of situations will give you a lot of insight into how they are feeling mentally, socially and physically.
A dog who is panting and feels hot to the touch, for example, is probably trying to tell you, "I need a break from the sun!" Excessively licking their lips and acting skittish as bikes speed by on the trails probably means your dog has a fear of cyclists and is looking for a way to feel safe.
When you pay attention to your dog and learn their non-verbal cues, you can utilize positive reinforcement training to acclimate them to situations that might initially make them nervous. If your dog seems to be feeling nervous or overwhelmed, try to find a quiet area away from park distractions to work on associating those distractions with positive things like treats and play. As your dog becomes more comfortable, you can start to slowly move closer to the distractions.
By spending time with your dog and caring for their needs in the park, you can build a long-lasting trust between you and your pup.
Check the weather forecast before you head to the park. It is best to skip the park during extreme weather. On hot days, make sure your dog has ample access to cool water and that their paws are protected against the hot pavement with a pair of booties. On cold, windy or rainy days, grab a jacket along with booties for your pooch.
Be sure you know your dog's fitness level and how much activity they can handle. Your vet can help you determine the right level of exertion for your dog. Take breaks as needed if you notice your dog is panting excessively or slowing.
Time spent in the sun can lead to sunburns for both humans and pets. Be sure to apply a pet-friendly sunblock before taking your pup out into the sunshine.
What to Know Before Heading to an Off-Leash Dog Park
Taking a trip to a local off-leash dog park with your canine companion is one of many ways for your dog to socialize while getting physical exercise. Before visiting an off-leash dog park, it is important to understand how to make the outing a safe and positive experience. These parks are not optimal for many dogs, and young puppies should never be brought to an off-leash dog park.
"Pet parents should understand that dog parks are wonderful in theory but not always in execution," says Victoria Schade, a Pennsylvania-based dog trainer and author of "Life on the Leash." She continues, "They're not a fit for every dog, especially those that are under-socialized or inappropriate with other dogs. "If your dog is vaccinated, trained and comfortable socializing with other dogs, make sure to follow these guidelines when visiting the dog park.
4. Consider your dog's social boundaries and recall skills
Make sure your dog is properly socialized before you let your dog off their leash. You should only bring your dog to an off-leash park if you know they will interact positively with other canines.
"Dog parks aren't a place to learn socialization skills," says Schade. "They're for dogs that have a history of positive and friendly dog-dog interactions."
While all dogs should be up-to-date on vaccinations and have healthy social skills before entering a dog park, the majority of dog parks are not monitored to ensure these rules are being followed. At off-leash dog parks, there will always be the risk of unsocialized dogs or even the friendliest of dogs with different play styles not getting along and ultimately causing harm to one another. Before bringing your own dog into the dog park, observe the other dogs at play. The other dogs at the park should be showing behaviors that are within your dog's comfort zone and have a similar play style. If you are unsure if the dogs at the off-leash dog park are a fit for playing with your dog, it is best to wait until the dogs in question have left the park. As a pet parent, it's crucial that you recognize when your dog might be nervous or overwhelmed. Learning and understanding dog body language before you go to the park can help prevent tiffs or unwanted behaviors at the park. It's important to know not only your own dog's typical behavior but that of other dogs as well.
"Pet parents should be able to tell the difference between appropriate play and when interactions are tipping over into inappropriate," says Schade. "Understanding body language will also help them know if their dog is enjoying the experience and when it's time to hit the road."
To avoid any potential mishaps, accidents or escalations, watch your dogs at all times. "Awareness and control are important to safety," says Dr. Jim Carlson, owner of Riverside Animal Clinic near Chicago. "Keeping a watchful eye on your dog is necessary, so put your phone away during the trip." Your dog may also ask for your "support" by doing check-ins: Each time your dog comes to you, recognize it by petting them or providing other positive reinforcement.
Lastly, it's crucial to have a strong recall. If your dog doesn't come when called, the dog park is not the best place to play quite yet. "Your dog should have a firm grasp of coming when called thanks to a ton of practice sessions with high rewards in and around your home in case you need to preempt a dangerous situation," says Schade.
For a lot of dogs, playing one-on-one with another canine friend is a much more relaxed and fun way to socialize. Off-leash dog parks are a great way to introduce yourself to other people with dogs that you feel would be a great play friend for your dog without having to enter the off-leash part of the park. Observe the dogs inside the park for a dog you believe could be a great play friend to your own, and then introduce yourself outside of the park. Schedule a time to meet up with your dog's new friend outside of the park or during slower hours for them to play one-on-one.
If you want to begin taking your canine to a dog park, start early with socialization by taking your pup to supervised playtimes and training classes to build their confidence and comfort in interacting with other dogs and people.
5. Invest in training
Whether you are visiting an off-leash park or planning to keep your dog on a leash as you stroll through the woods, investing in proper dog training ahead of time is one of the best ways to contribute to an enriching, safe experience for your dog.

If you're feeling uncertain about a trip to the park with your dog or you think your dog isn't quite ready yet, consider enrolling in a positive reinforcement based dog training course beforehand. This can be particularly helpful when you first bring a new dog into your home. Learning your dog's social skills in a professional setting can help you both build your confidence in spending time outside of the home.

Additional resources: