Resource Center Menu
Preparing Your Dog for a Road Trip
It's time to pack your bags and take that road trip you've been dreaming about. And we bet your dog would love to join you.
While bringing your dog along has the potential to make any road trip more fun, car rides can introduce their own set of physical and mental stressors for your four-legged travel partner. For you and your dog to get the most out of your next trip, remember to keep their health and happiness at top of mind.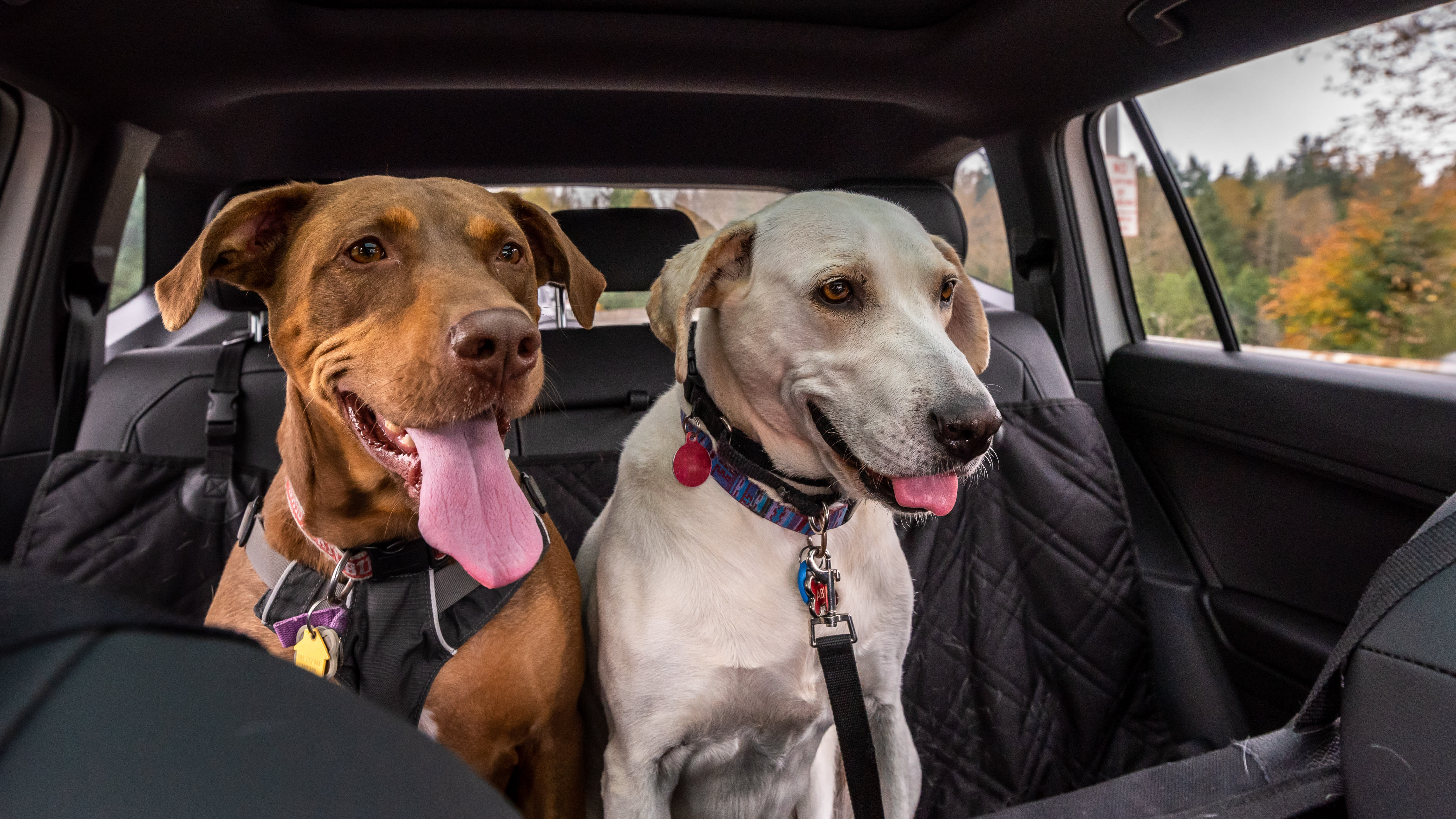 How Road Trips Affect Your Pooch and What to Do
For some dogs, hopping into the backseat and taking a days-long trip is pure enjoyment, but for others, the same journey can require a little more planning to make it a success.
Regardless of your dog's natural disposition, you, as a pet parent, have the power to make the experience as good as possible, and it all starts with understanding how your dog might feel on the road.
Some dogs struggle with car rides due to a physical reaction to high speeds. Your vet can be a valuable resource. Talk to them about motion sickness medication and other natural options that can help settle your dog's stomach.
For some dogs, traveling at high speed can induce anxiety. So, it's important to assess your dog's mental wellness when planning a road trip.
Take your dog for a short test drive around the neighborhood first. If they exhibit signs of anxiety, such as excessive panting, licking their lips, whining, vomitting or drooling, you will need to take some extra steps before you embark on a longer trip.
You can slowly acclimate your dog to the idea that spending time in the car is fun. For example, bring treats and toys out to the car in the days leading up to your trip and spend a little time with your dog just sitting in the vehicle.
Your dog's mental health is worth discussing with their veterinarian. They can help you narrow in on the root of the anxiety, treat it accordingly and perhaps find the right calming aid.
How to Prepare for the Trip Ahead
Now that you understand how your dog might react to a long car trip, it is time to prepare your pup for the best experience possible. With the right foundation set, you and your dog can enjoy many road trips and amazing adventures.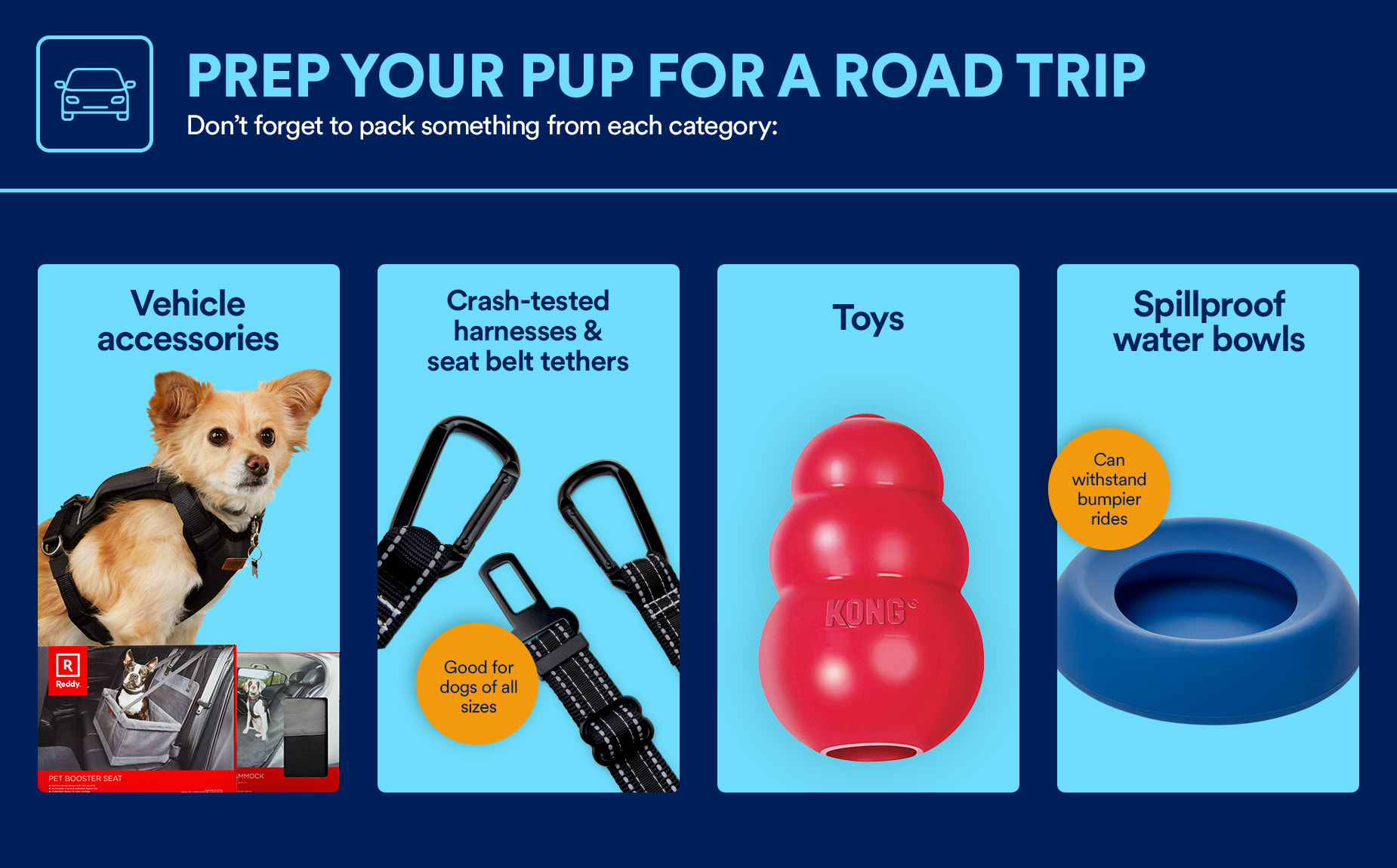 When traveling with a dog in the car, safety is the top priority. Travel carriers, seat slings, car seats and dog seat belts can help keep your dog contained and off your lap or feet. Distracted driving is a hazard for you, your pet and other drivers and passengers on the road. Restricting your dog's movement also helps decrease their chances of injury in an accident.
If you have a senior dog or a smaller or larger dog that needs a little help getting into your car, consider investing in a pet ramp as a comfort and safety measure.
A fun part of road trip planning is deciding what to bring for snacks. And we all know how much most dogs love them. Don't forget the water—you and your dog will both need plenty of it.
Start by purchasing water and travel bowls that are collapsible, lightweight and designed for travel. These will make it easy to ensure your pup is well fed and hydrated throughout the day whether in the car or at a pitstop.
Now it's time to pack their regular dog food for mealtimes as well as those treats we mentioned earlier. Bring a little more than their usual rations if your road trip will include rigorous activities like hiking or swimming—they'll need those extra calories.
Travel tip: Consider packing freeze-dried dog treats—they're ultra-lightweight for you, but just as tasty for your pup.
Keeping your dog safe isn't all about the car ride. Be sure to pack the adventure gear you'll need to help keep them protected throughout your entire trip.
Boots and balms, for example, help protect your dog's paws on varied terrain and in all sorts of weather, sunscreen can help keep your dog's skin comfortable in sunny weather, a life vest can help keep them safe in the water, and pest treatments can help keep your pup protected from fleas and ticks.
You also might want to look into an updated ID tag and new leash that is the appropriate length for your activity of choice.
The goal is to think through the activities you have planned and pack supplies accordingly.
Here's to happy, safe and healthy travels to you and your pup filled with plenty of activity!