7 Questions to Ask Before Your Pet's First Groom at a Salon
Resource Center Menu
Close

7 Questions to Ask Before Your Pet's First Groom at a Salon
It's finally time to take your pet into a grooming salon! If you're like most pet parents you want all your questions answered so you know what to expect. To help prepare you and your cat or dog for their first groom, we're answering seven common questions like, "How much is dog grooming?", "Does Petco groom cats?", "How do I find the right stylist?", and much more! Keep reading to learn how to ease your pet into a new grooming environment.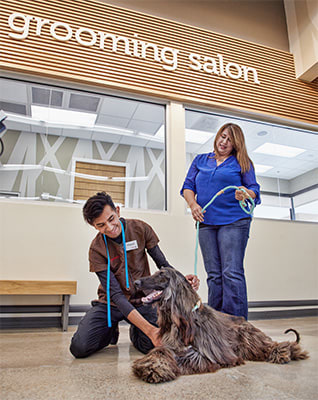 1. How much is dog grooming?
The cost of dog grooming varies from salon to salon. This is because each salon has their own pricing structure that differs across the pet industry. At Petco, the cost of dog grooming is dependent on breed, size, and type of fur or hair, making it helpful to come in and meet with a certified stylist. Upon meeting with a stylist, they will recommend a grooming service and confirm all costs before the start of the appointment.
You can also review standardized rate cards available at each Petco salon or when you book online. If you have a cat, the same pricing factors apply.
2. What do grooming services include?
Instead of the typical brush and bath you may perform at home, salons offer high-quality treatments designed to maximize your pet's grooming. Most standard services include pedicures (nail trimming), ear cleaning, bath and brush out, and the checking and external expressing of anal glands. Stylists select shampoos and conditioners particular to the coat type and breed specifications.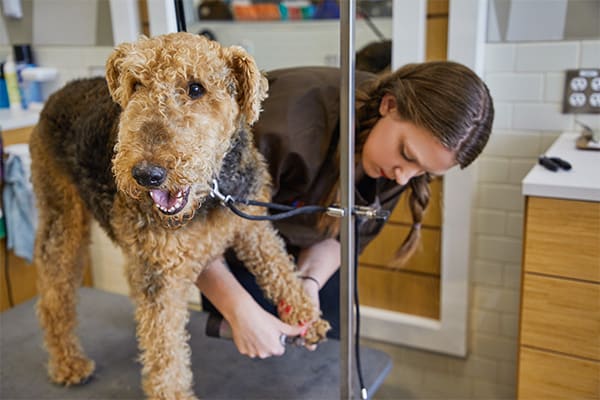 If you have a certain haircut in mind for your pet, let your stylist know. Some options include a "puppy cut" or having your dog trimmed to the breed standard. This decision will depend on your pet's lifestyle and your commitment to maintaining their coat.
Before booking your dog or cat's grooming appointment, make sure you inquire about the full range of services offered. Knowing what's included in the standard package and the service upgrades such as teeth cleaning, special shampoos and conditioners, and the removal of tear stains, will help you decide what's best for your pet.
3. Does Petco groom cats?
When it comes to cats, it's very important to take your feline's personality into account. You know their quirks and how they respond to being around dogs and new people, so keep this in mind when making an appointment. While some cats may not mind, others become stressed, causing their blood pressure to spike. In this case, it's best to find a salon with a feline-only clientele or even a mobile pet stylist.
Many Petco salons have stylists who specialize in grooming cats. They're trained to identify stress signals and will always put the safety of any pet first. If they notice signs of discomfort in your feline friend, they may decide to conclude the appointment early in order to do what's best for your pet. A good rule of thumb is to always call and check which animals are welcome as some salons do not service cats.
4. What do I look for in a pet stylist?
Finding the right pet stylist makes all the difference in your dog or cat having a relaxing and enjoyable experience. You want someone who understands your requests, makes recommendations to improve the health and well-being of your pet and is capable of building a connection. It's also important to consider someone with a welcoming voice. This is key in creating a soothing environment where your pet can relax.
Begin your search by considering any personal recommendations first. Visit local salons before booking an appointment to do some research. Many salons feature open-design layouts where you can observe how stylists handle pets. Be sure to take note of the level of cleanliness, whether the staff is friendly and knowledgeable, and what safety precautions are in place to protect pets.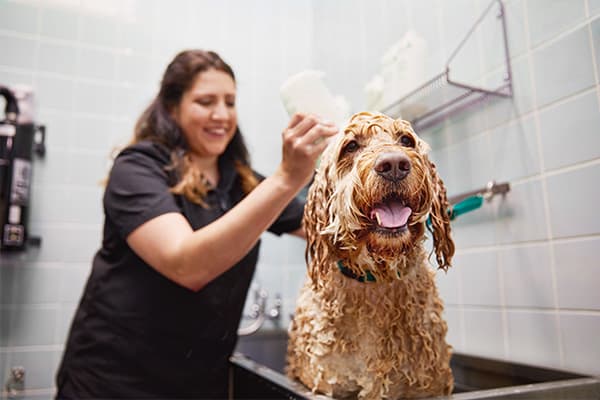 5. How do I prepare my pet for a groom?
It will be easier for your dog or cat to work with a stylist if grooming is a part of their regular routine. The more hands-on you are with an adopted puppy or kitten, the better. This includes playing with their paws, stroking their chin and ears as well as getting them accustomed to you looking inside their mouths. Brushing them is another good grooming habit to start early on.
If you've adopted an older pet this could be a bit more challenging, especially if their previous pet parents mistreated them. Either way, it's important to discuss your pet's personality traits with their stylist to avoid any surprises. Ultimately, trained pets who understand basic commands will have a better grooming experience and likely build a strong rapport with their stylist.

6. What happens once I'm at the grooming salon?
When you arrive at a Petco salon you'll first be asked to check in. Next, the stylist will perform a visual and physical screening of your pet called the "7-Point Pet Care Check." This includes evaluating the eyes, ears, teeth, nose, underside, skin and coat, and nail and pads. Once complete, they'll discuss grooming packages and suggest specific treatments unique to your pet.
During this time, you can provide any special grooming instructions or a particular haircut you have in mind. This is also a great opportunity to bring up known issues your pet has, from limping to allergies, and for older pets, the location of benign lumps. Letting your pet's stylist know these conditions will help them recommend a custom grooming plan for your dog or cat.
When deciding on the service, ask what tools or products you'll need for regular maintenance. This will help you determine whether the service suits both you and your pet's lifestyle. Once you confirm the service, the stylist will give you an expected pick-up time.
7. Should I ask anything specific during pick up?
Before jetting off with your dog or cat be sure to ask for any care instructions between visits. If you and your pet are happy with the grooming experience, also consider scheduling their next appointment. You want your pet to be on a regular grooming schedule that accounts for busy times of the year. Based on the type of service, your dog or cat may need more frequent visits. In either case, your stylist will help you determine and put together a schedule to accommodate both you and your pet.
Now you're in the know with what to expect for the first grooming visit. If your dog or cat is new to professional grooming, book a free consultation at your nearest Petco salon!