Sentry Squeeze-On Flea & Tick Control for Dogs 33 to 66 lbs, 3 Month Supply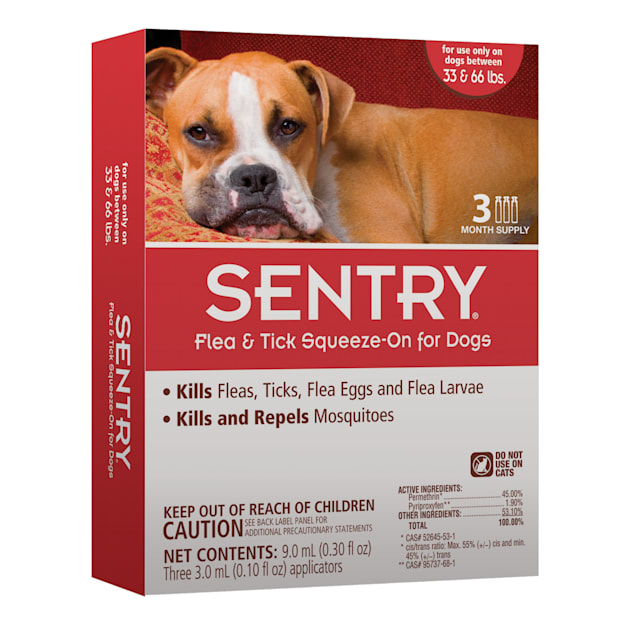 Roll over image to zoom
More Ways To Treat Your Pet
Description

Sentry Squeeze-On Flea & Tick Control for Dogs kills and repels fleas and ticks for up to a month. It also kills flea eggs and larvae for up to four monhs. It even kills and repels mosquitoes! Each box contains a three month supply.

- Kills fleas, ticks, flea eggs, and flea larvae
- kills and repels mosquitoes
- 3 month supply
- For dogs 33-66lbs
- Do not use on animals other than dogs. Do not allow dog to ingest. Use entire contents of one tube on each dog. Some dogs may experience side effects when product is applied.

Specifications

SKU

2284238

Primary Brand

Sentry

It Is A Violation Of Federal Law To Use This Product In A Manner Inconsistent With Its Labeling. Do Not Use On Animals Other Than Dogs. Do Not Allow Your Dog To Ingest This Product. Do Not Use On Puppies Under 3 Months Of Age Or Dogs Less Than 66 Lbs. Separate The Treated Dog From All Other Dogs And Cats For 24 Hours After Treatment Has Been Applied. Repeat Applications May Be Made If Necessary, But Do Not Apply More Often Than Once Every 4 Weeks.How To Apply: Invert Tube Over Dog And Use Open End To Part Dog'S Hair. Squeeze Tube Firmly To Apply All Of The Solution To The Dog'S Skin, As Directed Below. Wrap Tube And Put In Trash. Only For Dogs Weighing 66 Lbs And Over. Do Not Use On Dogs Weighing Less Than 66 Lbs.Apply The Entire Tube (4.5 Ml) (0.152 Fl Oz) As A Continuous Stripe On The Dog'S Back Starting Between The Shoulder Blades And Ending Directly In Front Of The Base Of The Tail. Do Not Use Additional Tubes On Dogs Over 66 Lbs.