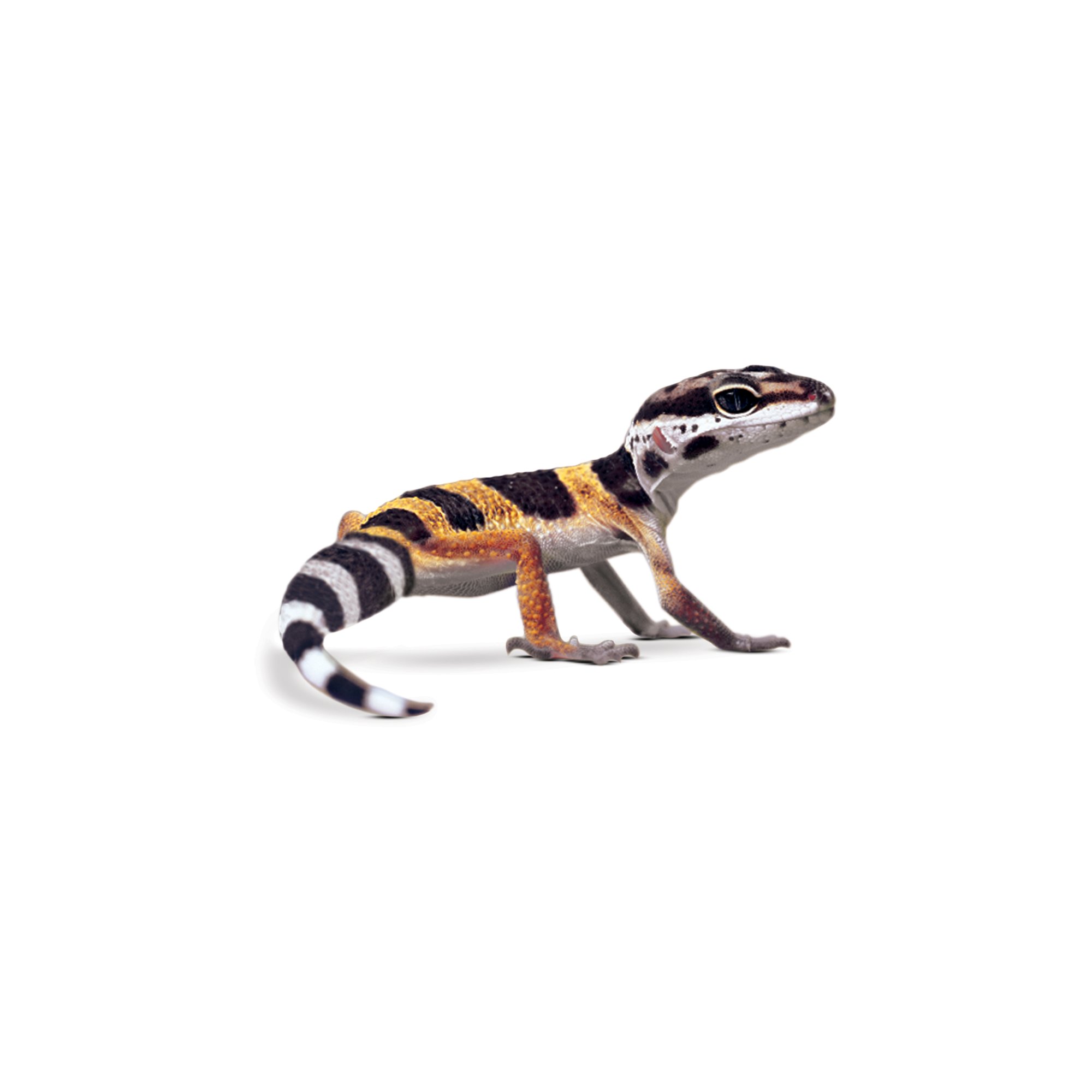 Leopard Gecko
This product can only be purchased in stores.

Description
Directions
Attributes / Specifications
Ingredients & Guaranteed Analysis
Warranty
Additional Details
Leopard Geckos are hardy and docile geckos making them a great first pet reptile. As they do not require large amounts of space or expensive lighting, the Leopard Geckos have become increasingly popular pets over the years. A variety of color patterns have emerged over the years due to selective breeding. This includes, but is not limited to Albinos, Leucistics, and High Yellows. Although baby Leopard Geckos may be skittish at first, they are easily tamed. As with other geckos, they do best with a warm hiding area, and a cooler hiding area.
Nocturnal animal, spending most of its time hiding during the day.

Many geckos lack eyelids, but not the leopard ones! They can even blink and close their eyes while sleeping.

Come in a wide variety of color patterns due to selective breeding.

Can be kept in a 20 gallon long habitat.
SKU

110981

Primary Brand

Petco

Days to Ship

Usually Leaves Warehouse the Next Business Day
Because all reptiles are potential carriers of infectious diseases, such as Salmonella, always wash your hands before and after handling your reptile and/or habitat contents to help prevent the potential spread of diseases.
Many geckos lack eyelids, but not the leopard ones! They can even blink and close their eyes while sleeping.
Leopard geckos can make great first pets for anyone interested in caring for a reptile. These little lizards don't usually grow more than 10 inches in length and can become tame with proper handling. A 10-gallon tank with a heating pad, lighting, hide box, food and water dishes are the basic requirements for a good home. You'll find all the accessories to make your pet leopard gecko a healthy habitat for sale at Petco. Being nocturnal, you'll find these reptiles more active at night than during the day. Leopard geckos require live food, such as crickets or meal worms. Periodically, dusting their food with a calcium rich, multi-vitamin supplement ensures your pet is getting the proper nutrition. When you're ready to leap into the world of live lizards, stop by your nearest Petco and buy a pet leopard gecko and their accessories for sale.