Male Midnight Betta (Betta splendens)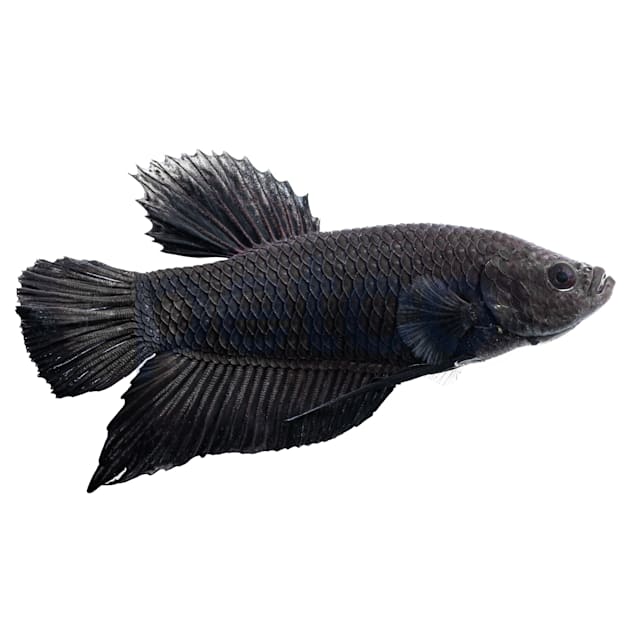 You May Also Like
Sponsored
Description

This freshwater fish has a labyrinth organ which allows them to breath from the surface, but they are best known for their beautiful fins and color. The Male Midnight Betta has jet black fins and body. Bettas are also known as Siamese Fighting Fish, and under no circumstances should male bettas be housed together.

- Environment: Freshwater
- Temperament: Semi-Aggressive
- Care Level: Easy
- Diet: Carnivore
- Approx. Selling Size: 1.5-2.5"
- Min. Recommended Tank Size: 1 gallon
- Prefer slow-moving water and don't do well in river-like currents.

Specifications

SKU

3406778

Primary Brand

Imagitarium

Days to Ship

Ships Next Business Day

Live Animal

Max water Temp

86 F

Pet Max Length

2.25 IN

Water Parameters-PH Max

8

Special Diet

Carnivore

Scientific Name

Betta splendens

Water Parameters-PH Min

6

Min Water Temp

75 F

Environment

Freshwater

Native To

Thailand

Temperament

Semi-Aggressive

Care Level

Easy

Pet Min Length

1.75 IN

Petco takes great care to ensure that the live fish you order arrive safely and in healthy condition. All Freshwater Aquatic Life purchased on Petco.com are guaranteed to stay alive for 30 days from the day they arrive at your home or we will gladly refund your money.

ACCLIMATION: Allow the sealed bag with your new fish to float in your aquarium for at least 15 minutes (but no longer than one hour) to ensure the water in the bag matches the temperature in your aquarium. For new aquariums, adding new fish slowly helps to properly develop the nitrogen cycle, which creates a safe environment for your aquatic pets. A bacteria booster may also help develop a new aquarium for your new fish. Petco offers free water testing in store to determine if your water is safe. DIET: A well-balanced Betta diet consists of a variety of flakes, pellets, freeze-dried bloodworms, and frozen food, depending on the species. FEEDING: Feed sparingly and no more than fish can eat in 1-2 minutes. Overfeeding can quickly foul the water, especially in smaller, unfiltered aquariums.

If we need to contact you for any reason about your order, shipping of your package may be affected. Once your order is placed, you will receive a confirmation email with your order summary. Orders are subject to verification of payment information by phone or email.
You May Also Like
Sponsored