Nutrition
Introduce your growing puppy to tasty pet food that will support development, and help maintain a healthy, energized lifestyle. Browse our puppy food options for the right meal for your pet.
Home
Welcome your new puppy with a warm bed and everything else they'll need to feel right at home.
On-the-go
We've done our travel homework. Here's what you need to keep your new pet secure and relaxed starting with their first journey home.
Play
Keep their tails wagging for hours with new dog toys, bones and other accessories. These dog and puppy toys are a great way to grow the bond you both share.
Health
A healthy pup is a happy pup. We're here to help make sure your best friend stays with you for a long time.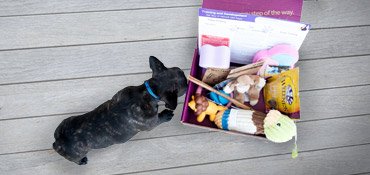 PupBox
Toys, treats, accessories and training guides are customized for your puppy and delivered to your doorstep. Puppyhood is hard. PupBox makes it easier.
Get Started