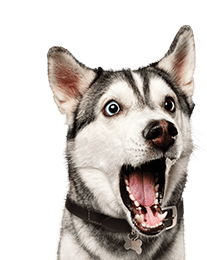 Top Dog Dental Chews
Shop the top rated dental chews available for your pup at Petco! Choose from the best dog dental chews & treats brands that focus on wholesome ingredients and reducing tartar and plaque for your pup's health.
Check out Petco's picks for the top dog dental chews to help keep your pup's teeth and breath fresh.
Your dog relies on their teeth in a lot of different ways and as such, proper oral hygiene is essential in maintaining your pup's overall health and allowing them to enjoy their best-loved activities. Establishing an oral hygiene routine is just as important for your pet as it is for you. Just like their pet parents, dogs can also suffer from gum and tooth disease if proper care isn't taken. At Petco, you'll find a variety of the best dental chews and sticks for your dogs to help keep their fangs free of plaque and tartar between brushings.
Here you will find Petco's picks for the top-rated dog dental chews, formulated to help reduce build-up of tartar and plaque. These dental aids come in variety of shapes, like sticks and chews, and textures for your dog making it easy to choose a healthy snack they like. Additionally, many of the dog dental chews are fortified with essential vitamins and minerals so you can feel good about giving your pup a treat they enjoy.
Pick up a pack of some of these top-rated dog dental chews and help your pet preserve their smile today.