Best Dog Dental Chews*
Dental hygiene for dogs isn't just about keeping your pet's breath smelling fresh. Pet parents can also worry about providing their pup healthy dog gums and teeth free from plaque and harmful abscesses. Help keep your dog's teeth fresh and clean with some of the best dog dental treats on the market.
What to Look for in Dog Dental Chews and Treats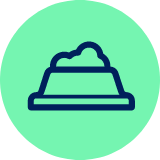 Taste
Dental chews can help maintain your dog's mouth, teeth and gums—and they can also work double duty as treats. Choose dental dog chews that are enticing and delicious as far your dog is concerned to help encourage regularly supplementing their regular tooth brushing and cleaning routine.
Quality and Value
Look for chews with a short, high-quality list of ingredients. You'll want the ingredients to be top-notch and match any of the dietary concerns of your pet. Many chews are made from flexible ingredients like potato starch that can help remove plaque and tartar and freshen breath. And you'll want high-quality value at a price you feel comfortable paying.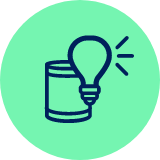 Size and Shape
You'll want to choose dog dental chews and treats that are the appropriate size and shape for your dog's breed and size. And a variety of shapes and sizes can help keep the treats interesting for pups who love to chew.
We're here to help
Beyond dog dental chews, our stores offer health & wellness products and services to help make sure your dog has everything they need to thrive.
Store Partners
Get personalized recommendations based on your pet's needs.
Vet Services
Get the care your pet needs to feel their best at every stage of life.
Pet Pharmacy
Save big on heartworm preventives, pain relievers, Rx flea & tick control and more.
Learn More About Dental Dog Chews
At Petco, we're dedicated to providing your dog the health solutions they need to live longer, more comfortable lives—including preventing periodontitis that can cause root abscesses or deep bone infections in your pet's mouth. Browse our dog teeth cleaning solutions online or at your neighborhood Petco Pet Care Center and choose Curbside Pickup or Repeat Delivery for additional savings.
Your dog's dental care should be an everyday priority, and most veterinarians recommend brushing your canine's teeth every day. In between brushings, dog dental treats can help reinforce the hard dental hygiene work you perform as a pet parent. Your pup may not need dental chews if you brush daily but can be given daily between cleanings.
As with most health-related treatments, we recommend consulting your veterinarian about what types of chews to use. If your canine has dietary or weight issues, your vet may suggest alternatives to feeding your pet chews or dental sticks for dogs. Also, it's recommended to provide your pup with plenty of water when providing them these hygienic snacks.
Each dog can be different, and therefore can have different tastes. Some of the best dog dental treats recommended by a friend may not appeal to your own pet. Luckily, we offer various dog teeth cleaning products that can appeal to even picky pups—like rawhide chews, dental bones and grain-free options. At Petco, we recommend picking out a few and see which one your pet likes best and which ones significantly clean your canine's teeth. Choosing a chew with a texture that adequately cleans plaque will likely be one of the best fits for your dog.
As long as the treats do not interfere with your pet's regular nutritional plan and are not given in excess, teeth cleaning dog treats can be good for them. Not only do they help clean teeth and freshen breath when appropriately used, but they also help maintain healthy dog gums. However, dental chews may not be appropriate if your canine has pre-existing dental conditions or has trouble chewing. Consult your veterinarian to find out if these dental solutions are suitable for your pet.
*Based on petco.com sales data.