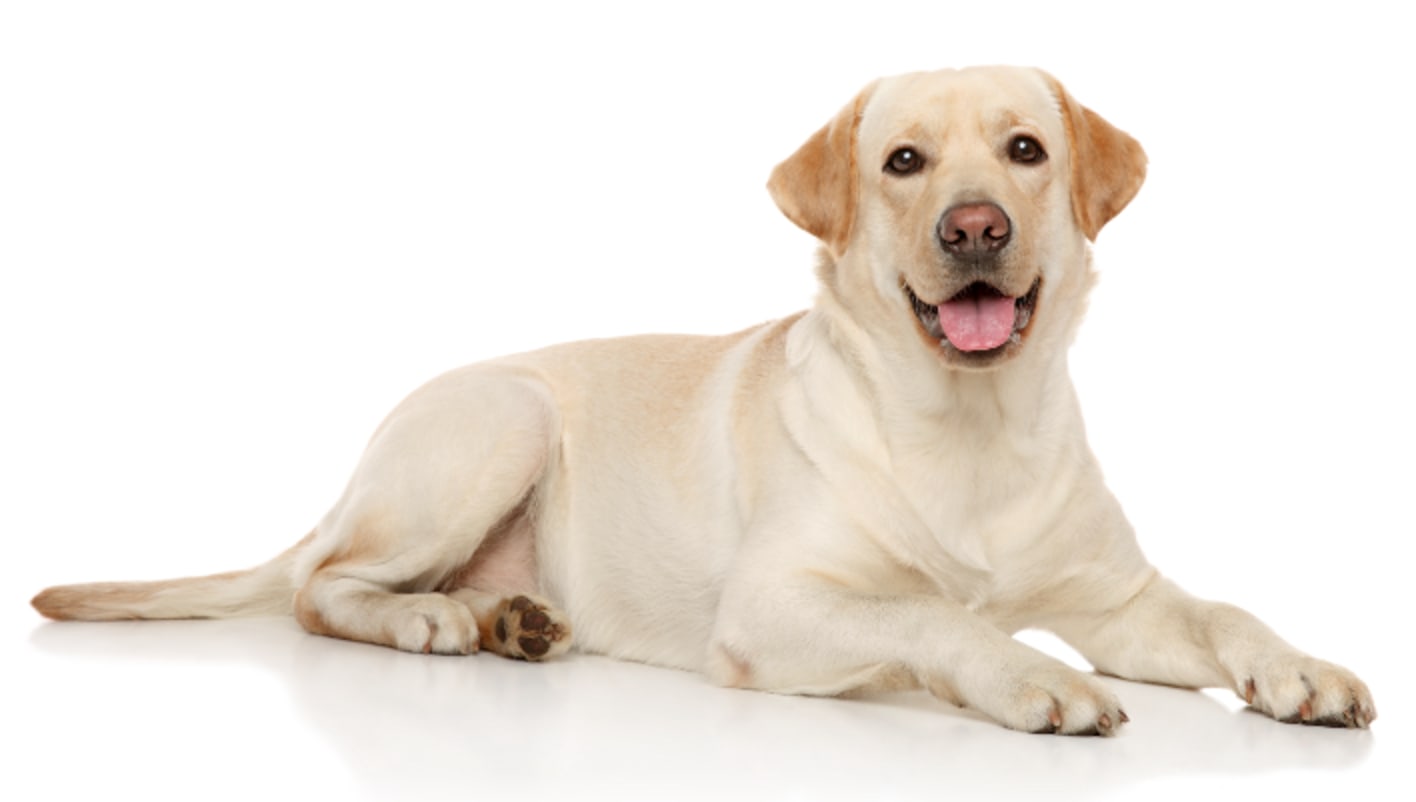 The best dog food for
Labrador Retrievers
You want to feed your Lab food that will keep your best friend hearty and energetic for a lifetime. But what is the best dog food for Labradors? Should you go with wet dog food or dry dog food? These can be difficult questions to answer. Different dogs have different needs within the Lab breed depending on their age, weight, level of activity, food sensitivities, and personal preference.
There is no one best dog food for Labs. Instead, pet parents have many great options to provide their pups. To help you find some of the best dog food for your Labrador retriever, we've put together a list of our favorite options divided into six categories.
After browsing our list, we encourage you to consult your dog's vet so that you can better understand your dog's specific nutritional needs.
Affordable Labrador Dog Food
Labs are known for their healthy appetites, and you'll likely go through a lot of kibble to support your canine's energy. The cost of food can add up, but you don't want to compromise on your dog's nutrition to save money. Luckily, you don't have to. Here are our favorite affordable dog food options.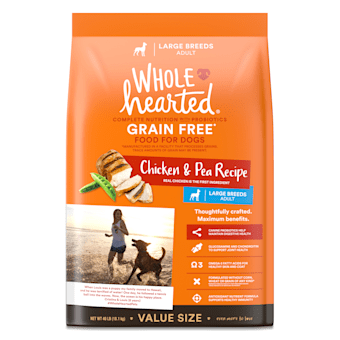 WholeHearted Grain-Free Large Breed Chicken and Pea Recipe Adult Dry Dog Food
Real chicken is the first ingredient in this WholeHearted recipe. The kibble also includes glucosamine and chondroitin to support joint health, as well as omega-6 and omega-3 fatty acids to keep your dog's skin and coat in good condition. Probiotics can assist with digestion, and vitamin E, selenium and zinc help support a strong immune system. This grain-free food can be one of the best options for Labs with grain-related food sensitivities or sensitive digestion.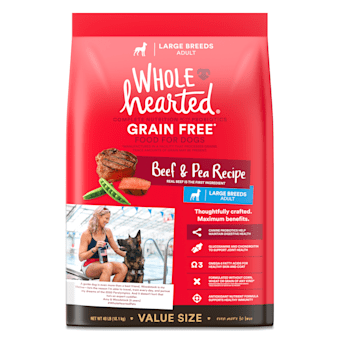 WholeHearted Grain Free Large Breed Beef and Pea Recipe Adult Dry Dog Food
One of the first ingredients in this WholeHearted Labrador dog food is beef, which contains some of the most important nutrients your dog needs to thrive—including glucosamine and chondroitin for joint health. Omega-6 and omega-3 fatty acids support skin and fur wellness. Finally, probiotics can help support digestion. This Grain-free recipe can be a good option for dogs with sensitive digestion or grain-related food sensitivities.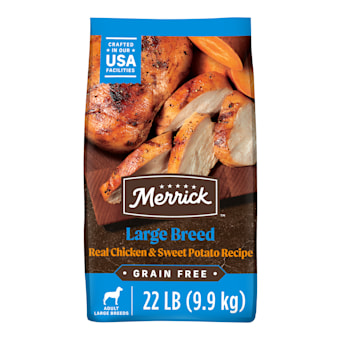 Merrick Grain-Free Real Chicken and Sweet Potato Recipe Large Breed Dry Dog Food
This complete and balanced recipe includes 60% protein and good fat and 40% produce, fiber, vitamins, minerals and other natural ingredients. The first ingredient is deboned chicken, which helps build strong muscles and can give your dog plenty of energy—an often-valued quality in some of the best dry dog food for Labs. Omega-6 and omega-3 fatty acids help care for your dog's skin and support a shiny coat. Glucosamine and chondroitin help protect your dog's hips and joints.
Science-Based Labrador Dog Food
Ever wonder who formulates healthy food for Labradors? Scientifically formulated dog food is usually created by teams that include nutritionists, veterinarians and scientists. These teams set out to develop a dog food that contains the right balance of vitamins and nutrients while also creating a taste dogs enjoy. Here are our favorite science-based dog food selections for Labradors.
Premium Labrador Dog Food
If you want the next best thing to homecooked food for your Labrador, then our favorite premium brands can be a good option for you. The cost reflects the higher quality of the ingredients, but you'll know you're providing some of the best food for Labs in your home.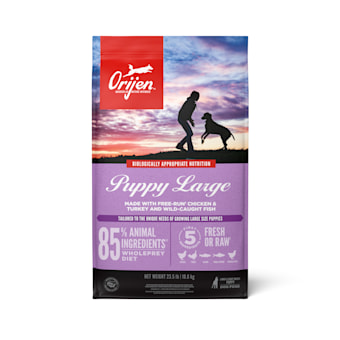 ORIJEN Puppy Large Grain Free High Protein Fresh and Raw Animal Ingredients Dry Dog Food
One of the best puppy foods for Labs is this protein-rich selection from ORIJEN, which is comprised 85% of quality animal ingredients—including free-run chicken, free-run turkey, wild-caught fish and cage-free eggs. The first five ingredients are always fresh or raw protein, and the food is coated in freeze-dried liver to add even more flavor for your growing pups.
Minimally Processed Labrador Dog Food
If you want to limit additives, preservatives and other "fillers" in your Lab's food bowl, look at some of our best dry dog food for Labs that are also minimally processed. Each selection stands out for its uncompromising ingredient quality and lack of common fillers.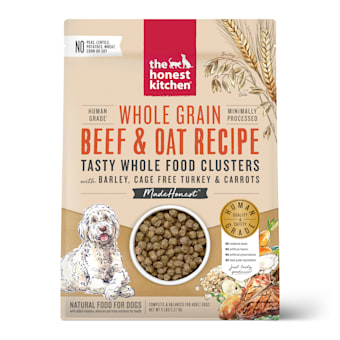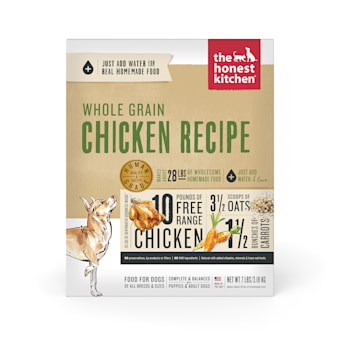 The Honest Kitchen Dehydrated Whole Grain Chicken Recipe Dry Dog Food
This flavorful dog food is 100% human grade—which means the recipe is made with human-grade ingredients and is produced in a human food facility. Ingredients include free-range chicken, organic oats, organic carrots and organic bananas. The food is dehydrated to retain as much nutrition as possible. Pet parents need only add warm water and wait a few minutes to create a tasty and wholesome meal that ranks as one of the best dog food for Labradors among pet parents.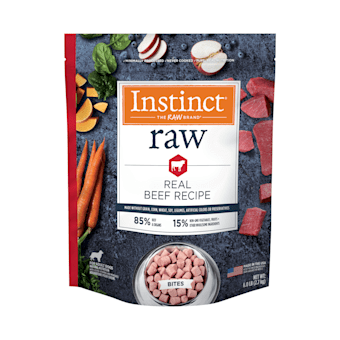 Instinct Frozen Raw Bites Grain-Free Real Beef Recipe Dog Food
This Instinct pet food is made up of 85% raw meat and organs. The other 15% contains non-GMO fruits and vegetables. This food doesn't include grain, corn, wheat, soy, artificial colors, or artificial preservatives. Ingredients are frozen to preserve nutrition and cold-pressed for safety.
Life-Stage Labrador Retriever Food
Your Lab likely has differing nutrition needs depending on whether you've got a pup, an adult or a senior dog in your household. Some of the best puppy food for Labs is large breed puppy food, which contains nutrients that can help decrease the risk of developing hip dysplasia.
Blue Buffalo Baby Blue Natural Large Breed Chicken and Brown Rice Recipe Dry Dog Food
The first ingredient in this leading puppy food is real chicken, but it also contains nutritious whole grains and garden vegetables. The high protein level in this food can help your dog build and maintain strong, lean muscles. DHA and ARA support cognitive development and eye health. Blue Buffalo also adds its LifeSource Bits—a special blend of antioxidants, vitamins and minerals.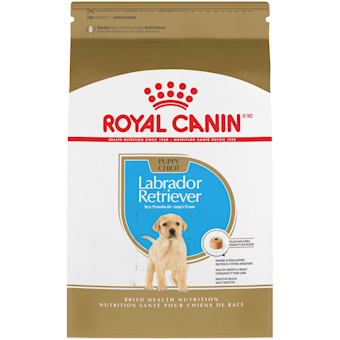 Royal Canin Breed Health Nutrition Labrador Retriever Puppy Dry Dog Food
One of the best puppy foods for Labs comes from Royal Canin, which customizes this recipe for purebred Labrador puppies. This unique nutritional mix helps support a robust immune system, nominal bone growth and balanced energy. The donut-shaped kibble can help teach your pup to eat slowly and chew thoroughly.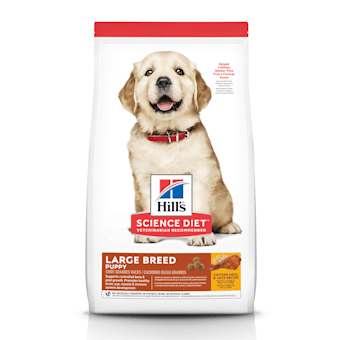 Hill's Science Diet Large Breed Chicken Meal and Oats Recipe Dry Puppy Food
Balanced nutrition in this puppy food from Hill's helps support strong bones and teeth. The right amount of calcium also helps support controlled bone growth. DHA and fish oil can promote brain and eye development, while plenty of protein helps your puppy grow into a strong and energetic adult Lab.
Labrador Dog Food Toppers
Is your pup a picky eater, or do you want to make sure they get all the nutrition they need to stay active? Toppers can add additional flavor as well as vitamins, minerals and other nutrients. They can help entice finicky eaters and give your dog a more balanced diet.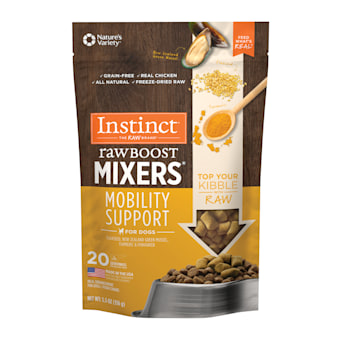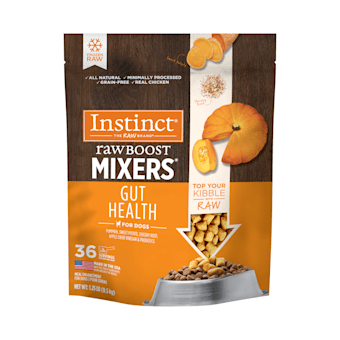 At Petco, we believe in offering a large variety of high-quality dog food, so our pet parents have choices for every stage of their dog's life. If you want to save big on your regular pet food orders, sign up for Repeat Deliveries. You'll receive an even bigger discount on your first Repeat Delivery order from Petco online.