Pets and COVID-19: Information for Pet Parents
Our commitment:
To help you and your pet stay safe and healthy during COVID-19.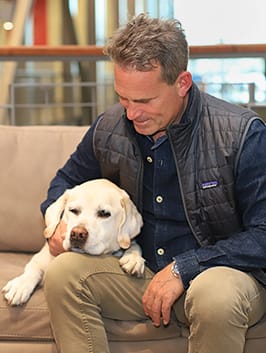 A note from Petco's CEO, Ron Coughlin:
We know Coronavirus/COVID-19 is a concerning topic for people everywhere, including pet parents. As your partner in caring for the overall health and wellness of your pets, we want to ensure you have the information you need to care for your entire family – fur, fins and scales, alike. We've tapped into our Petco Pet Wellness Council, an independent coalition of leading experts in animal health and veterinary science, to provide perspective on the most important things you need to know. We're here for you and your pets. Always. We'll continue to keep you updated as the situation evolves.

Ron Coughlin, CEO
Frequently Asked Questions
This is a rapidly evolving situation. This section was last updated on November 19th, 2020.
Petco and Coronavirus/COVID-19
As news and information around Coronavirus/COVID-19 continues to evolve, we are closely monitoring the situation and taking proactive, precautionary steps to protect our partners, guests, the pets in our care and our overall business as it progresses. The health and safety of pets and their families is always our top priority and we are following and reinforcing all guidance and resources available from the World Health Organization and U.S. Centers for Disease Control and Prevention
Here are some specific steps we are taking:
We're encouraging all Petco partners to follow appropriate preventative actions to help prevent the spread of respiratory diseases, including staying home if they are feeling ill or believe they may be at risk, and maintaining appropriate social distance when and wherever possible.

In addition to our Petco partners' established sick time and paid time off, we're providing up to five days of pay specifically designed to further support those directly affected by COVID-19 – whether by a confirmed case, required or voluntary self-quarantine due to being high-risk, living with or caring for someone at high-risk, or because they feel ill or face related dependent care challenges.

To provide ongoing support to our Petco partners as they face the effects of COVID-19 – and in future times of need – we've launched the Petco Partner Assistance Fund, with $2 million from Petco and more from our sponsors at CVC Capital Partners, our board of directors, our Petco Pet Wellness Council, and our leadership team, including our CEO, Ron Coughlin.

We have awarded $13 million in additional compensation for our Petco store and field partners, including five cycles of COVID-19 appreciation bonuses, in recognition of the courageous way they are serving pets and their families in these uncertain times.

All Petco stores are cleaned and sanitized daily as part of our normal business operations. In light of COVID-19, we're increasing the frequency and extent of those cleanings and taking proactive steps to ensure all Petco locations (including stores and our distribution and support centers) have ample hygiene and sanitation supplies available.

Based on guidance from the CDC and other public health experts, and to help protect the health and safety of our Petco partners, guests and the broader communities we serve, as of July 20, 2020, we respectfully require CDC-compliant facial coverings in all Petco stores nationwide.

Out of an abundance of caution, we've made 11.7 million disposable gloves and 4.4 million disposable facial coverings available to all Petco partners. Additionally, we have installed 4,500 register lane acrylic guards in Petco stores nationwide.

To help protect the health and safety of our employees and the broader communities we serve, we conduct health screenings for Petco employees, vendors and volunteer staff in all Petco locations. Upon arrival to our stores, their body temperature is evaluated using non-contact thermometers. If they have a fever, they're sent home to rest out of an abundance of caution.

We have made 14,000 gallons of hand sanitizer available to Petco partners and customers with dispenser stations located throughout our stores, including high-traffic areas such as checkout counters and grooming salons.

Using in-store signage, we're encouraging customers to help us keep our communities safe by maintaining at least six feet of distance from others, limiting the number of people per shopping trips when possible, and following other recommended precautions.

In addition to our physical store locations, we're ready to serve pet parents online through Petco.com and the Petco app, with Repeat Delivery; curbside pickup; same-day delivery and buy online, pickup in store options. In addition, we're reducing our threshold for free shipping on online orders.

We're restricting travel across the company, including vendor travel and visits to Petco locations, and cancelling attendance at large meetings and gatherings.

In our support centers (corporate offices) we're directing our partners to work from home if they can.
General information about Coronavirus/COVID-19