What does it mean to be a good citizen? When you think about your role as a good citizen, qualities such as cooperation, participation, excellence and confidence may come to mind. Did you know that your dog can learn to be a good citizen, too? The AKC Canine Good Citizen® program is a training course that teaches dogs—and their pet parents—some of the best practices pups need to become good neighbors, friends and participants in society.
The Canine Good Citizen program enables pet parents and their dogs to learn together, mastering 10 key skills that are helpful both at home and while interacting with dogs and people in the wider world. The emphasis is not on forcing dogs into obedient behavior but on equipping dogs and their pet parents with good communication skills and clear cues that produce desired results. The Canine Good Citizen program is as much a training course for pet parents as it is for their pups, and parents are required to be responsible pet parents. By the end of CGC training, dogs and pet parents are a true team, capable of bringing good citizenship skills into just about any situation they'll encounter.
Though highly regarded, the Canine Good Citizen class is not exclusive. Embedded into the Canine Good Citizen program is the belief that all dogs are trainable and can become good citizens. The CGC certification is open to all dogs—regardless of their age, breed or prior training experience. Puppies may get more out of their Canine Good Citizen training if they first complete AKC S.T.A.R. Puppy® training, but it is not a prerequisite for participation in Canine Good Citizen.
Every one of Petco's certified dog trainers is an official Petco AKC CGC Evaluator. That means they're certified to teach your dog Canine Good Citizen skills and administer the test that approves your dog as and AKC Canine Good Citzen. When you sign up for dog training at Petco, choose an AKC Canine Good Citizen package and let our knowledgeable trainers teach you—and your dog—some new tricks.
Benefits of the Canine Good Citizen program
The Canine Good Citizen certification certainly teaches your dog polite manners and social skills, but it also offers much more. Canine Good Citizen benefits include: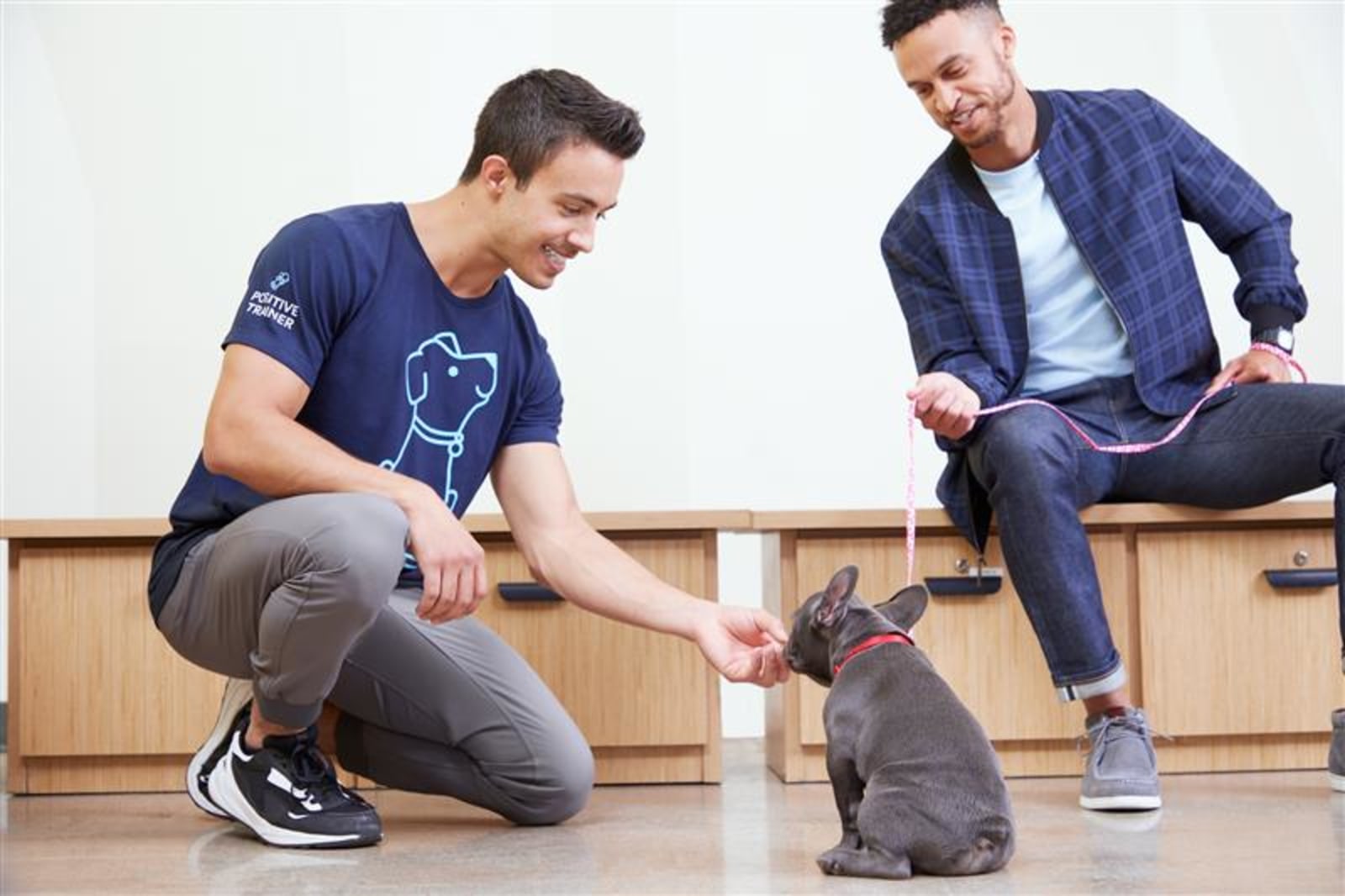 Fostering trust
The CGC program isn't just a training experience for dogs—it's a bonding experience for pups and their pet parents. Pet parents are equal participants in Canine Good Citizen sessions, learning the most effective ways to give cues as their dogs learn appropriate ways to respond. Working closely together, dogs and their parents can develop good communication skills and deepen their trust in one another.
Learning desirable behavior
Dogs who have gone through a Canine Good Citizen class are equipped with 10 foundational skills that help them favorably interact with the world. Proper training and attentiveness to their pet parents' cues can help dogs follow the rules at home, behave appropriately around other dogs and put both friends and strangers—human and canine alike—at ease. Reduced aggression, fewer conflicts and positive social behaviors allow your dog to explore more of the world without worry.
Widely Respected
The AKC Canine Good Citizen program is a reputable program known for positive results. Having a Canine Good Citizen certification can open many doors for you and your dog. It's a great first step toward more advanced training programs—including dog therapy and sports programs. It can even help improve your living situation, as some property managers require CGC certification for dogs living in their buildings.
How to prepare for the CGC test
While your dog doesn't need any prior training experience before entering a Canine Good Citizen course, it is helpful for them to have completed basic training courses prior to starting this class. Once the 10 valuable skills below have been mastered, they'll graduate with a certification.. The 10 Canine Good Citizen test items your dog will learn in order to receive their certificate are:
Accepting a friendly stranger
Sitting politely for petting
Behavior during grooming
Going out for a walk
Walking through a crowd
"Sit," "down" and "stay"
Coming when called
Reacting to distraction
Supervised separation
Petco's training courses are customizable, letting you choose from individual or private classes and online or in-store sessions. Our dog training options include:
Private lesson 101 During this 45-minute one-on-one training session, you and your dog will meet with a Petco trainer to build a customized training plan.
Puppy and adult levels Petco's puppy training classes include Puppy Level 1 for dogs two to four months old and Puppy Level 2 for four- to six-month-old pups. There's also Adult Level 1 for dogs and older puppies at least six months old, Adult Level 2 for more advanced training skills and, of course, the AKC Canine Good Citizen class for CGC certification.
In-store offerings Petco's in-person dog training classes don't just include Canine Good Citizen, but also options such as the AKC S.T.A.R. Puppy test or a separation anxiety course.
Online offerings Can't make it to an in-store class? Petco's online dog training programs include options for puppy training, adult basics and troubleshooting for recurring issues with your dog's behavior.
Taking the CGC test
It's okay to feel a little nervous—receiving Canine Good Citizen certification represents a significant milestone. This Canine Good Citizen test checklist is a good starting place for demystifying the CGC test process.
Puppy test It's recommended that your puppy complete the AKC S.T.A.R. Puppy test before going through Canine Good Citizen testing. While dogs of any age are allowed to try for Canine Good Citizen certification, your pup will probably have a good shot at success if they've learned some puppy basics first.
What to expect Once the Canine Good Citizen class has been completed, it's time to ace those AKC Canine Good Citizen test items. Your dog will be tested on the 10 skills they've learned in class. Feel free to give your pup plenty of encouragement during testing, but leave treats, toys and other motivators at home—remember, this is a skill test. Growling, nipping and soiling during the test will result in disqualification. Once your dog has passed the exam, your CGC evaluator will provide you with paperwork that can be sent to the AKC for your official title and certification.
How to prepare As the day of the test approaches, make sure your dog can go through the entire 10-part training exercise confidently and responsively. By the time of the test, your dog should not need motivators like toys, treats or other rewards, as they won't be allowed. Your dog will need to perform the exam in a basic collar or harness and leash—make sure to use something comfortable and familiar. On the day of the test, interact with your dog clearly, confidently and with plenty of praise to help improve their chance of success.
Where to take the test Because every Petco trainer is an AKC CGC evaluator, you can conveniently enroll in a Canine Good Citizen course at your local Petco Pet Care Center. If you haven't worked with Petco's certified trainers before, you can find a skilled and attentive team by browsing training sessions online.
Learn more about the Canine Good Citizen certification through the American Kennel Club.

After the CGC certification
Congratulations—your dog is Canine Good Citizen certified. What now? CGC certification has practical benefits in everyday life, as it gives you and your dog the communication, confidence, and skills necessary to maintain good training for years to come. Social situations, playdates, trips to your vet and even routine nights at home can become less stressful when your dog is properly trained. Beyond the immediate benefits of harmonious living, Canine Good Citizen training opens the door for your dog to participate in more advanced training—including dog sports and even performance and competition events.
An AKC Canine Good Citizen certification is also a prerequisite for many therapy dog programs. If you're interested in enrolling your well-behaved pup in specialized dog training, a CGC certificate is an invaluable tool on the path to this next goal. Learn more about therapy dog certification online.
Even more benefits
The advantages of the Canine Good Citizen program are beautifully summarized by Darris Cooper, Petco's National Dog Training Manager. As Cooper sees it: "The Canine Good Citizen is one title that spotlights the partnership between dog and pet parent and sets the foundation for a lifetime of learning for both ends of the leash."
Pet parents will surely echo Cooper's sentiments when he observes: "Being able to watch the incredible transformation of dogs who enter our program with zero training experience who then go off and take and pass the CGC test is simply inspiring to see."