Better Nutrition CEO Letter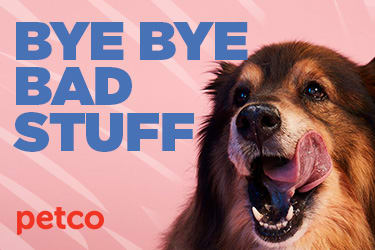 May 01, 2019:
Five months ago, we decided that Petco would no longer sell food and treats with artificial colors, flavors, or preservatives for dogs and cats. It wasn't a decision made lightly. We knew we could lose customers, not to mention a whole lot of revenue.
But it was a choice we had to make. Because we love pets and we want what's best for them.
Because we believe removing nasties like FD&C Red No. 3, Glycerol tributyrate and ethoxyquin is the right thing to do.
So we took a stand and we set new standards. And as of today, Petco's inventory is officially clear of all products that don't meet them.
Job well done, right?
Not exactly.
Because this is about more than just confirming we kept a promise. It's about taking another step forward on our journey toward better health and wellness for pets. It's about driving positive change.
There's plenty more work to be done. But we can't do it alone.
So let's do it together. Let's ensure that our pets live happy, healthy lives by all taking a stand for their wellness. If you're a manufacturer, replace nasty artificials with healthy ingredients. If you're a pet parent like me, stop feeding the pets you love foods with artificial ingredients.
Together, we can ensure every bag or can of food they devour, every treat they enjoy is filled with the good stuff. With ingredients we'd be happy to eat ourselves. And let's continue to learn more about what does and does not contribute to overall pet wellness and raise the bar even higher.
We all play a role. And we all can do what's right. That's why I'm challenging the rest of the industry to do the right thing for pets and meet our standards, too.
If you sell pet food. If you make pet food. Even if you just love pets. I invite you to learn more about what we're doing at petco.com/betternutrition. And I thank you for joining us on this journey.