Best* Senior Dog Food
With a senior pup, you want to make sure you take care of them in their golden years, and that can start with nutrition. A wholesome, high-quality diet can help to extend their longevity. But what's the best dog food for senior dogs? These are the best-selling picks for senior dog food chosen by Petco's pet parents.
What to look for in senior dog food
When looking for senior dog food, here are some key components to look for.
Lower calories
As your canine ages, their metabolism, gastrointestinal system and physical activity tend to slow down. This may mean you need to lower their calorie intake so they don't develop obesity.
Added nutrients
As your dog gets older, nutrients may need to be supplemented to help support their bones, joints, skin and coat. High-quality senior dog food will contain many of the added nutrition ingredients they need.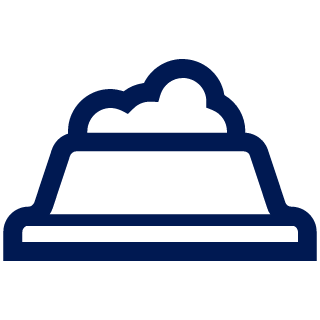 Easily digestible
Your dog may have a harder time digesting meals over time. Look for ingredients that are easily broken down or soft senior dog food that is easier on their teeth and gums. Senior dogs may find sensitive stomach dog food more tolerable as well.
Pet Parent Faves
Whether you're old pup is a small breed, large breed, on a grain-free diet or has a sensitive stomach, Petco has some of the best senior dog food selections.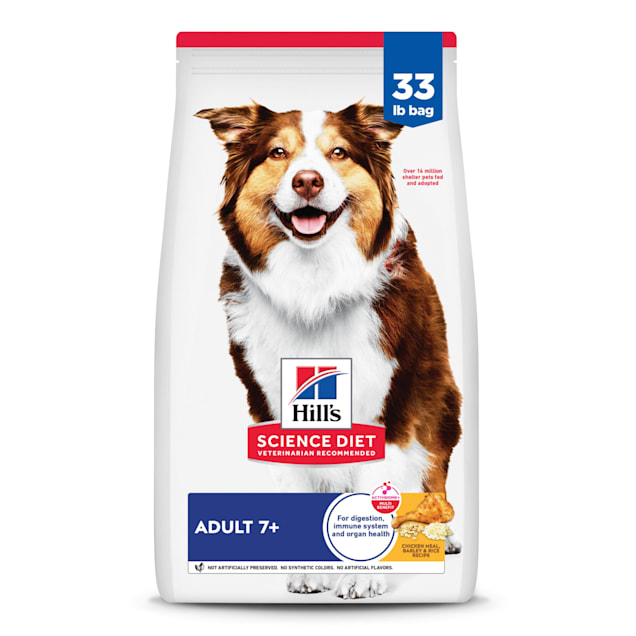 Hill's
Science Diet 7+ Chicken Meal, Barley and Brown Rice Recipe Dry Dog Food
Some of the best senior dog food blends are full of natural ingredients like barley and whole grains and protein to promote muscle development. This senior dog food fits the bill. It has Omega-6 and Vitamin E for a silkier coat and is formulated for heart and kidney wellness.
Features:
Available in 5 lbs., 15 lbs. and 33 lbs. bags
100% satisfaction guarantee
#1 U.S veterinarian recommended
No chicken by-product meal
Medium-sized kibble in a disc shape for easier chewing and digesting
High-quality protein helps maintain lean muscle in grown dogs
Made with natural ingredients
Made in the USA with global ingredients you can trust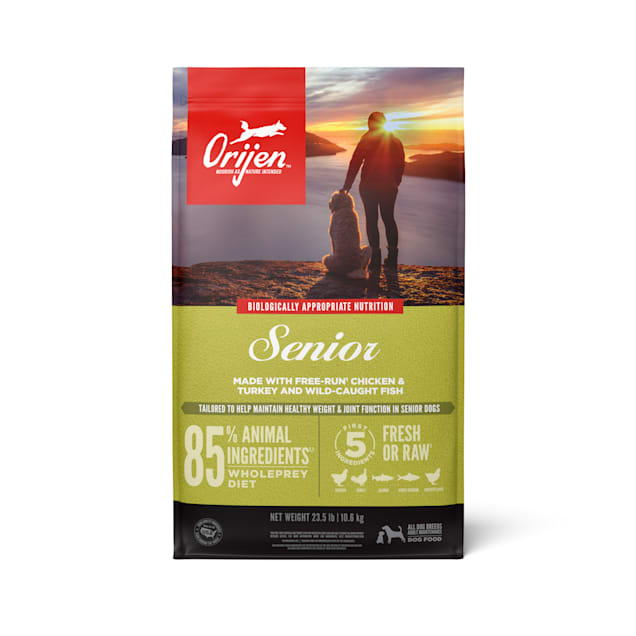 ORIJEN
Senior Grain-free High Protein Fresh and Raw Animal Ingredients Dry Dog Food
This grain-free formula consists of 85% premium animal ingredients, with the first 5 being free-run chicken, turkey, wild-caught flounder, mackerel and turkey giblets. Orijen delivers biologically appropriate nutrition, and is made in the USA using quality ingredients from around the world.
Features:
Available in 4.5 lbs., 13 lbs. and 25 lbs. bags
Nutrition is compatible with the WholePrey diet
First 5 ingredients are fresh or raw protein including poultry or fish
One of the best senior dry dog foods for grain-free nutrition
Provides a strong souce of essential protein, vitamins and minerals
Infusions of gently free-dried liver enhance flavor and palatability naturally
Made in the USA with the world's finest ingredients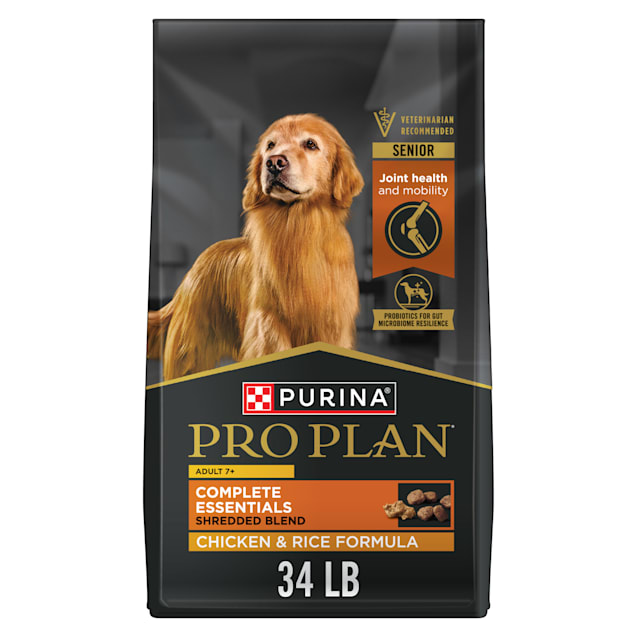 Purina
Pro Plan with Probiotics Shredded Blend Chicken and Rice Formula Senior Dry Dog Food
Purina's special blend for seniors contains natural prebiotic fiber to aid in digestive wellness. It contains EPA and glucosamine to help joints, as well as guaranteed live probiotics to help boost immunity. The shredded blend is easier to chew and digest, and it has a delectable chicken flavor.
Features:
Available in 6 lbs., 18 lbs. and 34 lbs. bags
Chicken is the first ingredient
For adult dogs aged 7 and up
Nourishing chicken and rice formula
Contains Vitamin A and Omega-6 fatty acids to promote skin and coat wellness
Contains EPA and glucosamine to support joint health and mobility
Fortified with guaranteed live probiotics to support digestive and immune health
Hard kibble mixed with tender meaty pieces satisfy dogs cravings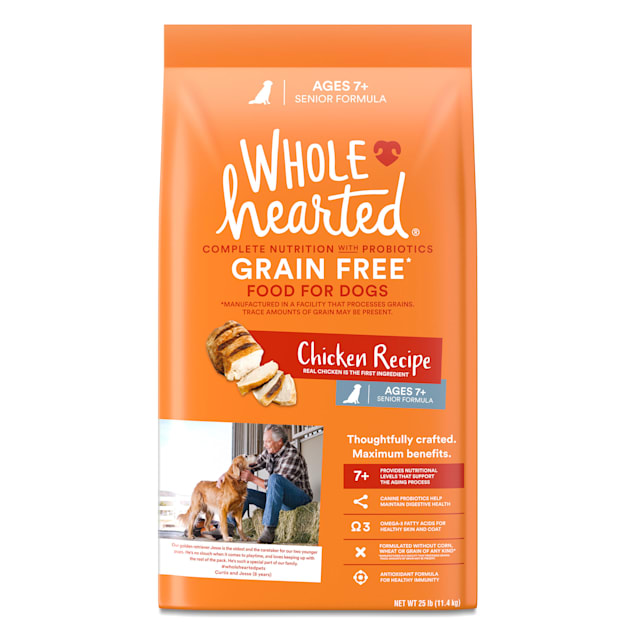 WholeHearted
Grain-free Senior Chicken Recipe Dry Dog Food
WholeHearted senior dog food uses nutritious ingredients like chicken, peas, lentils and flaxseed to satiate hunger and keep your pup full. WholeHearted has a variety of dog food, dog treats and dog toppers that you can only find exclusively at Petco.
Features:
Available in 5 lbs. and 25 lbs. bags
Grain-free
Contains canine probiotics to aid digestion
Formulated with antioxidants to help boost immunity
Omega-3 fatty acids for healthy skin and coat
No corn, wheat or grains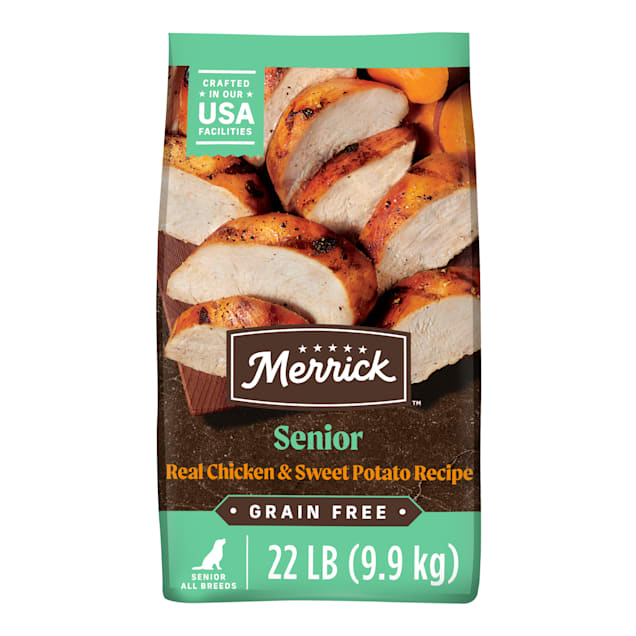 Merrick
Grain-free Real Chicken and Sweet Potato Recipe Senior Dry Dog
Another grain-free favorite, Merrick uses deboned chicken and vitamin-rich sweet potatoes to give your senior a satisfying meal that contains 30% protein. It also has lower calories and fat, to help your dog avoid obesity and the strain it can cause on their organs and joints. Merrick produces some of the best dog food for senior dogs by making sure they only use real whole foods from farmers they trust.
Features:
Available in 4 lbs., 10 lbs. and 22 lbs. bags
Contains L-Carnitine to help boost immune system
Has leading levels of glucosamine and chondroitin to help joint wellness
Formulated for seniors to reach their daily nutritional needs
Deboned chicken is the #1 ingredient
No artificial colors, flavors or preservatives
Crafted in Hereford, TX kitchens and cooked in the USA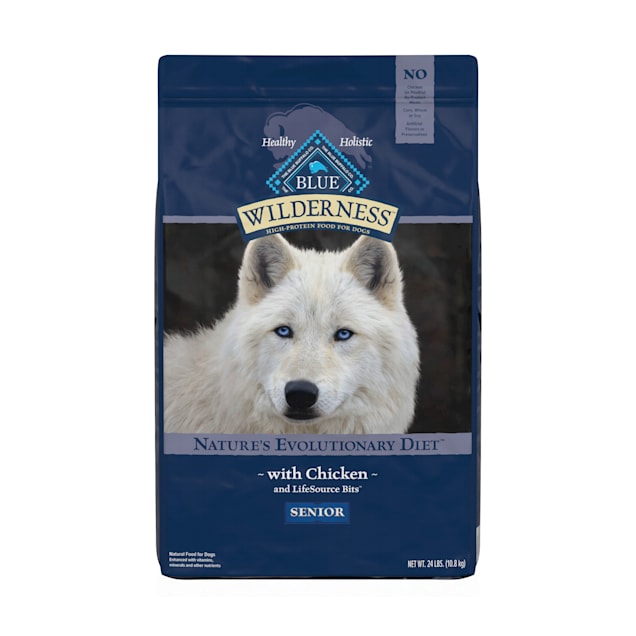 Blue Buffalo
Wilderness Natural Senior High Protein Grain-Free Chicken Dry Dog Food
Blue Buffalo dog food contains exclusive LifeSource Bits®, which are packed with vitamins, minerals and antioxidants. They are also cold formed to preserve potency. It lists chicken as its first ingredient, and also contains veggies like peas, potato and carrots that are packed with nutrients and blueberries and cranberries. Along with the glucosamine and chondroitin in most senior formulas, Blue contains calcium and phosphorus for strong teeth and bones and taurine to support the heart.
Features:
Available in 4.5 lbs., 11 lbs. and 24 lbs. bags
No chicken or poultry by-product meals
No corn, wheat or soy
No artificial flavors or preservatives
Holistic senior dog food
Antioxidant-rich LifeSource Bits®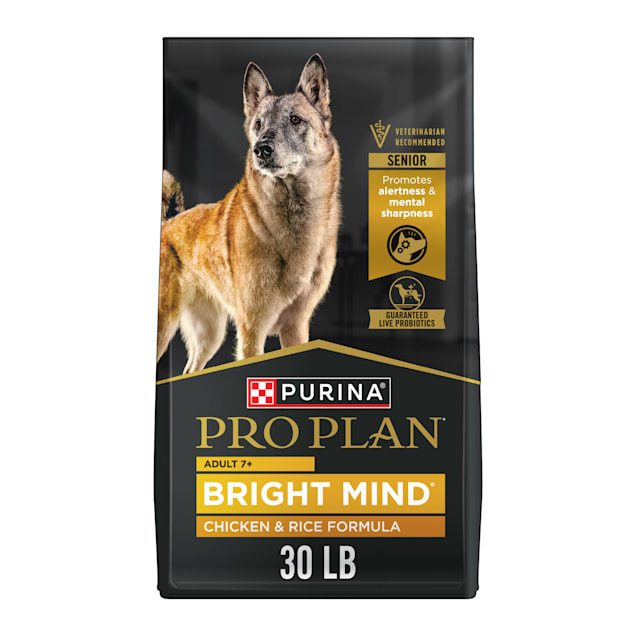 Purina
Pro Plan Bright Mind Chicken and Rice Formula Senior Adult 7+ Dry Dog Food
Just like humans, your dog's mental capacities can decline as they age. Purina's Bright Mind blend contains enhanced botanical oils that can help to aid in clarity for dogs in their golden years. It has DHA, EPA, antioxidants, B vitamins and arginine to help support cognitive function in your pet. It also contains vital nutrients for joint wellness and nutrients for improved skin and coat.
Features:
Available in 5lbs., 16 lbs. and 30 lbs. bags
Formulated to help retain cognitive function for senior dogs
For dogs aged 7 years and up
Guaranteed live probiotics to aid in digestion and boost immunity
Real chicken is first ingredient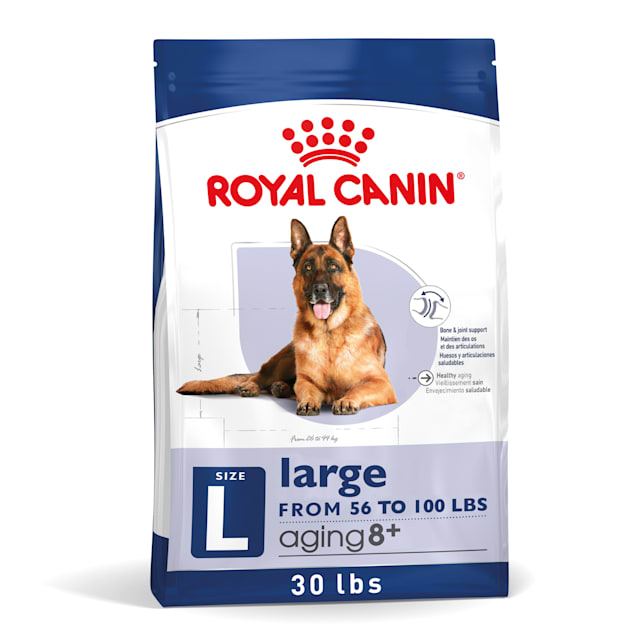 Royal Canin
Large Aging 8+ Senior Dry Dog Food
Since 1968, Royal Canin has specialized in creating formulas specifically designed for particular ages, sizes and breeds. Royal Canin has designed a senior dog food for sensitive stomachs, with a formula that is also rehydratable—with a convenient feeding guide on how to mix wet food and dry food so there's still a satisfying texture but is easier to chew.
Features:
Available in 30 lbs. fresh pack bags
Designed for large breeds 57 lbs. or over
Senior dog food for ages 8+
Savory chicken flavor
Supports longevity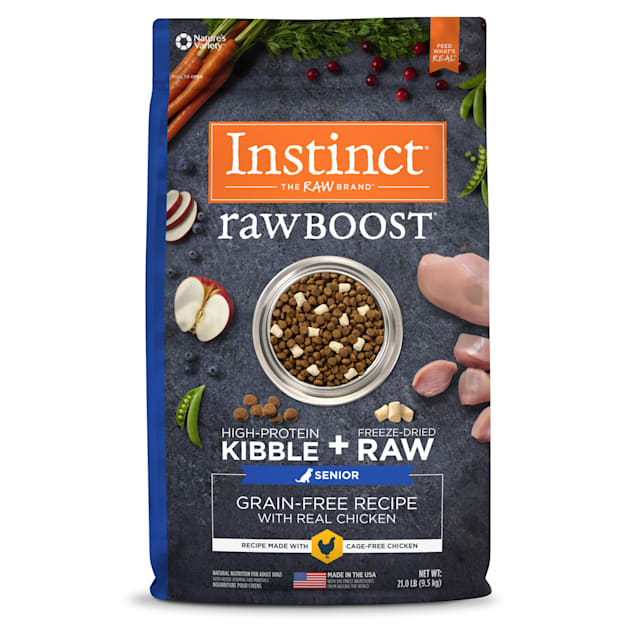 Instinct
Raw Boost Senior Grain-free Recipe with Real Chicken Dry Dog Food with Freeze-Dried Raw Pieces
This blend combines protein-packed chicken kibble with freeze-dried bits of real, cage-free chicken to give your dog the benefit of a raw diet without the hassle. It's fortified for seniors to support hip and joints, brain and eye wellness and strong teeth and bones. This makes an excellent small-breed senior dog food or it can perfectly suit dogs who weigh up to 100lbs.
Features:
Available in 4 lbs. and 24 lbs. bags
Made in the USA with the finest ingredients from around the world
Grain-free
Contains probiotics, omegas and antioxidants
Contains L-Carnitine to help burn fat
Purina
One +Plus High Protein Vibrant Maturity Adult 7+ Formula Dry Dog Food
This blend is rich in protein to help boost energy and aid in strong muscles. It also contains nutrients to help keep your dog mentally alert in their golden years. This soft dog food for seniors has bits of tender morsels for easy chewing and digestion.
Features:
Available in 31.1 lbs. bags
Chicken is the first ingredient
No artificial flavors or preservatives
Supports teeth and gum
Supports joint wellness and a shiny coat
We're here to help
Beyond senior dog food, our stores offer health & wellness products and services to help make sure your senior dog has everything they need to thrive.
Store Partners
Get personalized recommendations based on your pet's needs.
Find a Store
Vet Services
Get the care your pet needs to feel their best at every stage of life.
Find a Vet
Pharmacy
Save big on heartworm preventives, pain relievers, Rx flea & tick control and more.
Shop Pharmacy
Learn More About the Best Senior Dog Food
Have more questions about dog food, or need tips on the best ways to care for your pup? Check out our Dog Care Sheets. Are you a brand-new pet parent? Our New Dog Owner Guide can help ensure you have all the tools to make sure your puppy is happy and thriving.
The best senior dog food should be easy to chew and should contain protein that is easily digestible, like chicken or fish. You may want to avoid fatty food and instead opt for a lower calorie diet since canines' metabolisms tend to naturally slow with age. They should also contain nutrients that senior dogs lack to help keep their joints and coat supple.
Choosing the proper senior dog food can make a significant difference. As dogs get older, their calorie intake and nutrient needs change, just like ours. As we age, we learn that certain foods upset our stomachs, and we may have to change our multivitamin to a senior formula. It's the same with dogs—older dogs need easier-to-digest ingredients, as well as vitamins for joint and bones support.
This depends on their size and breed. Smaller dogs may not be considered a senior until age 10 or 11, whereas a larger dog can be labeled a senior at the age of 6. Consult your veterinarian on the best diet to feed your dog during their particular lifespan, and if you should consider adding some of the best senior wet dog food into their diet in conjunction with dry food as well.
Senior diets usually contain important nutrients like glucosamine and chondroitin and DHA for joint support and Omegas for skin and coat wellness. And a lower calorie diet can help prevent obesity as your dog's activity level goes down. And senior dog foods are also designed to be more palatable to encourage your pup to stay on their eating schedule.
*Based on petco.com sales data.