Best Rabbit Food of 2022
Your bunny's diet needs a special blend of vitamins, minerals and nutrients so they can thrive. Below are some pet parent favorites. Check out our entire selection of small animal feeding supplies for all of your critters.
What to look for
You know your bunny needs a special diet, but what does that entail? Here are some food qualities to focus on.
Uniform pellets
Blends with different morsels and textures are great as a treat—however, they may encourage selective feeding. Look for uniform pellets that give your pet needed nutrients in each bite.
Complete and balanced
Their rabbit food should give them all of the daily vitamins and minerals needed.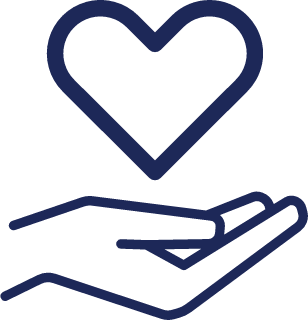 Enriched with fruits and veggies
These items can provide wholesome fiber and nutrients. They also make their food taste great.
*Reviews as of September 14th, 2022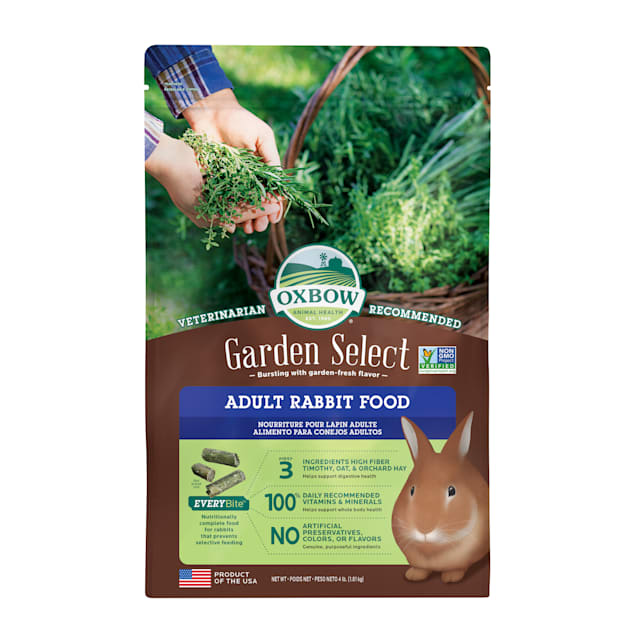 Best Adult Rabbit Food with Garden Ingredients
Oxbow Garden Select Fortified Food for Rabbits
Oxbow Garden Select is a complete and balanced meal for your adult bunny. The uniform pellets eliminate select feeding. The best rabbit food has vegetables, and these are packed with garden greens, adding extra vitamins, minerals and flavor.
Available in 4 lb. bags
Free of GMOs
Contains three different types of hay
Packed with fiber
No artificial colors
No artificial flavors
No artificial preservatives

"Rabbit's favorite! Much better ingredients than most other pellet products on the market. My rabbit goes nuts over her pellets!" —Shannon Mc
Pros
Helps prevent selective feeding
Complete and balance
Formulated for adult rabbits
Cons
Not formulated for baby bunnies
Doesn't encourage foraging instinct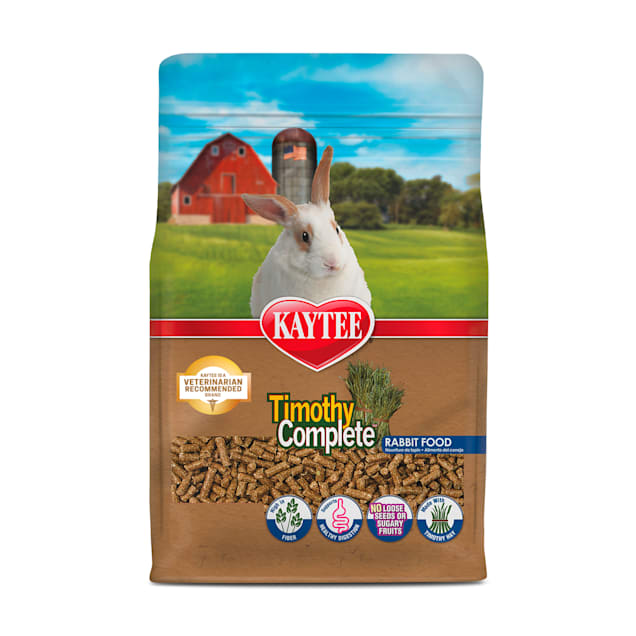 Best Rabbit Pellet Food That Promotes Dental Wellness
Kaytee Timothy Complete Rabbit Food
Fruit can be a nice treat for your bunny, but the sugars can be harmful to their teeth. Kaytee Timothy Complete doesn't contain fruit and is packed with fiber.
Available in bags that are 4.5 and 9.5 lbs.
Has a convenient click and lock zipper to keep food fresh
Contains added minerals and vitamins
The ingredients in these pellets are good for your pet's teeth
High fiber content promotes digestive wellness

"My bunny's favorite pellets! I have tried other pellets for my bunnies….always come back to these and have stayed with them for good.. my bunnies really like these and keeps them in good health..!!!" — Coritta
Pros
Low in sugar
Eliminates selective feeding
Cons
Not formulated for baby bunnies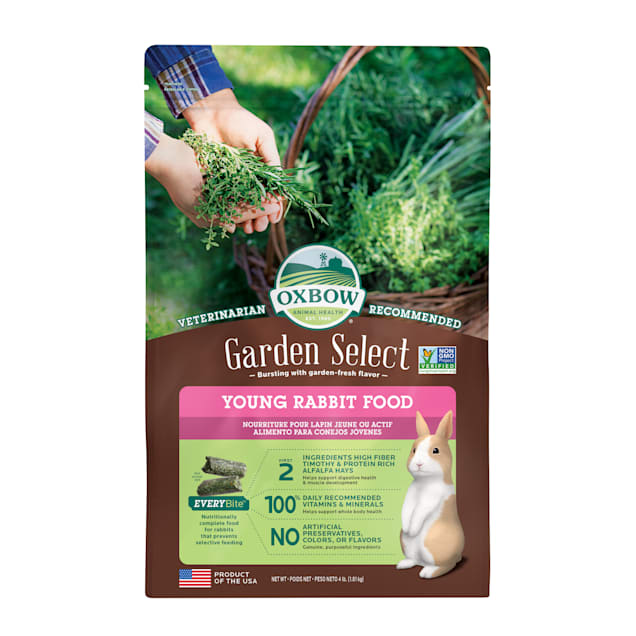 Best Food for Young Rabbits
Oxbow Garden Select Young Rabbit Food
Getting your young bunny started on a premium diet is essential. These Oxbow premium pellets are packed with garden greens and hay, as well as the nutrients needed to help your bunny grow.
Available in 4 lb. bags
Product of the USA
GMO-free
Free of artificial preservatives and colors
Some of the best pet rabbit food that is free of artificial flavors

"Bunny loves it. My bunny has been eating this since she was 6 weeks old to now . She loves it . I plan to let her eat this until she is 6 months old then transfer to an adult pellet or maybe up to 1year old if the veterinarian thinks she can continue to eat this pellet." — Cookie Bunny
Pros
Contains all of the vitamins and nutrients needed for optimal growth
Cons
Not formulated for adult rabbits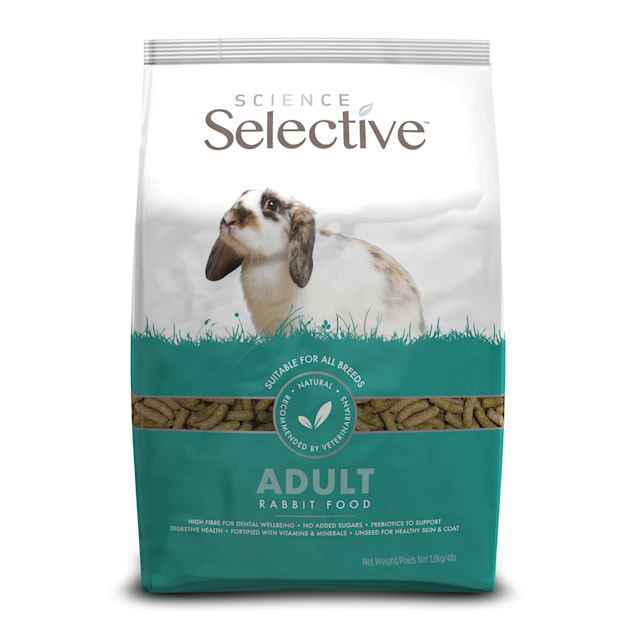 Best Fortified Rabbit Food
Supreme Science Selective Fortified Rabbit Food
Supreme Science makes sure their pellets are fortified with everything your bunny needs. This best brand of rabbit food also consists of 25% fiber, which encourages regular bowel movements and helps their digestive tract.
Available in 4 and 8.8 lb. bags
This is a topical solution
For adult rabbits
Contains prebiotics
Contains no added sugars
Contains natural ingredients

"Great! Out of all the foods we tried, this is the one that our bunny got so excited over." — Rylee N
Pros
A complete and balanced pellet for adult rabbits
Cons
Not formulated for young bunnies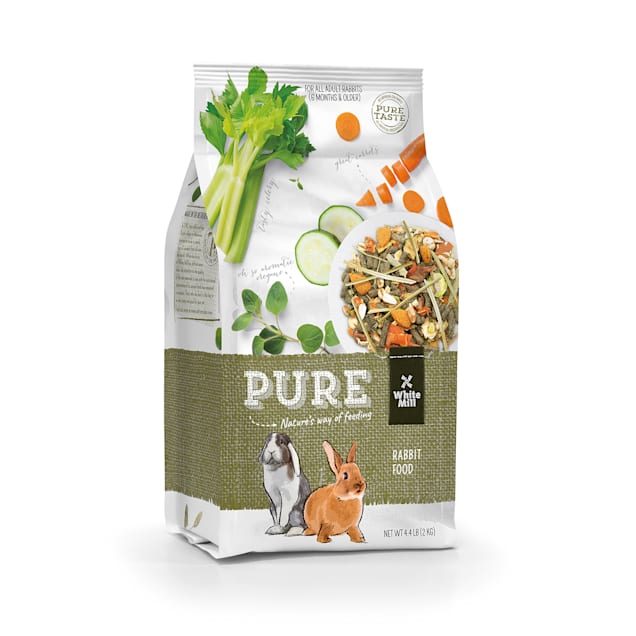 Best Seed Mix with Pure Ingredients
White MIll Seed Mixture Carrot and Celery Dry Rabbit Food
Often, rabbit food seed mixes are chock-full of additives like preservatives or added sugar. White Mill offers a pure alternative—a variety of textures and flavors that come from natural sources.
Available in 4.4 lb. bags
Contains prebiotics
No sugar added
Great source of fiber
Contains a variety of beneficial vegetables and herbs
No artificial colors or flavors
No artificial preservatives

"Great food. Our rabbit and guinea pig love this food. We put it on auto delivery so we could make sure we get it when we need it." - JWhaley
Pros
Seed mixtures encourage foraging instincts and reduce boredom
The best bunny food doesn't have added sugar
Cons
Seed mixes sometimes encourage selective feeding which can lead to a gap in nutrients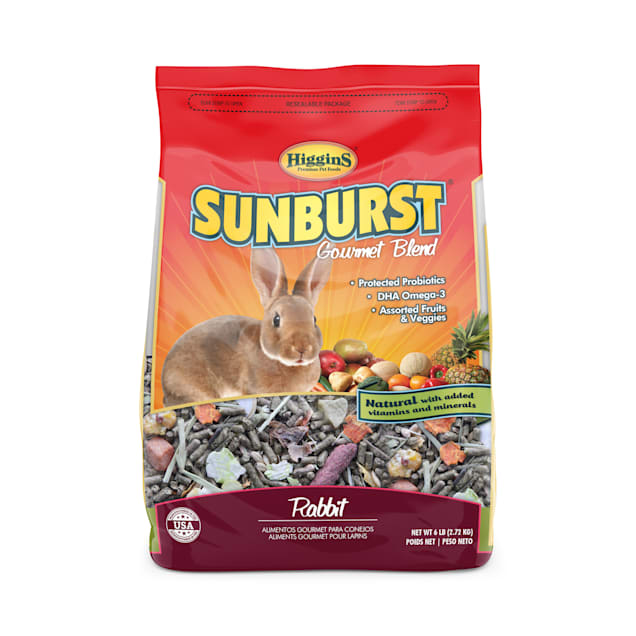 Best Seed Mix with Assorted Fruits and Veggies
Higgins Sunburst Gourmet Rabbit Food
This sunburst blend contains everything bunny rabbits love—filling legumes, savory seeds and wholesome fruits and veggies. The mix is also fortified with essential vitamins and nutrients.
Available in 3 lb. and 6 lb. bags
Fortified with DHA
Contains protected prebiotics
The colors in the mix are sourced from natural ingredients
Contains essential Omega fatty acids
No artificial preservatives
Manufactured in the USA

"My bunny loves Sunburst rabbit food! My lionhead lop rabbit is 10 years old and is a super picky eater. He does not like hay and does not like plain pellets. We tried several different brands and Sunburst is his favorite. He loves the dried fruit the best. I'm so happy Petco carries it."- Ava Tras
Pros
Different textures and flavors can intrigue your pet and stave off boredom
This fun mix works great as a topper or treat
Cons
May encourage selective feeding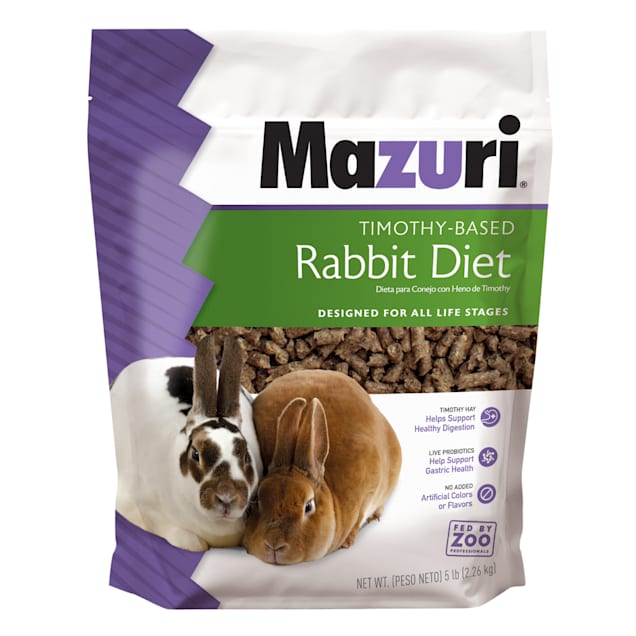 Best Timothy Hay Enriched Food for Bunnies
Mazuri Timothy-Based Rabbit Food
Providing fresh hay is a must if you're a bunny parent—it's a great source of fiber, and it helps grind down their teeth. Mazuri makes sure there's Timothy hay in each and every bite.
Available in 5 lb. bags
Timothy hay is the first ingredient
The fiber content and live probiotics encourage digestive wellness

"Quality rabbit food. I have used Mazuri Rabbit Diet with Timothy Hay for years to provide great nutrition for my pets. The quality of the food is always top notch, and my pet rabbits have always loved it."- Evelyn K.
Pros
Complete and balanced
Encourages active chewing
Cons
Doesn't encourage foraging instincts
Best Food for Senior Rabbits
Supreme Science Selective Mature Rabbit Food
As your bunny gets older, they tend to slow down and get less active. This mature formula takes that into account and contains less calories and has more fiber to help prevent your pet from gaining weight. It also contains herbs and hay that can help whet their appetite. This is one of the best rabbit pellet food for seniors.
Available in 4.4 lb. bags
Formulated for all breeds of rabbits
No added sugar
Contains essential Vitamin C
Contains antioxidants

"Our rabbit Charles Barkley loves this stuff!l!!!!!"- CharlesBkly
Pros
Specifically developed to meet the nutritional needs of your elder bunny
Cons
May not be suitable for younger bunnies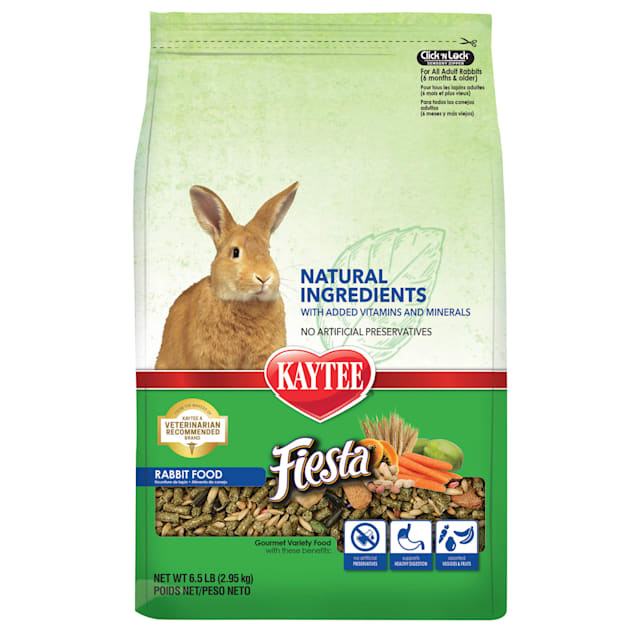 Best Seed Mix to Provide Digestion Support
Kaytee Fiesta Naturals Rabbit Food
Seed mixes can be notorious for additives—but not Fiesta naturals. It's chock full of natural ingredients, and supplies your pet with some of the best bunny food with beneficial prebiotics and probiotics, which are important for gut health.
Available in 3.5 lbs and 6.5 lb. bags
Artificial preservative-free
Fortified with extra vitamins and minerals
Packed with delicious fruits and veggies
Ingredients provide natural antioxidants

"Bunny loves it! I received this for free for my honest opinion. This is all our little Lillian will eat. She loves the variety in the bag and loves to pick through it for her favorites. She however ends up eating the rest once it's all gone. I definitely recommend Kaytee brand for all of your pets needs."- AmyBaby260
Pros
Seed mixes encourages foraging instincts
Cons
Seed mixes can encourage selective feeding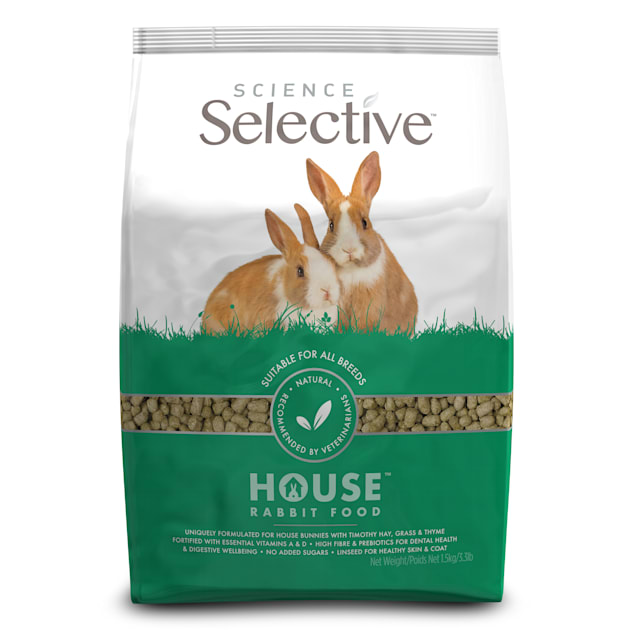 Best Pet Rabbit Food for Indoor Bunnies
Supreme Science Selective House Rabbit Food
Just like cats, rabbits who live indoors may need different nutrients than ones who live outdoors. Supreme Science understands this need and has formulated pellets that contain the unique needs of your indoor bunny.
Available in 3.3 lb. bags
Designed for any breed that lives indoors
Natural
Great source of fiber
No added chemicals
Contains prebiotics

"Buns love these pellets! Our rabbit loves Science Selective. We had a different brand we were trying to finish up and he pushes that aside to get to his science selective pellets."- Hosses Mom
Pros
One of the best brands of rabbit food for indoor bunnies
Nutrients are customized for indoor bunnies
Cons
Not complete and balanced for outdoor bunnies
*Based on petco.com sales data.
We're here to help
Beyond rabbit food, our stores offer health & wellness products and services to help make sure your rabbit has everything they need to thrive.
Store Partners
Get personalized recommendations based on your pet's needs.
Find a Store
Vet Services
Get the care your pet needs to feel their best at every stage of life.
Find a Vet
Pharmacy
Save big on heartworm preventives, pain relievers, Rx flea & tick control and more.
Shop Pharmacy
Learn more about the best rabbit food
Look for a formula that supplies your bunny with all of the vitamins and minerals needed to thrive. It's also important to make sure your pet always has fresh hay and water available to them as well as commercial rabbit food. You can also give them fresh fruit and veggies as treats. Check out our Rabbit Care Sheet for more information.
Look for pellets that are formulated for your bunny's age, weight and lifestyle. The best rabbit pellet food should be complete and balanced, and have ingredients like hay to ensure your pet gets the proper amount of fiber.
// Forces popover to close when the user clicks anywhere on the page $(function(){ // fnGetNearestLocations(storeId, expirationMin, isHTML5Geolocation, isGoogleGeoAPI, HTML5GeoTimeout, XHRTimeout, isDebuggingEnabled) petcoNearestLocations.fnGetNearestLocations('10151','10080','true','true','10000','5000','https://www.googleapis.com/geolocation/v1/geolocate?key=','AIzaSyB1POydsXY7SJBDX-zowEC0y340ZJK6uig','false'); });