Best* Puppy Chew Toys
New pet parents—and their homes—can benefit significantly from discovering some of the best things for puppies to chew on that aren't their shoes or furniture. This list of some of the best chew toys for puppies includes puppy teething toys, puppy chews and many of the top puppy toys most frequently bought by Petco's puppy parent customers.
What to look for in the best chew toys for puppies

Texture
There are many different types and textures that make up good chew toys for puppies. The best toys for new puppies will work for your puppy's size and stages of teething and growth.
Variety
You'll want to have a variety of puppy teething toys to provide your growing pup with the right amount of stimulation that they'll need while teething.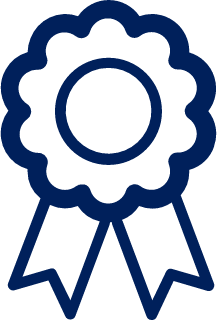 Quality and Value
The best puppy toys and puppy chews will be high-quality, durable, appropriate for your puppy's size and stage and available at a price you feel comfortable paying.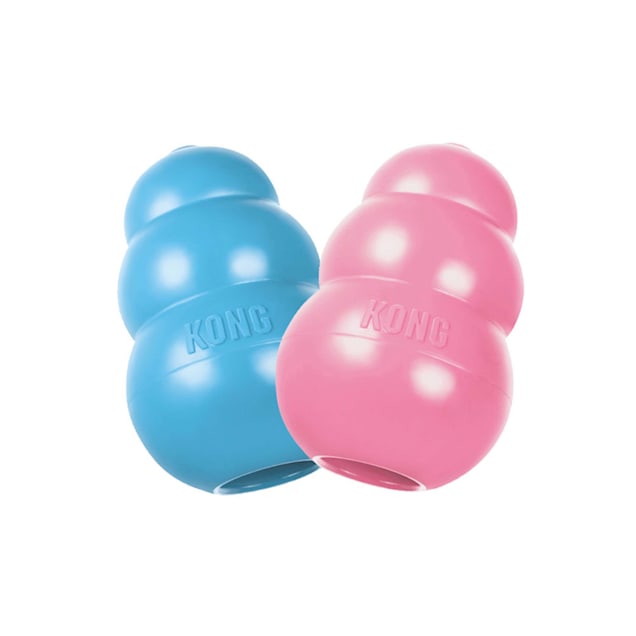 KONG
Puppy Assorted Toy
One of the best puppy toys around, this KONG is customized for your growing pup's 28 baby teeth with a unique, natural rubber consistency that's the gentlest of all the KONG rubber toy lines. This puppy teething toy helps teach chewing behavior while stimulating play with its erratic bounce. You can even stuff this chew toy with puppy kibble or treats to add more play encouragement and fun.
Features:
Teaches appropriate chewing behavior and mental enrichment
Soft puppy rubber formula customized for puppy teeth and gums
Unpredictable bounce for exciting games of fetch
Natural rubber
Great for stuffing with KONG Puppy Easy Treat, Snacks or Ziggies
Made in the USA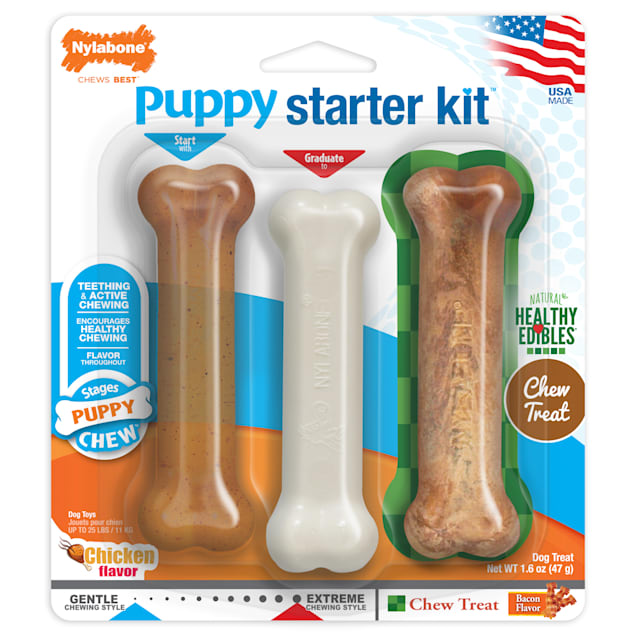 Nylabone
Puppy Starter Kit
What's one of the best things for puppies to chew on? These teething bones for puppies from Nylabone. These bones help puppies develop appropriate chewing habits with two puppy chew toys and one chew treat. And it's made for their growth—bone choices start in a flexible, softer material for teething or gentle chewing for puppies without adult teeth and finish with a durable bacon chew toy for powerful puppies or puppies with their adult teeth.
Features:
Includes 1 softer puppy chew toy designed for puppies without adult teeth and a chicken-flavored bone that gently soothes gums during teething
Include 1 durable chew toy with long-lasting bacon flavor ideal for powerful puppies or pups with adult teeth
Includes 1 chew treat in a turkey and sweet potato flavor and contains DHA omega-3, flaxseed and calcium
Made in the USA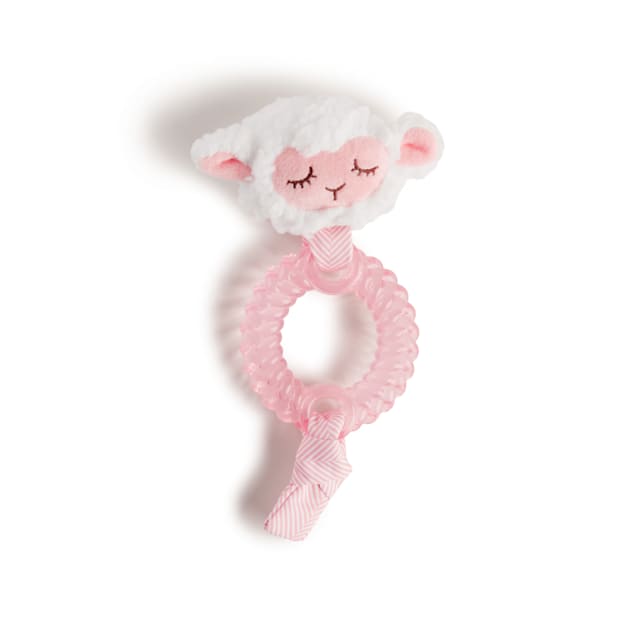 Leaps & Bounds
Little Chews Teething Ring Puppy Toy in Assorted Colors
An excellent puppy teething toy, this teething ring puppy toy indulges puppies with its delicate materials. Its ribbed rubber ring helps soothe their gums as they sink their growing teeth into it.
Features:
Ribbed rubber ring soothes gums as puppies chew
Squeaker catches puppies' attention for active play
Twill knot offers an added target to tug
You'll randomly receive 1 of 4 styles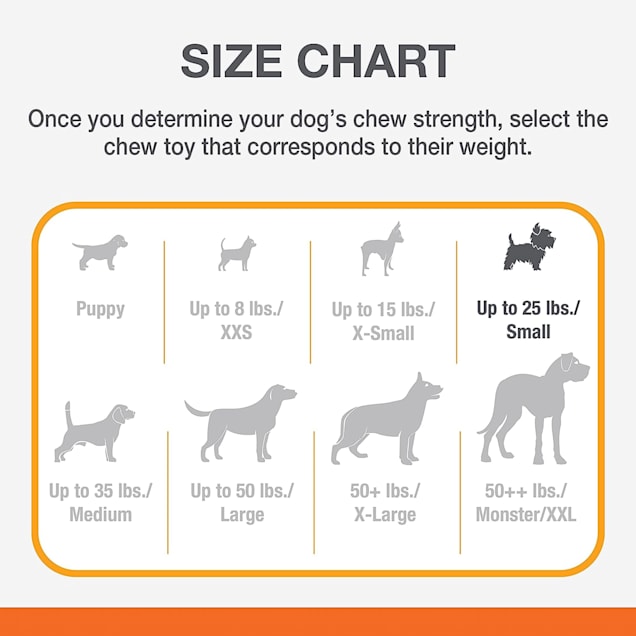 Nylabone
Puppy Teething Pacifier Flexible Chew Toy
This small puppy toy helps satisfy a puppy's natural urge to chew and encourages appropriate chewing habits. It's made with soft, flexible materials explicitly designed for teething puppies without adult teeth.
Features:
Discourages destructive chewing
Helps puppies develop appropriate chewing habits
Great for teething stage
Soft, flexible material
Fun, bright colors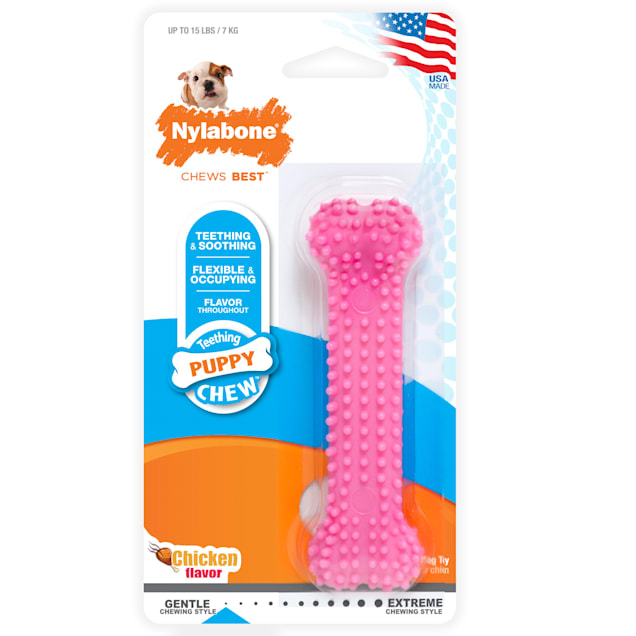 Nylabone
Pink Dental Puppy Bone Chew
One of the best teething bones for puppies, the Nylabone dental puppy bone chew has soft nubs designed to gently massage a puppy's gums during the teething stage. It can also help clean teeth and freshen breath.
Features:
Dental chew nubs gently massage gums
Helps clean teeth, freshen breath and control plaque and tartar
Naturally flavor-enhanced
Recommended for average chewers
Made in the USA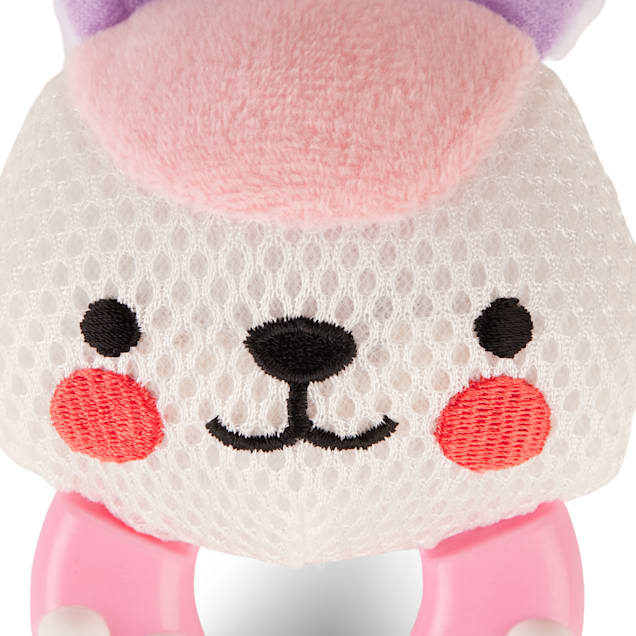 Leaps & Bounds
Chews Me! Teething Plush Puppy Toy in Various Styles
With a textured rubber ring and spongy center you can soak in water and pop in the freezer, this puppy teething toy indulges little pups with gentle materials. When chilled, its firm yet cool surface can soothe your puppy's gums as they chew and play
Features:
A gentle combination of materials to help soothe teething puppies
Spongy center can be soaked and cooled in the freezer for a chill surface that eases gum sensitivity as they chew
Textured rubber ring provides an additional target to chew
You'll randomly receive 1 of 4 styles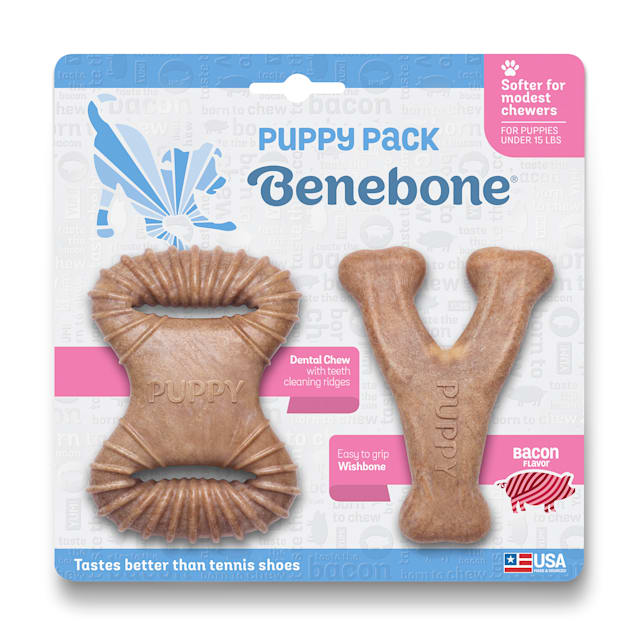 Benebone
Bacon Flavor Puppy Chew Toys
These teething bones for puppies from Benebone are packed with a bacon flavor that most pups find irresistible. Both tantalizing and durable, this puppy chew can help soothe and stimulate your teething puppy.
Features:
Soft for teething puppies
100% real USA-sourced bacon ingredients for irresistible flavor and scent
Made in the USA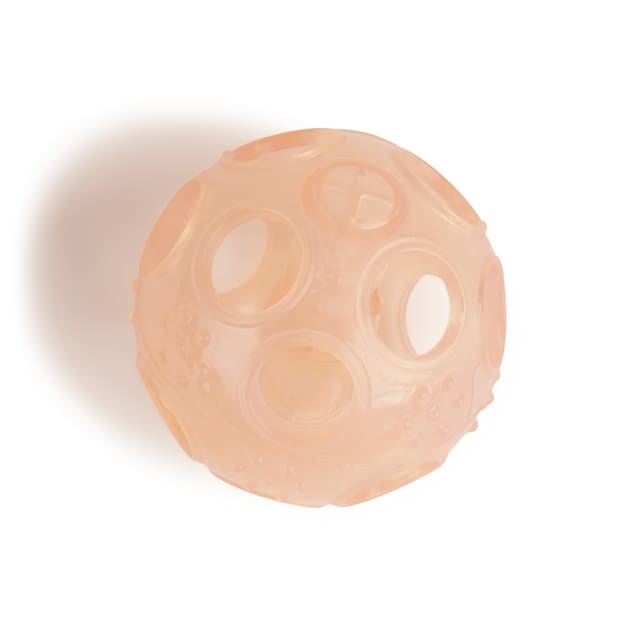 Leaps & Bounds
Little Chews Treat Dispenser Ball Puppy Toy in Assorted Colors
One of the best chew toys for puppies, this treat dispenser chew is designed to engage a puppy's young mouth with stimulating colors, textures and noises. And it's designed with materials that can be perfect for tiny teeth to gnaw and nibble.
Features:
Treat dispenser ball puppy toy
Tough-o-Meter rated, Gentle
Smooth, multi-colored rubber with embossed and cut-out prints
Challenges your puppy to find treats inside
TPR synthetic rubber gently massage teeth and gums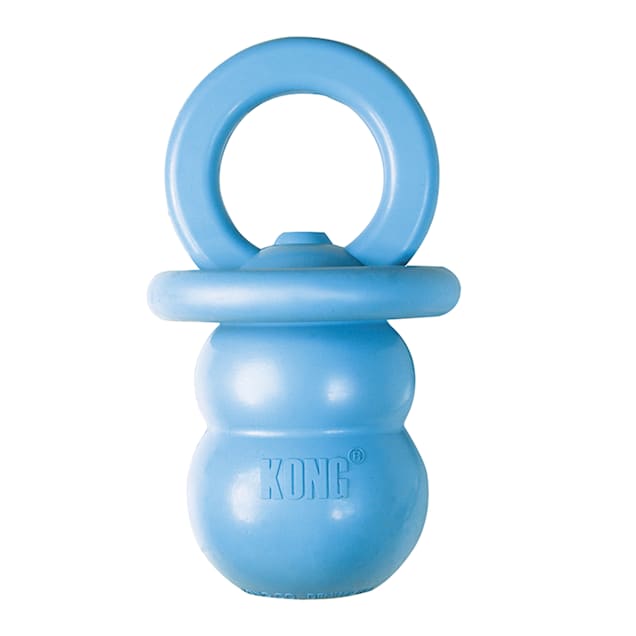 KONG
Puppy Binkie Assorted Toy
This puppy binkie helps promote appropriate chewing behavior in teething pups. It's designed for teething puppies and helps soothe their sore gums. Plus, you can fill the center of the binkie with puppy treats and snacks to entice and delight your pup.
Features:
Unique pacifier shape and soft KONG puppy rubber
Designed to help soothe sore teeth and gums
Promotes positive chewing behavior
Fill with treats or pastes to extend playtime
Available in two sizes, Small and Medium
Available in two colors, Pink and Blue
Made in the USA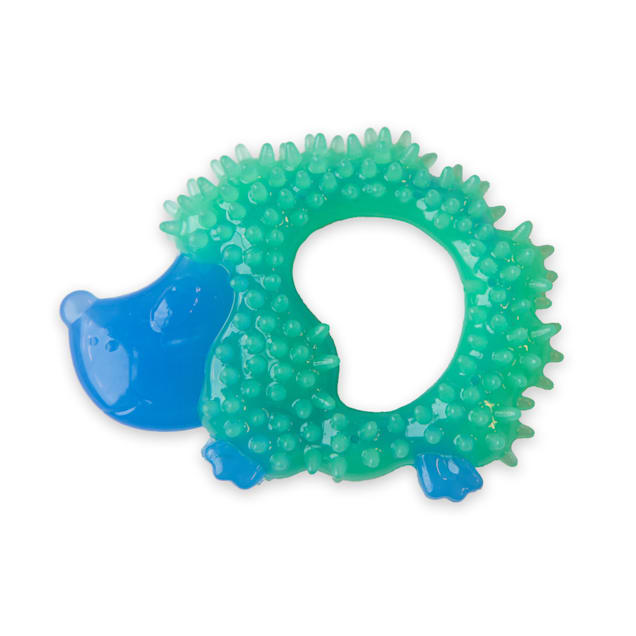 Petstages
Cutie Chewie Hedgehog Dog Toy
Rounding out our list with many of the top puppy toys is this cute hedgehog puppy chew. It's great for puppies, with pliable rubber to help massage gums and improve their dental health.
Features:
Improves dental health with pliable rubber and multiple textures
Massages gums while puppies chew and play
Open design helps with tugging and grip
Adorable shape keeps your pup interested
Perfect size for small dogs and puppies who love to chew
We're here to help
Beyond puppy chew toys, our stores offer health & wellness products and services to help make sure your puppy has everything they need to thrive.
Store Partners
Get personalized recommendations based on your pet's needs.
Find a Store
Vet Services
Get the care your pet needs to feel their best at every stage of life.
Find a Vet
Pharmacy
Save big on heartworm preventives, pain relievers, Rx flea & tick control and more.
Shop Pharmacy
Learn More About Puppy Chew Toys
At Petco, our list of best-selling chew toys for puppies is a great place to start if you're a pet parent looking for some of the best things for puppies to chew on. Good chew toys for puppies will be appropriate for their breed, size and life stage. Puppies grow rapidly—especially between 2 months and 10 months old. And it's ideal to have a variety of chew toys available to your puppy to help them stay active, engaged and soothed from teething soreness. Consider including a puzzle treat dispenser chew toy to keep them mentally stimulated. Add a toy that can be cooled for soothing and a chew with massaging nubs for teething. You can also fill your collection with rubber chew toys, bouncy toys, squeaky toys and more.
Many solutions on this list of best-sellers are excellent options for your teething pup. The best puppy teething toys will usually be made of soft, flexible materials that can massage your pup's gums and soothe sore mouths. They also should be appropriately sized for small, growing puppies. Additionally, you'll want to include a variety of puppy chew toys in your collection to help keep them interested and stimulated during their teething phase.
In addition to the best chew toys for puppies, there is a wide range of puppy toys that can also benefit your growing pup. Interactive dog toys can be especially good for puppies because they will allow bonding with their pet parent and educational opportunities. Puppies require a lot of physical and mental stimulation throughout the day, and it is a crucial stage in their behavioral training, too. It's often a good idea to pair puppy chew toys with dog dental chew toys, soft plush toys and interactive toys to give them enough variety and stimulation. And as they grow, their puppy teething toys can graduate into dog chew toys designed for adult teeth and powerful chewing.
There are teething bones for puppies, and some of the best ones are included on this list of top sellers. However, natural bones are not appropriate for young puppies to chew. Most dog bones designed for adult dogs are unsuitable for a puppy's small mouth and fragile teeth.
*Based on petco.com sales data.