Best* Koi Fish Food of 2022
Learn what kind of food your koi fish need to help them thrive and express their brilliance.
What to look for in the best koi fish food
The food you select for your koi should give them the proper amount of nutrition, allow them to develop their colors fully and live a happy life.
Vitamins and nutrients
With proper nutrition, your koi can grow to an impressive size. It's important to make sure they're getting enough protein, carbohydrates and vitamins during their growing phase.
Color-enhancing properties
The right diet can help your fish develop rich hues of orange, red and gold.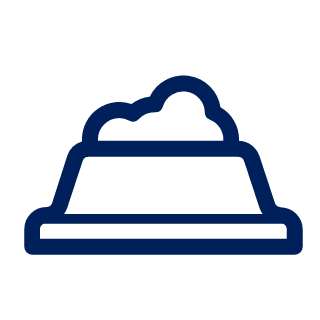 Palatability
The best food for your koi fish should be tasty. They should enjoy it and be excited about mealtime.
*Ratings as of April 14th, 2022
*Based on petco.com sales data.
We're here to help
Beyond Koi fish food, our stores offer health & wellness products and services to help make sure your fish has everything they need to thrive.
Store Partners
Get personalized recommendations based on your pet's needs.
Find a Store
Vet Services
Get the care your pet needs to feel their best at every stage of life.
Find a Vet
Pharmacy
Save big on heartworm preventives, pain relievers, Rx flea & tick control and more.
Shop Pharmacy
Learn More About Koi Food
How often you feed your koi fish can vary greatly. It usually depends on the season and the temperature of the pond water, plus the specific type of koi fish you have. When the water is warmer—usually around 55℉ and up—koi fish eat a large amount to help them grow. During their growing season, they should be offered food daily. Offer small amounts and stop giving it after 2 to 5 minutes so they don't overeat.
As the season changes and their water cools, their metabolism will slow, and they'll need less and less food. Eventually, once the temperature drops below 55℉, they'll require little to no food until it warms up again.
Be sure to measure the temperature of your pond accurately. Always follow the directions on koi food carefully, and make sure you get the correct feed for your pond temperature. If you have any concerns, consult your vet.
The best food for koi growth should have a good blend of carbohydrates and protein during the growing season. For them to grow, their food should be a minimum of 35% protein.
It's a good idea to give them high-quality pond fish food and a mix of flakes, pellets and treats. You can also feed them freeze-dried or frozen foods—just make sure you thaw before serving.
It may be tempting to overfeed your fish to make them grow faster, but it will only result in illness since they tend to overeat if allowed to do so. With proper care and nutrition, your koi will reach their full-size potential.
Always use caution when feeding your koi homemade food—commercial food is specially formulated with the proper amount of protein, carbohydrates, vitamins and minerals. If you're interested in switching to homemade food, consult your vet to find out exactly what nutrients should be added for a well-rounded diet.
*Based on petco.com sales data.
// Forces popover to close when the user clicks anywhere on the page $(function(){ // fnGetNearestLocations(storeId, expirationMin, isHTML5Geolocation, isGoogleGeoAPI, HTML5GeoTimeout, XHRTimeout, isDebuggingEnabled) petcoNearestLocations.fnGetNearestLocations('10151','10080','true','true','10000','5000','https://www.googleapis.com/geolocation/v1/geolocate?key=','AIzaSyB1POydsXY7SJBDX-zowEC0y340ZJK6uig','false'); });