Best* Joint Supplement for Dogs of 2022
Starting your canine on joint supplements for dogs may be a great way to deter or manage conditions such as arthritis, joint inflammation and hip dysplasia. Certain large breeds may benefit from joint dog supplements as early as 12 months old. Taking steps to prevent the stiffening of joints and slowing down the loss of cartilage can help save your pet potential discomfort down the road.
What to look for in joint supplements for dogs
Ingredients
Some of the best ingredients for joint wellness supplements for dogs may include Glucosamine Hydrochloride to encourage cartilage growth and help your dog retain the cartilage they have. Cartilage dissipates over time due to enzymes. And Chondroitin can hinder those enzymes to protect cartilage. Omega-3 Fatty Acids can help with lubrication and have anti-inflammatory properties to reduce swelling and irritation. And Methylsulfonylmethane (MSM) is an antioxidant thought to help with joint pain and inflammation, and it may help boost the immune system.
Form
Joint supplements for dogs can come in many forms. Many of our best-sellers are chewable. Most dogs find them delicious, so there's no need to hide them in food or a pill pocket. It's as easy as giving your dog a treat. Like all medications and supplements, make sure to store them in a secure area your dog cannot reach and consult your veterinarian to determine which form is best for your pup.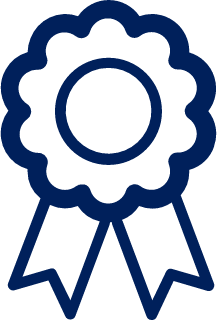 Quality and Value
Discover the best joint supplements for dogs that are effective, easy to administer and available at a price you feel comfortable paying.
Pet Parent Faves
Canine vitamins and supplements are in high demand, and supplements that can aid in joint pain relief for dogs is no exception. Here are some of the best-selling joint supplements for dogs most frequently purchased by Petco's pet parent customers.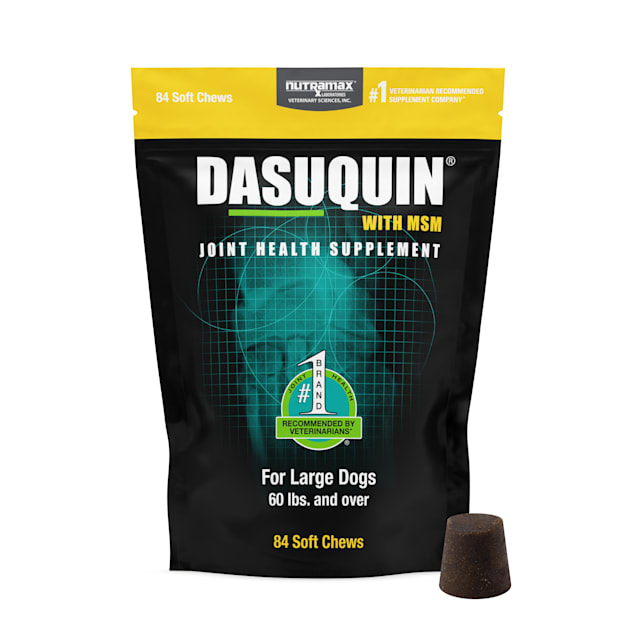 Best Overall Soft Chew
Dasuquin
MSM Soft Chews for Large Dogs 60 lbs. +
This powerful soft chew is our #1 best-seller and is the #1 recommended brand by vets. It's packed with nutrients like glucosamine, low-molecular weight chondroitin and MSM to help promote joint fluidity and reduce inflammation. Joint health for dogs is important, and Dasuquin MSM soft chews contain essential nutrients, along with ingredients sourced from soybeans, avocado and green tea.
Features:
Available in 84 count resealable bags
For large dogs 60 lbs. +
Pork flavor
For adult life stage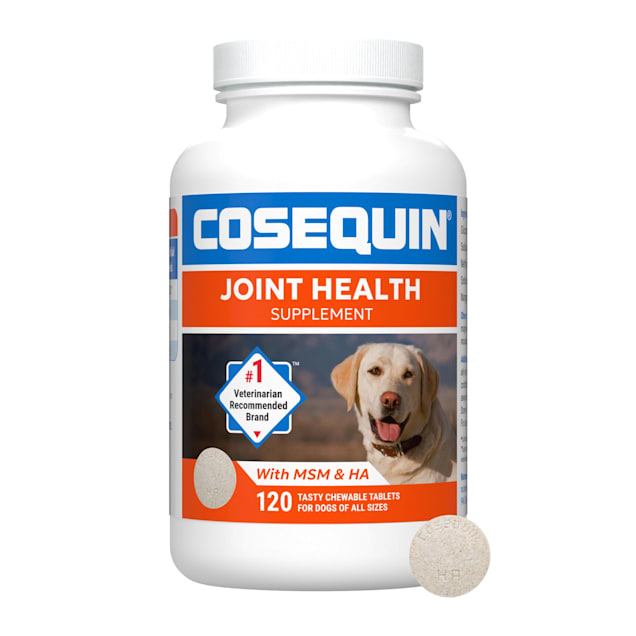 Best Chewable Tablet
Cosequin
DS Maximum Strength Plus MSM and Omega-3s Chewable Tablet
This dietary supplement can be used for dogs of all sizes, which is great if you have multiple dogs. Just follow the dosage chart on the package to find the perfect amount for your pet according to weight. Cosequin is scientifically formulated and is an official joint dog supplement of the Westminster Dog Show.
Features:
Available in 60 or 120 count bottles
Chicken-flavored chewable tablet
Supports mobility
Contains Omega-3s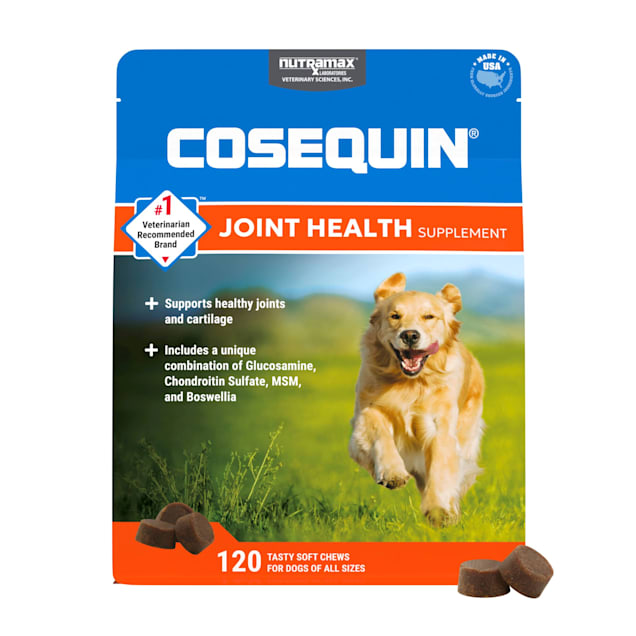 Most Popular Petco Soft Chew for Dogs of All Sizes
Cosequin
DS Maximum Strength Plus MSM and Boswellia
Cosequin makes its second appearance on our list, this time in soft-chew form. This formula contains boswellia, which can help to provide joint pain relief for dogs due to its anti-inflammatory properties. This tasty chew is made in the USA from globally sourced ingredients and is intended for dogs of all sizes.
Features:
Resealable bags available in 60 or 120 count soft chews
Quality-tested
For dogs of all sizes
Scientifically researched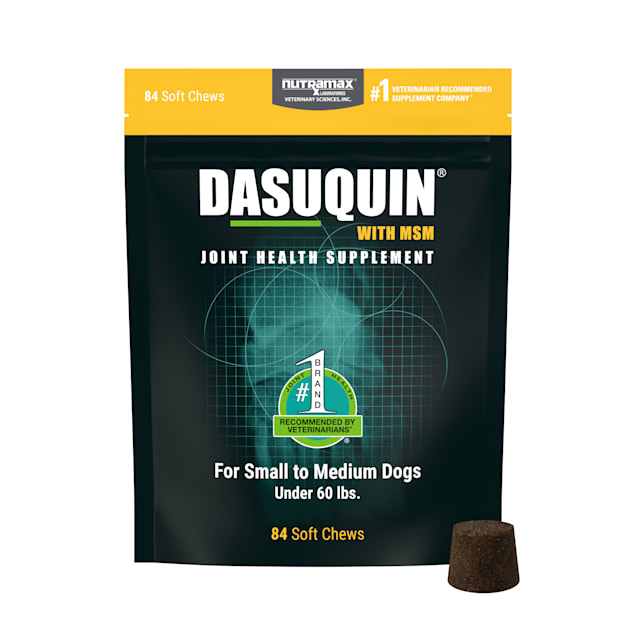 #1 Veterinarian Retail Joint Supplement Brand
Dasuquin
MSM Soft Chews for Small to Medium Dogs
This is the same product as our #1 bestseller, but formulated instead for our small to medium pups weighing between 10 lbs. to 15 lbs. Our loyal Petco pet parents can't get enough of Dasuquin products.
Features:
Available in 84 count resealable bags
Vet-recommended dog supplement
For adult life stages
Pork-flavored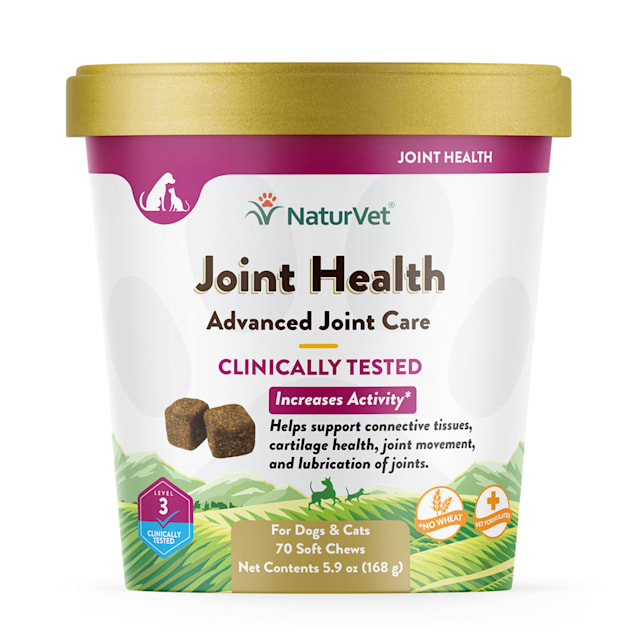 Best soft chew for both dogs and cats
NaturVet
Joint Health Level 3 Soft Chew
This level-3 soft chew is recommended for pets who suffer from hip and joint issues and need advanced care, such as seniors or a pet recovering from surgery or injury. It contains glucosamine, chondroitin, MSM and green-lipped mussel, which can help provide beneficial nutrients for dog joint pain. NaturVet is formulated for both dogs and cats, so many members of your pet family may benefit.
Features:
Available in 70, 180 and 240 count
Clinically tested level 3
100% money-back guarantee issued by manufacturer
Formulated for advanced care
Wheat-free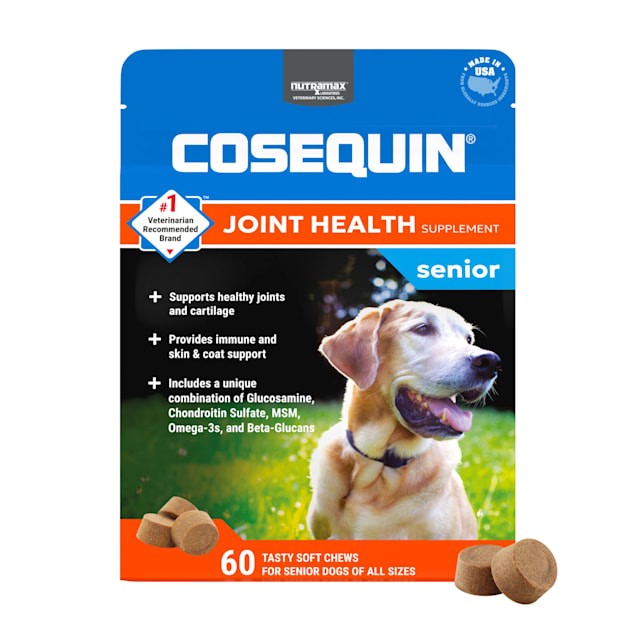 Best joint supplement for seniors
Cosequin
Senior Max Strength Joint Health Soft Chews for Dogs
Cosequin is back, this time with a senior formulation. Designed for geriatric dogs of all sizes, this blend of maximum strength joint supplements for dogs can help keep older canines active and mobile. In addition to a powerhouse of essential joint nutrients, this soft chew also contains beta glucans to aid in immune support.
Features:
Available in 60 count resealable bags
Recommended for senior life stages
Instructions for dogs of all sizes
Recommended by vets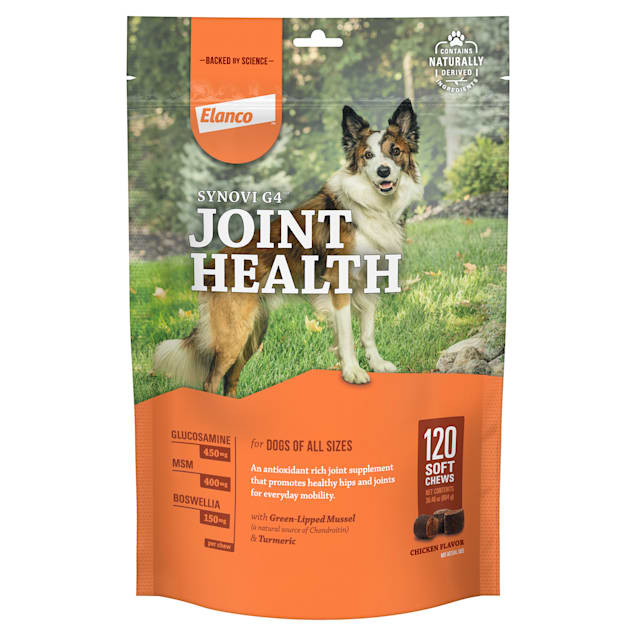 Petco top-rated joint supplement backed with an NASC-quality seal
Bayer
Synovi G4 Soft Chews Glucosamine Joint Supplement for Dogs
Produced by a brand you know and trust, these Bayer joint supplements for dogs contain glucosamine, manganese to stimulate enzyme function, green-lipped mussel, boswellia and turmeric—making this chew a powerful multi-level formula. Bayer has proudly earned the National Animal Supplement Council quality-seal for their strict adherence to quality control and guidelines.
Features:
Available in 60 and 120 count resealable bags
Contains naturally derived ingredients
Chicken-flavored
Unique blend of nutrients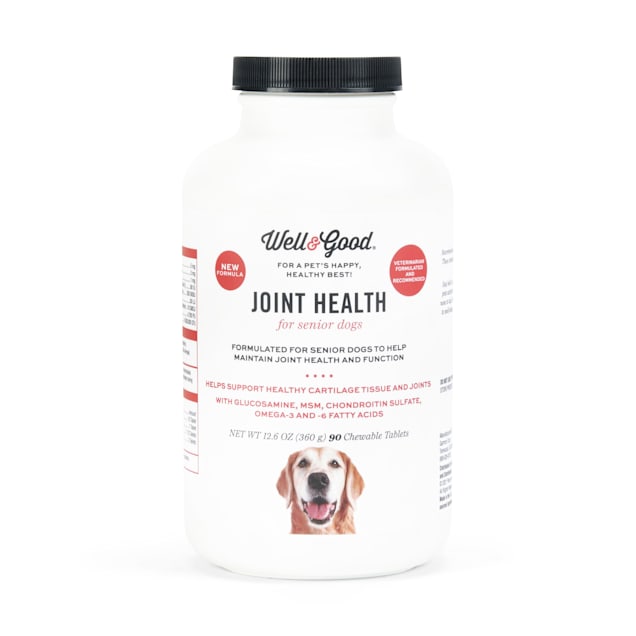 Best chewable tablet formulated specifically for seniors with moderate to severe issues
Well & Good
Senior Dog Joint Support Chewable Tablets
Well & Good produces reliable, affordable products. They focus on quality—Well & Good products have the NASC quality seal of approval. This hip and joint supplement for dogs is formulated for moderate to severe needs. It contains both Omega-3 and -6 fatty acids that can help lubricate joints and improve your pup's skin and coat.
Features:
Available in 90 count bottles
Veterinarian formulated and recommended
For senior life stages
New formula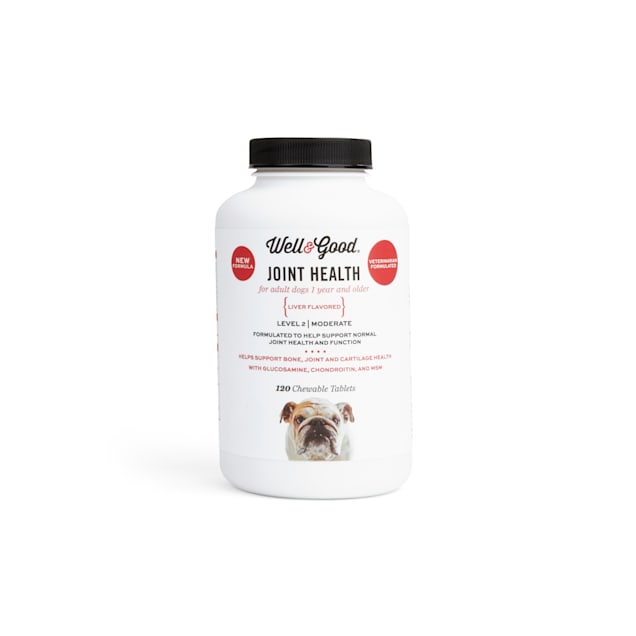 Best chewable tablet formulated specifically for large dogs
Well & Good
Level 2 Moderate Joint Health Chews for Large Dogs
This level 2 blend is intended for medium to large active dogs. This is a great joint supplement for dogs over 1 years of age and can help support joint wellness before serious problems arise.
Features:
Available in in 60 or 120 count bottles
Has the NASC Quality Seal of Approval
For canines over 1 years of age
Formulated for medium to large dogs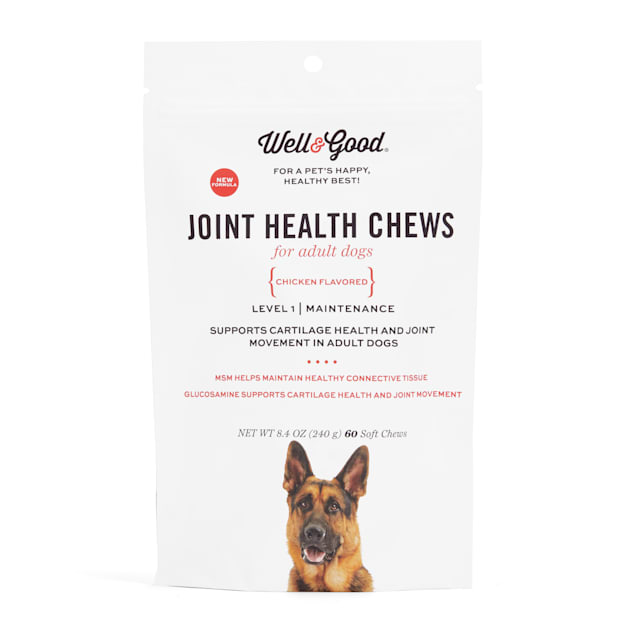 Best level-1 maintenance chewable tablet formulated for large dogs
Well & Good
Level 1 Maintenance Joint Health Chews for Large Dogs
This is a great supplement chew to help maintain existing cartilage and joint mobility. Intended for large adult dogs one years and up, the level-1 tablet is a good way to introduce your dog to a joint supplement regimen. Prevention can be key when it comes to cartilage loss—this chewable tablet can help.
Features:
Available in 60 count bottles
Chicken-flavored
Great for maintenance
Formulated for adult dogs
We're here to help
Beyond joint supplements for dogs, our stores offer health & wellness products and services to help make sure your dog has everything they need to thrive.
Store Partners
Get personalized recommendations based on your pet's needs.
Find a Store
Vet Services
Get the care your pet needs to feel their best at every stage of life.
Book a Vet Appointment
Pharmacy
Save big on heartworm preventives, pain relievers, Rx flea & tick control and more.
Shop Pharmacy
Learn More About Joint Supplements for Dogs
Petco has a variety of vitamins and supplements to aid in your dog's wellness. Shop online or visit us at your neighborhood Petco Pet Care Center for quality solutions to your pet's nutrient needs.
For most dogs, yes. Glucosamine can be one of the best joint supplements for dogs. Cartilage is an essential part of any joint in your dog's body—it acts as a cushion, allowing your dog to move freely and without pain. Just like humans, when dogs age, cartilage can break down from continued wear and tear.
Glucosamine Hydrochloride can help encourage cartilage growth and help maintain existing cartilage. This helps to avoid painful rubbing of bone-on-bone, along with arthritis, hip dysplasia and inflammation.
Yes, in most cases. It's important to read the labels of the joint supplements closely and make sure you pick a product that fits your dog's needs. There are many different formulas—size-specific, age-specific, severity of condition—so make sure you choose carefully. Many joint support products are intended for dogs at least 1 year of age. It's best to consult your veterinarian before starting your pet on any new regimen.
When hunting for the perfect joint pain relief for dogs, try to find supplements that help with inflammation and swelling. If you think your dog is in pain, your vet may be able to write a prescription. Petco has partnered with VetSource® to provide convenient pharmacy services that deliver right to your door.
*Based on petco.com sales data.