Best* Ferret Cages of 2022
Ferrets are small but mischievous, requiring secure cages that don't allow them any options for escape. While they can sleep for up to 18 hours a day, they typically spend their remaining hours exploring—occasionally where they could find danger.
What to look for in ferret cages
Why ferrets need habitats? Ferrets are curious and active, and most can't be trusted to roam free for their safety. Your ferret needs a cage because it keeps them secure while allowing them some room to play and exercise. An indoor ferret cage also provides a dedicated place to store food and water for your tiny friend.
At Petco, we have some of the best ferret cages for pet parents of one or multiple curious mustelids. Some features to look for in a great ferret habitat include:
Escape-proof bars
Ferret habitats should have bars that are no wider than 1 inch apart. Many good ferret cages have bars that are even closer together to ensure they can't escape. Ferrets can squeeze through tighter spaces than you might think, so make sure the cage doesn't leave any room for escape.
Multiple levels
Since ferrets must be in their cage at night—and anytime you can't supervise them—they need room to move in their cage. Some of the best ferret enclosures have two or three stories and should have dedicated space for litter, food and water on the bottom level.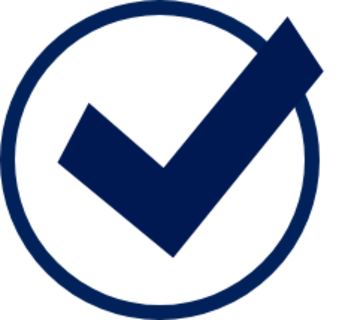 Accessible litter pan
Like other pieces of machinery, increased power can often come at the cost of higher noise output. In the past, canister filters were often louder than different types of aquarium filtration. Luckily, some of the best aquarium canister filters on the market today have been redesigned to operate more quietly—meaning less of a disturbance to fish and their pet parents.
Pet Parent Faves
Here are some of our best-selling ferret habitats based on their popularity among Petco's pet parents.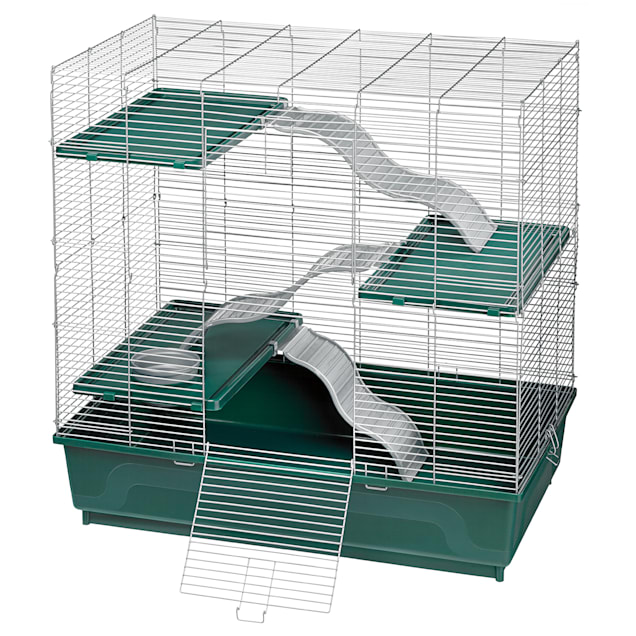 Best Starter Home for a Single Ferret
Kaytee
Multi-level Exotic Pet Home
The Kaytee Multi-Level Exotic Pet Home is a great tall ferret cage starter when bringing home a new pet. This habitat is made of a deep solid base to contain bedding, with an easy-to-assemble, tall wire top. Within the habitat are three different platforms that are reachable with ramps made in fun, wavy designs to help your ferret feel secure in climbing and encourage exercise. The wire spacing and chew-proof locks help keep your pet protected and secure, and this indoor ferret habitat also includes a built-in food dish that sits snuggly in the bottom shelf to help prevent spillage.
Features:
30.5" L X 18" W X 30" H
.5-inch wire spacing
Easy-to-clean plastic base
Chew-proof locks
Three levels with ramps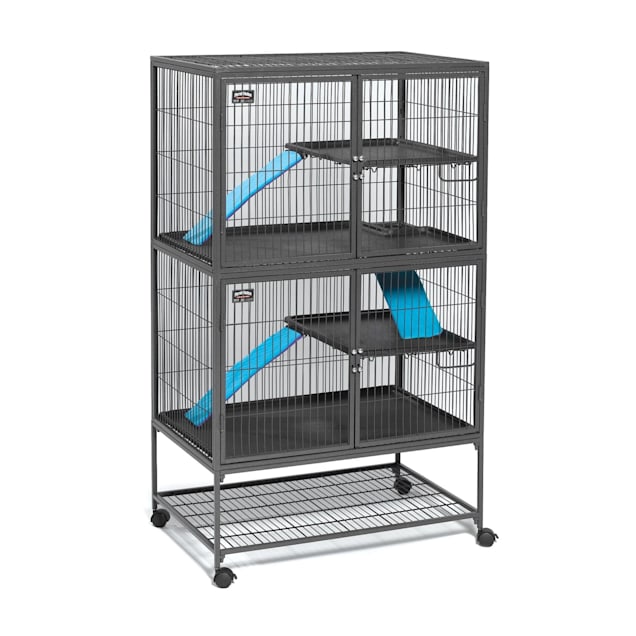 Best Multi-level Ferret Homes for One or More Ferrets
Midwest
Ferret Nation Double Unit with Stand Ferret Cage
The Midwest Ferret Nation Double Unit habitat is an excellent choice for one or multiple ferrets. This large ferret cage is made with narrow wire bars. It features two full platforms for double the play and two half-platforms for double the climbing—a total of four levels to explore. Each level is connected with a ramp for your pet to climb to the next level, and the habitat has two large doors for easy access. With a solid middle platform, you can feel better about the lowered risk of your ferret falling from a high area and being injured, yet they still have plenty of space to climb and exercise. This habitat is easy to assemble with no tools needed and has locking wheels for easy relocation and stable placement.
Features:
36" L X 25" W X 62.5" H
One-hand operation, dual-locking door latches
Wheel casters with locks
Multiple attaching points for accessories
Includes soft, padded covers for ramps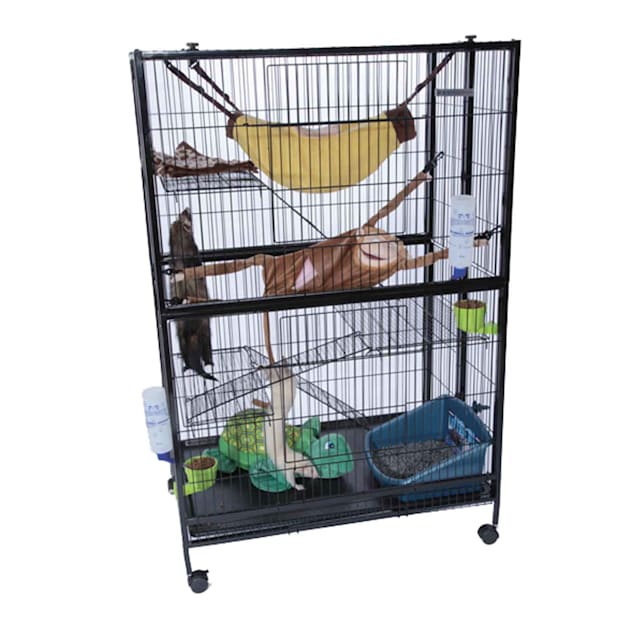 Marshall Pet Products
Folding Ferret Mansion
The Marshall Pet Products Folding Ferret Mansion can ensure your ferret is living in luxury but still can be easily stowed away for storage or travel. This habitat is made of completely wire walls for a complete view of your pet and has enough space to comfortably house one or multiple ferrets and add an assortment of toys and accessories. The Marshall Ferret Mansion includes three metal wire platforms that connect with three metal wire ladders, so this is a great option if your furry friend has a bad habit of chewing and destroying plastic or other softer materials. Three access doors and a locking pull-out tray help ease the task of cleaning this big ferret cage, and as the habitat can fold flat with ease, storing it if it is not needed or for travel is a breeze.
Features:
37" L X 25.2" W X 53.9" H
Folds flat for easy storage
Textured pull-out tray
Easy assembly with no tools required
Four caster wheels for mobility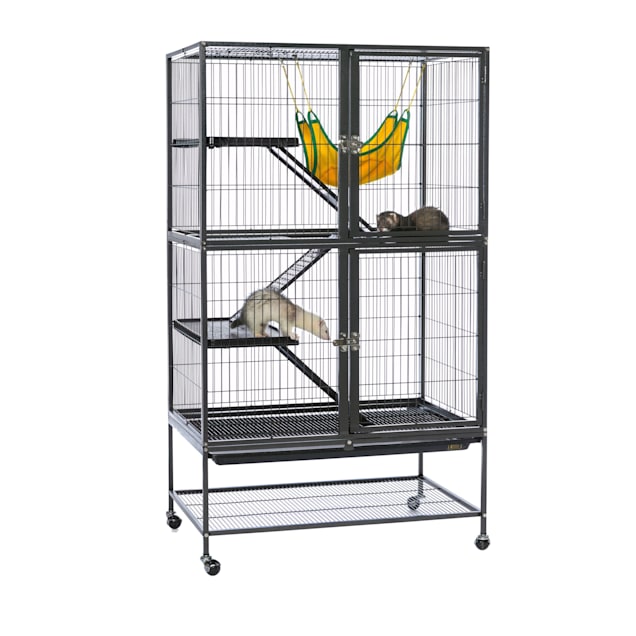 Prevue Pet Products
Black Feisty Ferret Cage
This four-level ferret enclosure provides plenty of room for one or multiple ferrets to romp and roam as well as space for toys and accessories. Two platforms, three ramps and a middle level with a door that can be left closed or open can provide the option to separate ferrets or give them the entire habitat to play and explore. This habitat has two large doors, removable platforms and a removable bottom pan to aid in easy cleaning and access. The Feisty Ferret Cage also includes an added hammock for your ferret to enjoy as well as a bottom storage shelf for storing supplies.
Features:
31" L X 20" W X 54" H
Ferret hammock included
Durable and secure metal door latches
Textured rubber ramps are easy on your pet's feet
Features spacious lower section to keep supplies in one place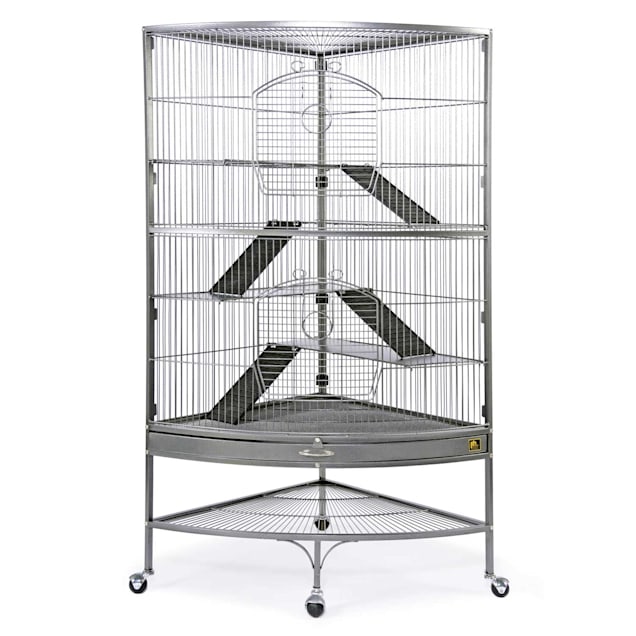 Prevue Pet Products
Corner Black Ferret Cage
The Prevue Pet Products Corner Black Ferret Cage is an ideal habitat to give your ferret plenty of room but not take up too much space in your home. This unique and tall ferret cage can snuggly fit right into a corner of the room, yet wheels allow it to roll out as needed for cleaning or relocating easily. The habitat includes a slide-out bottom grill and tray for easy cleaning but can be locked to prevent your pet from pushing it out on their own. With multiple platforms connected between four ramps, your ferret will have plenty of space to exercise and explore in this home. Two large doors provide easy access, and a bottom shelf allows convenient storage for supplies.
Features:
39" L X 27" W X 63" H
Space-saving corner design
Features rolling casters
Wind-bell lock prevents drawer from being pushed out
Four rubber ramps allow for ample play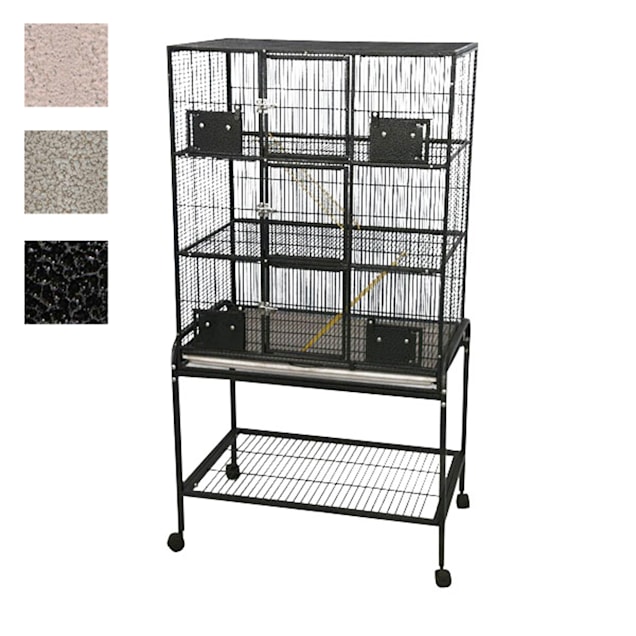 A&E Cage Company
3 Level Small Animal Cage with Removable Base in Platinum
This habitat comes in three unique, classic colors for the pet parent wanting their ferret's home to match their home décor. With three platforms connected between two ladders, your furry companion can enjoy climbing up and down throughout this habitat. A large door on each of the three levels allows easy access to your pet, while smaller feeder doors on the bottom and top stories allow ease of access to food and water bowls—reducing the risk of escape from your pet. A convenient storage shelf underneath the habitat and caster wheels help make this spacious ferret enclosure an efficient and easy-to-move option when needed.
Features:
33" L X 22" W X 63" H
Features four swing-out feeder doors and three large access doors
Spacious storage area underneath habitat
Non-toxic, powder-coated finish
Includes four stainless steel feeder cups
We're here to help
Beyond ferret cages, our stores offer health & wellness products and services to help make sure your ferret has everything they need to thrive.
Store Partners
Get personalized recommendations based on your pet's needs.
Find a Store
Vet Services
Get the care your pet needs to feel their best at every stage of life.
Book a Vet Appointment
Pharmacy
Save big on heartworm preventives, pain relievers, Rx flea & tick control and more.
Shop Pharmacy
Learn More About Ferret Cages
Many features can set a high-quality ferret habitat apart from other small animal homes. As ferrets can be highly energetic pets, finding a home that offers plenty of room for them to run around and play can be one of the top priorities for pet parents. All that space in your ferret enclosure won't mean much unless you also have quality ramps to encourage climbing and exploration, so these features are also worth researching.
As these pets are also known for their intelligence and agility, choosing a ferret cage with features that help prevent their escape can also be a good choice. Chew-proof locks and ones that can't be accessed from inside the habitat can help keep your pet secure, and bars with small spacing can help prevent them from squeezing through the habitat or accessing locks.
As ferrets need quite a bit of exercise, it's recommended that you get the biggest ferret enclosure that you can afford and that your home can accomodate. At the bare minimum, pet parents will need a home around 24" L X 24" W X 18" H—or roughly 2.5 cubic feet of internal space per ferret—but pets in smaller habitats will likely need be to let out to play more often. Five cubic feet of space can be a better option if you plan on keeping your ferret in their home for most of the day.
That can often depend on the personality of your pet and your needs as a pet parent. Does your ferret love to have lots of toys and playthings in their indoor ferret cage? Finding an enclosure that has space for hammocks, tubes or chew toys can be a good idea for these kinds of ferrets. Do you have multiple pets who sometimes need a time out from their sibling? A habitat that has doors separating different levels can be a great solution to help them behave. However, due to their high energy and intelligence, two qualities are generally high on Petco's pet parents' lists when choosing the best ferret cage—size and security.
*Based on petco.com sales data.