Best* Durable Dog Toys of 2022
Dogs possess a natural instinct to chew. That can be a problem if your pet gets ahold of your favorite pair of shoes or decides to gnaw the legs of your furniture. Redirect this behavior in a positive direction with the help of dog chew toys. Good toys for dogs will give your pup a safe and enjoyable outlet for their chewing. They'll also hold up, even against strong chewers. Petco offers an excellent selection of some of the best dog toys for chewers.
What to look for in good toys for dogs
Durability
When looking for dog toys for aggressive chewers, durability is a top consideration. After all, you don't want your pet to destroy a brand new toy in a single chewing session. Durable dog toys are designed to last longer even pitted against powerful chewers.

Fun play
Dogs don't just chew on toys. They also love to tug, toss, fetch and carry their toys. Look for dog chew toys that can be used in different ways, including chew toys with tug features, bouncy chew toys or plush toys that dogs can also cuddle.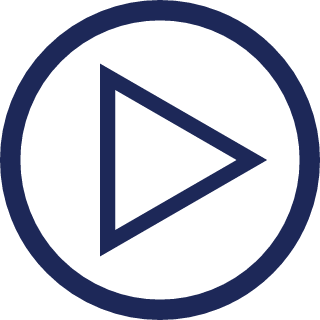 Variety
Chewing is a form of mental stimulation for dogs. You can encourage this by offering your canine different kinds of chew toys, including rubber, nylon, plush and rawhide chews. Look for different kinds of durable dog toys, so your pup has lots of options when they want to chew.
Best Dog Toys for Chewers
Give your pup good toys for dogs, so they can chew to their heart's content. Our customers are raving about these dog chew toys. Whether your canine prefers treat-holding chew toys, plush toys or durable toys that can stand up to enthusiastic chewers, find them all at Petco.
Compare All
Best treat-based chew toys
Best plush toys for chewers
Best non-treat chew toys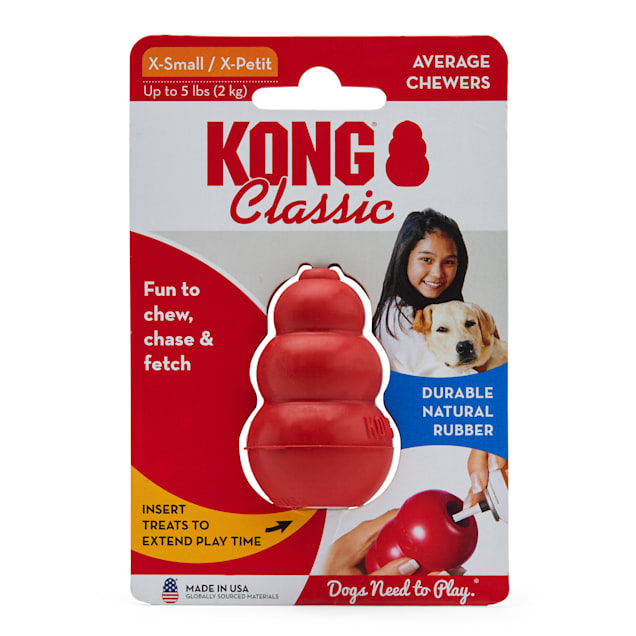 Best treat-based chew toys
KONG Classic Dog Toy
The KONG Classic is one of the most popular dog chew toys around. Dogs love how KONG can bounce in all sorts of crazy directions when thrown. Stuff the KONG with hard, soft or creamy treats to give your pup extra mental stimulation. KONG offers treats that go with this toy or use your own treats.
Features
Sizes:

X-small
Small
Medium
Large
X-large
XX-large

Designed for medium chewers
Made with natural rubber
Designed to be durable

"This is the old classic rubber Kong dog toy. I have the regular size and the small size for my boxer and for my Boston terrier. Its shape causes it to bounce in random directions. My dog absolutely loves this toy. I've put everything in that thing. I have broken up some single ingredient treats and stuffed them in Kong… I put treats as well as peanut butter bananas or yogurt then put them in the freezer. The freezing slows down their ability to clean out the inside quickly so the game lasts a little longer. The rubber is hard enough so they cannot chew through it yet soft on their teeth and gums…All in all I completely recommend these toys for all dogs of any shape and size." - Ysabel 
Pros
Bounces for extra fun fetch
Made with natural rubber
Can hold treats for extra mental stimulation
Comes in multiple sizes
Cons
Not designed for strong chewers
Not designed for puppies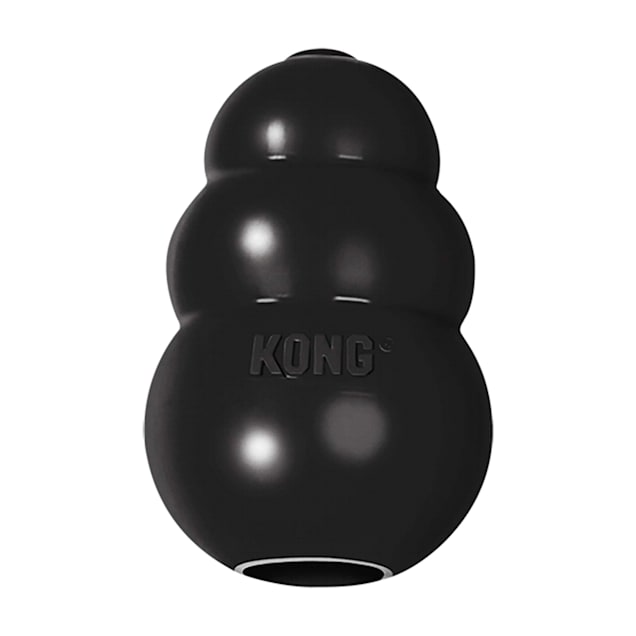 KONG Black Extreme Dog Toy
The KONG Black Extreme is one of the best dog toys for aggressive chewers. If your pup has chewed their way through all their other toys, try this one. KONG makes its Black Extreme model from ultra-durable rubber. The toy is also designed to hold a range of treats, from kibble to soft snacks and even creamy treats like peanut butter. The KONG's erratic bounce will keep your dog guessing and make games of fetch even more thrilling.
Features
Sizes:

Small
Medium
Large
X-large
XX-large

Can stuff the KONG with treats and place in freezer
Made from natural rubber
Uses most durable strength KONG rubber

"This is one of the few toys that stands up to my strong chewing dog. When properly stuffed with treats, this toy gives my dog a long-lasting chew. My go-to toy for redirecting my dog's energy." – VinTiff2021
Pros
Designed for strong chewers
Can hold treats
Unpredictable bounce makes fetch more fun
Cons
Not designed for puppies
Does not include scent or flavor features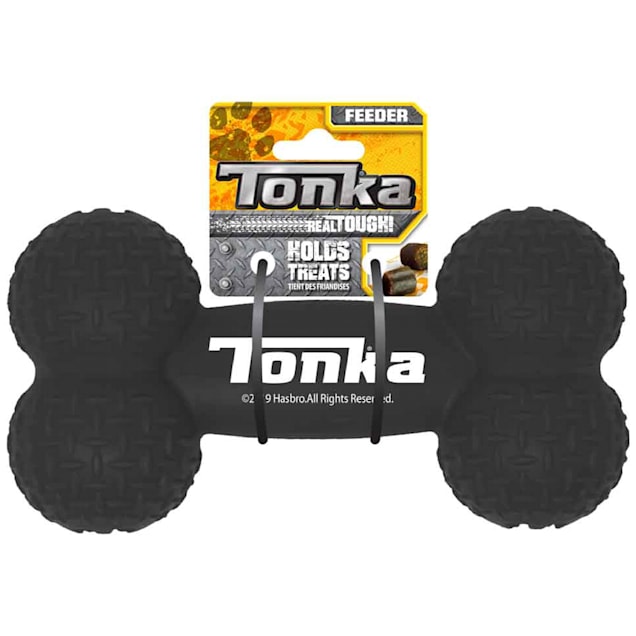 Tonka Tough Rubber Bone Dog Toy
This tough dog toy promotes healthy chewing behavior and will keep your dog entertained for long periods. Add an additional level of mental stimulation by adding treats to each side of the toy. Your dog will have a blast trying to get at the treats.
Features
Sizes:
Tire tread on sides improves gripping ability
Axle shape is easy for dogs to carry in their mouth
Treat holes on each side of toy

"Great toy for those super chewers." - Chessy Mom
Pros
Holds treats
Axle shape is easy for dogs to grab
Tire tread provides good gripping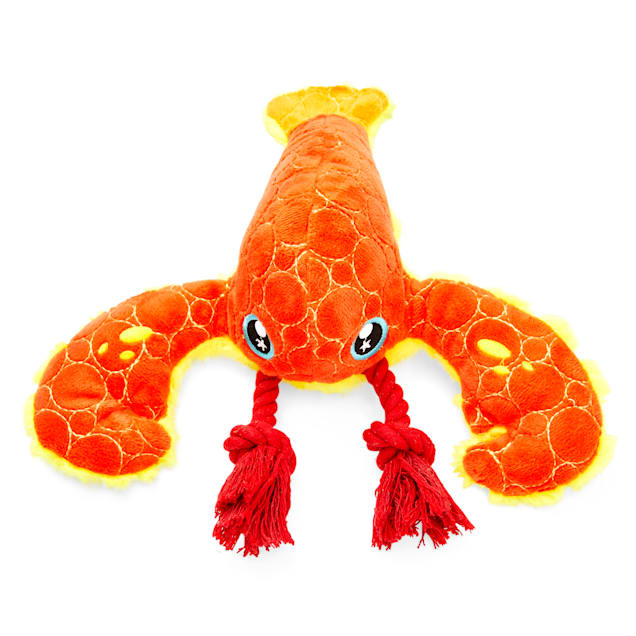 Best plush toys for chewers
Leaps & Bounds Ruffest & Tuffest Lobster Tough Plush Dog Toy with Kevlar Stitching
This adorable lobster is designed to stand up to powerful chewers. The toy is made with two-layer oxford-weave fabric and bound with Kevlar yarn. The small ropes attached to the toy make this rope and tug toy an excellent option for dogs that love to play tug-of-war.
Features
Sizes:
Includes rope features to use in tugging games
Furry bottom provides a different texture for your pet to enjoy
Built to last

"This toy is very well made. Very tough. Love the rope legs. It makes it very easy for my dog to pick up. My dogs love to rip up their toys and pull all the stuffing out. This toy should last them a long time." -LISA C
Pros
Designed for strong chewers
Includes rope feature for tug games
Bound by Kevlar yarn for extra durability
Cons
Doesn't include scent or flavor features
Only comes in single size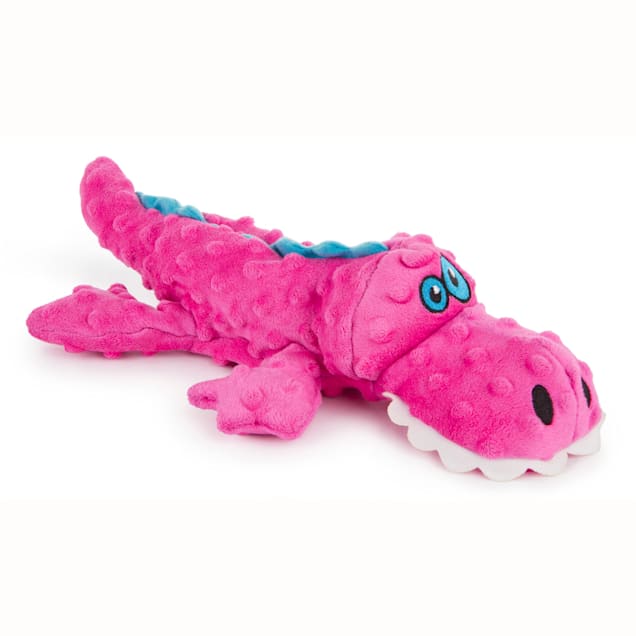 goDog Gators with Chew Guard Technology in Pink
Looking for a durable dog toy? This goofy gator could fit the bill. Made with proprietary Chew Guard Technology, this toy is super strong and built to stand up to tough play. The double-stitched and reinforced seams will help prevent your dog from pulling it open right away. Dogs also enjoy the fun squeaker inside the toy.
Features
Sizes:
Features durable liner
Includes bubble plush fabric for fun added texture

"My dog is a super chewer and kills most toys in minutes. Two weeks after getting this for Christmas she's still playing with it and there are no tears, no rips, squeaker still works, etc."- GDG33
Pros
Made with proprietary Chew Guard Technology for powerful chewers
Includes squeaker for added fun
Double-stitched seams increase lifespan of toy
Bubble plush fabric adds more texture
Cons
Not designed for puppies
Comes in single size
Does not include scent or flavor features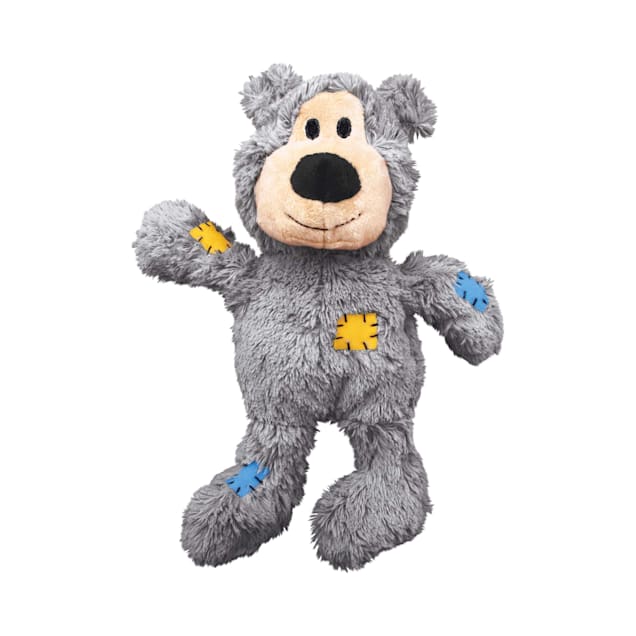 KONG Wild Knots Bear Dog Toy
Adorable on the outside, strong on the inside, this cuddly bear from KONG is ideal for strong chewers. The KONG Wild Knots Bear features an internal rope skeleton with knots that most dogs will enjoy chewing. An internal squeaker adds to the fun and offers extra stimulation.
Features
Sizes:
Contains minimal stuffing
Reinforced plush body increases toy's lifespan
Soft and cuddly on the outside

"Cute and sturdy. With the inside being rope and the outside being soft, it is the best of both worlds… We don't have stuffing all over the house, yet they love them." - Ms Mac 10
Pros
Includes internal knotted rope skeleton for fun chewing experience
Includes minimal stuffing
Designed for durability
Cons
Not designed for puppies
May be too big for smaller dogs
Does not include smell or flavor features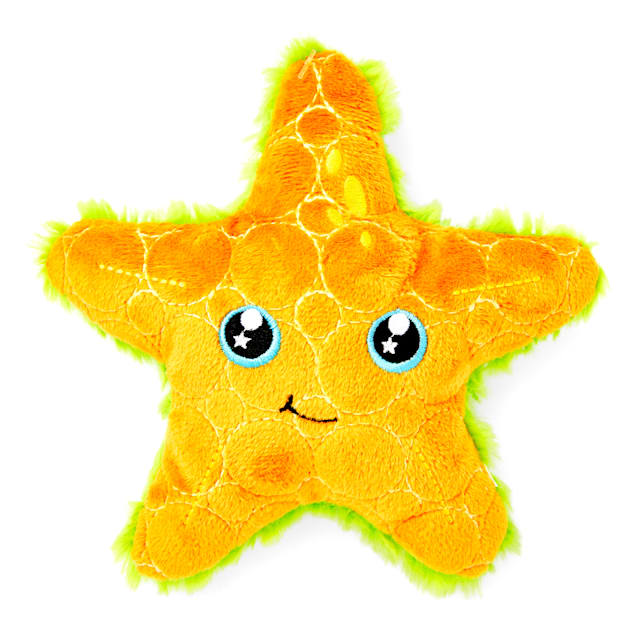 Leaps & Bounds Ruffest & Tuffest Orange Starfish Tough Plush Dog Toy with Kevlar Stitching
Made with ultra-strong oxford-weave fabric and Kevlar yarn, this cute little star is ready to play with your powerful chewer. This Leaps & Bounds toy offers lots of fun and a long life.
Features
Sizes:
Furry bottom adds textural stimulation
Made with two layers of oxford-weave fabric
Reinforced seams add longevity to toy

"It's slightly bigger than I was expecting, which was a pleasant surprise. It feels very durable and neither of my dogs have ripped it apart yet. I couldn't be happier! Toys never last with these two. They love it and I like how cute it is." - Midnight 
Pros
Designed for powerful chewers
Multiple arms add tugging capabilities for more fun play
Bound by Kevlar yarn for extra durability
Cons
Comes in single size
Does not include smell or flavor features
Does not hold treats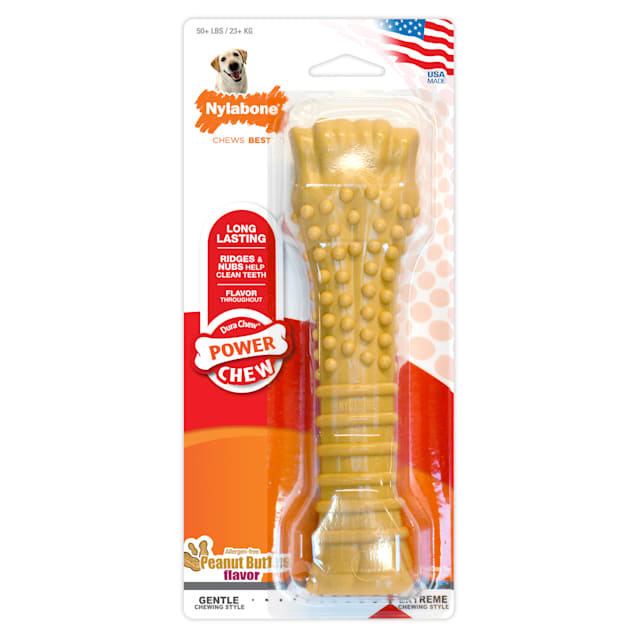 Best non-treat chew toys
Nylabone Dura Chew Souper Peanut Butter Dog Bone
This tough dog toy is designed for extreme chewers. If your pup has destroyed every toy you've brought home, this Nylabone might do the trick. The Nylabone Dura Chew is also one of the most popular dental chew toys available. As your dog chews, the ridges and nubs on this multi-textured bone will help clean your dog's teeth. Your dog will also love the delicious peanut butter flavor infused throughout this toy.
Features
Sizes:
Discourages destructive chewing
Helps freshen breath
Made from durable nylon

"Super durable chew that keeps my Goldens busy for hours." - ckopp1 
Pros
Designed for strong chewers
Includes peanut butter flavor
Can help clean teeth
Cons
Not designed for puppies
Comes in one size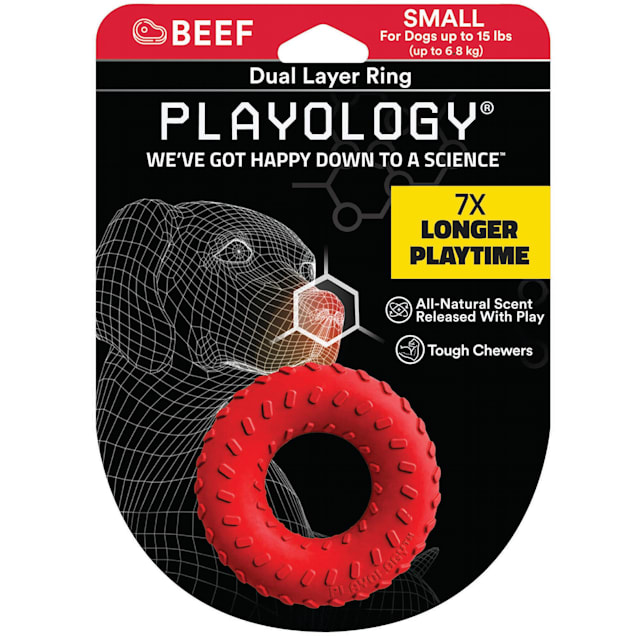 Playology Dual Layer Ring Dog Toy Beef Scent
Looking for the best puppy toys for young chewers? The Playology Dual Layer Ring is rated for all life stages. The tantalizing scent of beef will grab your dog's attention, and the multi-textured ring will keep them hooked. Designed to be extra durable, this ring will hold up to lots of chewing sessions.
Features
Sizes:
All-natural beef scent is designed to last for six months
Meets ASTM safety guidelines
Meets CPSIA standards for toxins
Dishwasher safe

"My jack russell terrier mix loves these toys! He has some of each of the toys in all the flavors and we play with every single one! He's a chewer, I mean a really big chewer and he hasn't torn through any of them yet." - Katelin  
Pros
Features all-natural beef scent to keep dogs engaged
Made with extra-durable materials for strong chewers
Materials meet ASTM and CPSIA safety standards
Designed for all life stages
Cons
Doesn't carry treats
Doesn't include flavor feature
*Based on petco.com sales data.
We're here to help
Beyond durable dog toys, our stores offer health & wellness products and services to help make sure your dog has everything they need to thrive.
Store Partners
Get personalized recommendations based on your pet's needs.
Find a Store
Vet Services
Get the care your pet needs to feel their best at every stage of life.
Find a Vet
Pharmacy
Save big on heartworm preventives, pain relievers, Rx flea & tick control and more.
Shop Pharmacy
Learn More About the Best Dog Toys for Chewers
Dogs have an instinctual need to chew. Dog chew toys can help redirect this behavior in a positive direction. Chew toys are good for dogs for a number of important reasons. These include:
Chewing is a form of stress and anxiety relief for dogs
Chew toys can help clean a dog's teeth (especially multi-textured toys)
Chew toys help divert destructive chewing behavior
They offer mental stimulation
They may help relieve gum pain in teething puppies
They provide dogs with a healthy energy outlet

When choosing good toys for dogs that like to chew, make sure to pick dog toys that are appropriate for your pet's size and age. If you have a puppy in the house, look specifically for puppy toys. It's also important to remove chew toys as soon as they rip or break to prevent choking hazards.
Leather chew toys, more commonly known as rawhide toys, are a popular dog toy option. Many pet parents appreciate how tough rawhide can withstand a lot of chewing, even from powerful chewers.
Rawhide toys designed for dogs and produced by reliable manufacturers are generally safe. However, always make sure to choose toys that are made for your dog's size and age. Supervise your dog whenever they play with rawhide toys. If they happen to tear a piece off the toy, it could represent a choking hazard or cause digestive issues if your dog swallows the piece.
If you worry about giving your dog rawhide or leather chew toys, you may want to consider alternative toys made from nylon or hard rubber.
Unfortunately, indestructible dog toys don't exist. Eventually, any toy will break down given enough playtime with your dog. If your pup is an enthusiastic chewer, look for toys designed for powerful chewers. These toys are made to be extra durable and will likely last longer than comparable toys not made for chewers. You may need to experiment with several different tough and durable toys until you find one that your dog enjoys and that holds up against all their chewing.
You may be sitting on the couch watching your favorite show when your dog suddenly wants to lay in your lap and gnaw away on their favorite chew toy. This is a common occurrence (though not every dog displays this behavior), and it can mean several things:
Your dog wants to play
Your dog wants attention
Your dog feels comfortable in your presence

The most common reason dogs like to sit with or on their pet parents and chew their toys is that they feel safe and happy in the presence of their pet parent. Consider this a compliment. If you want to encourage this behavior, pet your dog while they chew and/or speak positively to your pet.

If you'd like to discourage this behavior, you can always stand up and move to a different part of the room or gently move your dog to a more comfortable position. Never yell or push your dog, as this could cause your pup to feel fear and aggression.
// Forces popover to close when the user clicks anywhere on the page $(function(){ // fnGetNearestLocations(storeId, expirationMin, isHTML5Geolocation, isGoogleGeoAPI, HTML5GeoTimeout, XHRTimeout, isDebuggingEnabled) petcoNearestLocations.fnGetNearestLocations('10151','10080','true','true','10000','5000','https://www.googleapis.com/geolocation/v1/geolocate?key=','AIzaSyB1POydsXY7SJBDX-zowEC0y340ZJK6uig','false'); });