Best* Dog Toothpaste
Like humans, dogs can experience severe repercussions from poor oral hygiene—pain, weak rotting teeth that are easily broken and even cause damage to vital organs like their kidneys, heart and liver.
What to Look for In Dog Toothpaste
Ingredients
The best toothpaste for your pup should contain ingredients that help remove plaque by the use of friction, as well as enzymes that help eliminate the harmful bacteria that can lead to bad breath and dental problems.
Taste
It will help greatly if your dog enjoys the taste—with flavors like peanut butter and beef, your dog may love their toothbrushing experience. Picking a delicious toothpaste flavor will help make it feel more like a treat, and your pup may look forward to their routine.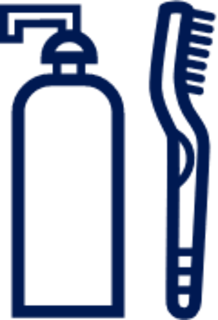 Issue-Specific Formulations
Many brands are formulated for specific issues, so consult your veterinarian to find out the best options for your dog, especially if there are dental concerns to address.
Pet Parent Faves
Choosing the right dog toothbrush and toothpaste is the key—and Petco is here to help. Here is a list of the choices from some of the top toothpaste brands most frequently bought by Petco's pet parent customers online and at our neighborhood Petco Pet Care Centers.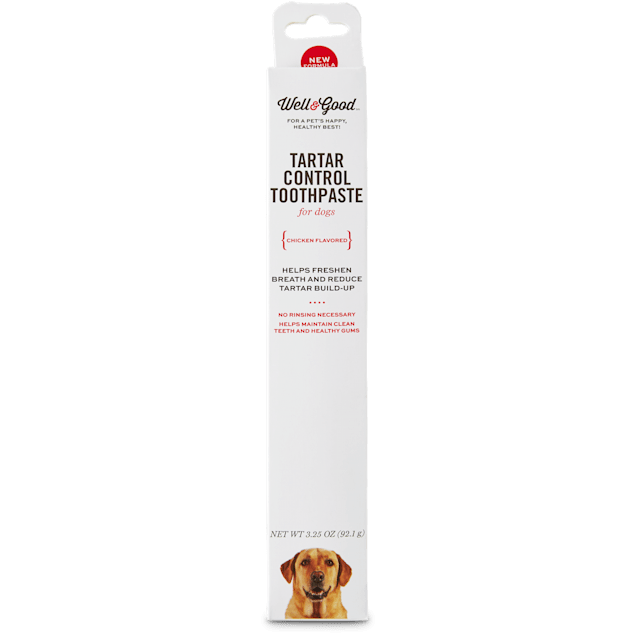 Well & Good
Tartar Control Toothpaste for Dogs
Well & Good tartar control toothpaste leads the pack when it comes to a favorite pick for dog toothpaste. This no-rinse formula makes it convenient for pet parents, and the delectable chicken flavor may make your dog excited for tooth brushing time. This formula helps reduce the amount of tartar that builds up on the surface of your dog's teeth, as well as freshens their breath.
Features:
Available in 3.25 oz. tubes
No-rinse formula for easy use
Designed to help with teeth and gum wellness
Helps to freshen breath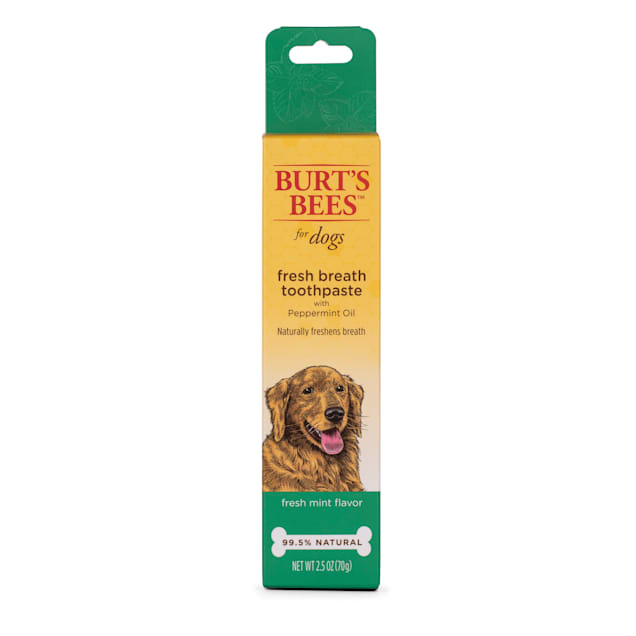 Burt's Bees
Care+ Fresh Breath Toothpaste with Peppermint Oil for Dogs
Burt's Bees—a trusted skin-care brand for humans since 1984—also has a line specifically formulated for your dog. Their care+ toothpaste contains peppermint oil, which helps keep those kisses your pup gives smelling minty-fresh. Designed to be one of the best canine toothpastes for bad breath, it's no question why it's a best-seller.
Features:
Available in 2.5 oz. tubes
No colorant, sulfates, or fragrances added
Cruelty-free
Formulated without parabens, SLS, phthalates, or petrolatum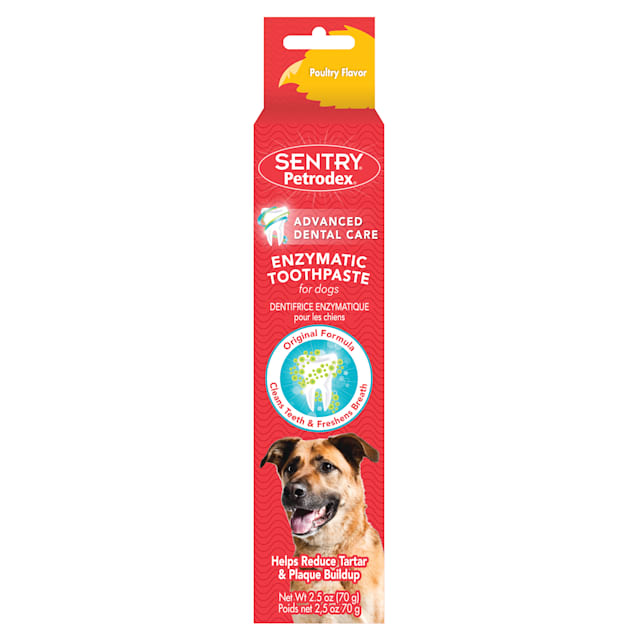 Sentry
Petrodex Enzymatic Dog Toothpaste
This enzymatic toothpaste for dogs produces hydrogen peroxide, which can aid in tartar and plaque reduction. There's no foam and no need to rinse. Simply apply this chicken-flavored formula to your dog's favorite toothbrush, scrub and let it work its magic.
Features:
Available in 2.5 oz. tubes
Helps clean teeth and reduce bad breath
No-foam
No need to rinse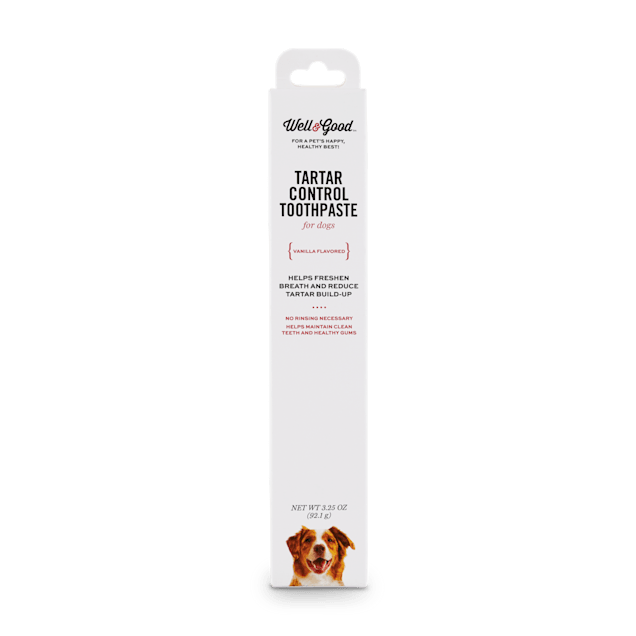 Well & Good
Vanilla-Flavored Tartar-Control Dog Toothpaste
This is the same tartar-fighting formula as our #1 best-seller, but with a vanilla flavor that is designed to be pleasant smelling for you, and tasty for your pup. The decadent taste of vanilla will make your pup think they're getting a special dog dessert.
Features:
Available in 3.25 oz. tubes
No-rinse formula
Decadent vanilla flavor
For use on pups 8 weeks and up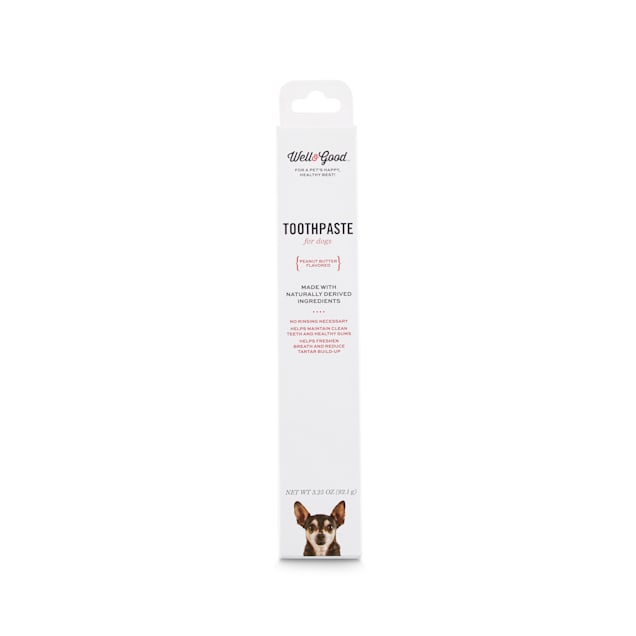 Well & Good
Peanut Butter-Flavored Dog Toothpaste
What dog doesn't go bonkers over the creamy taste of peanut butter? Just the smell may make your dog come running in excitement to get their teeth brushed. Made with naturally derived ingredients, this toothpaste helps keep your dog's teeth clean and promotes mouth and gum wellness. The savory peanut butter flavor will help to make frequent teeth brushing an enjoyable routine task for your pet.
Features:
Available in 3.25 oz. tubes
No need to rinse
Helps reduce tartar and plaque buildup
Delicious peanut butter flavor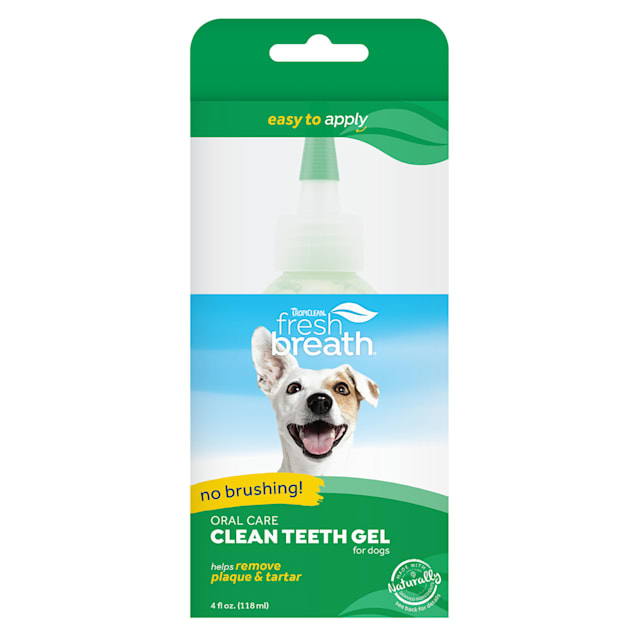 TropiClean
Fresh Breath Oral Care Clean Teeth Gel for Dogs
This teeth-cleaning gel helps fight the buildup of tartar and plaque with no brushing. Simply apply two drops on each side of your dog's mouth daily—no dog toothbrush needed. Your dog's instinct will be to lick and smack at the liquid, which spreads it where it needs to go. This gel is step two in TropiClean's line of oral care for your canine but can be used independently too.
Features:
Available in 4 oz. bottles
Made of naturally derived ingredients
Suitable for dogs 12 weeks and older
No brushing required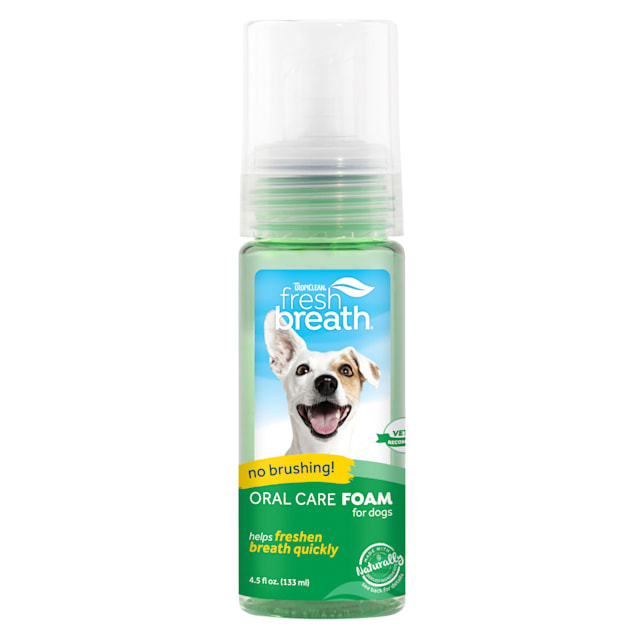 TropiClean
Fresh Breath Oral Care Mint Foam for Pets
Need a quick solution to freshen your canine's breath? TropiClean's oral care mint foam works quickly, helping to eliminate the bacteria that causes dog mouth odor. It's kind of like a mouthwash, but for your dog. Apply one pump to your dog's teeth and gums to get minty fresh breath during snuggle time, or before bed.
Features:
Available in 4.5 fluid oz. pump bottles
Cruelty-free
Made with naturally derived ingredients
No brushing required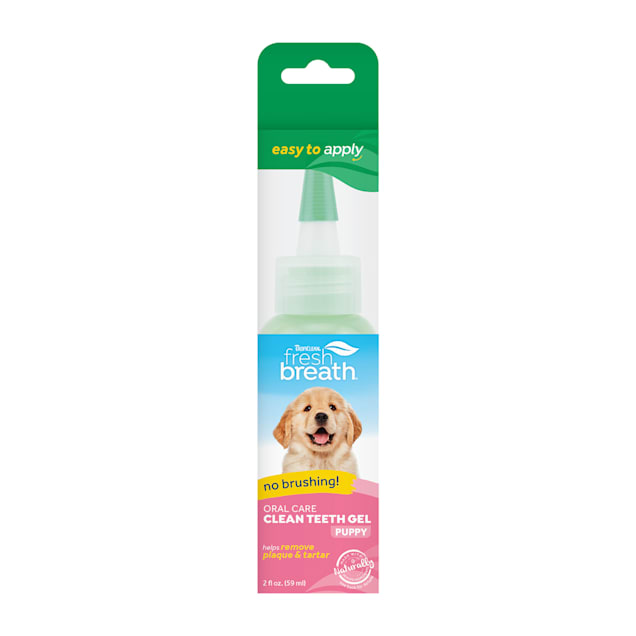 TropiClean
Fresh Breath Oral Care Clean Teeth Gel for Puppies
Like puppy toothpaste, this gel can be a great way of keeping tartar and plaque at bay at an early age. Like the adult version, this easy-to-apply formula only requires two drops on each side of the mouth, which is very convenient when it comes to a wriggly, easily distracted puppy.
Features:
Available in 2 fluid oz. bottles
Cruelty-free
Made with naturally derived ingredients
Made in the USA
We're here to help
Beyond toothpaste for dogs, our stores offer health & wellness products and services to help make sure your dog has everything they need to thrive.
Store Partners
Get personalized recommendations based on your pet's needs.
Find a Store
Vet Services
Get the care your pet needs to feel their best at every stage of life.
Find a Vet
Pharmacy
Save big on heartworm preventives, pain relievers, Rx flea & tick control and more.
Shop Pharmacy
Learn More About Toothpaste for Dogs
Yes, as long as it's formulated for dogs and used appropriately. You should never use human toothpaste on your dog or allow them access to it. Many human toothpastes contain an ingredient called xylitol. This artificial sweetener is often used in human food like peanut butter—always read your labels before giving peanut butter to your dog for this reason—as it can be toxic to your pet, causing their blood sugar to fall dangerously low. It's always best to only use products on your dog that are designed with canines in mind.
Most dog toothpaste will help with bad breath but look for a brand with enzymes. Enzymatic toothpaste for dogs helps kill bacteria that create the offending odor, as well as help remove plaque and tartar that breeds it. You can also look for brands that have sweet-smelling flavors, like vanilla or mint.
Gingivitis in dogs is often caused by the buildup of bacteria between the gums and teeth, creating infection and inflammation. If you suspect your dog may be suffering from gingivitis, consult your veterinarian. They may remove the buildup of plaque and tartar with ultrasonic scaling, and they may have to treat the infection with an antibiotic and an anti-inflammatory.
Frequent brushing with dog toothbrushes and toothpaste, annual cleanings and treats designed to aid in the removal of tartar and plaque can all add to the prevention of oral diseases in your pet. Petco also carries dental dog toys designed to help keep your dog's pearly whites clean and sparkly. Combining playtime and treats with proper oral hygiene is a great way to care for your canine friend without causing distress or hassle.
Diet can also be an important factor when it comes to your dog's wellness. Investing in some of our best-selling dog food may help ensure they're getting the nutrients they need, which can promote general wellness and help them to thrive.
Always consult your veterinarian if you have any questions about your dog's oral health and the best treatment options.
*Based on petco.com sales data.