Best* Dog Gates of 2022
We want our puppies to be able to explore and have the freedom to run and play— as long as they can do it securely. Dog gates allow you to block off areas for your pups to scamper around in while saving your expensive furniture and décor from accidents and sharp canine teeth. 
For more information on keeping both your canine and your home safe during those tumultuous growing years, check out our Puppy-Proofing 101 tips.  
What to Look for in Dog Gates  
It's important to keep an eye out for certain features that will allow you to use the gates for a long time. Here are some of the best puppy gates to look for.  
Adjustable  
Puppies grow fast. You'll need your dog barriers to be adjustable as they grow taller and are able to jump higher. They should also be easy to assemble. 
Durable 
Look for high-quality materials that will hold up over time, wear and tear and travel. Some of the best dog gates for inside or outside are made of  
Secure 
Your pet's gate should be able to hold up and stay upright if it's bumped or jostled. It should fit securely against the door jamb or entryway. Free-standing dog gates should remain upright.
Best in Elegance 
EveryYay in the Zone Arched Walk-In Pet Gate 
This stylish barrier makes a great addition to any doorway and has walk-through capabilities for both you and your smaller pets.  
This gate is 29-43.5-inches in width and 30-inches in height 
Brush-bronze finish makes this an elegant solution 
Made completely from steel 
The pet door within the gate allows smaller pets in the room easily 
Great for pups who are still potty training and in their chewing phase 
Easy no-drill assembly  
Fits most standard door openings 

"This pet gate is very attractive and works well—would recommend. Love the cat door!" – Janet12 
Pros
Pressure mounts make installing a breeze
Door automatically locks
All-steel design makes this gate incredibly durable
No drills or tools needed
Sleek and elegant design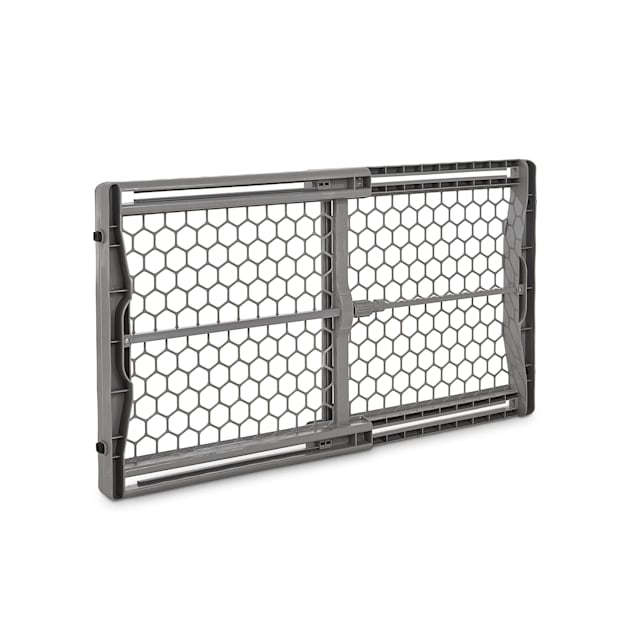 Most Affordable 
EveryYay in the Zone Easy-Fit Plastic Pet Gate 
This easy-fit gate is a quick solution that won't break the bank. It's simple to install and adjust and fits most standard doors.
This gate is 28-42-inches in width and 42-inches in height
Drill-free assembly
Easy to move around the home as needed
Uses patented Surefit locking system technology
Plastic is sturdy yet lightweight
Makes a great temporary barrier
Great for travel

"Good for an indoor room when needed and as an outdoor deck gate as well." - Nancy Balboa
Pros
Strong and light
Design allows your pet to see through it easily
Easy to store
Affordable
Simple and high quality
Cons
Available in standard size only
Not free standing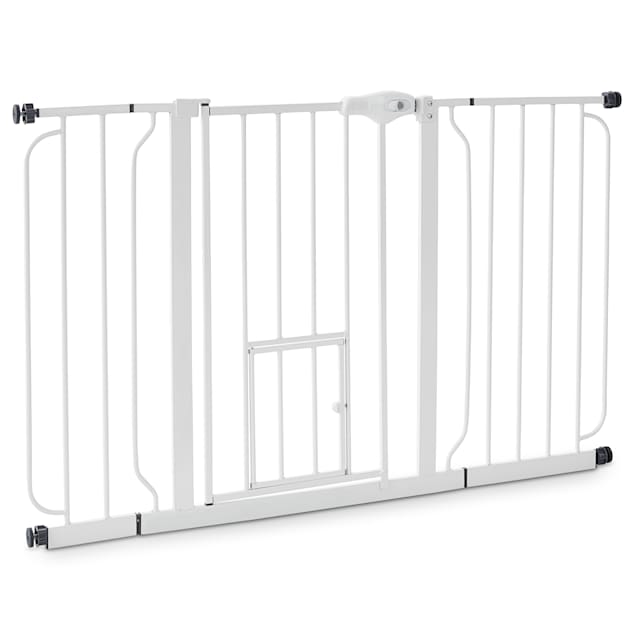 Easiest To See Through 
EveryYay in the Zone Steel Walk-Through Pet Gate 
This gate has white bars that are close enough to each other to be a barrier, but far enough away to not restrict your dog's vision.
This gate is 29-50-inches wide and 30-inches high
Made of durable steel
Convenient slide handle
Has a second pet door for smaller pets
Extensions make this gate versatile to many door openings
Simple white hue suits many different color schemes
Automatically locks for extra security

"Excellent! This really helped us out with a new puppy. Absolutely love having both the kitty door and the walk-through door." - Shari Day
Pros
Heavy-duty steel
Has a walk-through door
Has a pet door for smaller animals
High visibility for your pet
Simple design blends with room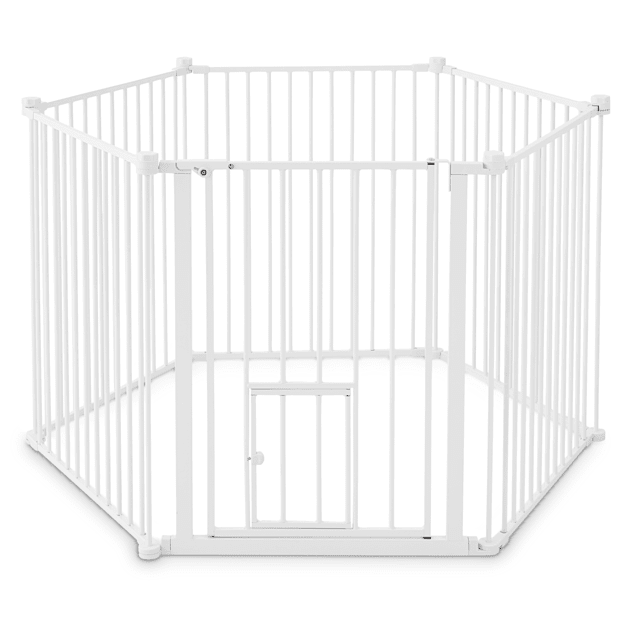 Most Versatile Steel Playpen 
EveryYay in the Zone Steel Pet Gate and Playpen 
You can use this gate as a playpen or separate the panels to use in numerous doorways. Designed to be compatible with small, standard or extra-wide doorways and openings.
This gate is 144-inches wide and 28-inches high
Each detachable panel is 24-inches wide and 28-inches high
Convenient small pet door is 7-inches wide and 10-inches tall
Designed with steel to last
Comes with a hardware kit for simple mounting
Features a double-lock handle
Can be broken down and stored

"Happy Puppy! I like that we were able to take off two panels to make the playpen smaller for our 10 wk old puppy! Nice quality, got it at a great price and same-day delivery!" - Happynewpuppyowner
Pros
Can be used in a varitey of ways
Steel material holds up well to normal wear and tear
Great for wider doors and openings
Convenient door makes crossing through easily
Pet door allows your smaller animals to come and go as they please
Cons
The bulk of the steel may make it hard to travel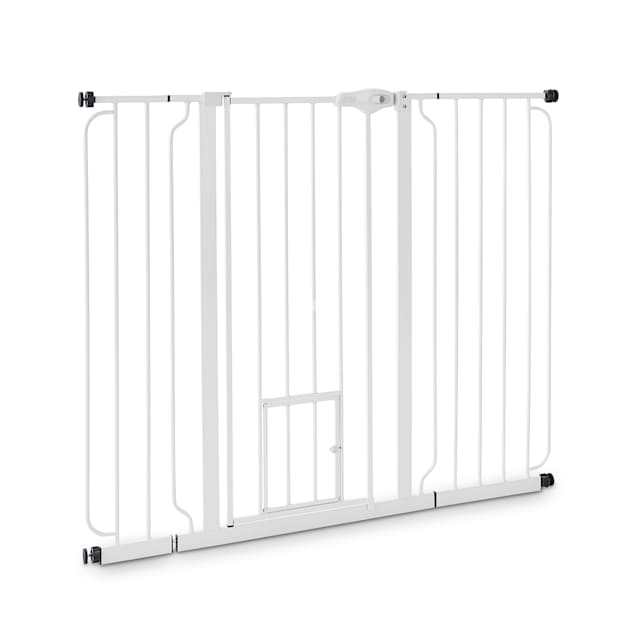 Best Steel Gate for Tall Dogs 
EveryYay in the Zone Extra-Tall Walk-through Pet Gate 
This one is for our oversized canines! This dog barrier stands 41-inches tall. Its height also makes this one of the best dog gates for stairs.
his gate is 29-50-inches wide and 4- inches high
Has a walk-through door for both you and smaller pets
Auto locking handle adds extra security
Pressure mounts make installation easy
Extends to accommodate larger openings
Bars are wide enough to for your pet to see through
Great solution for puppies that are going to grow up to be tall

"This is the best product I have ever bought for a pit bull. This is such a good product I got two of them." - Kimberly Ariciaga
Pros
Extra tall for our large and in charge pups
Made of sturdy steel
Easy to install pressure mounts
Solid white color works with many color schemes
Walk-through door for both you and other pets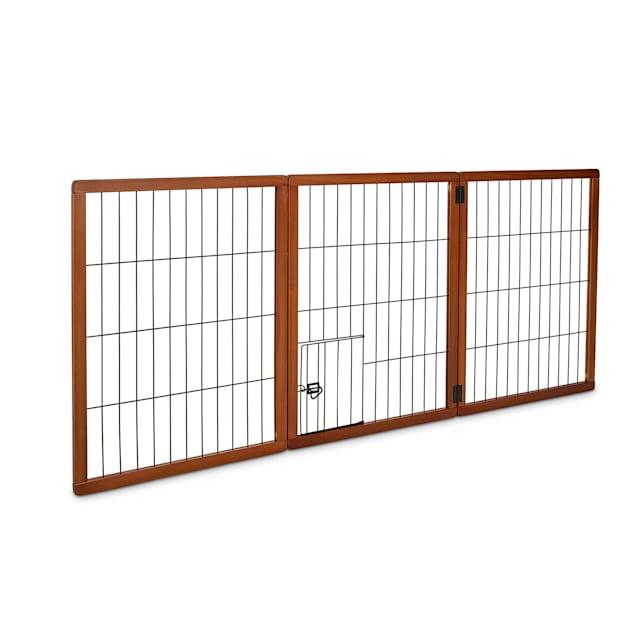 Best Wooden Free-Standing Dog Gate 
EveryYay in the Zone Free-Standing Pet Gate 
This conveniently free-standing gate has an attractive design and a beautiful wood finish to help fit in seamlessly with your décor. It's easy to move so you can just pick it up and move it to walk by—it also has a mini door for your smaller pets.
This gate is 22-inches wide and 28-inches tall
Made of quality wood and steel for longevity
Great for small dogs or puppies still learning how to respect barriers
Designed for extra-wide openings or as a free-standing gate
Can be used to create an area for potty-training
The 3 panels fold up for easy storage
Great for travel

"Exactly what I was looking for! I bought this three months ago when we brought our husky puppy home. The gate itself is well-made and blends seamlessly with my kitchen decor. Now that she is larger, she could move it out of the way and get through if she wanted to, but she respects the visual barrier. I would definitely recommend!" - MyKai
Pros
Attractive wood frame
Steel webbing highly resistant to chewing
Great for indoors
Has pet doors so cats or smaller animals can pass through freely
No assembly required
Cons
May not be suitable for larger dogs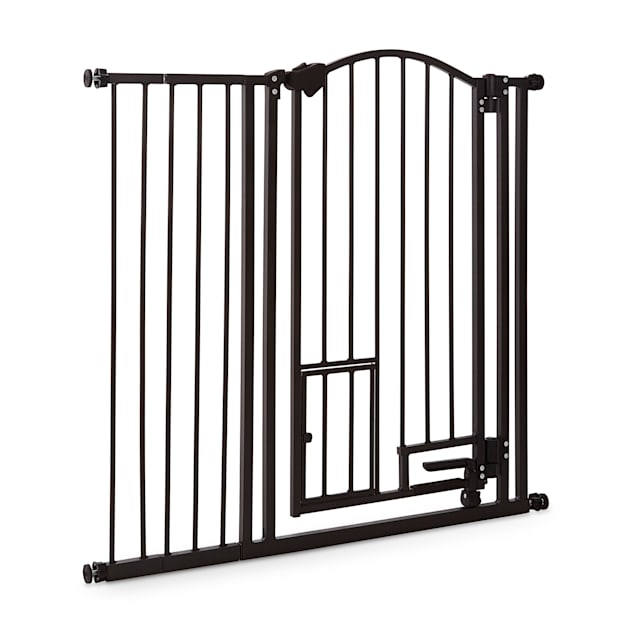 Best Opening Mechanism on a Walk-Through Gate 
EveryYay in the Zone Extra-Tall Arched Walk-Through Pet Gate  
If you're looking for a barrier for your kitchen or laundry room, this one may be perfect. The walk-through door has an opening mechanism at the bottom of the gate, so you can use your foot to open it—making it no problem to access when your hands are occupied with drinks, appetizers, or a laundry basket. One of the best dog gates for inside.
This gate is 29-43.5-inches wide and 38.5-inches tall
Adjustable for different entryways and openings
Extremely stylish and chic for your home
Extra-tall for large breeds
Made of strong steel for durability
Attractive brushed black finish suits many different color schemes
Has a convenient pet door

"Awesome gate! I have had several types of gates over the years I really like the ease of this one. It is also much better looking than the others. It's well worth the price and quality!"- Aim47
Pros
Attractive and stylish
Made of steel
onvenient foot latch for easy opening
Extra-tall
Arched top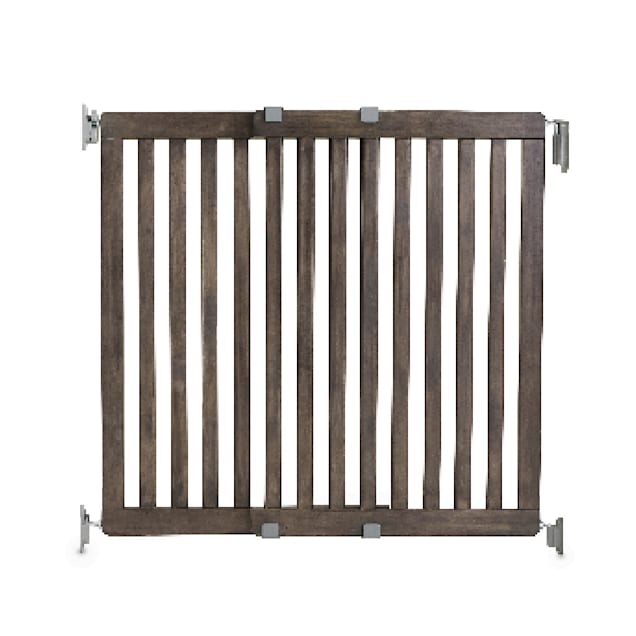 Best Gate For Rustic Aesthetics 
EveryYay in the Zone Wooden Pet Gate  
This gate is made of wood and has a rustic feel, making it perfect for the "farmhouse" look.
This gate is 23.5-4- inches wide and 30-inches tall.
Solid wood is durable and sturdy
Has an easy-to-open handle
Comes with a hardware kit to mount securely to doorway
Fits standard openings
Dark burnished-brown color
Threshold-free

"Works well! Works wonderfully. Anchors solidly to the wall keeping it firmly at the doorway. Our mastiff had figured out how to move traditional baby gates long ago. This works. Until he figures out how to jump it." - Christine C.
Pros
Rustic look-modern style
Works well in any standard size opening
Easy to assemble
Sturdy wood material
Mounts to wall
Cons
May not be a good option for chewers
Easiest to Use 
EveryYay Easy-Fit Tuffy Expandable Pet Gate  
This barrier is extremely easy to use—rubber bumpers act as pressure mounts to hold the gate in place.
This gate is 42-inches wide and 24-inches tall
Installs in seconds
Made of durable steel
Neutral color
Has bonus pet door
Great for wide openings up to 42-inches
Steel support bar provides extra stability

"Easy to use. Super easy to set up. It has rubber pads that press against the walls, like a shower rod. Just set the lock and turn the knob until there's enough pressure against the wall. The tiny dog door is cute." - EEQ_
Pros
Made of durable steel
Adjustable for wider openings
Has convenient small door for other pets
Easy to use
Easy to transport
Cons
May not be suitable for narrow openings
*Based on petco.com sales data.
We're here to help
Beyond dog gates, our stores offer health & wellness products and services to help make sure your dog has everything they need to thrive.
Store Partners
Get personalized recommendations based on your pet's needs.
Find a Store
Vet Services
Get the care your pet needs to feel their best at every stage of life.
Find a Vet
Pharmacy
Save big on heartworm preventives, pain relievers, Rx flea & tick control and more.
Shop Pharmacy
Learn More About Dog Gates  
Since dog gates are often used in doorways inside the home, make sure to measure your openings carefully to get a size that is best suited for your house. Walk-through dog gates are also very convenient for indoors since they're often used as a permanent fixture in the home.  
Dog gates that are light and easily stored are your best bet when it comes to the outdoors—you can slip them into your trunk for easy access when going to a friend's house or a park. For the best outdoor dog gates, for a convertible barrier/playpen so you have multiple options on the go.  
// Forces popover to close when the user clicks anywhere on the page $(function(){ // fnGetNearestLocations(storeId, expirationMin, isHTML5Geolocation, isGoogleGeoAPI, HTML5GeoTimeout, XHRTimeout, isDebuggingEnabled) petcoNearestLocations.fnGetNearestLocations('10151','10080','true','true','10000','5000','https://www.googleapis.com/geolocation/v1/geolocate?key=','AIzaSyB1POydsXY7SJBDX-zowEC0y340ZJK6uig','false'); });