Best* Dog Food for Sensitive Stomachs of 2022
Does your dog's food seem to give them an upset belly? Not sure which brand to try? Petco has rounded up some of the best dog food for dogs with sensitive stomachs most frequently purchased by our pet parent customers.
What to Look for in Dog Food for Sensitive Stomachs
Easily digestible, quality ingredients with limited additives may be the key when looking for sensitive-stomach dog food.
High-quality, limited ingredients
Some of the best dog food for sensitive stomachs contain real meat and veggies and no fillers or preservatives. They have easily digestible proteins and a simple ingredient list. Organic food may help dogs who have a sensitivity to pesticides.
Watch out for grains
Corn and wheat can be hard for your pup to digest if they have a sensitive stomach. The best digestive dog food will usually either be grain-free or contain whole grains, oats or rice.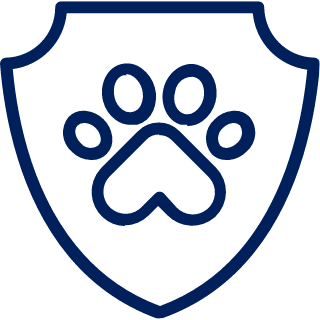 Dog food that contains probiotics
The best dog food for sensitive stomachs and diarrhea will contain probiotics. The live bacteria can help balance stomach flora and possibly firm stools. There are studies that also suggest that probiotics may help improve the immune system.
Sensitive Stomach Dog Food: Pet Parent Faves
Here's a list of some of the best dog food for digestive problems most frequently bought by Petco's pet parent customers.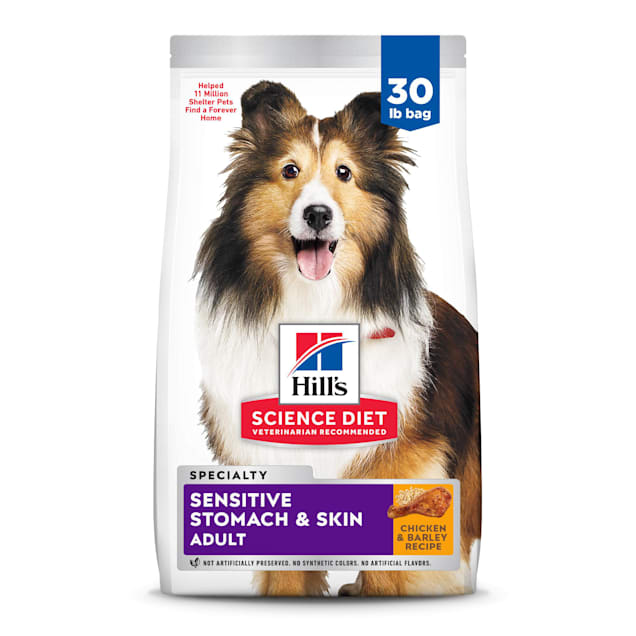 Hill's
Grain-free Real Meat Shreds Original Stew Premium Wet Dog Food
This is the best-selling dog food for sensitive stomach and skin. Hill's Science Diet has long been recommended by veterinarians for dogs with a range of sensitivities. This specialty formula contains prebiotic fiber to help healthy bacteria thrive and balance microbiomes. Vitamin E and nourishing Omega 6 can help support skin and coat, and all the ingredients are easily digestible. Since chicken is the first ingredient on the label, your dog can enjoy its delectable, meaty flavor.
Features:
Available in 4 lbs., 15.5 lbs. and 30 lbs. bags
Natural ingredients with added vitamins, minerals and amino acids
Nutrition for optimal digestive and skin wellness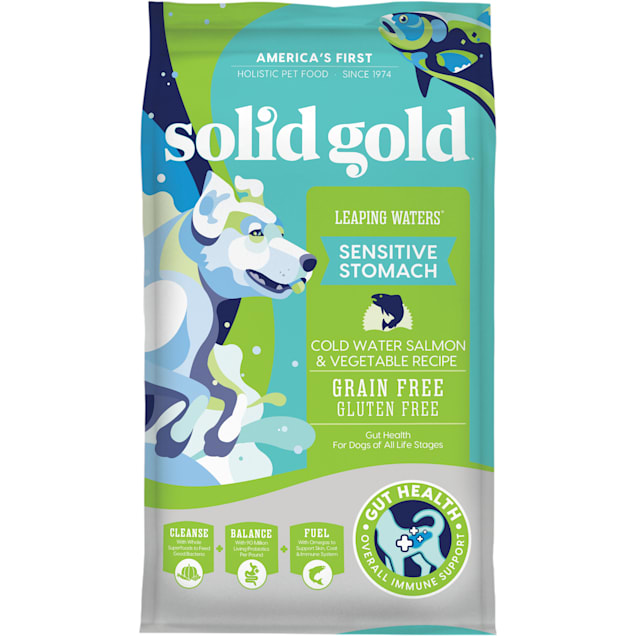 Solid Gold
Grain-free and Gluten-free Leaping Waters with Cold Water Salmon and Vegetable Recipe Adult Dry Dog Food
This holistic grain- and gluten-free dry dog food is one of the best dog foods for sensitive stomachs and gas. The cold-water salmon and vegetable recipe contains 90 million live probiotics per pound and is rich in superfoods like pumpkin, blueberries and carrots. It contains no corn, wheat or soy. It's also packed with prebiotic fibers.
Features:
Available in 4 lbs. and 22 lbs. bags
For all sizes and breeds
Contains vital Omegas to support skin, coat and immune system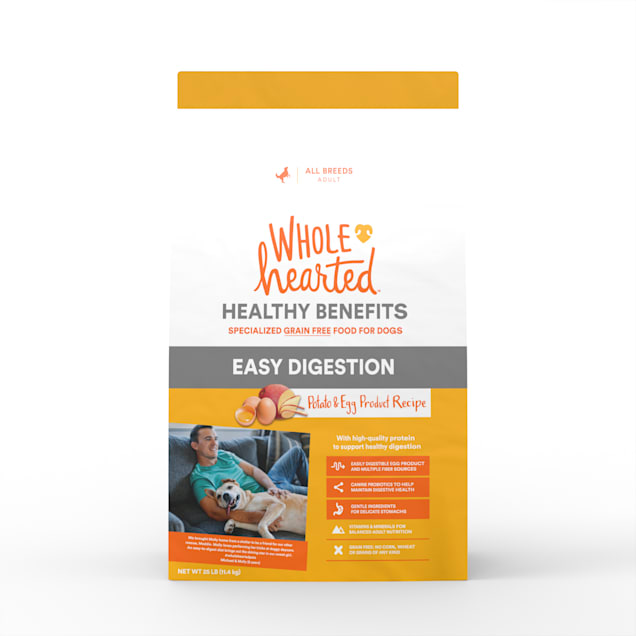 WholeHearted
WholeHearted Grain-free Healthy Benefits Easy Digestion Potato and Egg Product Recipe Dry Dog Food
This specialized grain-free dog food can be great for canines who are sensitive to dense meat proteins. The first ingredient is an easily digestible egg product, which provides a gentle source of protein. It also contains gut-happy foods like potato protein, ginger and live probiotics. Chicken fat and fish oils help support skin and coat and give it a meaty flavor your dog may crave.
Features:
Available in 5 lbs. and 25 lbs. bags
Suitable for all adult breeds
Gentle ingredients for delicate stomachs
One of the best dry dog foods for sensitive stomachs
Hill's
Science Diet Adult Sensitive Stomach and Skin Large Breed Chicken Recipe Dry Dog Food
Another Hill's product makes our list—this blend is packed with the same quality ingredients as our #1 best-seller, but is specially formulated for larger breeds. Our gentle giants can have stomach troubles just like their smaller counterparts, and Hill's can be a great solution.
Features:
Available in 30 lbs. bags
Specially formulated for larger breeds
#1 recommended brand by veterinarians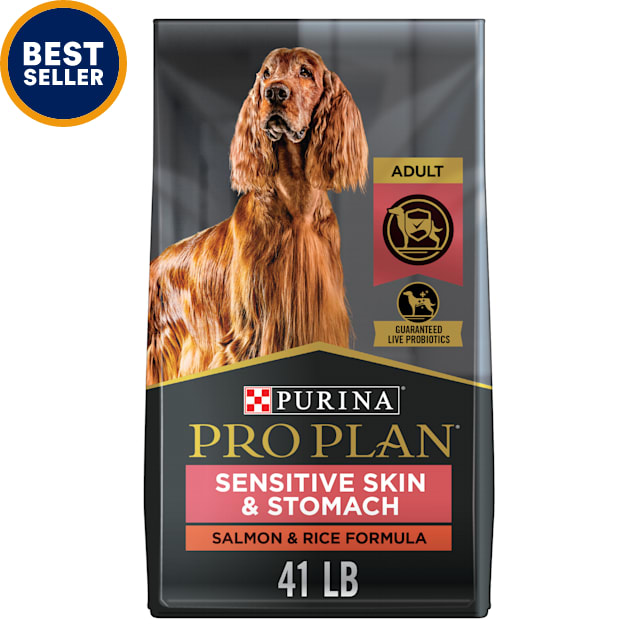 Purina
Pro Plan High Protein Sensitive Skin and Stomach Salmon and Rice Formula Dry Dog Food
With soothing ingredients like salmon, barley, oatmeal and rice, this Pro Plan can be great for dogs with tummy troubles, and the fish oils can help support sensitive skin. The mild ingredients may make it one of the best senior dog foods for sensitive stomachs as well.
Features:
Available in 5 lbs., 16 lbs., 30 lbs. and 41 lbs. bags
Fortified with guaranteed-live probiotics
Rich in Omega-3 fatty acids for joint support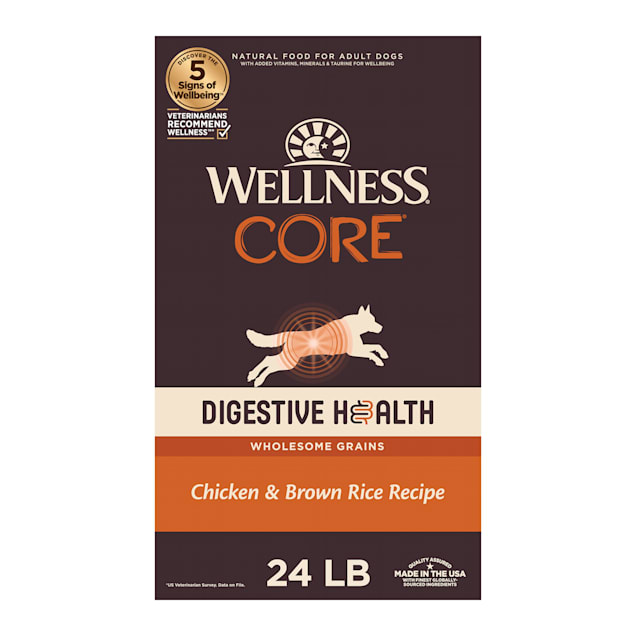 Wellness
CORE Digestive Health Chicken and Brown Rice Dry Dog Food
Wellness CORE digestive health has 100 million CFU's of probiotics to help promote a healthy microbiome. Deboned chicken is the first ingredient, and it also contains nourishing whole grains like barley, oats and brown rice. The small, easy-to-chew kibble has a coating of probiotics on each bite.
Features:
Available in 4 lbs. and 24 lbs. bags
Antioxidants and prebiotics to support immunity
Promotes vitality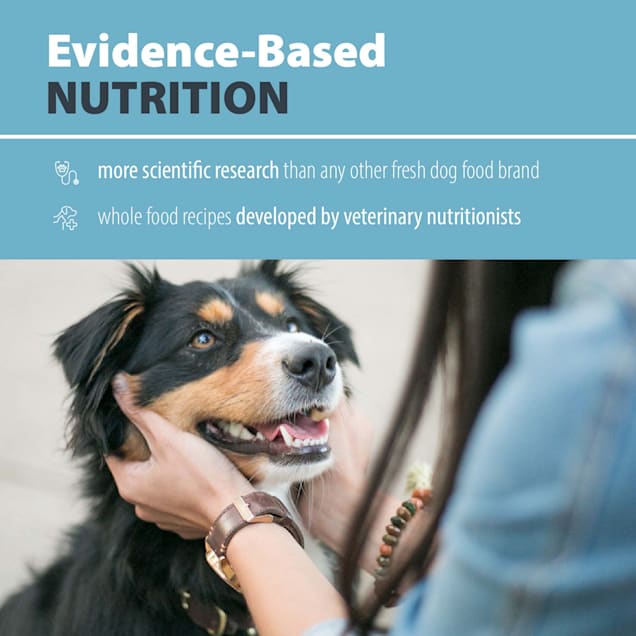 JustFoodForDogs
Daily Diets Chicken and White Rice Frozen Dog Food
If you would love to feed your dog home-cooked meals but just don't have the time—this may be the next best thing. This fresh dog food comes frozen and contains meaty chunks of chicken thighs, gizzards and liver, long grain white rice and a variety of antioxidant-packed veggies. There are no feed-grade ingredients. To serve, simply thaw.
Features:
Available in 18 oz. or 72 oz. packs
Lightly cooked, frozen fresh
High-quality ingredients you can see
USDA inspected and approved ingredients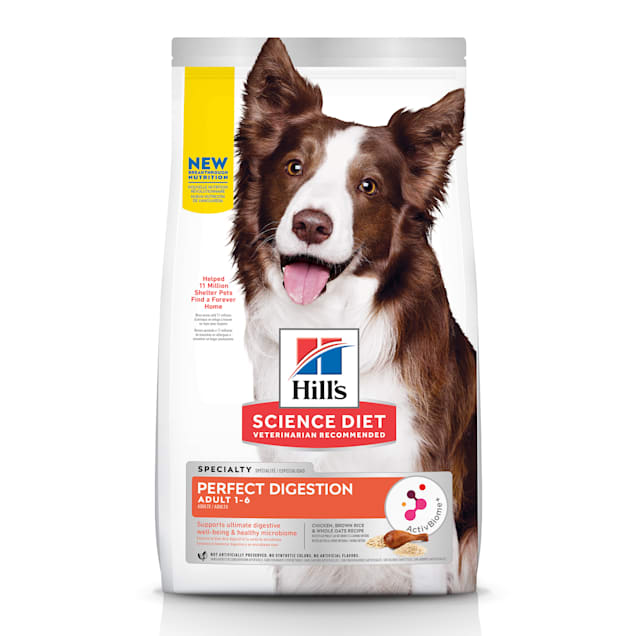 Hill's
Perfect Digestion Chicken, Brown Rice and Whole Oats Recipe Adult Dry Dog Food
Hill's makes a third appearance on our bestseller list. This blend is formulated for adult dogs aged 1-6. And the prebiotics help promote regular stools.
Features:
Available in 3.5 lbs., 12 lbs. and 22 lbs.
Formulated for dogs aged 1-6 years
Contains Activbiome+
Purina
Pro Plan Sensitive Skin and Stomach Salmon and Rice Formula Dry Puppy Food
There's a reason why Purina is one of the most trusted and well-known brands. This recipe is designed for puppies with sensitive stomachs. It's packed with real salmon and contains all the nutrients growing puppies need—like calcium for strong bones and teeth and DHA for brain and vision development.
Features:
Available in 4 lbs., 16 lbs. and 24 lbs. bags
Formulated for dogs under 1 year
A feeding chart lets you know recommended amount by weight and age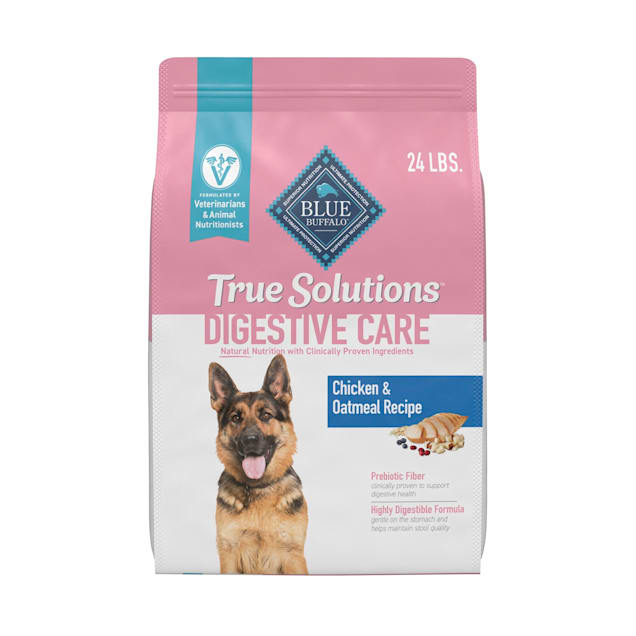 Blue Buffalo
Blue Divine Delights Pate Filet Mignon/Porterhouse Variety Pack Dog Food
This True Solutions Blissful Belly blend was formulated by a team of veterinarians and Ph.D. nutritionists to give you some of the best dog food for sensitive stomachs and vomiting. This chicken-flavored formula is backed by True Blue's promise that they always start with protein-rich chicken, and there's no corn, wheat, soy or artificial ingredients and preservatives.
Features:
Available in 4 lbs., 11 lbs. and 24 lbs. bags
Natural dog food made with wholesome ingredients enhanced with vitamins, minerals and other nutrients
Includes antioxidant-rich LifeSource Bits
We're here to help
Beyond dog food for sensitive stomachs, our stores offer health & wellness products and services to help make sure your dog has everything they need to thrive.
Store Partners
Get personalized recommendations based on your pet's needs.
Find a Store
Vet Services
Get the care your pet needs to feel their best at every stage of life.
Book a Vet Appointment
Pharmacy
Save big on heartworm preventives, pain relievers, Rx flea & tick control and more.
Shop Pharmacy
Learn More About Best Dog Food for Sensitive Stomachs
Some symptoms are quite obvious, while others are subtle. Some common symptoms of food sensitivities are:
Occasional vomiting
Diarrhea
Gas
Skin irritations
Your dog eats grass when they're outside
The tricky part is determining whether your dog has food allergies or has a problem digesting their food. Consult your veterinarian to rule out any underlying medical conditions. They may suggest an elimination diet for your dog to determine what's causing their sensitivity.
The best dog food for digestion problems has gentle ingredients that are easy to digest. Some easily digestible ingredients found in some of the best dog food for sensitive stomachs are:
Salmon
White rice
Chicken
Pumpkin
Barley
Oats
Eggs
You'll want to avoid dog foods with a lot of ingredients—any one of those additives could be the culprit to your pup's upset tummy. Organic food may be a good option as well. Don't forget about dog treats—make sure you read the label to see if they contain anything that could be irritating your pup's system.
Your veterinarian may recommend putting your dog on a diet of unseasoned boiled chicken and white rice for a short time to help alleviate symptoms, as these ingredients are usually easy to digest. It's important to note that this may not be a long-term solution—these foods may lack important vitamins and minerals. If you do want to continue feeding homemade food to your dog, talk to your vet about what kind of dog vitamins you would need to supplement or if you should incorporate kibble into the homemade diet.
*Based on petco.com sales data.