Best* Cat Nail Clippers of 2022
Soft fur, a soothing purr—and those claws. You can help keep your cat's nails from snagging on curtains, on upholstery or on you by choosing the right cat nail clippers.
What to look for in cat nail clippers
You'll be most likely to make time for trimming your cat's nails if you have a tool that's effective, comfortable and easy to use. The best cat nail clippers are user-friendly, do an effective job of keeping your cat's nails trim and are relatively comfortable for both you and your feline.
Ease
An unwieldy pair of clippers will only make your job harder. Choose a tool that you find easy to use—and that you can hold steady while also calming a struggling cat.

Comfort
Features that enhance comfort for both you and your cat—such as a safety guard to prevent excessive cutting or a non-slip handle grip to combat nervous sweating—can help make the nail trimming experience more pleasant.
Effectiveness
No bells and whistles are worthwhile if the clippers don't work. Look for strong, reliable materials such as stainless steel and a sharp blade edge to ensure clean, effective trimming.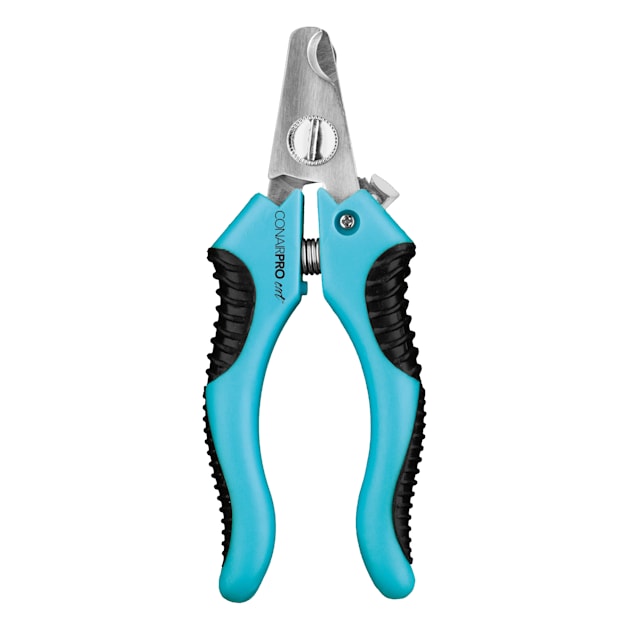 Best Classic Cat Nail Clippers
CONAIRPROPET Dog and Cat Nail Clipper
There's no reason to mess with a classic design. This pair of easy cat nail clippers has strong stainless-steel blades for precision, non-slip handle grips to keep you in control no matter how sweaty your hands might be and heavy-duty spring action for quick, neat cuts. There's even a built-in safety guard to ensure you won't accidentally trim too far up your cat's nail—no matter how fidgety they might be.
0.875" L X 3.5" W X 8.25" H
Stainless steel blades
Blue and black handles
Safety guard
Non-slip grip handles

"First clippers I ever purchased. Was sharp & easily trimmed full nail set straight out of the box." – Risingdawn2day
Pros
Simple, easy-to-use design
Safety guard to prevent cutting too much nail
Affordable
Cons
Basic design; few special features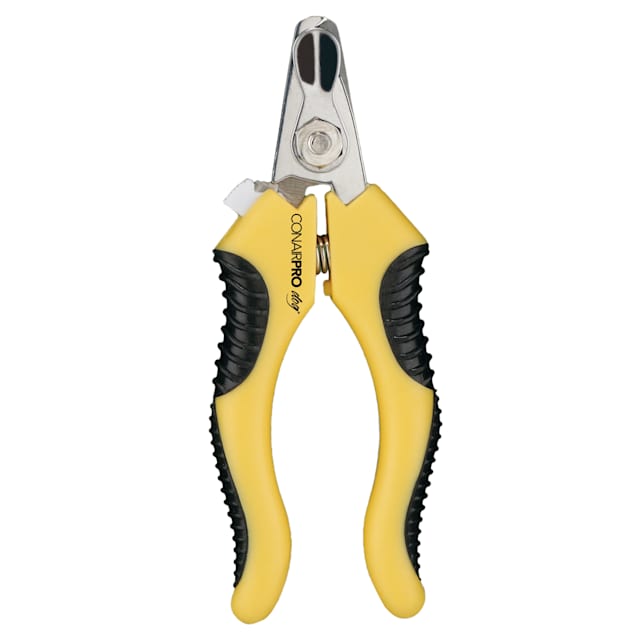 CONAIRPROPET dog & cat Dog Nail Clipper, Small
Big cats, small dogs, small cats, big dogs—there are two different sizes of these CONAIRPRO cat nail clippers to choose from so you can tackle nail trimming jobs of all kinds. The bright yellow handle will make these clippers easy to keep track of, while stainless steel blades and a safety guard help ensure that nail trimming sessions are completed efficiently, effectively and painlessly.
Available in two sizes, 0.6" L X 3.5" W X 0.25" H and 0.75" L X 4" W X 9.5" H
Stainless steel blades
Yellow and black handles
Safety guard
Non-slip grip handles

"Great nail clippers, easy to hold and use. Smooth clipping process." – Blue Angel
Pros
Comes in two sizes
Good for dogs and cats
Safety guard to prevent cutting too much nail
Cons
You'll need to figure out which size is correct for your pet to get the most out of these clippers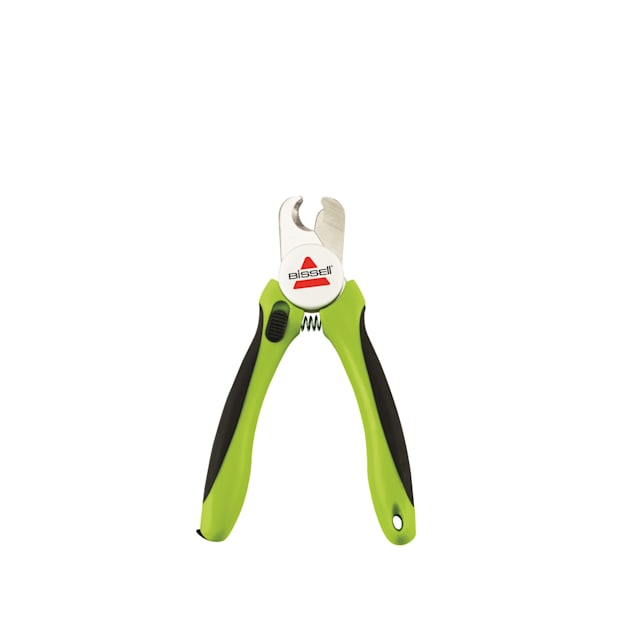 Bissell Cat and Dog Nail Clippers
When it comes to nail clippers for cats, many pet parents are happy for all the help they can get. That's why these clippers from Bissell are so popular. There's a "quick guard" to help prevent cutting into your cat's quick, an adjustable angled safety guard to help you trim only a small amount of nail at a time and a built-in file so you can smooth your kitty's claws when you're done. Still not convinced? There's also a one-year limited warranty.
Quick guard
Adjustable safety guard
Built-in file
One-year limited warranty

"I use it to trim my cats' nails. It's easy to use and makes the task quick and less stressful for my animals. I love it." – Judith
Pros
Two types of guards (quick guard and safety guard)
Built-in file for smoothing freshly clipped claws
Limited warranty
Cons
Standard handle grip; no non-slip grip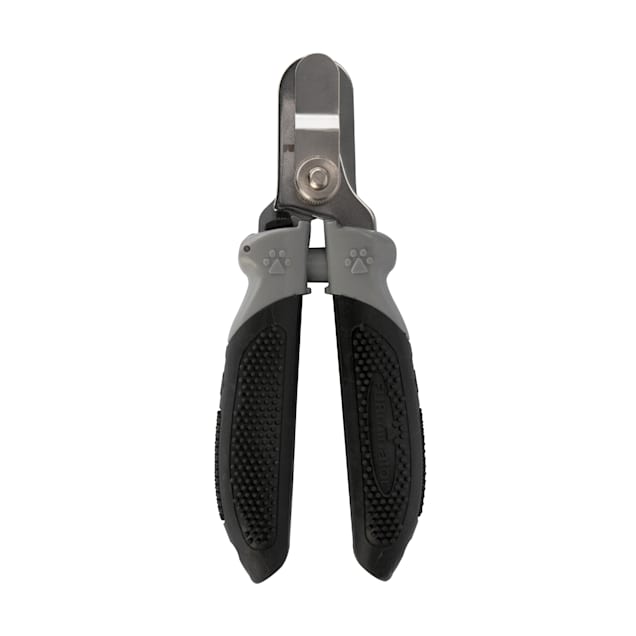 Best Cat Nail Clippers with Safety Guide
FURminator Nail Clipper for Dogs and Cats
Since cats aren't known for enjoying having their nails cut, they may not voluntarily stay still during the process. Most cat pet parents figure out the best way to hold their cat comfortably and securely during trims, but it doesn't hurt to have a tool like this one that makes safe clipping easier. These cat nail clippers have sharp stainless steel cutting edges, easy-grip handles and an adjustable nail guide that helps you choose an appropriate cutting depth for each claw.
1.25" L X 2.38" W X 6" H
Easy-grip handles
Adjustable nail guide
Stainless steel blades

"Easy and straightforward to use. The strong blades and solid grips make for a great product." – Lillian92
Pros
Easy-grip handles for a firm hold
Stainless steel cutting edges for clean cuts
Safety guard
Nail guide to aid safe cuts
Cons
Some pet parents may not prefer safety guard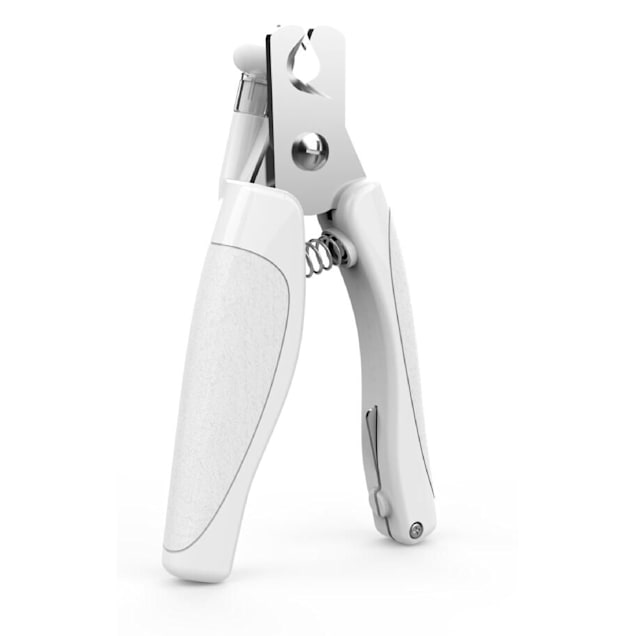 Best LED Cat Nail Clippers
Pet Life 'Clip-Tronic' LED Lighting and USB Charging Precision Cat and Dog Nail Clipper
Part of what makes nail trimming stressful for pet parents is the fear of cutting too far into the quick. No matter how careful you are, there's always a little bit of guesswork involved. What if you could find out exactly how far your cat's quick extends into each nail? It might be time to try cat nail clippers with light. These LED-powered and USB-charged cat nail clippers illuminate the blood lines in your cat's claws, so you don't have to guess, and they work for up to 20 nail clippings on a single charge. They also include a built-in file, a waterproof trim guard and anti-slip handle grips.
5.7" L X 2" W X 0.9" H
LED light to illuminate blood lines
USB charging
Built-in file
Waterproof trim guard
Pros
Highlights blood lines to help prevent cutting a nail's quick
Full USB charging in under 30 minutes
Up to 20 clippings per charge
Ergonomically designed handles
Cons
Requires an electric charge to operate as intended
*Based on petco.com sales data.
We're here to help
Beyond cat nail clippers, our stores offer health & wellness products and services to help make sure your cat has everything they need to thrive.
Store Partners
Get personalized recommendations based on your pet's needs.
Find a Store
Vet Services
Get the care your pet needs to feel their best at every stage of life.
Find a Vet
Pharmacy
Save big on heartworm preventives, pain relievers, Rx flea & tick control and more.
Shop Pharmacy
Learn More About Cat Nail Clippers
The best cat nail clippers are the ones that get the job done safely—and pet parents prefer different features to help them accomplish the task of trimming their cats' claws correctly. If you become nervous during claw clippings and find that your hands get sweaty, you might want to look for cat nail clippers with nonslip handles that help you grip the tool better. If you have trouble figuring out where the quick in your cat's nails begins, you'll probably benefit from a clipper with a nail guard or even an LED light to illuminate the interior of your cat's nails. Find the clippers that have the features you find most valuable, because the clippers that help you do a good job of nail trimming will be the ones that are best for your cat. For more solutions, check out all our cat nail care supplies.
Cat nail clippers that are used correctly are safe for cats, and even safer for cats than letting nails go untrimmed. Untrimmed nails can get snagged on surfaces, creating the risk of discomfort, pain or even injury for your cat. Overly sharp claws can also present a hazard to the other pets and people who share your home. As long as you use your cat nail clippers as directed and proceed with caution to avoid cutting into the quick, nail clippers are an invaluable tool that help improve your cat's quality of life.
While trimming a cat's nails might not bring the word "easy" to any pet parent's mind, there are steps you can take to help make the process less stressful for both you and your kitty:
Touch your cat's paws frequently, even when it's not time for a trim, to acclimate them to the sensation of having their paws handled
Hold your cat in a position that's comfortable for them and allows you easy access to their claws; try wrapping their body in a towel if they have a difficult time staying still
Gently squeeze one toe at a time to reveal the nail
Use cat nail clippers to cut only the sharp claw tips, avoiding the quick and only removing a little of each nail at a time
Cut nails at a 45-degree angle
After trimming sessions, it's a good idea to offer your cat plenty of affection, comfort—and maybe a treat.
With the best cat nail clippers at your service, you can expect to successfully trim your cat's nails at home. They are an essential piece of any cat grooming and bathing routine. Though it can feel daunting at first, many pet parents find a technique and a routine that works for them and their cat. If you're still feeling intimidated about using cat nail clippers yourself, you can always schedule an appointment with Petco and let our experienced stylists trim your kitty's nails.
// Forces popover to close when the user clicks anywhere on the page $(function(){ // fnGetNearestLocations(storeId, expirationMin, isHTML5Geolocation, isGoogleGeoAPI, HTML5GeoTimeout, XHRTimeout, isDebuggingEnabled) petcoNearestLocations.fnGetNearestLocations('10151','10080','true','true','10000','5000','https://www.googleapis.com/geolocation/v1/geolocate?key=','AIzaSyB1POydsXY7SJBDX-zowEC0y340ZJK6uig','false'); });