Best* Cat Litter for Odor Control
Help keep your home smelling fresh and clean with some of our best cat litter for odor control.
What to look for in cat litter
Some of the best cat litter for odor control helps trap unpleasant smells so that the only evidence of your feline will be the kitty snuggling in your lap. At Petco, we offer litters made for multi-cat households, natural litter and litter that helps prevent tracking, so your house remains clean in more ways than one.
Litter for multi-cat households
The more cats you have in your home, the harder your litter needs to work to keep odors contained.

Natural litters
Litter made from natural, biodegradable solutions can help you support the environment while still preventing unpleasant odors in the home.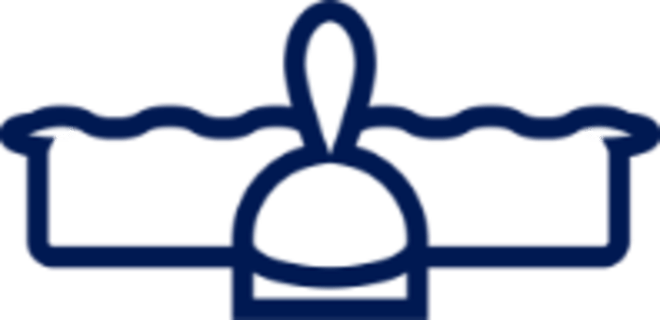 Litter that helps prevent tracking
If you've ever found crumbs of litter in your bed sheets or your socks, then you already know why litter that helps prevent tracking can make your home life more pleasant and more sanitary.
Pet Parent Faves
Whether you're looking for some of the best cat litter for multiple cats and odor control, the best unscented cat litter for odor control or a different kind of odor control litter, you'll find it here. These are many of the best kitty litters for odor control that our pet parent customers frequently purchase.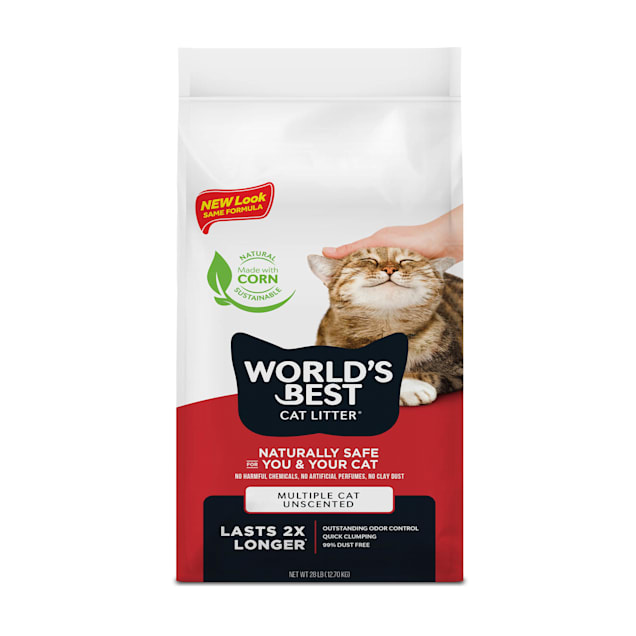 World's Best
Original Series Unscented Multi-Cat Litter
Many pet parents have spoken, and this option from World's Best is among our best unscented cat litter for odor control. Made from naturally absorbent whole-kernel corn, this clumping litter is specially designed for multi-cat households. Long-lasting and comfortable for your kitties, this litter is also proven flushable for fast and convenient cleanup.
Features:
Comes in 8, 14 and 28 lbs. bags
99% dust-freee
Longer lasting, so you buy less
No harmful chemicals or artificial perfumes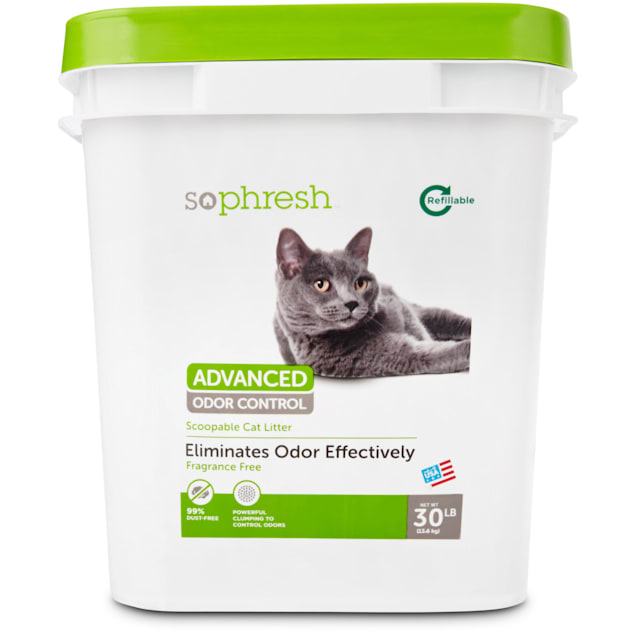 So Phresh
Advanced Odor Control Scoopable Fragrance-Free Cat Litter
Combine powerful odor control with purchase convenience, and you'll get So Phresh litter. At home, you'll find that this fragrance-free litter can clump quickly and control odor well. When your container is empty, you can refill it at the store to save you money and plastic.
Features:
Comes in 16 and 30 lbs. containers
99% dust-free
Refillable at the store
Tight clumping for easy cleanup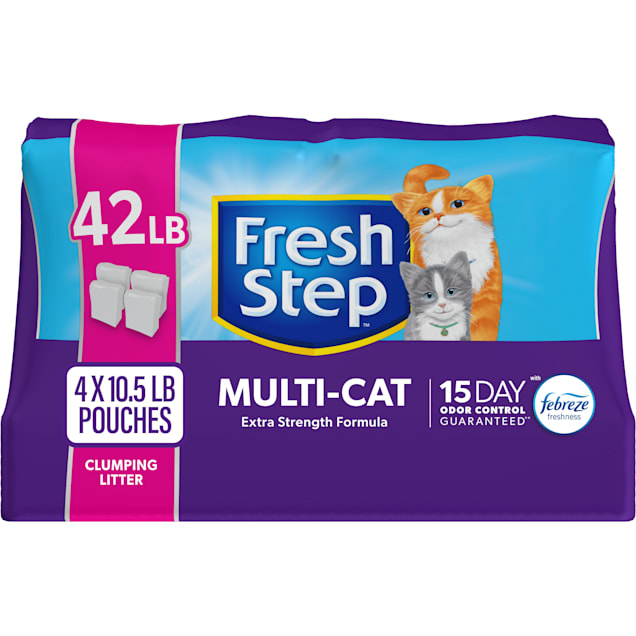 Fresh Step
Multi-Cat Extra Strength Scented Clumping Cat Litter with the Power of Febreze
For a house with multiple felines, choose one of the best multi-cat litter for odor control. This Fresh Step litter includes carbon to help trap odors. The clay litter clumps tightly to control odor and absorb liquids, helping make cleanup fast and easy. The fragrance is paw-activated, so your cats can automatically unlock the fresh-smelling scent each time they use the box.
Features:
Comes in 25 and 42 lbs. packs
Larger particles help keep paws and floors clean
10-day odor control guarantee
99.9% dust-free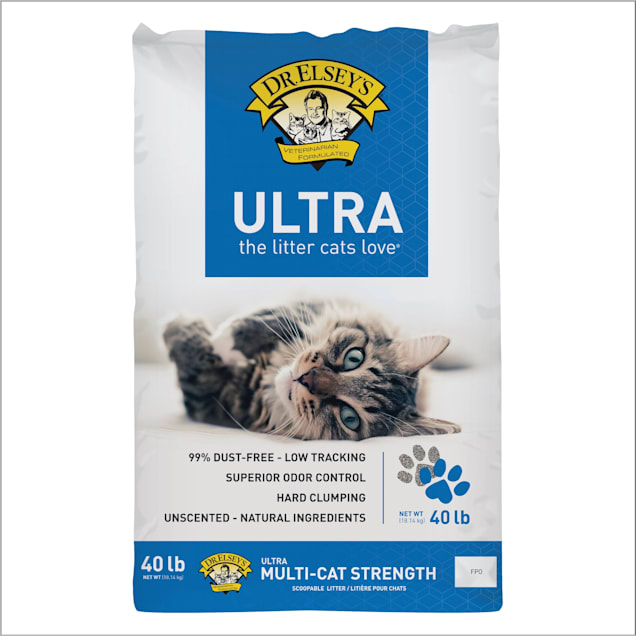 Dr. Elsey's
Ultra Clumping Multi-Cat Litter
Combining heavy non-tracking granules with a medium grain clay, Dr. Elsey's litter offers excellent clumping that won't break down. One of the best clumping cat litters for odor control, this natural option helps absorb liquids and is ideal for multi-cat households. It is also 99.9% dust-free, providing humans and cats alike with a healthier home.
Features:
Comes in 20 and 40 lbs. bags
Made from natural ingredients
99.9% dust-free
No perfumes or deodorants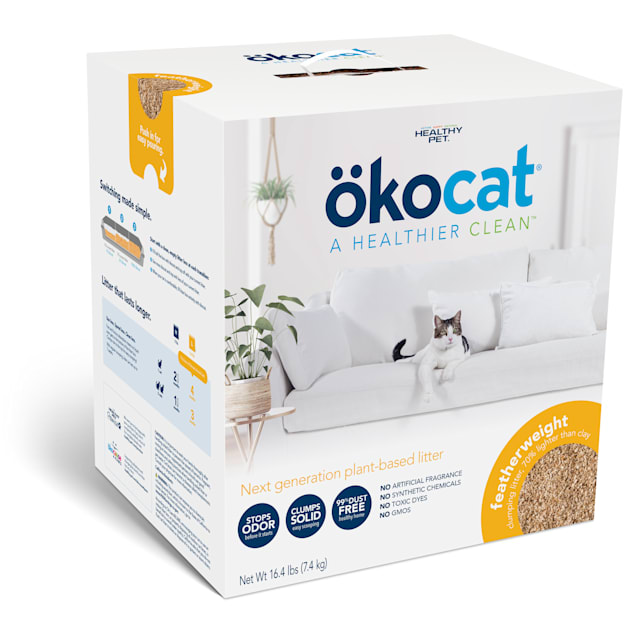 Okocat
Unscented Featherweight Clumping Wood Cat Litter
One of our best natural cat litters for odor control is this innovative formula from Okocat. Made from sustainably sourced, responsibly rescued natural wood fiber, this litter is both lightweight and soft. It also offers substantial odor control to give your home a fresher, more enjoyable environment.
Features:
Comes in 11 and 16.4 lbs. bags
No artificial fragrance or synthetic chemicals
Featherweight litter
99.9% dust-free
Biodegradable and flushable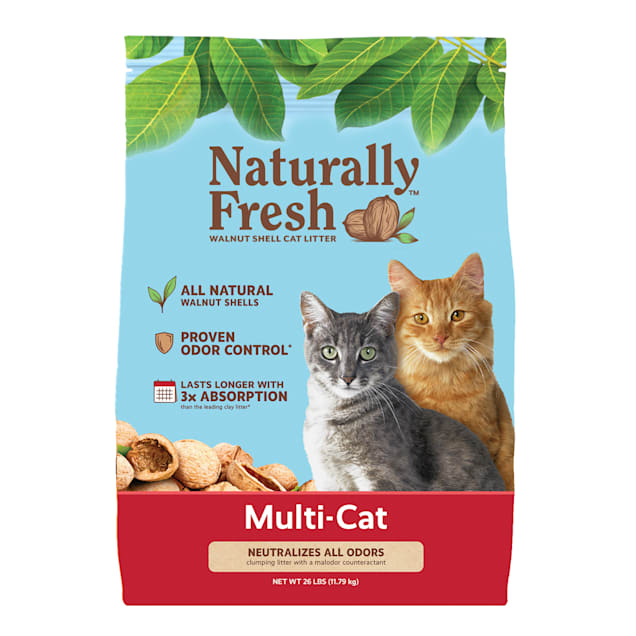 Naturally Fresh
Quick-Clumping Natural Multi-Cat Litter
This litter from Naturally Fresh is made from natural walnut shells, which possess the unique ability to control ammonia odors. This makes Naturally Fresh a sustainable, non-toxic litter solution—and another of our best natural cat litters for odor control. The clumping litter helps make it easy to find and dispose of waste quickly.
Features:
Comes in 26 lbs. bags
Contains a proprietary malodor counteractant
Virtually dust-free
Low-tracking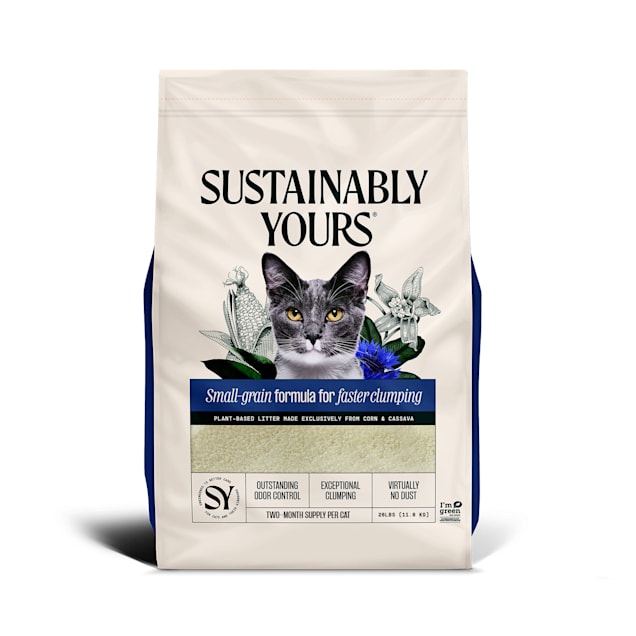 Sustainably Yours
Multi-Cat Plus from Corn and Cassava Natural Litter
Extra cassava offers superb odor control in this multi-cat litter. Small grains allow for fast absorption and strong clumping. One of the best cat litters for odor control, this option is made with corn—making it sustainable, renewable and biodegradable.
Features:
Comes in 13 and 26 lbs. bags
No added chemical or fragrances
Firm clumps help make scooping easy
Virtually dust-free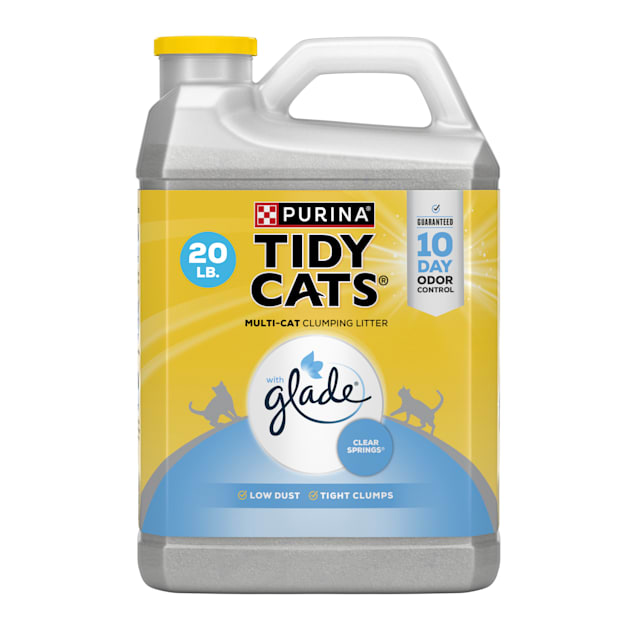 Tidy Cats
Clumping Glade Clear Springs Multi-Cat Litter
Help keep your home smelling fresh for up to 10 days with this clumping litter backed by the Glade brand. When your cat uses the litter box, the litter forms tight clumps to make cleanup easier, all while leaving behind the fragrance of clear springs. This is also one of our best cat litters for multiple cats and odor control. If you have more than one kitty at home, this formula can help keep them dry and clean, so they won't shy away from the litter box.
Features:
Comes in 20 lbs. containers
Low dust
Includes natural clay plus a deodorizing system
Tight clumps for easy scooping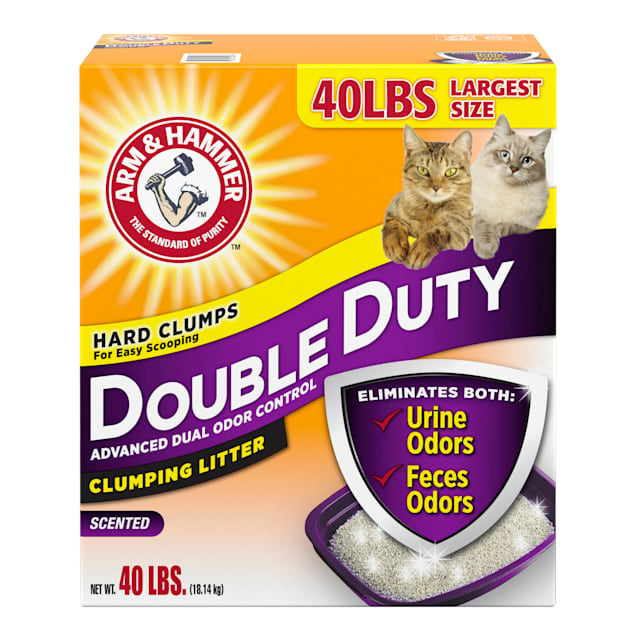 Arm & Hammer
Double Duty Clumping Litter for Cats
A dual odor control formula helps this litter trap urine and feces odor on contact and makes it one of the best bulk litters for urine odor control. The litter also forms into hard clumps, which are easy to find and dispose of, making cleanup a cinch. The faster you clean the litter box, the more time you can spend snuggling with your feline. Purchase up to 40-lbs. so have plenty of litter depending on the number of cats in your household.
Features:
Comes in 20, 26.3, 29 or 40 lbs. boxes
99.9% dust-free
Includes easy pour and no-spill spout
Fresh scent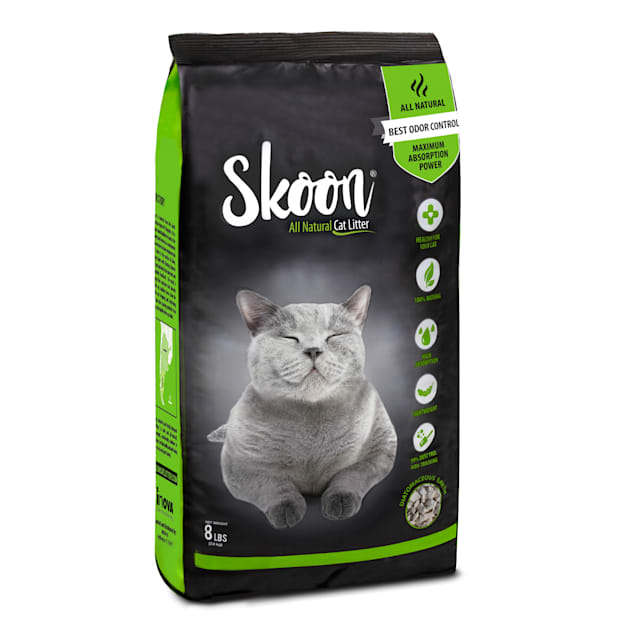 Skoon
All-Natural Cat Litter
This non-clumping cat litter is made of highly absorbent diatom pebbles that trap smells in their porous structure. As one of the best cat litters for tracking and odor control, your cat won't inadvertently spread litter and bacteria around your home after using the litter box. The reduced density of this litter also makes it easier to transport.
Features:
Comes in 8 lbs. bags
Biodegradable
Made from natural materials
Lightweight
We're here to help
Beyond cat litter for odor control, our stores offer health & wellness products and services to help make sure your cat has everything they need to thrive.
Store Partners
Get personalized recommendations based on your pet's needs.
Find a Store
Vet Services
Get the care your pet needs to feel their best at every stage of life.
Find a Vet
Pharmacy
Save big on heartworm preventives, pain relievers, Rx flea & tick control and more.
Shop Pharmacy
Learn More About Cat Litter for Odor Control
As much as you love your cat, you probably don't love the smells from their litter box. While it may be challenging to eliminate all litter box smells, you can do a few things to make the smells less noticeable. First, experiment with some of the best cat litter for odor control. Many major brands offer odor control litter, but some may fit the needs of your household differently than others.
Next, if you live in a multi-cat household, offering one litter box per cat is a good idea. Scoop each box at least once a day. Ideally, you'll want to scoop twice daily for optimum freshness.
If you use non-clumping litter, empty your litter box at least once a week to prevent urine from pooling at the bottom. For clumping litter, you can change it every few weeks. Each time you empty your cat's litter box, make sure to scrub and wash it thoroughly before refilling it with some of the best kitty litter for odor control. Using litter box liners can make this process much more manageable.
If possible, place your pet's box in a space away from the main activity areas of the house so smells won't be as strong. A litter box with an attached hood can also help keep in some odors. Check out all of Petco's cat litter solutions to find the right fit for your needs.
You may assume that you need to fill your litter box to the brim. In fact, cats actually don't need a ton of litter. Usually, just two to three inches of litter will do the trick. If your cat is a deep scratcher, you may want to add up to four inches of litter, but start with two inches and see how your pet fares. The less litter you use, the less litter you'll have to buy later. Just remember to add in additional litter after each scoop session. See all of Petco's cat litter boxes to find great options for some of the top-rated cat litters for odor control.
Most well-socialized cats will be happy with either clumping or non-clumping litter as long as their litter box is cleaned frequently. However, some sources believe that cats tend to prefer clumping litter. It usually comes down to what works for your cat and you. If you have a self-cleaning litter box, non-clumping litter may be required to help the box operate effectively. Make sure to let your cat be your guide. Your pet will let you know if they don't like their litter or litter box. It may take some experimentation to find the best cat litter for odor control that fits your pet's needs, but be patient. With so many litter solutions available, you'll find the right one for your family. You can learn more about ways to take good care of your feline with Petco's new cat guide.
There is no one singular cat litter that can be considered the best for odor control and clumping. Most popular brands promise superior odor control, and many offer clumping litter. A lot of it comes down to your personal preference and which litter your cat prefers. Some pet parents like litter with added fragrance, while others prefer natural litter. Your feline may have favorites as well. When you first bring home your cat, experiment with different litters. You and your pet will eventually find a litter that you both like. You can take a look at Petco's full selection of clumping cat litter for inspiration.
*Based on petco.com sales data.