Best* Food for Betta Fish
Special fish deserve special diets.
What to look for in betta fish food
Plenty of protein
Unlike some fish, bettas require a higher protein diet to be at their best. Look for a food that has a high-protein formula to help your fish thrive.
Beneficial nutrients
The best betta fish food options give your small pet a nutrient boost in the form of antioxidants, omega-3 fatty acids or even natural ingredients that enhance color.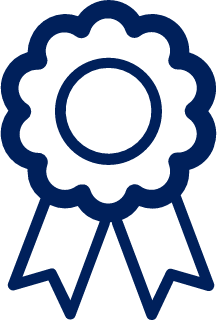 Quality and Value
Food for betta fish should have a protein-rich formula, wellness-boosting ingredients and a price you feel comfortable paying.
*Ratings as of April 6, 2022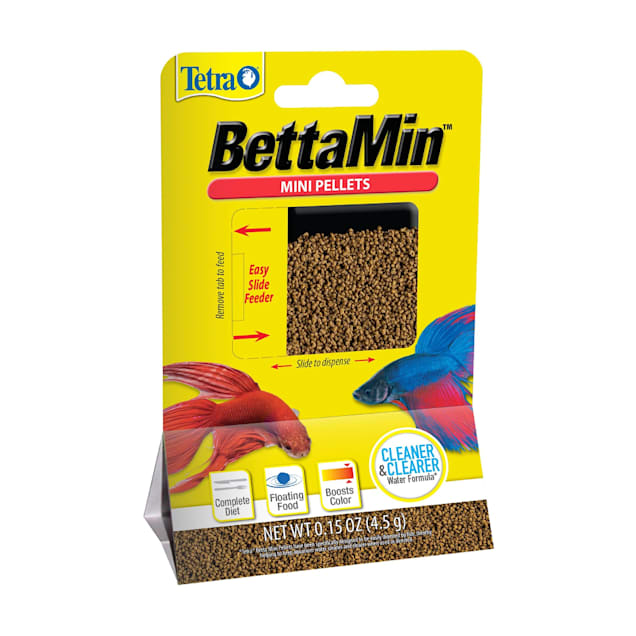 Best Betta Food Pellets
TetraBetta Floating Mini Pellets
Which food is best for betta fish and their pet parents alike? One that provides complete nutrition but doesn't make aquarium water murky is a good choice. This floating betta food is nutritionally balanced with specific vitamin and nutrient levels, and it's high in protein and omega-3 fatty acids. You'll appreciate the sliding dispenser packaging that makes it easy to portion out the right amount of food for your betta—as well as the fact that it's formulated to keep water cleaner and clearer than some other types of fish food.
Floating pellets
Formulated to keep water clearer
Nutritionally balanced
Color-boosting formula
Easy sliding dispenser
Best Guppy Food for Digestion and Fertility
Sera Guppy Gran Nature Food
Because they are omnivores, the best food for guppies includes plant as well as animal ingredients. These veggie-based granules were formulated specifically with this in mind, including spirulina to mimic their natural diet. They're free from dyes and preservatives and slowly sinking to give your guppies time to feed.
1.5 oz. package
First ingredients are corn starch, wheat gluten, fish meal and spirulina
Crude protein (min.): 41.3%, crude fat (min.): 7.1%, crude fiber (max): 5.2%

"Supplies...Always Got What I Need When I Need It With Fast Delivery." – Tallnkrazy
Pros
Natural granules
Free from dyes and preservatives
Made specifically for guppies and other mainly herbivorous fish
Slowly sinking
Cons
Only one size option to choose from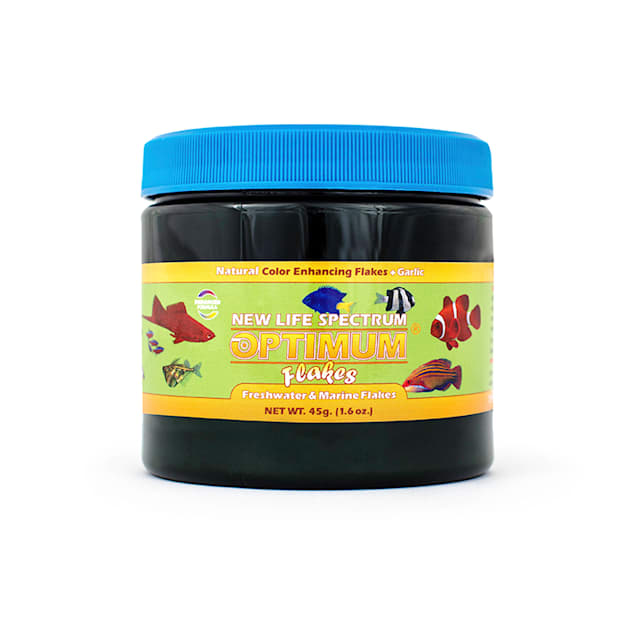 Best Guppy Food Flakes
New Life Spectrum Optimum Flakes Tropical Fish Food
Flakes remain a popular way to feed many types of tropical fish—they float and are easily digestible for many different sizes. These all-purpose flakes contain a variety of algae and seaweed to keep mealtime interesting, with natural color enhancers like Antarctic krill and giant squid, plus garlic for the immune system.
1.6 oz. package
First ingredients are whole Antarctic krill, giant squid, whole wheat flour and whole menhaden fish
Protein (min.): 40%; fat (min.): 9%; fiber (max.): 8%

"My favorite. This is hands down my favorite fish food, and well worth the price. My fish love it, and it makes difference in color and health." - J_new
Pros
Flake fish food
Positive buoyancy, most flakes will float
High-quality, easily digestible marine proteins, including algae and seaweed
Naturally color enhancing
No artificial colors, flavors or preservatives
Manufactured in the USA
Cons
Only one size option to choose from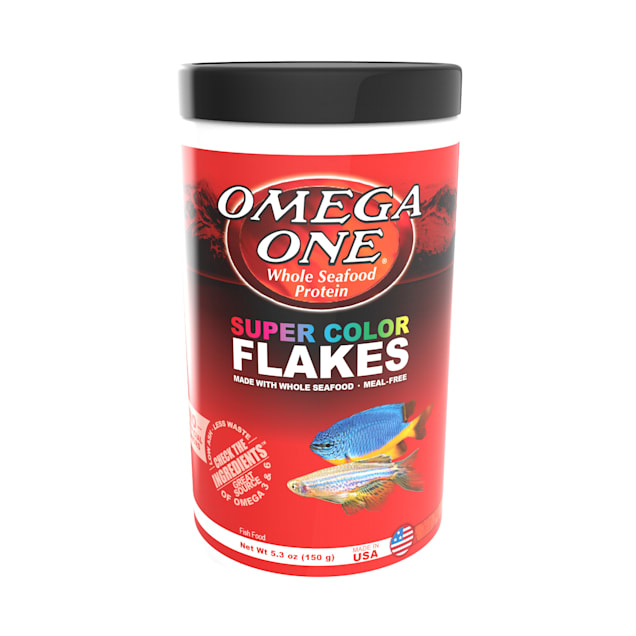 Best Guppy Food Flakes for Color
Omega One Super Color Flakes
In search of the best guppy food for color? Take a closer look at Super Color Flakes from Omega One. The main ingredient, salmon, contains beta-carotenes to naturally enhance the color of guppies' skin and scales. With other whole, fresh seafoods and minimal starches, these flakes can also help reduce fish waste and support the immune system.
Available in 0.42 oz., 1 oz., 2.2 oz. or 5.3 oz.
First ingredients are salmon, whole herring, wheat flour and whole shrimp
Crude protein (min.): 42%, crude fat (min.): 12%, crude fiber (max.): 2%

"Good protein content. My fancy guppies love the flakes. Unlike too many other flakes, these have a high protein content...the first two ingredients are salmon and whole herring. Others are whole shrimp and pea protein." -yesitmatters
Pros
made directly from fresh seafood
Cons
Can leave a coating on the top of aquarium water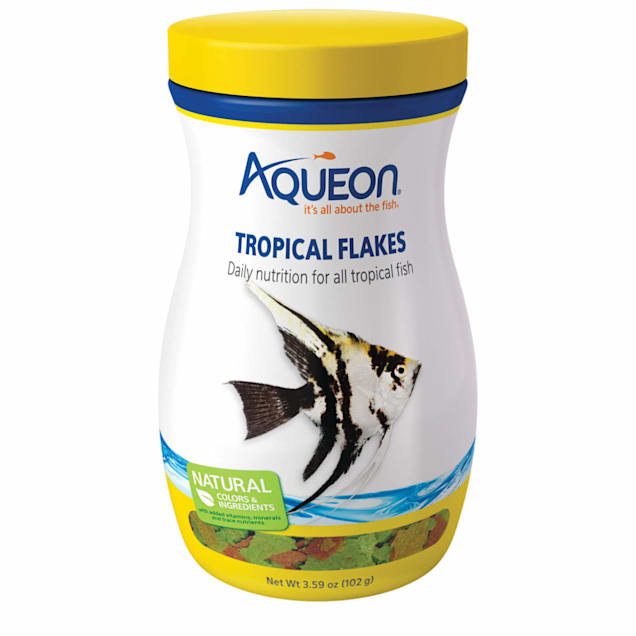 Best Guppy Food Flakes for Clear Water
Aqueon Tropical Flakes
Aqueon is a trusted brand and a best-seller across fish products—including one of our best-selling guppy foods. This food is made with natural ingredients plus added minerals, vitamins and trace nutrients to support the immune system and boost your fish's coloring. Plus, it can help reduce fish waste and won't cloud your water.
Available in 1 oz., 2.29 oz. or 3.59 oz.
First ingredients are whole fish meal (whole salmon, herring and other mixed fishes), whole wheat flour, soybean meal and whole dried krill
Made in the USA

"Good value and good quality! I have been buying this food for my fish for years. My yin-yang guppies are in wonderful health and they are always so excited about breakfast and dinner time!" -Amazon_Daddy2000
Pros
Balanced nutrition for daily feeding
Natural ingredients and colors with added vitamins and minerals
Helps support immune systems and bring out true colors
Designed to not cloud water
Made in the USA
Cons
Some fish don't like the food
Tetra TetraColor Select Tropical Flakess
Tetra is another popular brand for fish products, which explains why it makes several of the best fish foods for guppies. Their foods aren't just for tetras—they provide complete nutrition for any tropical fish, with antioxidants and prebiotics to support the immune and digestive systems, plus an added blend of carotenes for color enhancement.
Available in 1 oz., 2.2 oz. or 7 oz.
First ingredients are fish meal, dried yeast, ground brown rice and shrimp meal
Crude protein (min.): 48.0%, crude fat (min.): 12.0%, crude fiber (max): 3.0%

"Tetra Color Food Flakes. Always find Tetra food products are reliable and fish seem to agree. Great for Tropical Fish." - El Poki
Pros
Premium color enhancing food
No artificial colors or flavors
Active life formula with antioxidants
Contains color enhancing carotenes
Specifically designed to be easily digested, helping keep aquarium water clean
Cons
Flakes are best for smaller species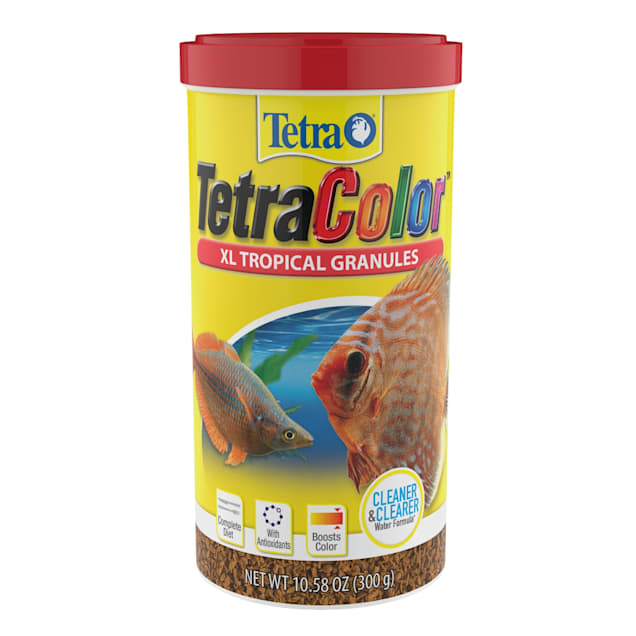 Best Guppy Food Granules for Color
Tetra TetraColor Tropical Granules
These slow-sinking granules give your fish plenty of time to feed, while providing essential nutrition. They're easily digestible to help reduce fish waste and keep your water clear while promoting vibrant colors. This best-selling guppy food provides a complete and balanced diet for daily feeding and is irresistible to many fish.
Available in 2.65 oz. or 10.58 oz.
First ingredients are fish meal, wheat germ meal, wheat flour and feeding oat meal
Crude protein (min.): 49.0%, crude fat (min.): 5.0%, crude fiber (max): 2.0%

"My fish eat this and are healthy. I have seen two different colors of this same product. The granules are sometimes red and sometimes brown. The fish don't seem to be bothered by this difference but I don't know why this comes in different colors."- JA3080Ti
Pros
Helps promote development of vibrant colors in larger fish
Nutritionally balanced diet for optimal health, color and vitality
With antioxidants, proteins and prebiotics
High in moisture
Specifically designed to be easily digested and helping keep aquarium water clean
Cons
These slow-sinking granules are specially designed for use as a staple food for larger, mid-water tropical fish, so they might not work for all sizes of fish in your tank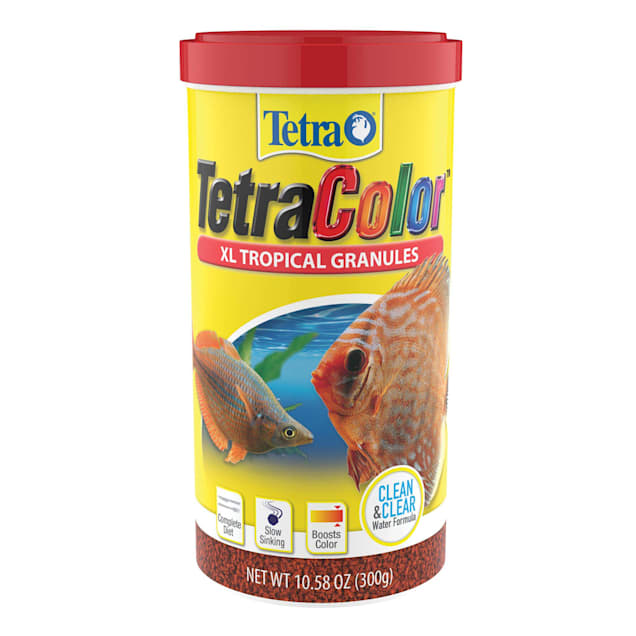 Tetra ColorBits Tropical Granules
If you want to promote growth and color, this supplemental diet is one of the best foods for guppies. It contains vitamin C and other nutrients to help your guppy grow, plus ingredients to enhance color. As a supplemental food, it's meant to be fed once daily, with regular food, spirulina and treats making up the rest of the diet.
Available in 2.65 oz. or 10.58 oz.
First ingredients are fish meal, dehulled soybean meal, wheat germ meal and wheat flour
Crude protein (min.): 47.5%, crude fat (min.): 6.5%, crude fiber (max): 2%

"Skeptic Converted. I was skeptical about this food it seems like filler but my fish absolutely love it and i am seeing good growth and colors by using it. I found out that many professional fish breeders and fish farms use it as well." - Andrew76
Pros
Healthy nutritious diet helps promote vibrant colors in large tropical fish
Slow sinking food can be consumed in mid-water where larger fish like Disucs and Cichlids prefer to feed
Cons
Specifically designed for larger tropical fish, such as Discus and Angelfish, so they might not be ideal for all fish in your tank, depending on your size of species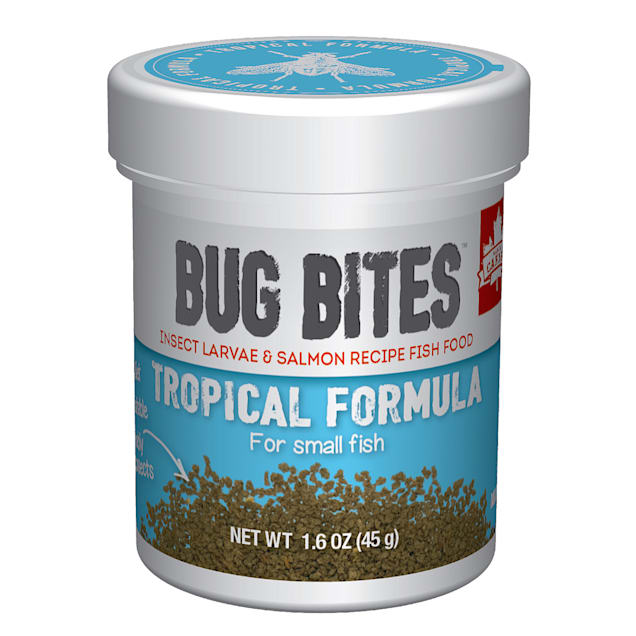 Best Insect-Based Guppy Food
Fluval Bug Bites Granules for Small-Medium Tropical Fish
Don't forget the treats in your search for the best fish food for guppies. With delicious black soldier fly larvae and salmon, Fluval Bug Bites mimic the carnivorous portion of guppies' diets, but they're also enhanced with carbohydrates for a more complete food. Use them to add a little variety to your fish's diet.
1.59 oz. package
First ingredients are black soldier fly larvae, salmon, fish protein concentrate and green peas
Made with a unique and sustainable cultivation process

"Fish Favorite. All my fish love this. Tetras, guppies, shrimp, cories." - R Adam
Pros
A complete fish food that features a unique insect-based formulation, enriched with multiple quality proteins and carbohydrates ideal for tropical fish
Made through a unique and sustainable cultivation process
Cons
Only one size option to choose from
*Based on petco.com sales data.
We're here to help
Beyond betta fish food, our stores offer health & wellness products and services to help make sure your fish has everything they need to thrive.
Store Partners
Get personalized recommendations based on your pet's needs.
Find a Store
Vet Services
Get the care your pet needs to feel their best at every stage of life.
Find a Vet
Pharmacy
Save big on heartworm preventives, pain relievers, Rx flea & tick control and more.
Shop Pharmacy
Learn More About Betta Fish Food
Bettas are primarily carnivorous. While you don't need to feed your betta live insect larvae as they might eat in the wild, the best food for betta fish is still fish food that's high in protein, and they can also benefit from fiber, prebiotics and antibiotics. Look for fish food formulas specifically designed for bettas to ensure that they'll receive the protein density they need for optimum wellbeing. Generic fish food is unlikely to supply the nutrients your betta needs to stay in optimal condition. You can also supplement with special treats such as freeze-dried bloodworms to provide your fish with some variety in their diet.
For more information on caring for your betta fish, check out our Betta Care Sheet.
Look for a betta food with high protein content and includes beneficial supplements such as omega-3 fatty acids, antioxidants or prebiotics. Other considerations include features that benefit you, the betta fish parent. These can include:
Color-enhancing ingredients These ingredients can make your betta's colors more intense, making them especially visually attractive.
Formulas that don't cloud water You'll see your bright betta better if you choose an insoluble fish food that keeps the aquarium water from getting muddied.
Easy dispensation You may find that you prefer the type of packaging that houses your betta's food—for instance, a sliding dispenser, a screw top or a twist-and-dispense spout. Select something that you find user-friendly.
For betta fish food and other supplies like tanks, plants, heating and lighting, visit our betta fish shop.
Many pet parents find a pellet formula, not flakes, to be the best food for betta fish. Many bettas seem to prefer eating pellets, and this style of food can be less messy and tends to cloud aquarium water less. Whatever form of food you choose, make sure it uses a recipe crafted for the nutritional needs of bettas.
Some behavior changes can point toward hunger in a betta fish. These include:
Sluggishness or lethargy
Digging around the bottom of the tank or nibbling at decorative plants
Waiting near the top of the aquarium for food
The best way to ensure that your betta eats neither too much nor too little is through consistent daily feedings that are portioned according to your preferred food's recommended serving size.
*Based on petco.com sales data.
// Forces popover to close when the user clicks anywhere on the page $(function(){ // fnGetNearestLocations(storeId, expirationMin, isHTML5Geolocation, isGoogleGeoAPI, HTML5GeoTimeout, XHRTimeout, isDebuggingEnabled) petcoNearestLocations.fnGetNearestLocations('10151','10080','true','true','10000','5000','https://www.googleapis.com/geolocation/v1/geolocate?key=','AIzaSyB1POydsXY7SJBDX-zowEC0y340ZJK6uig','false'); });