Last chance! Free Shipping. No Minimum. | Promo Code: freeship
Last chance! Free Shipping. No Minimum.
Promo Code: freeship
20% Off Your First Repeat Delivery | Use Code RDSAVE20
20% Off Your First Repeat Delivery
Use Code RDSAVE20
Close

Free Shipping. No Minimum.
Free Shipping. No Minimum.
Promotion ends 10/15/18 at 11:59 pm PDT.
Enter promo code: freeship
Exclusions apply. See details >
Copy Promo Code: freeship

Save 20% Off Your First Repeat Delivery: Use Code RDSAVE20
Save 20% With Code RDSAVE20
The 20% discount is valid only on first-time Repeat Delivery orders.
Exclusions apply.
Copy Promo Code: RDSAVE20
previous
next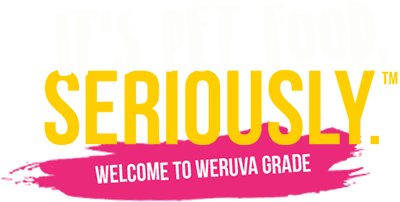 At Weruva, we feed your precious pets exactly like we feed our own: with dishes made by hand, ingredients and cuts you recognize, and recipes dialed in for feline- and canine-specific dietary needs, all crafted in accordance with the strictest standards. Because We Luvya.