Well & Good

For a Pet's Happy, Healthy Best!
For a Pet's Happy,
Healthy Best!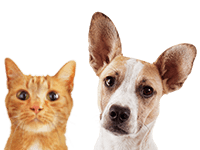 Well & Good Pet Products: Health and Wellness for Dogs and Cats
Well & Good pet products bring out the healthy, happy best in our four-legged companions, from nurturing a sleek, lustrous coat to supporting healthy muscles and joints. A wide range of expert-formulated, high-quality multivitamins for dogs, remedies, and grooming tools gently and safely maintain pets' well-being, inside and out. Designed with daily care in mind, Well & Good toothbrushes, shampoos, grooming wipes, and first aid products provide 365-day solutions to help restore healthful balance.
Ideated by experts in the field of pet wellness, Well & Good's complete line, from nursing bottles to senior supplements, help you to provide the best care for your pet. Each item is certified by both the NASC and the EPA, so you can feel confident that your pet is receiving safe and effective treatments. Tested to the highest standards of quality assurance, Well & Good pet products are formulated with the latest scientific research and veterinary wisdom in mind, and backed by a 100% satisfaction guarantee. Whether you're searching for a dog-friendly showerhead, a dental care kit for puppies, nail clippers, a pet thermometer, or anything in between, Well & Good has you covered with all the essentials to help your pet thrive.
A well-groomed pet is a happy pet, and Well & Good's Shampoos, conditioners, coat sprays, colognes, and grooming tools help keep their coat looking shiny and feeling soft. From solution-based products such as de-skunking shampoo and flea and tick treatment to new essential-oil infused botanical shampoos, waterless shampoos, and conditioners in the Plantiful collection, Well & Good has streamlined and simplified the pet bathing process. When you need to step up your grooming game a notch, tools such as bristle brushes, nail files, shears, flea combs and bathing mitts provide pet parents with the extra power to get the job done right.