Muse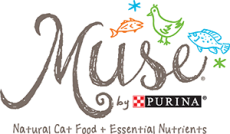 browse and shop for Muse cat food products
Explore Petco's wide selection of Muse by Purina and shop for cat food products inspired by a feline's individuality, unapologetic personalities, and unexpected (yet hilarious) exploits. This point of inspiration created a formula they call, "Uncompromisingly natural and unapologetically delicious." Their approach is entirely focused on cats and creating recipes that transcend the ordinary. Muse cat food products include natural ingredients in every recipe plus essential nutrients to create meals that provide what cats need and what they want.
Chowder, paté, and natural recipes in gravy, broth or with toppers are amongst Muse's many wet cat food products. Each Muse wet food product variety is also available in multiple flavors, so you can continue to surprise your cat with new ways to tickle their fancy. Like their dry all lifestage counterparts, wet Muse recipes are made with real fish or chicken to create natural and protein dense products. All Muse cat food products also exclude corn and soy, so your cat can get more of the ingredients they need like natural and essential ingredients. And if your cat experiences sensitivities to certain ingredients, many wet Muse products and every kibble recipe is free of grain, gluten, wheat, artificial flavors, colors and preservatives. Each Dry cat food Muse product feature real chicken or salmon as the #1 ingredient, antioxidants to help support a strong immune system and Lenoic acid, an Omega-6 fatty acid, to help promote healthy skin and a shiny coat. They're also proudly crafted in Clinton, Iowa, USA.
Because Muse loves that cats can discriminate between "blah" and "remarkable" meals, they even have a Clean Plate Guarantee. In other words, Muse is so confident even finicky cats will love their natural cat food products, they include a risk-free guarantee. So peruse the Muse cat food products available at Petco and pick up one or a few of your cat's next meals.