20% Off Your First Repeat Delivery | Use Code RDSAVE20
Close

Save 20% Off Your First Repeat Delivery | Use Code RDSAVE20
Save 20% With Code RDSAVE20
The 20% discount is valid only on first-time Repeat Delivery orders.
Exclusions apply.
Copy Promo Code: RDSAVE20
Leaps & Bounds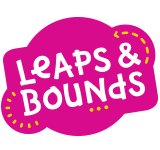 Designed for Everyday Play
Leaps & Bounds Pet Toys: Plush, Puzzle, Fetch & More
Shop Petco and keep their gears turning with the fun and engaging Leaps & Bounds pet toys and puzzles. Leaps & Bounds focuses on designing exciting ways to keep your cats and dogs entertained with the quirky colors and stimulating textures that last. Through their collection of toys, this Petco exclusive brand also helps keep your pet focused and busy on an activity that inspires their natural instincts to chew, tug, and fetch.
Engage your easily excitable kitten or puppy in a variety of activities and incentives to channel their energy and interests with a Leaps & Bounds pet toy, ideal for every kind of play. Whether you need to stimulate and challenge your pet, keep them exercised and moving, or simply want to hinder them from getting bored with an enticing toy, Leaps & Bounds has you covered. This is because we understand that play of any kind is at the heart of the bond we all share with our pets. The special moments Leaps & Bounds dog and cat toys facilitate keep you both healthy, happy, and full of life.
If your pup has a strong food drive, Leaps & Bounds dog toys offer many treat dispensing products which can keep them satisfied with independent play as you go about your day. These dispensing toys can also give your pup additional motivation to go the extra mile during a rousing game of fetch. Before tossing up a game with your furry pet, remember to use strong smelling treats to keep them inspired to chase and play with their Leaps & Bounds treat toy products.
When a pet is prone to naughty behavior, like chewing and digging, when they're not supposed to, it's a sign of boredom. By switching things up and introducing new Leaps & Bounds pet chew toys, you can make these negative behaviors less attractive. This is because their alluring features are specifically designed to combat boredom and safely keep your pet out of trouble. Ready to get back to enjoying the best part of caring for your four-legged pal? Visit Petco and browse the full Leaps & Bounds collection today!