Kaytee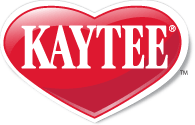 browse and shop for Kaytee small animal & bird products
Shop and explore Petco's collection of Kaytee small animal and bird products. Pet parents will find that Katyee offers everything from pet foods and accessories to bedding and litter products. Kaytee was started in Sheboygan, WI as a grain and feed business that quickly grew. Today Kaytee Products has grown to focus on a 50+ year old goal to help pet parents. Every single of Kaytee's hundreds of products stand by their mission, "To provide the highest quality foods and services for peoples enjoyments of birds and other pets." This promise even includes koi ponds thanks to their premium fish food products.
By acquiring facilities strategically located across the country, Kaytee has been able to provide the freshest quality products to every customer in the most efficient way possible. This means that your pets can enjoy Kaytee's bird and small animal food, treats and more, while each product is at its most delicious and nutritiously beneficial state. For bird pet parents, Kaytee offers special recipes and feeding accessories to help each kind of bird thrive within their cage or habitat. And if you're looking for the best way to attract feathered friends, Kaytee's products also include regional blends and feeders, so you can serve them irresistible meals custom made to their preference.
To make your small animals feel right at home in their habitats, Kaytee has a range of bedding, nesting and litter products for every home and pet preference. Designed to keep your pets comfortable and dry, these products can also help you keep your home smelling fresh longer. Kaytee has also partnered with Super Pet to help you combat cage boredom with their many small animal habitat toy, activity, and tunnel products. Petco's selection of Kaytee small animal and indoor/outdoor bird products is constantly growing to help you provide proper and complete pet care. Check back frequently to find new Kaytee products to excite, feed, and take care of your pets at Petco.