Good Lovin'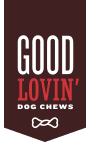 Throw Your Dog A Better Bone.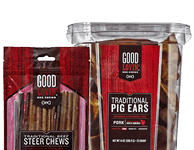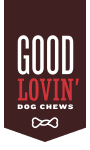 Throw Your Dog
A Better Bone.
browse and shop Good Lovin products
Shop for Good Lovin' products exclusively at Petco and indulge in one of the best parts of being a pet parent, treating. Good Lovin' makes quality treats with the intention to help you achieve this. Good Lovin' balances great taste with good nutrition because they believe treat products can be both fun and wholesome. In short, "Good Lovin' is pure and simple goodness." This means that you can keep your pet both healthy and satisfied thanks to Good Lovin' products. Test them out with confidence because each Good Lovin' product comes with a 100% satisfaction guarantee.
Regardless of their preference you're sure to find a Good Lovin' product to provide instant gratification or to occupy your pet's time. For dogs, Good loving has crunchy, soft and chewy, dental treat along with rawhide, bones and body part chew products. Cats on the other hand can enjoy crunchy or soft and chew treats along with their 100% natural Good Lovin' Herb Garden Catnip. Grown on the farms of North America, this Good Lovin' fan-favorite is carefully harvested and delicately dried to preserve the irresistible scent that cats love from their catnip products. Good Lovin' treats come in a wide and sometime exotic variety of flavors, so you can find a new product to make your pet feel as special as you know they are. Some Good Lovin' treat products even come in assorted flavors, so you can easily find the variety your pet can't get enough of.
Every dog's chewing habits are different, so Good Lovin' chew products come clearly labeled for each chewing level. Whether you have a light, moderate, or heavy chewer, you can find a long-lasting chew to keep your dog occupied. Explore Petco's wide-selection of Good Lovin' treat products and check back for seasonal varieties all year long.