Greenies® Products
Giving your pets tasty treats has never been so good for them. See how Greenies® chews and treats can help your furry friends live longer, healthier lives.
shop Greenies® dental treats
---
Dental Health For Dogs
Greenies® Canine Dental Chews
This is the treat that started it all. Specially formulated to clean your pet's teeth and freshen their breath, great-tasting Greenies® Dental Chews and Treats are the #1 vet recommended dental chews.*
*In pet specialty among veterinarians that recommend dental chews for at-home care.
Shop now

---
Nourishing Active, Healthy Lives
Daily Treats with Extra Benefits
Greenies® Joint Care Canine Treats help promote better joint health and greater mobility in dogs. And new Feline Greenies® Smartbites® Treats can help your cat's hairballs, skin and fur, and digestion.
Shop now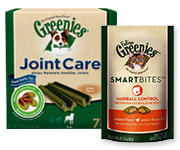 ---
Turn Pill Time into Treat Time™
Daily Treats with Extra Benefits
With its revolutionary pouch designed for hiding your pet's medications, GREENIES® PILL POCKETS® Treats are the #1 vet-recommended choice for giving pills.*
Shop now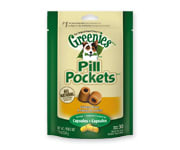 ®/™ Trademarks © The Nutro Company 2012