We're here to help you and your pet live your happiest, healthiest life together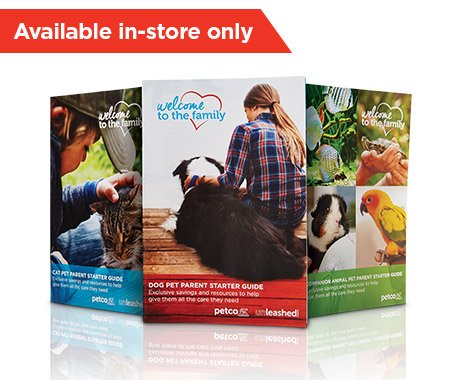 New pet parents can save up to

on food, supplies, services and more.
Pet Parent Starter Guides contain:
$100s in savings plus a coupon for a free 6 lb. bag of
WholeHearted dog food*
Thoughtful care tips
Online resources and support
*In the dog book only.
think adoption first
It's a great way to add to the pet family!
The Petco Foundation is committed to helping match wonderful adoptable pets with loving families. Together with Petco and our community partners, the Petco Foundation helps find homes for thousands of dogs, cats, rabbits and other animals every week. While each and every day pets are adopted from Petco stores, on one weekend a month we call all hands on-deck to celebrate adoptions with events across the country at our National Adoption Event Weekends.

To adopt a pet, find a Petco location near you.
find a store

Search Adopt-a-Pet.com's nationwide database of adoptable pets from more than 13,600 shelters and rescue groups that are waiting for loving homes.


We believe that every animal deserves to live its best life.
learn more