Tricks and Treats: 3 Steps to Making a Fun-Filled Halloween
Resource Center Menu
Tricks and Treats: 3 Steps to Making a Fun-Filled Halloween

Halloween can be a fun and festive time of year filled with kids (and adults) dressing up as their favorite hero, villain or mythical creature; spooky decorations adorning your house; and indulging in more treats than are (probably) good for you.
Whether you opt for snuggling with your cat on the couch after handing out candy or getting decked out and walking your pup through the neighborhood, Halloween is another occasion to bring your pet into the family fun. To help keep the festivities enjoyable and safe for your pets this holiday, consider the following:
1. Plan with your pet in mind
As fun as Halloween can be, it can also pose some hazards for your pet. For example, if your pet is skittish around strangers—especially those in costume—or not a fan of noise, it might be best to create a quiet space in your home during peak trick-or-treating hours. If you know your pet tends to be stressed, you can also ask your vet about calming options, or try a calming chew or diffuser to help ease the tension. Make the call or schedule your appointment well in advance so you'll be prepared when the spookiness begins.
Halloween decorations suddenly appearing around your home and yard could also cause your pet stress, so be sure to introduce them slowly to allow your pet to become accustomed to them. Your pet may be more welcoming of décor if it's actually something for them. Add some spooky touches to your home with things like a pet pumpkin bed or Halloween blanket. We're sure that your pet will also welcome any treats from a new Halloween-inspired treat jar (who doesn't want to indulge a little during the festivities). For more ideas on keeping your pet safe this Halloween, keep these 6 Halloween pet safety tips in mind.
2. Pick a great costume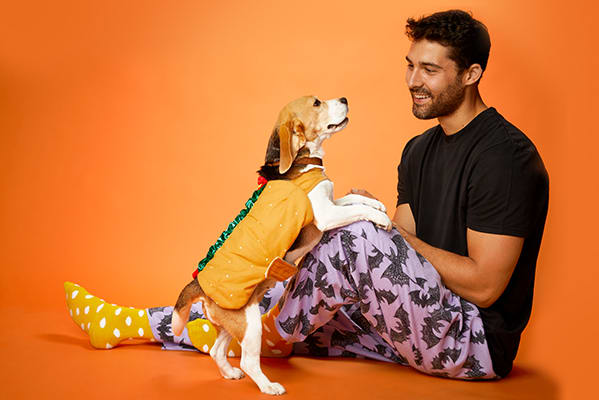 Dressing in costume is one of the best parts of Halloween, and it's a bonus when you can include your pet in the fun. Whether you're into matching family costumes or planning to go with solo ideas that allow your pet to flaunt their individuality, Petco has a dog or cat costume for almost any theme. Keep in mind when dressing your pet for Halloween that you'll want to get a costume that keeps their face clear, prevents overheating, contains no scent and that they can easily move around in. That's what makes costume classics like a taco, jack-o-lantern and shark so great: Not only are they adorable, but they're specifically built for your pet and comfortable for them to wear as well. Even if you decide to not take your pet while you make the trick-or-treat rounds, it's a fun idea to dress them up for greeting visitors who make their way to your home for their own Halloween fun.
3. Haunt the night with healthy treats
Filling a bag with free treats is definitely a major draw of Halloween—you always know which house has the "good" candy and make sure that your trick-or-treating route takes you there before they run out. This year, make your house the destination for four-legged trick-or-treaters by offering treats without artificial ingredients.*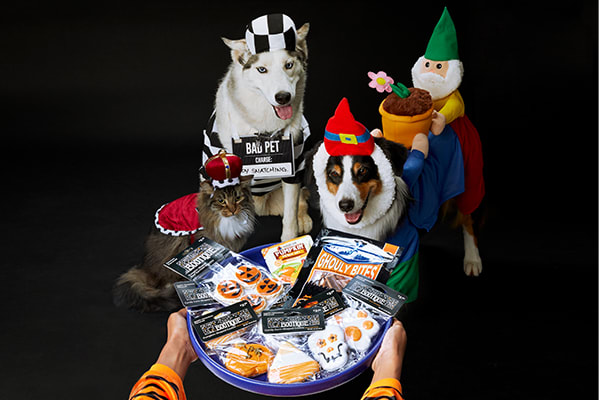 Need some ideas for dog treats to hand out this Halloween? You'll be sure to get a show of all the best tricks with these treats:
Before giving a treat to a dog you don't know, ask their pet parents if they have any sensitivities or are allowed to have a specific treat.
While Halloween is a fun time for families, keeping your family pet in mind during the holiday is just one more way to make it extra special.
*Learn more about how Petco defines artificial ingredients and our nutrition standards.