Enjoying the Holidays With Your Cat
Resource Center Menu

Enjoying the Holidays with Your Cat
It's easy to feel stressed during the holiday whirlwind—an endless amount of parties to attend, presents to buy, and sweets to bake. Squeezing holiday errands into your schedule can force you to cut down on other important things, like creating memories with your favorite feline.
Rather than feeling guilty, make time to have some fun this holiday season. To get you and your pet ready for the festivities, explore ways you can spend time together, tasty treat ideas, and a list of Christmas gifts for cats.
Ways to Spend One-on-One Time
Before blocking out every date on your calendar with holiday parties, be sure to schedule time for your cat. These special one-on-one moments don't have to be elaborate either. Whether you spend thirty minutes or a couple of hours, your feline will take pleasure in being in good company. Here are a few ways you can spend time together.
1. Put a holiday spin on brushing your cat
Routine brushing is one of the best ways to bond with your cat. You can spend a peaceful evening combing your kitty in front of the fireplace with holiday music playing in the background. Or, switch things up by watching a festive movie together. Different combs and brushes have a unique feel, so try a variety to see which your cat prefers.
2. Engage in interactive play
Use your cat's favorite feather teaser, furry mouse, or ball toy to encourage a game of chase. You can also shine a laser pointer or flashlight on the wall and watch your pet try to "catch it." Interactive play with your feline not only stimulates them mentally, but it also provides much-needed exercise. You can even pick out some fun Christmas gifts for cats.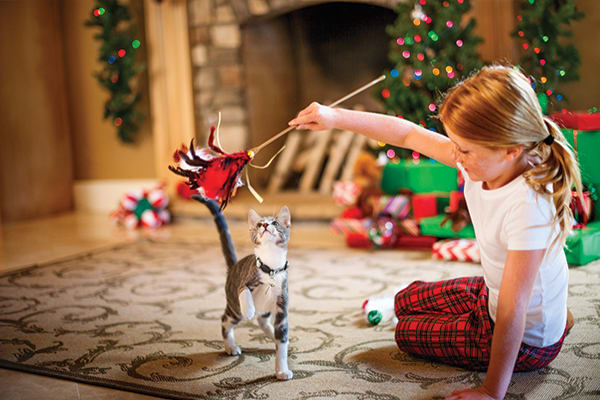 3. Teach your feline a trick that will impress guests
Spend some time teaching your cat how to fetch, catch, shake, or sit. Although cats aren't known for their interest in being trained, with repetition and rewards, you can still be successful. Start with two or three 15-minute training sessions a week. Your cat might not agree to perform, but they will love the added attention.
Festive Treat Ideas
While feasting on your turkey dinner, you can provide a small serving of cat-safe people food. Choose from blueberries, pumpkin, salmon, melons, and plain rice or pasta. A little bit of turkey is also okay but you should avoid giving your cat fat trimmings.
Be sure to limit special treats to 10% or less of your cat's diet. Some veterinarians do not recommend giving your feline any people food so be sure to consult them before making any dietary changes.
Here are a few other off-limits foods you should never feed your cat:
Chocolate
Onions
Garlic
Grapes
Meat that is still on the bone
A couple of alternatives that still allow your feline to partake in tasty holiday snacking include growing cat grass or catnip indoors. Or, if you like to bake, there are a variety of cat treat recipes available online to choose from. Tailor recipes to your companion's favorite flavors and feed them knowing your cat is eating treats sprinkled with love.
Christmas Gifts for Cats
Ancient Egyptians treated cats like royalty. Today, cats still love luxury, and the holidays are a great time to spoil your kitty with a few cat Christmas presents. Here are some gift ideas to inspire you this season.
1. Create a special place for your cat to perch or climb
It doesn't matter if you select a cat shelf on the wall or a heated perch for the windowsill, your companion will appreciate a special place to retreat while you're wrapped up in the holiday hustle.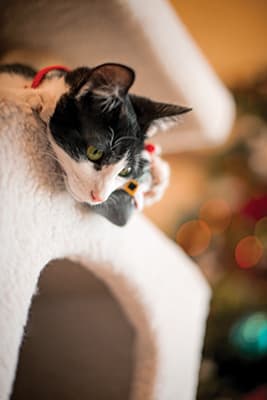 2. Splurge on a cat tower
If your feline has never had a cat tower, now is the time to get one! Your companion will seize the opportunity to be high above all the action. Not to mention, this is one sure way to keep your cat from climbing the holiday tree.
3. Invest in a new nesting spot
Consider replacing your cat's favorite bed if it looks worn or tattered. With so many different styles to choose from, you're sure to find a new favorite that will make a cozy cat Christmas present. Pets can be sentimental but by providing a familiar scent from the old bed onto the new, you'll ease your cat into their improved sleeping spot.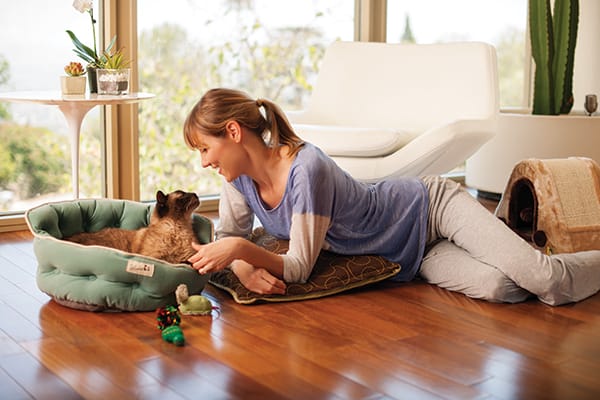 4. Upgrade their dining experience
Your cat is an important part of your family, so they deserve to dine from a high-quality food bowl. Ceramic dishes are easy to clean and come in a variety of colors and styles.
5. Supply a fresh source of drinking water
Cats should have constant access to water to stay hydrated. Consider an automatic fountain so your companion always has fresh, clean water on demand.
6. Give your cat the gift of privacy
We all crave a space of our own and cats are no exception. A covered litter box lends privacy while helping limit litter tracking. If you want to go all out with this cat Christmas present, select a litter box with an odor-control system, or one with an automatic scooper.
7. Host a cat treat and Christmas cat toys exchange
You can sort through a wide assortment of Christmas gifts for cats by inviting your fellow cat parents over and asking them to bring their companion's favorites. Keep your cat in a quiet room away from all the noise. For parting gifts, give everyone a unique pet-themed photo frame.
8. Choose what they can't resist
Let's be honest, cats love boxes. It doesn't matter the shape or whether they're big or small. For whatever reason, this is the must-have gift of the season. So instead of making your feline wait, give them their very own box that they can hide in, chase, or claw, all winter long!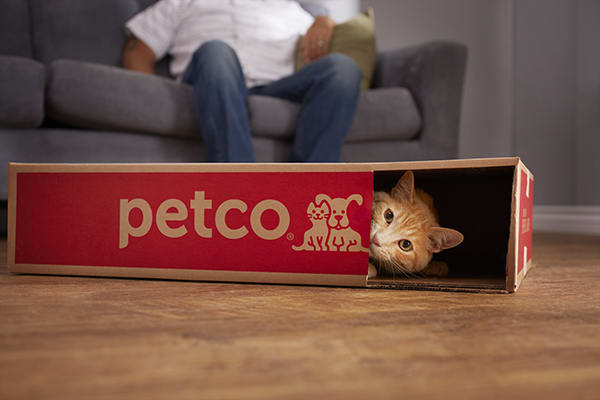 Showing your cat a little extra love during the busy holiday season isn't as difficult as you may think. By having fun together and saving time for hugs, scratches under the chin and a few kind words, you'll give your feline the gifts they cherish most. You can also surprise your companion with a new Christmas cat toy, sweater, or collar from the Petco holiday shop!