6 Halloween Pet Safety Tips
While Halloween is an anticipated time of year for humans, your dog or cat may see it in a different light. Interacting with more people, costumes, and decorations can cause unwanted stress. Between the parties and the trick-or-treating, your pet is at an increased risk of escaping or getting sick from stealing chocolate from the candy bowl.
On the other hand, if your dog or cat enjoys being out and about, you'll need to consider how to keep them safe while in crowds. To make the festivities fun and tolerable for your companion, follow our 6 Halloween pet safety tips!
1. Make your pet identifiable
Searching for your pet on Halloween is the last thing you want to do. Make sure they're on a leash if you take your cat or dog trick-or-treating. Reflective dog collars help increase your pet's visibility so you can walk through the busy Halloween crowds worry-free. Other companions like birds or small animals are best kept inside their habitat in a quiet room.
Pets should also have proper ID tags attached to their collar. This makes locating your contact information convenient for whoever finds them. If you're looking for a more permanent solution, Microchip ID tags ensure an animal shelter or veterinarian clinic know how to contact you and arrange for their safe return. Consult your veterinarian or check when Vetco is at your local Petco store to setup a microchipping appointment.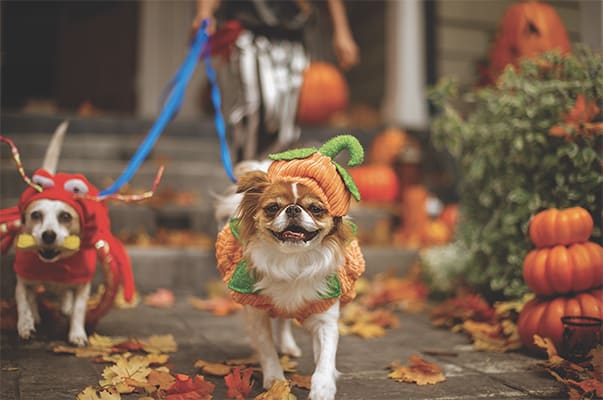 Halloween pet safety isn't only about preparing to take your cat or dog trick-or-treating. If you decide to buy a costume, make sure your pet is a fan of playing dress up. By selecting a pet costume that doesn't restrict their sight, breathing, movement, or ability to bark or meow, you'll be on the right track to making sure they enjoy dressing up. Once you have the right Halloween outfit or accessory, introduce it to your pet at a slow pace.
Have your dog or cat wear the costume in the weeks leading up to Halloween. During the trial period, take notice of any hazardous parts of the costume that might get chewed or cause choking. It's vital for you to watch your pet at all times while they're dressed up to notice signs of discomfort or displeasure right away.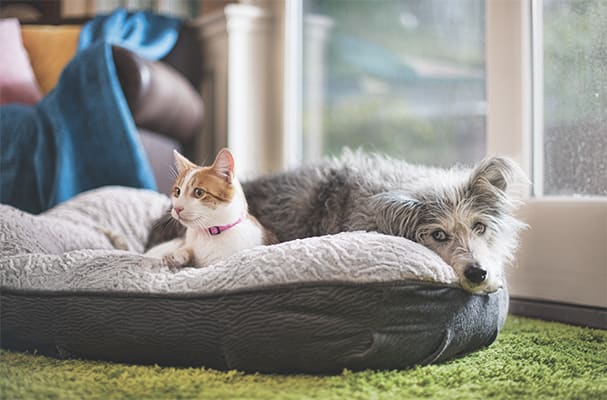 3. Create a calming environment
Safeguard your pet by putting them in an ideal setting such as a quiet room before the stream of trick-or-treaters start knocking on the door. By supplying them with food, water, toys, a litter box, bed or anything else they may need, you'll limit their interaction with strangers. This helps minimize the feeling of someone invading their territory which could lead to anxious and unpredictable behavior. Playing soft music or having the TV on also helps drown out scary sounds.
4. Keep sweet treats out of reach
Many pet parents wonder, "Can dogs eat candy?" Our advice—don't share any Halloween candy, cupcakes or other sweets with your pets. Chocolate can be deadly and even small amounts can cause vomiting and diarrhea. Xylitol, the sweetener found in many sugar-free treats, is also toxic to some pets. Other types of candy (and the wrappers) can cause choking or damage your pet's teeth or digestive tract.
There is no nutritional value in sugary treats for your pet, so avoid the temptation to share. You should also teach children to keep candy out of reach. Lastly, stay prepared with your veterinarian's number or the ASPCA Animal Poison Control Center's number (1-888-426-4435) to know what to do if your dog eats chocolate or any other sweets. Keep in mind if you do contact the ASPCA Animal Poison Control Center, there may be a fee for the call.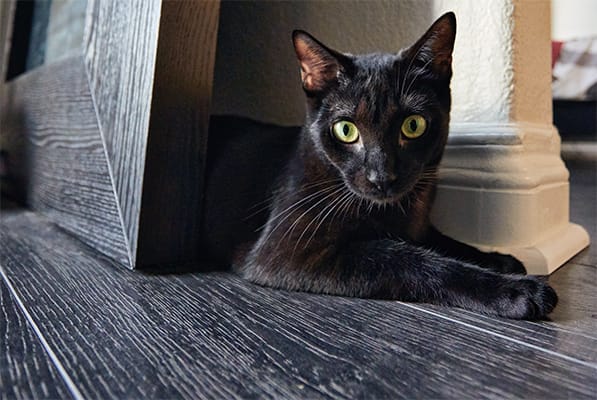 5. Keep black cats close
Everyone loves a good laugh and Halloween is the prime opportunity for pranks. If you have a black cat or even a dark gray one, keep close tabs on them during the days and weeks leading up to the festivities. It's best to keep them indoors at all times to limit your pet being the victim of any mischief.
6. Decorate with your pet in mind
Exercise caution when decorating your house with spooky creatures and jack-o-lanterns that are easy to knock over. Other decorations like fake cobwebs can entangle your pet while lights with electrical cords present electrocution hazards.
Keep small items such as plastic spiders and fake eyeballs away from your pet to prevent any choking risks. Many decorations that amuse us as humans may have negative effects on your pet, so be sensitive to their reactions.
Now that you have our top Halloween pet safety tips, you and your companion can get ready for the festivities. Explore the Petco Halloween Collection and find bright-colored toys, funny pet costumes, accessories, and whatever else you may need!