Keep the Frights Fun with These 6 Halloween Pet Safety Tips
Resource Center Menu
Keep the Frights Fun with These 6 Halloween Pet Safety Tips

Many of us look forward to celebrating Halloween, especially when our pets get to join in on the fun. However, interacting with more people (especially those in costumes), decorations, off-limit candy bowls and an overall change in routine can cause your pet unwanted stress.
To help keep the festivities fun (or at least tolerable) and your pet healthy and happy, follow these Halloween pet safety tips.
1. Prowl the night safely
Searching for your pet is the last thing you'll want to do on Halloween. If your dog or cat will be heading outside with you, keep them on their leash and keep their collars on even inside just in case they escape when you or a guest opens the door for trick-or-treaters. Reflective collars, harnesses and leashes help increase your pet's visibility so you can walk through the busy Halloween crowds worry-free. Companions like reptiles, birds and other small pets are best kept inside their habitat in a quiet room.
Pets not contained by a habitat should have proper ID tags attached to their collars. This makes locating your contact information convenient for anyone who finds your pet. If you're looking for a more permanent solution, microchip IDs ensure an animal shelter or veterinary clinic will know how to contact you and arrange for your pet's safe return. Consult your veterinarian or check for a Vetco clinic to set up a microchipping appointment.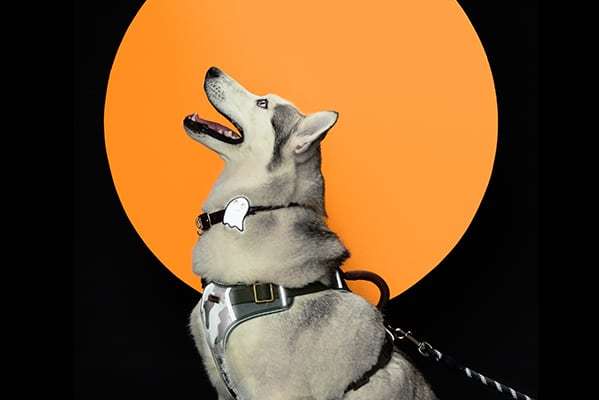 If your pet does become lost on Halloween, or any other time, Petco Love Lost is an online service that uses facial recognition software to search pets nationwide.
Halloween pet safety isn't only about preparing to take your cat or dog trick-or-treating. If you decide to buy a costume, make sure your pet is a fan of playing dress-up. By selecting a pet costume that doesn't restrict their sight, breathing, movement or ability to bark, meow or wheek, you'll be on the right track to making sure they enjoy dressing up. Once you have the right Halloween outfit or accessory, introduce it to your pet at a slow pace.
Have your dog, cat, reptile or small animal wear the costume in the weeks leading up to Halloween. If you've decided to don matching costumes, make sure your pet gets used to seeing you in your get-up as well. During the trial period, take notice of any hazardous parts of the costume that could get chewed or cause choking. It's vital for you to watch your pet at all times while they're dressed up to notice signs of discomfort or displeasure right away so you can get them back to their usual happy selves.
3. Train for the occasion
Brushing up on a few training cues can also help you and your dog feel more prepared to enjoy the evening's festivities. By practicing ahead of time, you can build confidence in your pet's ability to stay safe in certain situations. A few behaviors Petco trainers recommend include:
Sit and stay. By having your dog sit and stay when trick-or-treaters come knocking, you reduce the risk of them darting out the door while you hand out candy.
Go to your "place." Asking your dog to go to a designated safe space, like their crate or bed can help them to settle when the doorbell rings unexpectedly.
Leave it. With lots of temptations around—think candy falling to the ground or a treat bowl accidently left at nose level—having your dog be able to leave a potentially dangerous item alone when asked is essential to their safety.
Loose-leash walking. If you're planning on bringing your dog along the trick-or-treating route with your family, having them politely walk at your side instead of pulling you forward will make the night more enjoyable for everyone. The kids will already be urging you to go fast enough.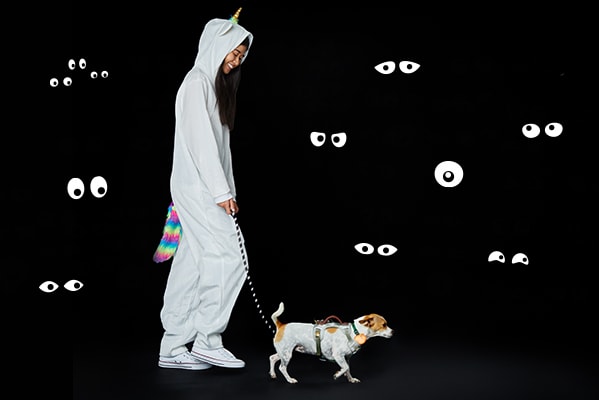 If you notice your pup needing a little support in nailing the cues above, consider a dog training course. An online or in-person puppy class will introduce your dog to all of the basics while they're young, while older dogs can benefit from a refresher adult course or private lessons to address specific needs.
4. Create a calming environment
If you know your pet will become stressed by the festivities, let them sit this one out. Safeguard your pet's wellbeing by putting them in a secure setting such as a quiet room with all of their favorite comfy items before the stream of trick-or-treaters starts knocking on the door. By supplying them with food, water, toys, a litter box (for cats), bed or anything else they may need, you'll limit their interaction with strangers and other stressors. This helps minimize the feeling of someone invading their territory, which could lead to anxious and unpredictable behavior. You can try practicing some of the new experiences that may happen on Halloween evening to get them used to the change in their routine and reduce the surprises.
For extra-anxious pets, playing relaxing music or having the TV on may help drown out scary sounds. If your dog or cat has a current prescription for anxiety medication, be sure to have it filled ahead of time so you have it on hand. If your pet doesn't have a prescription but you think they might benefit from one, now's the time to talk to your vet so you'll be prepared when the Halloween excitement begins.
You might also want to put a calming diffuser in their separate room to see if that helps ease your pet's mind.
While it may feel sad to put your pet in another room, you can make up for it with a Halloween-inspired, long-lasting chew , or just some extra cuddles before and after the holiday hubbub.
5. Keep sweet treats out of reach
Our vets' advice—don't share any Halloween candy, cupcakes or other sweets with your pets. Chocolate can be deadly in certain amounts and potencies and even small amounts can cause vomiting and diarrhea. Xylitol, the sweetener found in many sugar-free treats, is also toxic to some pets. Other types of candy (and their wrappers) can cause choking or damage your pet's teeth or digestive tract.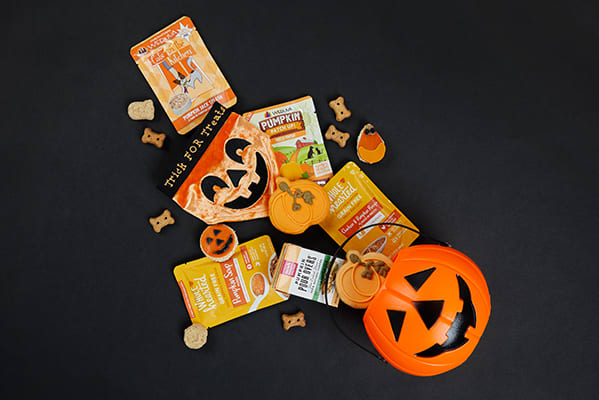 There is no nutritional value in sugary treats, so avoid the temptation to share. You should also teach children to keep candy out of reach. Lastly, stay prepared with your veterinarian's number, an after-hours emergency clinic's number and the ASPCA Animal Poison Control Center's number (888-426-4435) for advice if your dog eats chocolate or any other sweets. Keep in mind that if you do contact the ASPCA Animal Poison Control Center there may be a fee for the call.
To safely share a special holiday-themed treat with your pet, try giving your dog a pumpkin cinnamon Boo Bar or adding a festive pumpkin topper to your cat's normal food. If you're more into DIY options, this is an easy pumpkin-flavored dog treat recipe. Just remember, treats shouldn't make up more than 10% of your pet's diet.
6. Decorate with your pet in mind
Exercise caution when decorating your house with spooky creatures and jack-o-lanterns that are easy to knock over. Other decorations, like fake cobwebs, can entangle your pet, while lights with electrical cords present electrocution hazards.
Keep small items such as plastic spiders and fake eyeballs away from your pet to prevent any choking risks. Many decorations that amuse us as humans may have negative effects on your pet, so be sensitive to their reactions.
Now that you have our top Halloween pet safety tips, you and your companion can get ready for the festivities. Explore the Petco Halloween Collection and find bright-colored toys, funny pet costumes, accessories and whatever else you may need!