Pet Boarding vs. Pet Sitting: Which Option is Right for You?
Resource Center Menu

Boarding Your Dog or Hiring a Sitter: Which Option is Right for You?
As the number of households with pets continues to increase, there is a growth in pet services such as pet boarding and pet sitting. These services help pet parents plan for their animal's care while they are away from home; help get pet's activity and exercise during the day; or secure care and coverage in the event of an emergency or last-minute change of plans.

If you need to travel and leave your pet at home, you may be considering hiring a pet sitter or taking your dog to a boarding facility while you're away.

With an overwhelming number of choices available for both services, it's important to understand the differences between pet sitting and pet boarding in order to decide which is the right option for you and your family.
Pet sitting vs. pet boarding: What's the difference?
The differences between pet boarding facilities and hiring a pet sitter generally comes down to where your pet will stay while you're away from home.

"Most people are familiar with boarding kennels. These are businesses that provide boarding for pets while you are away," says Dr. Ruth MacPete, a veterinary correspondent and author of the children's book "Lisette the Vet." "Pet sitters, on the other hand, come to your house at scheduled times to care for your pet. The main difference is where your pet stays while you are away, either at a boarding facility or at home."

Some pet sitters will welcome your pets into their own homes or stay overnight at your home while you are away. Pet sitters can work as part of a larger pet-sitting company or as independent proprietors of their own service-based businesses.

The range of boarding facilities also varies, and pet parents have a wide range of choices. "In recent years, the number of pet boarding facilities has grown exponentially in the United States," says MacPete. "There are kennels, pet hotels and some veterinary hospitals that also provide boarding."
When to consider boarding your dog
If you are thinking about taking your pet to a boarding facility, there are some things to consider.
Does your dog get along with other animals and people?
Is your dog anxious, and do they suffer from anxiety or high levels of stress when away from home?
Does your dog have a medical condition that can make exposure to other animals dangerous?
If your dog does not get along with people or animals, suffers from anxiety, or has a medical condition that could be exacerbated by exposure to other animals, boarding is probably not the right option.

If your pet is healthy, friendly and generally well-behaved, boarding may be a good option. Some veterinary hospitals even will board pets with medical conditions, and some veterinary technicians also pet sit.

When choosing a boarding facility for your dog, it's important to do your research. "Boarding facilities should be bonded and insured with trained staff," says Victoria Schade, a Pennsylvania-based dog trainer and the author of "Life on the Leash." "The area where pets stay should be clean and comfortable, and the facility should allow for frequent outdoor exercise for dogs."

Pet parents should also visit and tour the boarding facility prior to making arrangements for their pet, says MacPete. "Ask lots of questions. How often do the dogs get walked? Do they get play time? If so, how long and with other dogs? Can you bring your own toys, blankets, food?"

Additionally, pet parents should be aware that most boarding facilities require that pets have up-to-date vaccinations, which should be administered at least two weeks prior to your pet's stay. "This is important for your pet and other pets' well-being. Vaccinations are an essential way to protect your pet from transmissible diseases," says MacPete.
When to consider getting a dog sitter
If pet parents feel more comfortable knowing that their dog will be able to stay at home while they're away, a pet-sitting service may be the best option. Pet sitting may also be a better fit for highly anxious pets, animals who don't get along with other animals or people, or for senior dogs or those with disabilities who may require a little more personal attention and care.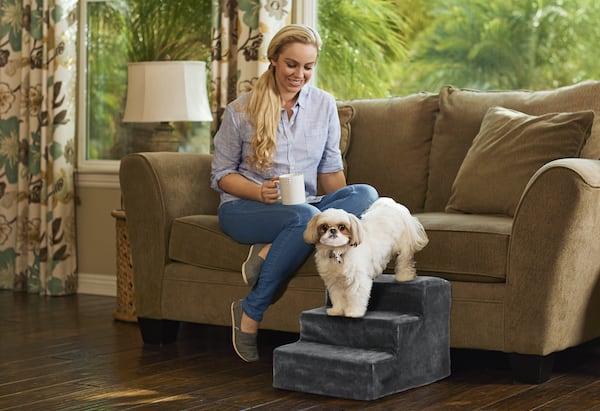 When choosing a pet sitter, make sure to find someone you trust—not only with your dog, but with your home as well. Responsible and reliable friends and family members, who know your dog and are adept at pet care, can be good options if they are willing to watch your pets when you're away. Otherwise, finding a professional pet sitter or pet-sitting service is the way to go.

"Recommendations from friends will help pet parents pick a sitter that's responsible and reliable," says Schade. "A quality pet sitting service will have a pre-planning session at your home prior to your departure date to learn the ins and outs of a pet's routine, as well as household specifics like locks, alarms and walking routes."

Even if a pet sitter comes to your house in advance and offers a planning session, it's important to leave detailed notes and information about your pet's food, medications and exercise routines for your sitter.

Providing emergency contact information is also a good idea, so that pet sitters know what to do in the event of an accident. "I always recommend you leave your pet sitter with your number, an emergency contact (who is allowed to make veterinary decisions on your behalf), and your veterinarian's and local emergency clinic's number," says MacPete. "If you feel comfortable authorizing your pet sitter to make medical decisions, be sure to tell your veterinarian and give them the pet sitter's information."
Pet sitting and boarding checklists for dogs
If you want your pet's sitting or boarding experience to go smoothly, use this checklist to give you peace of mind and ensure that you don't miss anything important in preparation of your trip away from home.
Dog Boarding and Dog Sitting Checklist:
Certificates verifying your dog's vaccines and a clean bill of health (most boarding facilities require this information)
Your emergency contact information (including the phone number and address of your travel destination)
Emergency contact information for someone you trust with your pet who lives nearby
Your veterinarian's contact information during regular hours
Your veterinarian's emergency contact information for after-hours service
Your dog's medication and dosage instructions
Feeding instructions for your dog (including their food type, feeding schedule and portion size)
Leash and collar with pet I.D. tag (include an extra pet I.D. tag just in case)
A list of your dog's favorite activities
Your dog's favorite toys and bed
Current photos of your dog in case they get lost