Dog Park Etiquette: What to Know Before Going to a Dog Park Near You
Resource Center Menu

Dog Park Etiquette: What to Know Before Going to a Dog Park Near You
Taking a trip to a local dog park with your canine companion is one of many ways for your dog to socialize and get some physical exercise. But pet parents need to understand dog park rules and etiquette before taking their pups on an outing.
"Pet parents should understand that dog parks are wonderful in theory but not always in execution," says Victoria Schade, a Pennsylvania-based dog trainer and author of "Life on the Leash." They're not a fit for every dog, especially those that are undersocialized or inappropriate with other dogs."
If you're planning a trip to the dog park, make sure to follow along with these guidelines to have a safe and enjoyable experience.
Find the right dog park
Not all dog parks are created equal, and pet parents should understand the differences and what to expect at a local park before bringing their dogs.
Although many dog parks allow dogs to run freely, there are differences in how they are structured. Some have fencing, while others do not. Some dog parks separate dogs based on size, and others allow dogs of all sizes to play together. Some dog parks have grass, and others have wood chips, dirt or gravel as a base.
When choosing a dog park, make sure to pick one where you and your pet feel comfortable and safe. Look for a dog park that has complete and maintained fencing, play areas for different sizes of dogs along with a stated outline of guidelines. Having a structured and posted plan for pet parents and pet interactions will allow for all attendees to know what behavior and rules are to be followed.
Before entering a dog park with your dog, scout the location ahead of time and make sure that the area is secure and that dogs won't be able to escape. Observe the park for any potential hazards, such as debris. The entry should have a smaller, separate area where you can safely remove your dog's leash and where dogs are able to initially meet on their own side of the fence.
It's also a good idea to read reviews of the dog park from other local pet parents to get a sense of whether the park will be a good fit for your pet.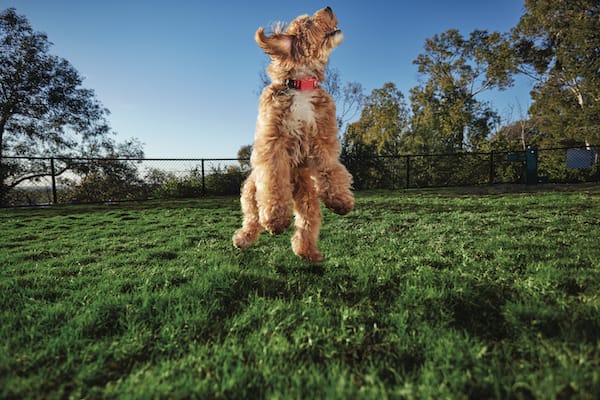 Dog park etiquette
To keep your dog safe and ensure that your pup has a good time at the park, it's important to adhere to the following tips and advice:
Make sure your dog is properly socialized. If you're planning to go to the dog park and teach your dog how to socialize with other dogs, think again. You should bring your dog to the park only once you know they will interact in a positive way with other canines.
"Dog parks aren't a place to learn socialization skills," says Schade. "They're for dogs that have a history of positive and friendly dog-dog interactions."
Start early with socialization by taking your pup to supervised playtimes and training classes to build their confidence and comfort interacting with other dogs and people.
Pay attention to your dog at all times. To avoid any potential mishaps, accidents or escalations, you must watch your dogs at all times. "Awareness and control are important to safety," says Dr. Jim Carlson, owner of Riverside Animal Clinic near Chicago. "Keeping a watchful eye on your dog is necessary, so put your phone away during the trip." Your dog may also ask for your "support" by coming by to do check-ins: Each time your dog comes to you, recognize it by petting them or providing other positive reinforcement.
Learn to understand dog body language. As a pet parent, it's crucial that you recognize when situations are about to get out of hand. Learning and understanding dog body language before you go to the park can help prevent tiffs or unwanted behaviors at the park. And remember, it's important to know not only your own dog's typical behavior, but that of other dogs as well.
"Pet parents should be able to tell the difference between appropriate play and when interactions are tipping over into inappropriate," says Schade. "Understanding body language will also help them know if their dog is enjoying the experience and when it's time to hit the road."
Have a strong recall. If your dog doesn't come when called, the dog park is not the best place to play quite yet. It's essential for dog parents to work on their dog's recall skills prior to entering a dog park. "Your dog should have a firm grasp of coming when called thanks to a ton of practice sessions with high rewards in and around your home in case you need to preempt a dangerous situation," says Schade.
Pick up after your dog. As a responsible pet parent, it's important to respect your fellow dog parents and your local park by cleaning up after your dog. Bring poop bags and keep an eye on your dog so that you know when they relieve themselves.
"Pet parents should always, always, always clean up after their dogs at the dog park," says Schade. "Bringing your pup to a public space means honoring the rules, and that includes keeping the area clean."
Dog park safety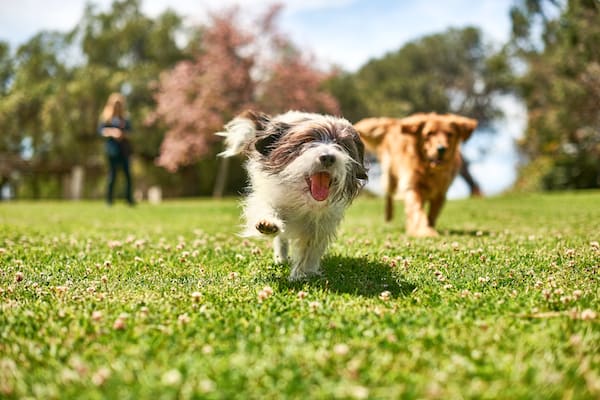 While you're at the dog park, it's vital to pay attention to your dog at all times to keep them and other dogs safe. This may mean that you want to bring one dog per person so you can properly look after your pet and other dogs around them. Ensure that you are monitoring your dog and other dogs for over-stimulation, excitement or pack-like behavior that can lead to aggressive behaviors, ensuring fair play, and understanding how to handle a dog fight if one breaks out unexpectedly.

Follow these dog park safety tips to keep pets protected:

Ensure vaccinations are up to date. Along with waiting until your new puppy is fully vaccinated before bringing them into high-traffic public areas with other dogs, keeping up with boosters and yearly vaccines will not only help keep your pet safe, but those it comes into contact with as well.
Have your dog on flea & tick prevention. With potentially lots of vegetation and lot of animals coming and going, a dog park can be the perfect location for pests to thrive. Ensure your pet's pest prevention regimen is ongoing to keep them from bringing home any unwanted guests from their day and the park.

Keep small and toy breeds separated from larger dogs. The dog park is an unpredictable place, and even if your small dog gets along with larger dogs, they could be more susceptible to injury if not separated.

"Look for a dog park that separates dogs based on size so very large animals have a different zone than small dogs to avoid injury or play that's too rough," says Carlson.

Take plenty of breaks. Your dog may not know when to take a rest or be able to get away from a very persistent playmate, so pet parents should intercede and help their dogs take small breaks to get water and relax. "Take frequent breaks during your time at the park and encourage your dog to chill out with you," says Schade. "Sometimes dogs don't know when to say 'when,' and that can be one of the factors of play becoming dicey."

Watch for signs of stress. Pet parents should monitor their dogs at all times and keep an eye out for signs of stress, as this can lead to aggressive behaviors. If stress signals are missed or ignored, two the last warning signs to look for before a potential bite are body language and vocalization. "Watch for a stiffened stance, locked eyes and a deep, low warning growl," says Carlson. "Know how to remove your pet safely from a situation like that before a fight erupts."

Be extra cautious during dog fights. If a fight does break out between dogs, pet parents should remain calm and be extra cautious about interceding and breaking it up. "People can be seriously injured by trying to step into the middle of a dog fight," says Carlson. He recommends first trying to make a loud noise to distract dogs from the fight.

If you must break up a dog fight, never pull the dog from their collar or near their head, which puts you at the most risk of being bit. Instead, pick them up from their knee area and raise their hind end until the fighting ends. Then, keeping their hind raised, turn them and move them away from the other dogs.
Dog park checklist
Being prepared for a trip to the dog park will help keep your pet happy and safe. Pet parents should pack the following items when heading out to their local dog park.

Water. Although many dog parks have fountains or access to water, it's always a good idea to bring a bottle of your own in the event that a fountain is broken or access to water is limited.

Portable bowls. If your dog park does not have water bowls, bring a portable one of your own so that your dog can drink easily during your trip. Bringing your own bowl also ensures the bowl is clean and sanitized and can help prevent exposure to certain infectious diseases.

Poop bags. Cleaning up after your dog is essential in dog parks. Bring your own poop bags to make sure you can dispose of waste properly.

First aid kit. Injuries can happen at any time, so having a small first aid kit handy is a good idea. "Keeping a first aid kit in your car or bag is important," says Carlson. "Dogs can be injured on fencing, by things left behind or by other dogs." Ask your veterinarian or pet store employee what products will be essential for your kit. And, always be sure to keep your veterinarian's information within the kit.

A towel and pet wipes. "Dog parks range from dusty to muddy and all that mess will end up in your car," says Schade. Having a towel and pet wipes handy can help keep your dog clean after a fun day of play.

What is your pet's favorite dog park? Post a photo of them enjoying themselves on social media and tag us using @Petco!