"Select the Right Crate for Your Dog: Wire, Plastic, Wood, and More"
Resource Center Menu

Picking the Right Type and Size Crate for Your Dog
Dogs are den animals and enjoy having a confined space they can retreat to. Aside from the emotional and mental benefits, crates make housetraining easier and protect your dog when you're not there to supervise. They can also solve behavioral problems like chewing and barking.
As a new pet parent, it's difficult to know everything to look out for when choosing an appropriate crate. To help, we're breaking down the different materials, how big a dog crate should be, and the best size for your dog.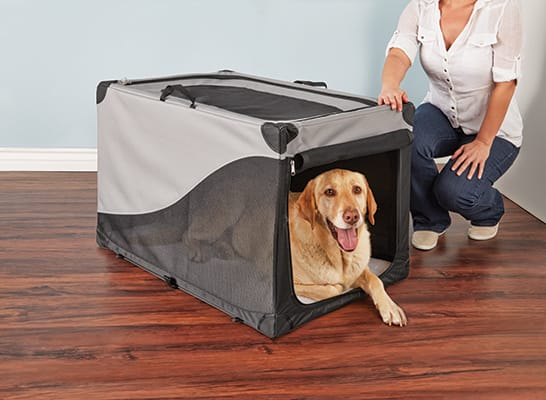 4 Crate Types and When to Use Them
Once you start shopping for your pet's containment you'll come across four common crate types—wire, plastic, soft-sided, and wooden dog crates.
1. Wire crates are collapsible for easy transport and storage. This type of containment supplies good airflow for pets with long coats or those who live in warmer climates.
2. Plastic crates feature a sturdy and durable material. This is ideal for families who travel often with some meeting airline requirements.
3. Soft-sided crates work for small breed dogs or puppies accustomed to being in a crate. The lightweight and flexible materials make this containment easy to setup and teardown.
4. Wooden crates are for the style-conscious family. They are available in a variety of designs that you can integrate into your home décor for a permanent containment solution.
Are You Wondering: "What Size Crate for My Dog?"
Because dogs come in all shapes and sizes, containment is available in a wide variety of dimensions. When figuring out how large of a dog crate you should get, choose one that has room for your dog to stand up, turn around, stretch out, and lie down. Any more space than that will encourage your pet to sleep on one side of their crate and relieve themselves on the other.
If you're selecting a crate for a puppy, think ahead. Instead of choosing containment that suits your pet's current size, opt for a crate they can grow into. Make sure this type of containment comes with movable crate dividers to provide the right amount of space throughout your puppy's growth stages. You can also limit their crate size by placing a cardboard box on one side until they grow.
Many crates are sold with suggested weight ranges but you'll want to factor in your dog's unique physical characteristics as well as their weight. A long-legged Whippet might weigh the same as a plump, short-legged Pembroke Welsh Corgi, but the two breeds will have different needs when it comes to choosing an appropriate crate where they can stretch out to sleep. As you shop, consider the height and length of the crates to choose one that provides the most comfort for your pet.
Making Dog Crates Desirable
Once you settle on the best size crate for your dog, make the containment inviting and comfortable. Place the crate in your family room and outfit it with a soft blanket, a cozy bed or a soft crate pad. Your dog will also enjoy having a new toy in his crate and a crate cover for added security.
At home
If you're choosing a permanent crate solution for your home, there are some things to consider. You might want to select containment that is heavy-duty or one that matches your décor. While you may come across a ton of wire crates, you can also find a plastic or wooden crate that supplies ample ventilation and space for your dog. When deciding where to place the crate, consider a room your family uses often like the living room, a bedroom, or both.
On the road
If you need a crate that is travel-worthy for visits to the veterinarian or trips to the beach, choose portable containment like a soft-sided pet carrier. According to the American Veterinary Medical Association, travel carriers should have ventilation on opposite sides and be large enough for your dog to stand, turn around, and lie down. An anchored travel carrier is also the safest way for your pet to travel by car.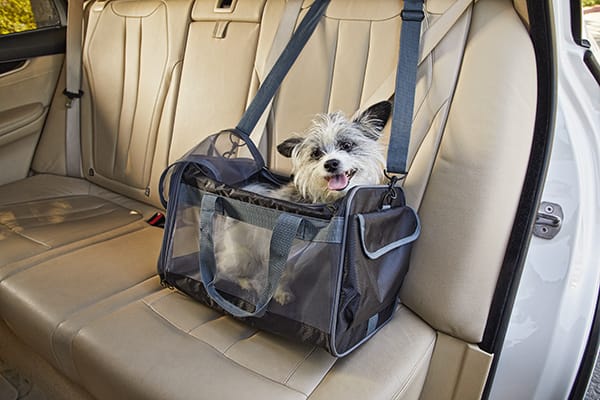 Crates are Great for All Life Stages
It's common to consider containment options when you have a new puppy. But what about pet parents who adopt adult dogs? No matter your pet's life stage, containment is still useful. When you have a full house a crate can help calm your pet's nerves by providing a space they can retreat to. Containment even comes in handy when you're not home to supervise and are a great housetraining tool for potty training a puppy.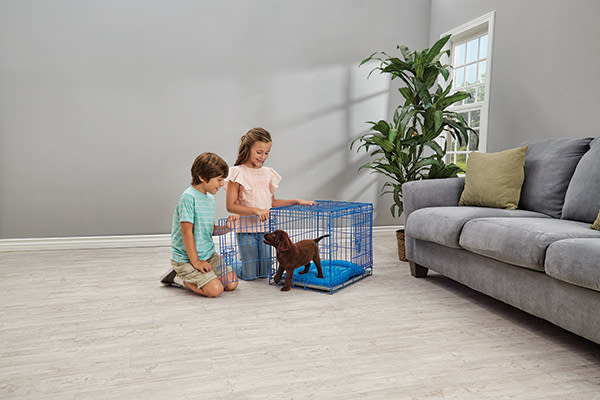 Crate training tips
Puppies under six months of age shouldn't remain in their crates longer than three or four hours. When housetraining, keep time increments short since they don't know how to control their bladders. Adult dogs that are house trained may know how to wait to relieve themselves, but they should never stay in containment longer than a few hours.
For the best results, make having a crate in your home a pleasant experience for your dog. Don't use containment as a place to punish your pet or they will come to fear it and refuse to go in. Be sure to introduce your puppy or dog to a new crate at a gradual pace, and make it a rewarding experience!