Finding the Best Dog Bed for Your Pup
Resource Center Menu

Finding the Best Dog Bed for Your Pup
Did you know that, on average, dogs sleep 12-14 hours a day? With a sleep habit like that, even if they snooze in bed with you at night, it's important they also have a dedicated bed they can make their own. Every member of the family deserves a comfortable place to sleep – including the furry ones!
Much like a crate, a dog bed can provide a safe place for your pup to head to when in need of security, comfort, or a cozy nap. Beds can also help soothe canines if they are feeling anxious or overwhelmed. By providing your pup the best dog bed possible, you are giving them their own space to get away.
Best Dog Beds for Different Situations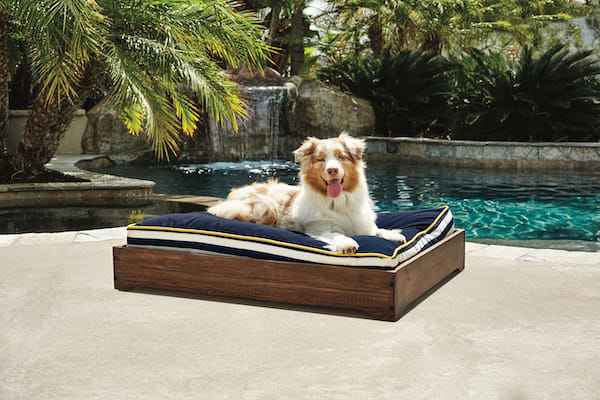 All dogs are unique and have specific sleeping needs. Whether you have a Chihuahua or Great Dane, there's a dog bed available for your special companion. Luckily for pet parents and pooches, there are plenty of options to choose from!
Outdoor dog beds are sometimes designed for both indoor and outdoor use, but their main purpose is to provide your pet with a comfy spot outside. With weather resistant covers and materials, these snoozing areas can hold up to dew, rain, and other elements.
Cooling or heated beds for dogs are temperature-controlled beds which are ideal for extreme climate conditions. Heated beds and warming pads often need to be plugged-in to warm up your dog, however, there are self-heated dog beds for when your pet may want to lie somewhere that is not near an outlet. They can also be useful for older dogs that have joint issues or arthritis by helping increase circulation. Cooling beds, on the other hand, are electricity-free and can be great additions to your pet's normal sleeping location during the warmer months.
Orthopedic dog beds are designed to evenly support and comfort your dog's body, by limiting the amount of pressure on any one joint or body part. These beds often include memory foam which can contour to the shape of your dog and distribute their weight for comfort. This is a feature to consider if you're shopping for an injured, recovering, or senior dog.
Bolster beds feature raised edges that can be firm or soft. They are ideal for dogs that prefer snuggling against something or tend to curl up tight when they sleep.
Luxury dog beds offer comfort with a touch of class. They are designed to fit in with your own décor, and are available in a range of options including ultra-plush pillows, faux leather sofas, and more. These provide your pet a place to rest their paws separate from your own lounging spot.
Covered dog beds come with hoods or partial overlays on them. They provide a warm spot for your pet that caters to your dog's natural instincts to den, which offers a sense of security for dogs who are cold, anxious, or have a natural instinct to burrow.
Chew-proof beds are manufactured with reinforced materials to hold up against your pup's need to gnaw. These beds are a great option for pet parents of puppies who are teething and more prone to chewing than others.
Pillow beds are thick, plush beds made with a flat, pillow-like design. They have a wide surface with no hard sides or bolster support. These are the best dog beds for large dogs or those that to love to stretch out for nap time.
Crate mats are similar in look to pillow beds but are lower profile and lightweight. They are made to help your pet's crate more inviting while crate training them.
Choosing the Best Dog Bed for Your Pet
Dog beds come in all shapes and sizes. When deciding on a bed, consider your pet's age, where you live (colder climates require warmer beds), and their sleeping preferences. And don't worry about finding the fanciest design, to be the best dog bed, your pet's resting place only has to suit their needs.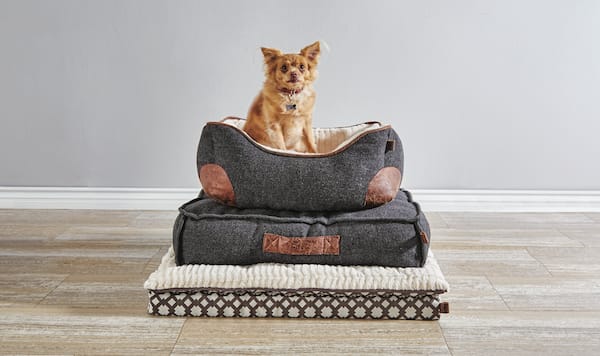 Some factors to consider when purchasing a dog bed include:
The size of your dog: If you adopt a full-grown dog, you'll have an easy time choosing the correct size bed for them. You want to be sure your dog has enough space to circle in their bed and stretch out. If you adopt a puppy, you can purchase a larger bed with their assumed full size in mind. To figure out which size dog bed is best for your four-legged pal, measure them from nose to tail while they're sleeping and add a few inches.
Your dog's sleeping habits: The shape of the bed will depend on your pup's sleeping habits. Maybe your dog enjoys curling up and snuggling the night away. Or perhaps you have a canine who'd rather stretch out for a good night's rest. For either sleeping type, we offer bed shapes that cater to their unique sleeping needs. Oval and round designs are the best dog beds for small dogs that like to nap curled up. The high sides provide support and security for pups who like to lean against something familiar. Many rectangle and square dog beds, on the other hand, give your canine companion the freedom to doze off however they like. These bed shapes can be for both small and large dogs who like to spread out and lounge.
Where your dog wants to sleep: Does your dog like to snooze outdoors? Are you trying to have them nap in their crate? Will they be dozing off in front of the TV with the rest of the family? These questions will help you determine if a fluffy pillow bed, an outdoor bed, a mat, or a different type of bed is best suited for the location.
When It's Time for a New Dog Bed
Your dog may love the bed they've had for a while, but how do you know when it's time for a replacement? A good rule of thumb is to switch it out every six months if your dog uses their bed often. Additionally, you should consider getting a new dog bed if you notice:
Rips and tears. If the bed is ripping and tearing from use and washing, it's time to replace it. You wouldn't want your dog to accidentally swallow the material.
Your dog grew! If you chose to get a small bed when your dog was a puppy, there's a good chance they've since gotten bigger. If you notice your dog hanging over the edges, it's time for a new one.
Your dog is getting older. Senior dogs can have a harder time getting out of bed. Your dog may need a sleeping option that is lower to the ground and more supportive to enjoy their golden years.
How to Train a Dog to Sleep in Their Bed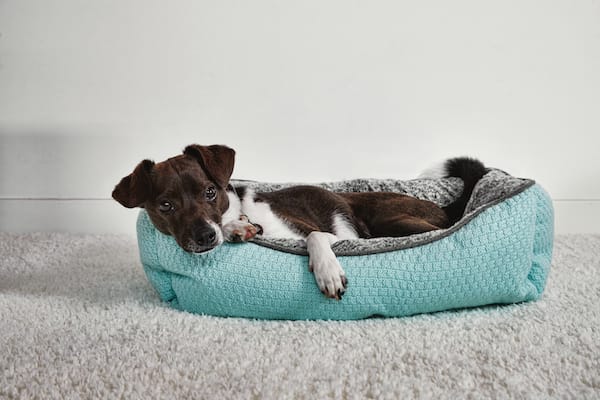 Dogs are creatures of habit and prefer items that are familiar. Follow these tips to help your dog use their new bed:
Put the new bed where you want them to use it, or as close to their favorite spot as possible.
A gentle pat, your usual commands, and pleasant voice will help to reassure your dog that this new bed is a welcome addition.
Provide a known scent like a well-used toy or blanket on a new bed to build trust.
Place treats on the new bed for your dog to discover. Positive reinforcement is key.
Every dog has a favorite place to cuddle up for a snooze whether it's indoors or outdoors, in a crate or in the middle of your floor, so finding the right bed for their habits is key. Browse a variety of the best dog beds to find the right option for your canine's preferences, needs, and style.