Why is Pet Obesity a Problem?
Resource Center Menu
Why is Pet Obesity a Problem?

When you welcome a pet into your home, their needs become your responsibility. Feeding, playing, grooming, training, cuddling and loving—they need it all for a healthy life. This is especially true when it comes to feeding and exercise. After all, "proper, age-appropriate activity, along with feeding an appropriate, nutritious diet, will help to prevent detrimental weight issues," says American Kennel Club chief veterinary officer Dr. Jerry Klein.
Depending on the age and size of your pet, even a few extra pounds can have a negative impact on their overall health and wellness and keep them from living their happiest, healthiest life. "Obesity is one of the most common canine health issues in this country," says Dr. Klein. In fact, it's likely that more than 50% of pets are overweight.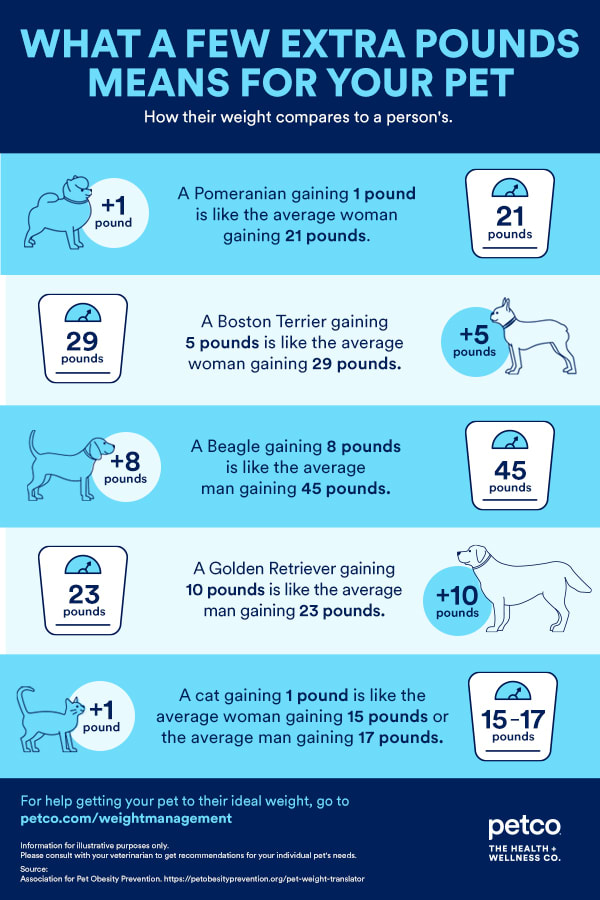 At the end of the day, although it can be difficult to resist those loving eyes begging you for table scraps and extra treats, it's in our pet's best interest to follow dietary guidelines. Here are a few "weighty" issues to keep in mind.
Pet health conditions associated with weight
Pet parents may know that extra weight can cause health issues for their dogs and cats, but exactly what those issues are—and just how serious they can become—might be a mystery.
Obesity can limit your pet's quality of life and shorten it, too. Obese cats, for example, are twice as likely to die in middle age (between ages 6 and 12) than their healthy-weight counterparts. And, according to research from the WALTHAM Centre for Pet Nutrition (Leicestershire, England) and the University of Liverpool (Liverpool, England), overweight dogs have a life span up to two and a half years shorter when compared to dogs with a healthy body weight.

Study co-author and University of Liverpool professor of small animal medicine Alex German said in a statement, "Owners are often unaware that their dog is overweight, and many may not realize the impact that it can have on health. What they may not know is that, if their beloved pet is too heavy, they are more likely to suffer from other problems such as joint disease, breathing issues and certain types of cancer, as well as having a poorer quality of life. These health and well-being issues can significantly impact how long they live." Similar findings are true for overweight or obese cats, who are at higher risk for health issues such as diabetes, skin and coat concerns and joint or muscle injuries.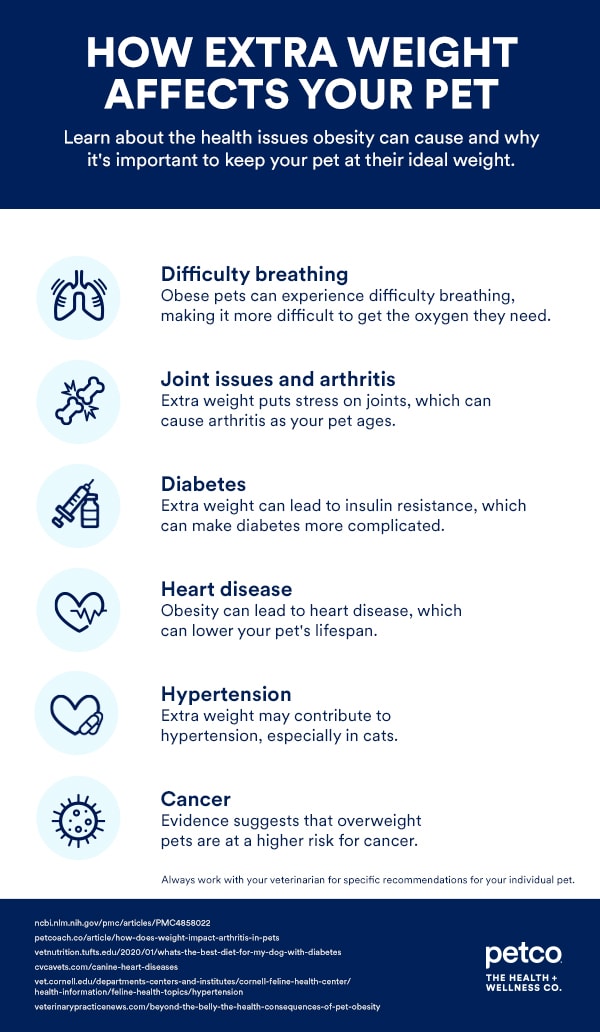 More on obesity-related health issues:
How to help
Helping our pets maintain an appropriate weight is essential for their well-being, but that doesn't mean it's always easy. After all, providing our pets with treats or the occasional table scrap may seem like a way to show them we care, but we could be inadvertently doing them harm , says Dr. Klein. Thankfully, there are some easy steps you can take to still include food in your daily routine with your pet while ensuring you're doing all you can to keep them healthy.
Adjust the number of calories you feed at mealtimes if you enjoy giving your pet treats throughout the day. Just remember that treats should make up no more than 10% of their daily calorie consumption.
Allot some of their mealtime kibble for treats to use throughout the day.
Swap traditional treats for low-calorie options so you aren't overdoing it when treat time rolls around.
Associate treating with bouts of activity—like playtime or walks—rather than just providing them at random intervals throughout the day.
Talk with your family to make sure everyone is on the same page about reducing treats so no one is sneaking your pet unexpected calories.
Petco's picks for weight-conscious nutrition
Keep in mind that although the issues outlined above can be caused by weight gain, weight gain can also be a symptom of an underlying health issue. Whenever you have a question about your pet's weight—or their health in general—work with your veterinarian for precise recommendations tailored to your pet's specific needs.
Related articles on pet obesity