Resource Center Menu
Right Cat Food Finder
It's our job as pet parents to be vigilant about our cat's care and wellbeing, and that starts with what's in their food bowl. Your pet's nutrition is the basis for their overall health, and their nutritional needs can change over their lifetime. That's why it's important to periodically reassess their diet to ensure it's still meeting their particular needs.
Right cat food finder flowchart
Use this chart to find the right food for your cat and feel confident you're choosing a food without artificial ingredients.*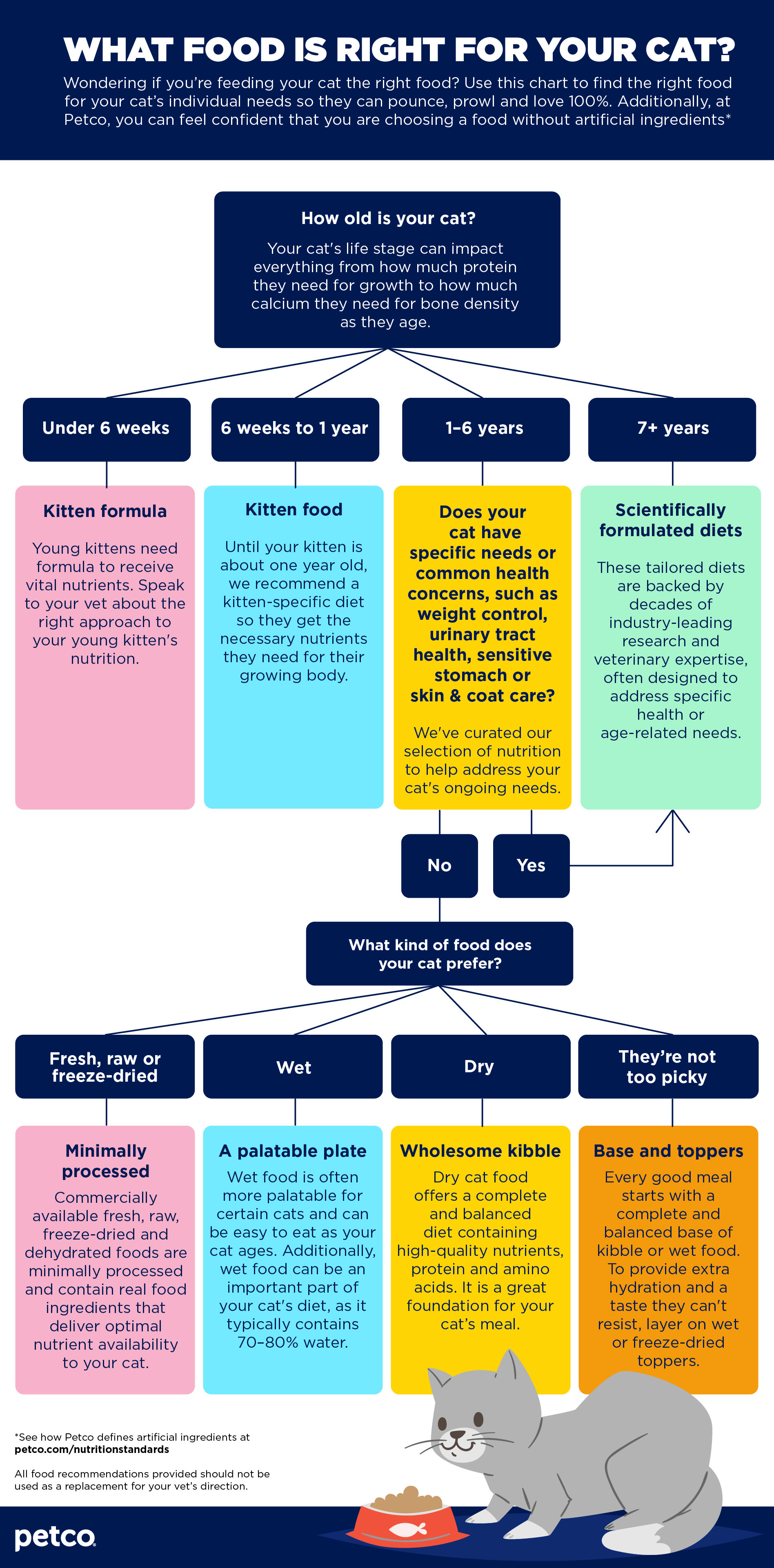 While these food suggestions should not replace a nutrition consultation with your vet**, here are a few key things to keep in mind based on where your cat falls on the chart:
Kitten formulas and milk replacements
When your kitten is about 6 weeks old (and can focus their eyes and stay steady on their feet), they should be ready to transition to solid food. Before then, however, kittens are dependent on their mother's milk or, in her absence, specially formulated kitten formula. It's important to work with your veterinarian when a kitten is very young to ensure they're getting all the proper nutrients they need for growth.
Kitten formula foods
Similar to human babies, a kitten's nutritional needs are very different from that of a mature cat. Until your cat is at least one year old, kitten-specific food formulas provide the balance of nutrients and vitamins they need for proper growth without going overboard with what they don't need. Again, whenever you have questions about your kitten's food, be sure to consult your veterinarian.
Scientifically formulated diets
These diets usually take a solution-oriented, science-based approach to support a particular health concern. Scientifically formulated foods go through ongoing testing and are usually formulated with the help of scientists, nutritionists and veterinarians.
Minimally processed

It's fine for your cat to love their kibble, but commercial fresh, freeze-dried and raw food can be a good alternative. There are multiple benefits to providing this type of food for your cat. They're minimally processed and include real food ingredients that help to deliver optimal nutrient availability to your pet.

A palatable plate of wet food
As you start building your cat's plate, keep these additional factors in mind. Carefully read the label of any food you're considering and look for quality ingredients with no artificial ingredients* like those found on the shelves of Petco. Wet food can also help cats get the hydration they need with their high water content (70-80%).
Wholesome kibble
If your cat prefers dry food, ensure you seek out high-quality foods that follow Association of American Feed Control Officials (AAFCO) standards. Something else to consider: If your cat has a diet that primarily consists of dry food, adding some wet food can help provide extra hydration and benefit their overall health.
Base and toppers
Whether you feed your cat dry or wet food, a good all-around meal includes both a main dish and a topper, to help increase palatability. If you're interested in trying out a building a layered bowl for your pet, variety packs like Whole Hearted's Grain Free by Land and Sea flaked wet cat food, Blue Buffalo's Healthy Gourmet Adult Tuna, Chicken, Fish & Shrimp and Soulistic's Moist & Tender Variety Pack wet cat food allow your pet to try out different flavors to see which they like best.
When you're ready to get started with a new food, remember to slowly transition your cat over a period of about 10 days. And don't forget that Petco has all the base foods, toppers and treat options your cat could want. Plus Petco's money-back guarantee means you won't waste money while you search. If your pet doesn't like what you get, just bring the remaining food back for a full refund. Bon appetit!
Want to see what food is recommended for your dog? Try our Right Food Finder for Dogs!
*See how Petco defines artificial ingredients: petco.com/betternutrition
**Food recommendations are not a replacement for a nutrition consultation with your vet. ​